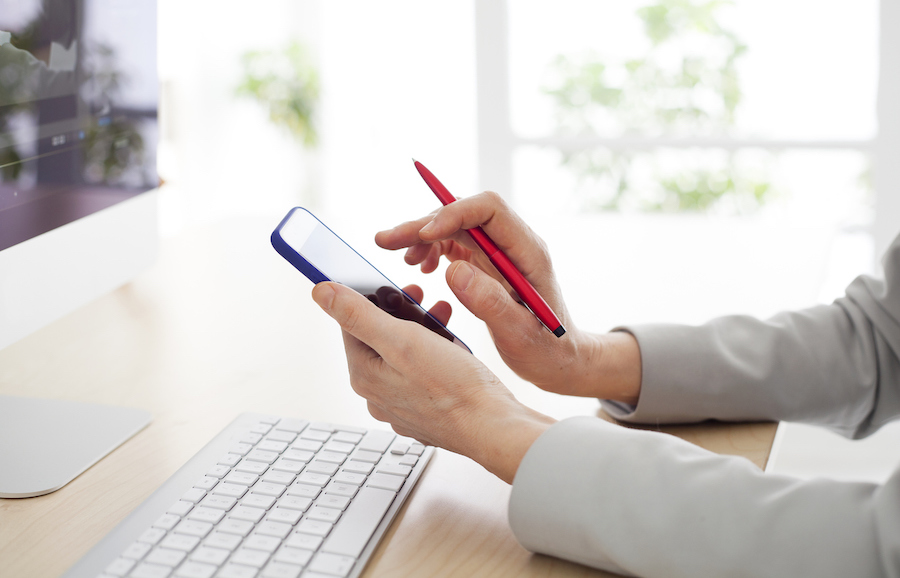 Sometimes you want to send a text message while it's on your mind, but you hold off because it's just not the right time. Then, you forget about it altogether. In this situation, scheduling a text to send at the right time would be a lifesaver (or at least would make you seem like you're on top of your social or work life).
But do iPhones and Android phones have the ability to schedule text messages? What about your business texting apps? The quick answer is yes.
In this guide, we'll walk you through a handful of different ways you can schedule a text message from your iPhone, your Android phone, or the business texting platform on your desktop or laptop computer.
Why would you want to schedule a text?
Scheduling a text can be convenient on a personal level. For example, you may want to answer a message, but not right away. Or, you could decide to schedule a birthday greeting so you don't forget later.
If you're a professional, on the other hand, you may need to learn how to schedule a text for customer service purposes. For example, you may want to schedule a follow-up text after an important conversation. You could also schedule a reminder so clients make their appointments.
Whether you're planning to text for personal or for business reasons, these are great reasons to learn how to send a message at a certain time.
Schedule a Text Message from Your iPhone
You'll need the Shortcuts app to schedule texts on your iPhone. Luckily, it's free, and it's a trusted Apple product. Fair warning, though: scheduling through Shortcuts is a slightly complicated process. And there's another catch: this process sets up a recurring message. If you only want to send a text once, you'll need to cancel the automation after it occurs one time.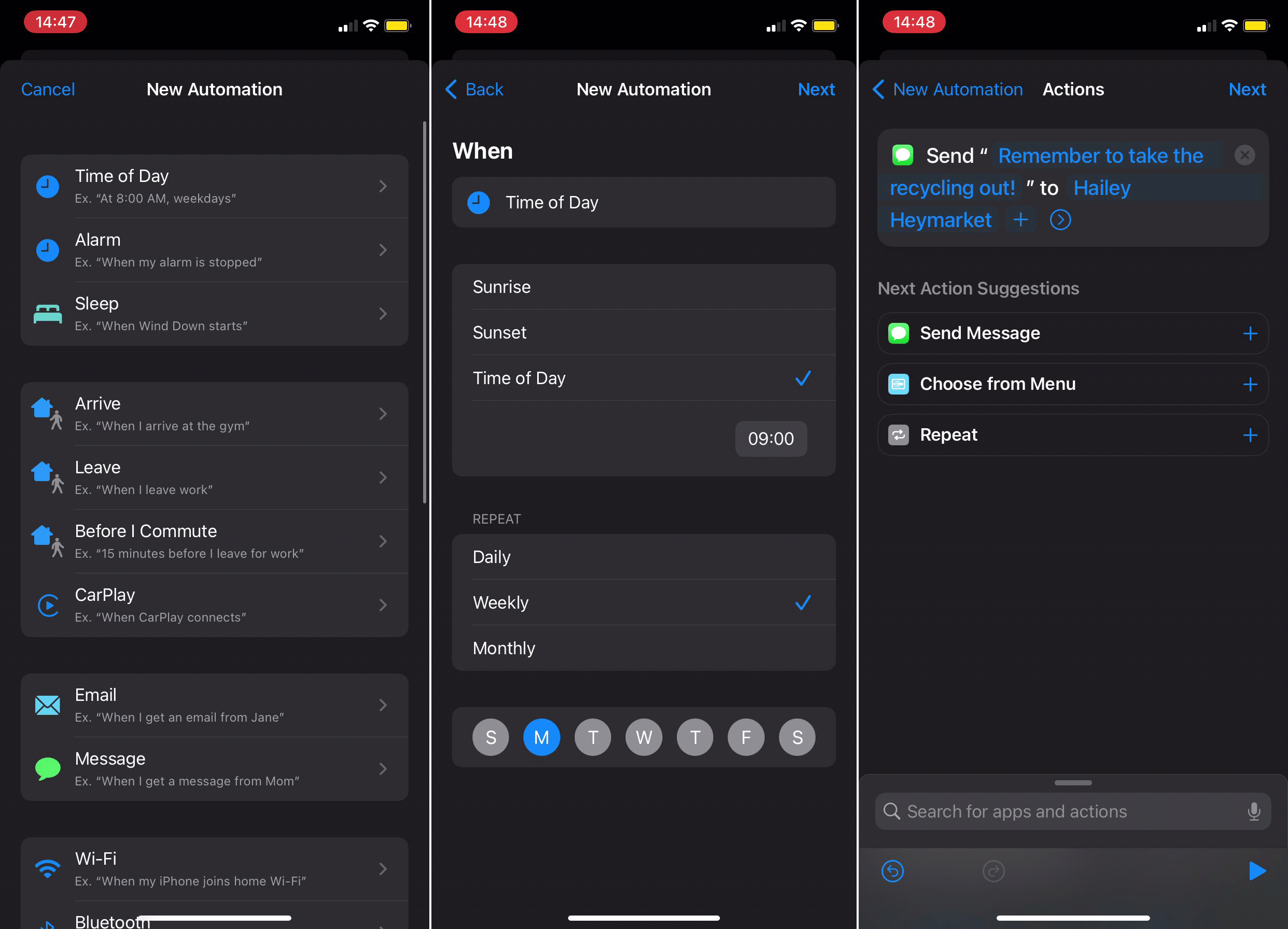 How to schedule a text on your iPhone
To schedule a text from your iPhone, you'll:
Open the Shortcuts app.
Select Automations, which is on the bottom tab in the middle.
Choose Create Personal Automation.
Tap Time of Day.
Choose your ideal sending time, adjusting the exact time of day and repeat schedule (which is not optional). Select Next in the top right of your screen.
Tap Add Action.
Find a contact under the Send Message suggestion box.
Type your message in the gray Message field. Select Next in the top right corner of your screen.
Check over your new automation. If you feel satisfied, press Done in the top right corner of your screen.
As you can see, you'll have to complete a few steps to get your scheduled message up and running. Scheduling through Shortcuts is probably the right choice for you if you only want to send the occasional text. (It's almost certainly not the right choice for businesses, who often need to schedule a lot of texts.)
Alternatively, you could purchase a third-party message scheduling service, like Moxy Messenger, Reminderbase – SMS Scheduler, or Carrier Messaging. They will allow you to schedule one-off texts. (A messaging service like Telegram will let you do so, too, but only through their system.)
Schedule a Text Message from Your Android Phone
If you're an Android user, there's no need to feel left out! You can text from your phone's messaging app, too, though the exact steps will differ depending on your device carrier.
How to use Samsung Text to schedule a text
Samsung Galaxy and Note smartphones users have access to a native SMS app. It comes pre-installed, and it's easy to schedule messages through it: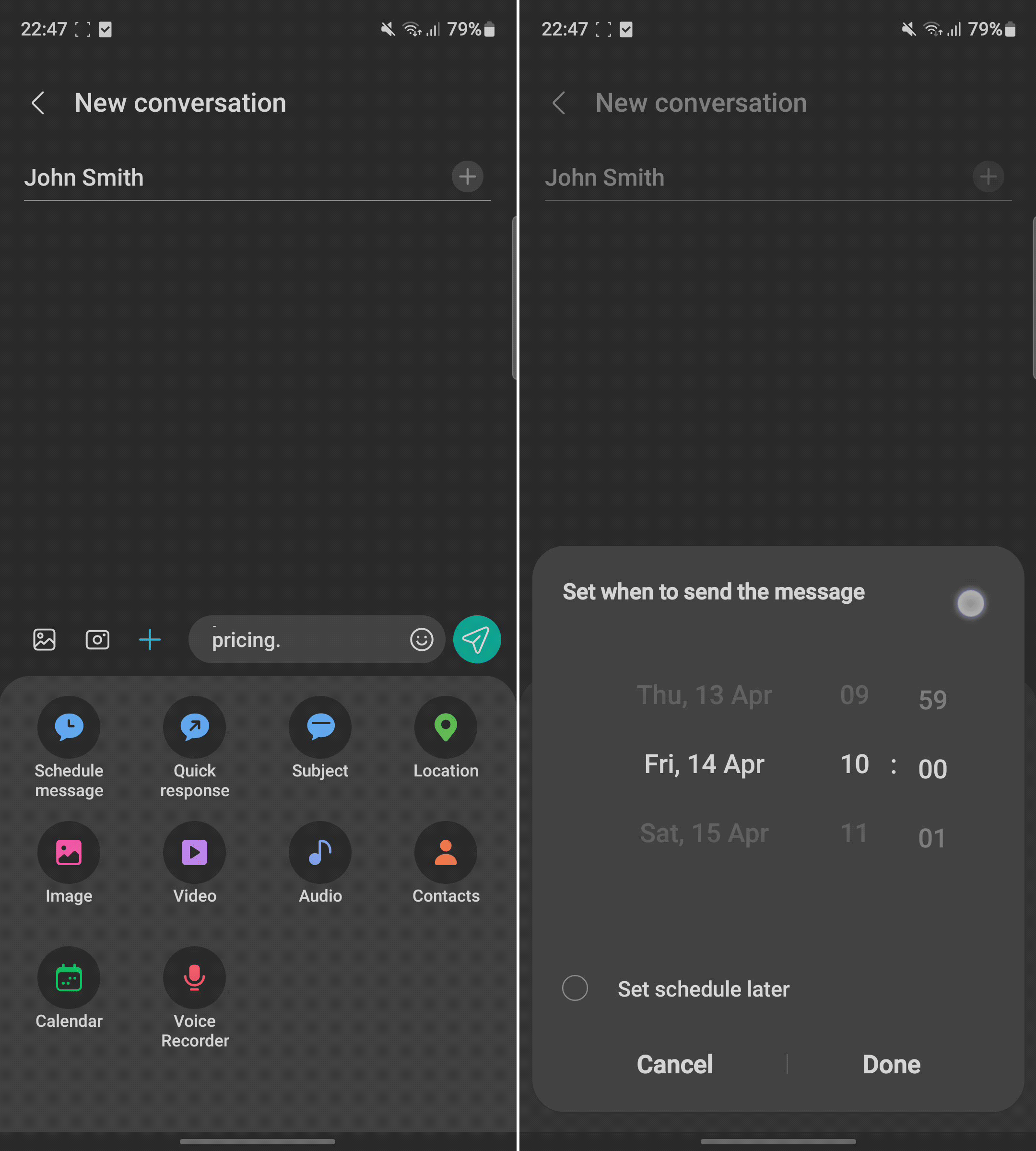 Open the Samsung SMS app.
Write your message.
Tap the chevron to the left of the text field, then the icon with four squares.
Select "Schedule message." This opens the calendar.
Select your preferred date and time in the calendar.
Tap Send to schedule your message.
How to use Google Messages to schedule a text
If you don't have a Samsung device, you can schedule a text in Google Messages, the native Android messaging app.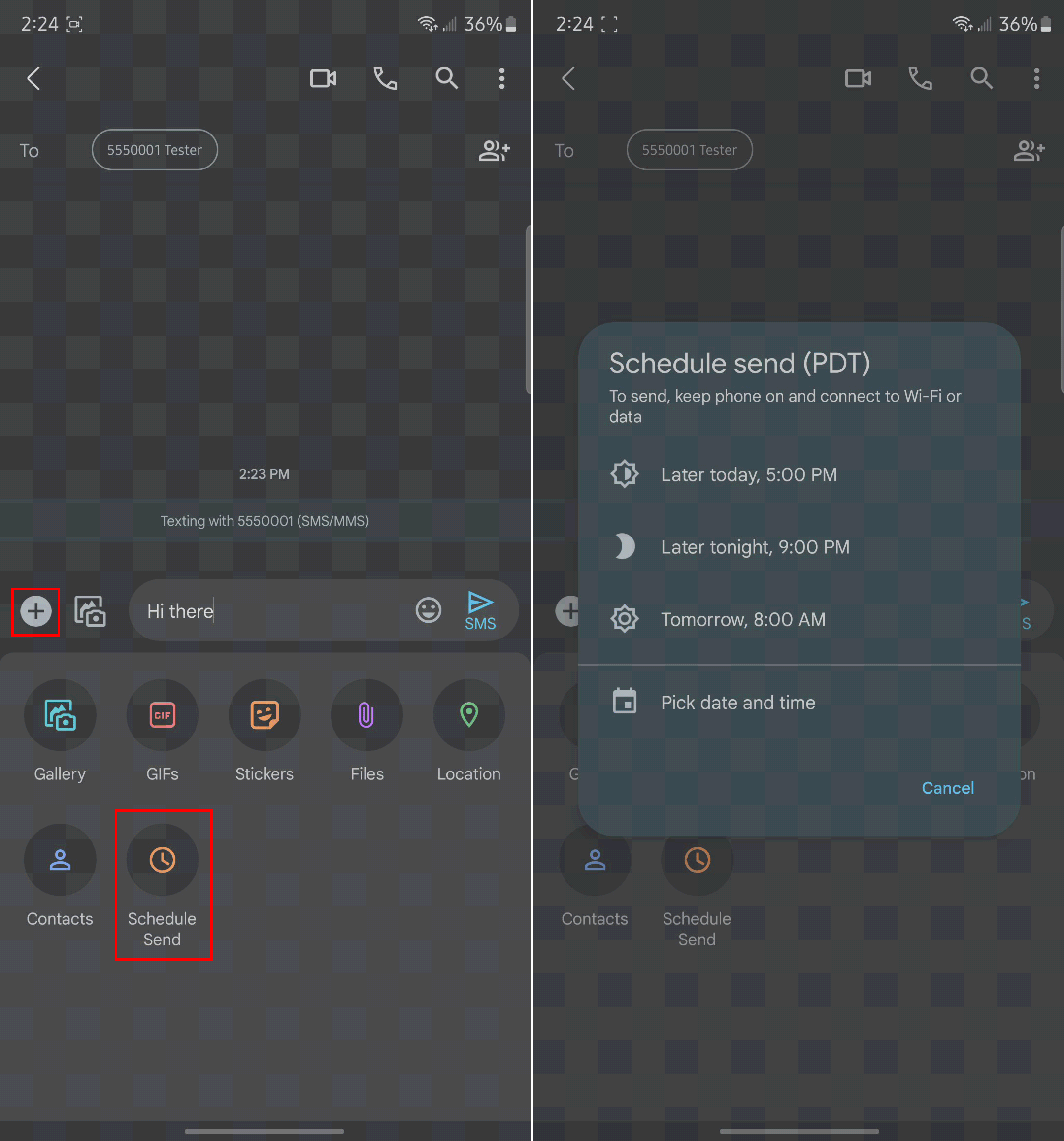 Write your message.
Long-press Send. This opens the text details menu.
Choose from the default delivery times. Alternatively, you can choose your own specific time by tapping Select date and time.
Tap Save to confirm the sending time.
Both of these options make scheduling a text easy for personal use. In most cases, you won't need to resort to third-party scheduling apps for help meeting your needs.
Schedule a Business Text Message For Work
If you're looking to schedule a text for business purposes, the previous two options probably won't work. Using personal phones for work isn't ideal in the first place, but especially not when you need to schedule texts regularly to reach large numbers of leads, customers, or other stakeholders. Instead, you'll want to look into a business text messaging service.
A business SMS platform will work on your computer, whether it's a laptop or a desktop. It should also be accessible via a smartphone app if you're on the go.
To schedule a text in an SMS platform, you can:
Write a message or choose and adjust an SMS template
Select the schedule message button right next to the "send" button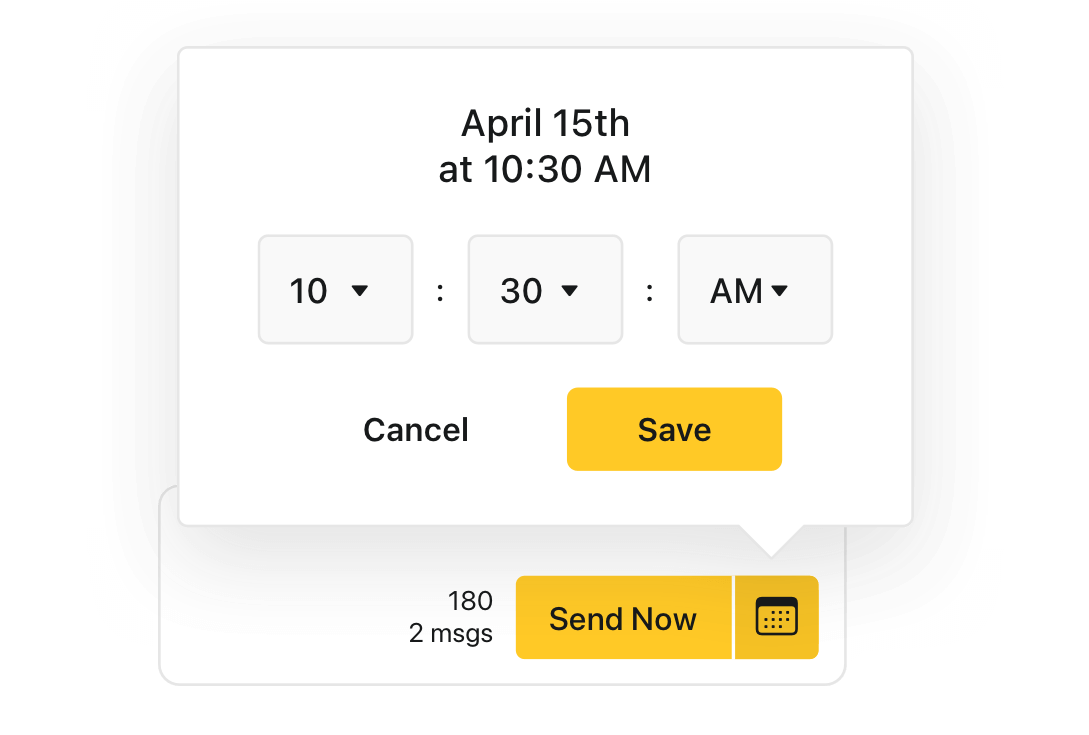 Beyond scheduling a text message to send later, business text messaging platforms offer other tools to help you reach your contacts even when you're not actively on your phone. These include SMS drip campaigns, which allow you to send multiple texts on your pre-determined schedule. You can also send automated text messages based on triggers, such as receiving customer texts with certain keywords or receiving phone calls.
A business texting platform's intuitive interface should make it easy to use each and every one of these scheduling tools. Plus, it comes with important team efficiency tools, like a shared inbox and private comments, to help you coordinate with your colleagues  and manage texts together easily.
If you need to schedule text messages for business purposes, a business text messaging platform is likely your best bet.
Want to start scheduling texts from your desktop? Check out our business SMS platform today.