What Are the Benefits a Real Estate Texting Service?
Communication in the real estate business is critical. Text messaging (SMS) gives agents, realtors, and brokers a new and valuable channel where prospective buyers can easily contact them, allowing them to increase sales.
There are many benefits to leveraging real estate SMS. In real estate, many things are time-sensitive. If an agent waits for a buyer to check their emails, the buyer may lose the opportunity on a new listing. Text messaging allows agents to provide updates to buyers and sellers that that are more quick and immediate than email.
Text messaging as a whole has an open rate of 98%. Agents using Heymarket's text messaging software have reported an 80% reply rate to their weekly, real estate market updates and more responses from their contacts.
Request Demo
Watch Video

Personalized Real Estate Market Updates
Send personalized SMS to clients with valuable market updates. Create a list of clients to message. Heymarket can automatically include the first name, property type, or other custom fields into the SMS. Clients won't see each other and can reply privately to you. Heymarket campaigns make it simple to schedule a sequence of messages to appropriate clients.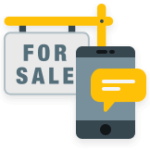 Text Enabled Listings and Marketing Campaigns
Add a text enabled phone number to your most valuable listings and marketing campaigns. Interested buyers and agents can text with questions. With a Heymarket shared inbox, anyone on your team can immediately answer questions with standard templates that you create.

Training Updates and Recruiting for Real Estate Agents
Text messaging is a great way to notify agents about a weekly status or training call. The SMS can include a link to the online meeting. Schedule a reminder to be sent a day before the call and another to be sent the morning of the call.

Works with Your Existing CRM and Phone Numbers
With Zapier integration, Heymarket enables you to text contacts in your CRM, support, and order tracking software. The Heymarket widget enables clients to text from your website. Heymarket can also text enable your existing, business number that is already published in Yelp, Google My Business, Google AdWords, or Facebook Pages.
Companies that trust Heymarket