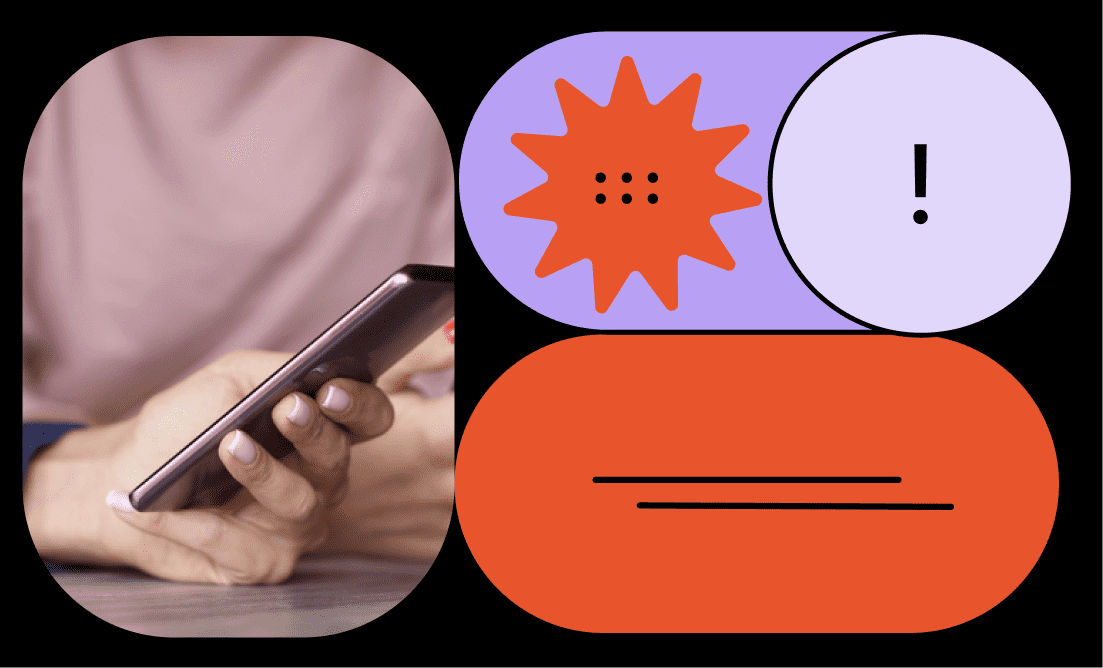 Texting is a fast, friendly, and effective form of communication. Sending a text makes it easy to connect with friends, family, work, and businesses through a channel that's always accessible. But, it's not always the right time to send a text – and that's where scheduling a text comes in.
Sometimes you think of sending a text but it's not the right time. You might want to wish your cousin a happy birthday before you forget or need to wait for business hours to send a text. Either way, you can schedule a text now so that you don't forget later.
In this guide, we'll show you three different ways to schedule a text on Android phones, including Samsung devices and Google Messages.
How to schedule text messages on Android
Scheduling a text message on Android is easy if you know what you're doing. The specific steps will vary depending on your type of phone and preferred application. You also have options to choose from which allows you to have a consistent experience across multiple devices.
Method 1: Using built-in messaging apps
Android phones have their own native texting apps, called Samsung Messages or Google Messages, depending on your device type. The processes are similar but look a bit different, so double-check that you're following the right guide.
How to schedule a text in Google Messages:
Tap the Google Messages app.
Select an existing conversation or start a new chat.
Draft your message
Tap the '+' icon to open text tools.
Then select "schedule send."

Choose a suggested timing or pick your own.
Return to the conversation and confirm the scheduled time.
Press the blue "SMS" button to schedule the text.
How to schedule a text in Samsung Messages
If you have a Samsung Note or Galaxy smartphone, you'll have Samsung Messages as your native texting app. You can schedule texts with just a few taps that send seconds, minutes, hours, or days afterward.
Tap the Samsung Messages app.
Tap the bubble icon in the bottom right corner to draft a new message or choose an existing conversation.
Choose a contact in the top search bar (skip if using an existing conversation).
Draft your message.
Tap the '+' icon to open the tool menu.
Select "schedule message."
Set the time to send your message.
Tap "done" to return to the conversation.
Press the green send button to schedule the text.
Method 2: Utilizing third-party messaging apps
Third-party apps are an alternative to Android's native texting solutions that provide additional customization and features. There are a lot of options on the market, but here are three of the most popular.
How to schedule a text in Textra
Textra is a free third-party texting app that provides a number of customizations to elements like the colors, bubble shapes, and emojis used when texting. There are also multiple features like quick replies without leaving your other apps and rich multimedia support.
Textra can schedule texts with just a few presses:
Open the Textra app.
Navigate to an existing conversation or start a new one.
Tap '+' to the left of the text box to pull up texting options.
Tap the clock icon to schedule a text.
Enter the date and time to schedule the text for.
Send the text.
Check for the clock icon next to your scheduled text to confirm it's ready.
How to schedule a text in Pulse SMS
Pulse SMS adds various features to your native texting capabilities, including styling for your messages, multimedia integrations, and scheduled messages. It's free to use but has in-app purchases for some features.
The major difference between this app and others is that scheduled messages are stored separately rather than presented within the conversation, so you'll have to visit "scheduled messages" to see pending texts. To do so, tap the hamburger menu in the top left corner and go to "scheduled messages."
Pulse SMS lets you schedule texts in just a few presses:
Open the Pulse SMS app.
Create a new conversation by pressing the '+' icon in the bottom right or selecting a conversation.
Tap '…' in the top right corner of the screen.
Select "schedule a message" from the drop-down menu.
Enter the date and time to schedule the text.
Write your message.
Click send.
Why you'd want to schedule text messages on Android
There are plenty of reasons why you would schedule a text message on Android, which include both personal and professional applications. Scheduling texts is great for managing your time, avoiding missed connections, and ensuring timely delivery.
You can draft and schedule a text message when it's fresh in your mind, but send it when it's most appropriate for the situation. Inspiration can hit at any time, so scheduling a text to your group for the morning lets you put plans into action immediately. Or, you can schedule a text to be the first one to wish a loved one a happy birthday. Professionals may even schedule a text message to a client after a meeting, schedule a late-night update to a business group chat so it sends during business hours, or time a text to check in with a coworker right after their lunch break.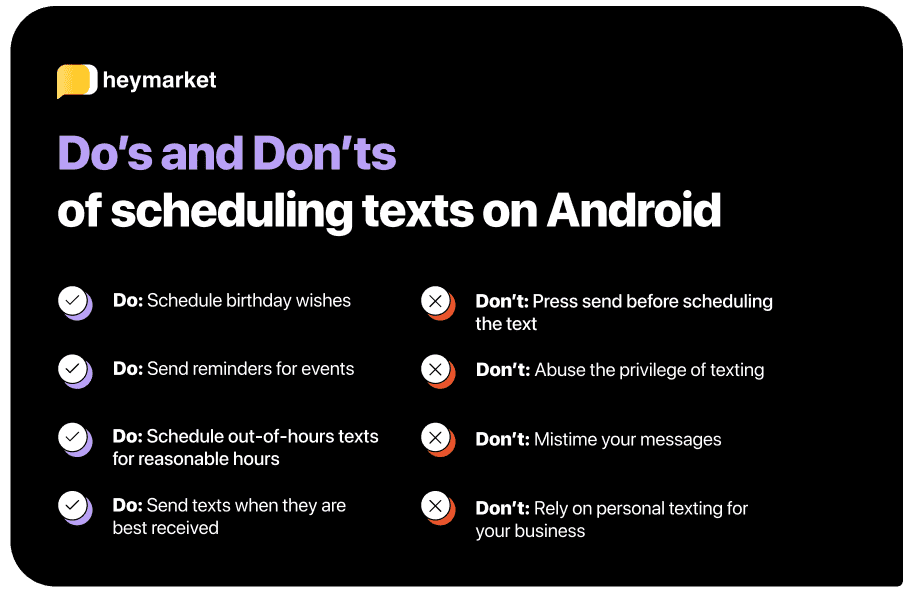 Limitations of scheduling texts on your Android phone
Scheduling text messages is extremely convenient. It lets you connect with people at the right time without worrying about forgetting your thoughts. However, it's not ideal for professionals looking to schedule a large number of texts, or for businesses that have greater needs for speed, efficiency, scale, and customization.
Android's texting options are great for individual conversations, but they don't let you send mass texts to leads or customers of your business. It would take far too much time to write out and schedule each message individually as your business continues to grow past your personal contact list. (and we recommend against using personal phones for business for multiple reasons).
Data security and accessibility is a concern because you're taking your customer records and text history with you, increasing the risk of accidentally deleting it. You'll also have a hard time effectively personalizing texts without dynamic content elements like custom fields that help you connect with recipients. Plus, you can't target your audience effectively without access to personal information about the contact, and you risk violating opt-in compliance without tools for managing your SMS lists.
Best practices for scheduling text messages on Android
When you decide to schedule a text message for personal or professional use, be sure to consider the following: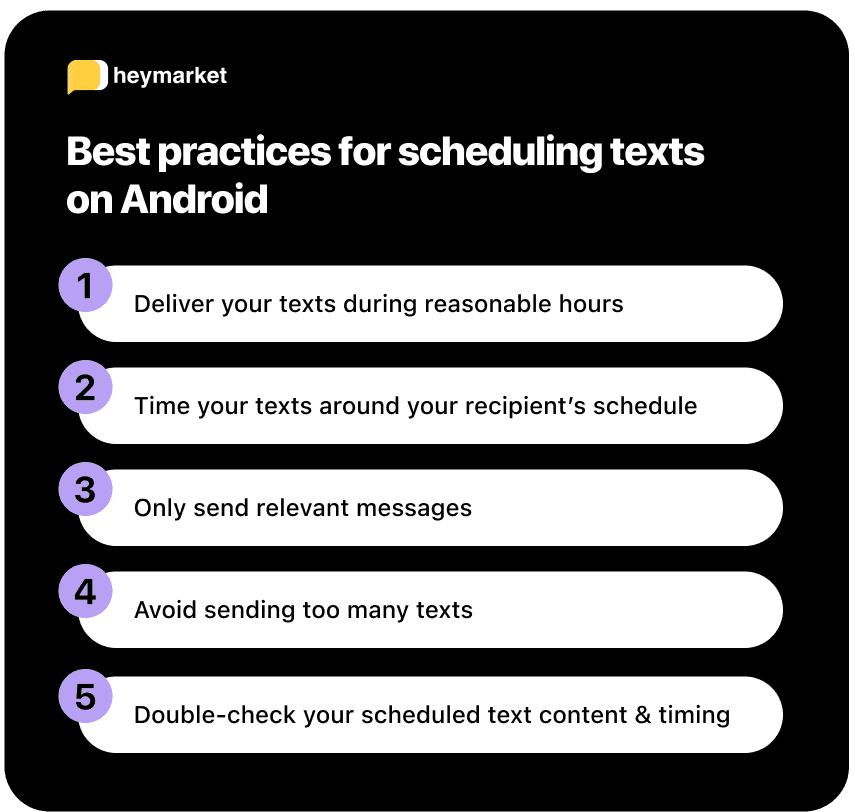 Timing: Texting is a highly personal form of communication. You don't want to abuse the privilege of texting people – especially professionally – at the wrong times. Always schedule your texts for reasonable times for your recipient. Consider their schedule and time zone so you don't ping their phone during something important.
Content: Personal texting doesn't have as strict limitations on the content of your messages, but professional and business texting does. Try to limit your messaging to relevant content to avoid coming across as spam or frustrating your contacts.
Scheduling: Once you've written out your scheduled text message, double-check that you have the date, time, and content correct before scheduling it. If something changes after scheduling, you can go back to the message and edit the timing or content to make sure you're not sending redundant or impersonal texts.
Troubleshooting common issues with scheduling text messages on Android
Are you having issues scheduling text messages for Android phones? Here are three problems you could run into and how to resolve them.
Delivered at the wrong time: Most text scheduling applications will allow you to choose the date and time to send your message. If your messages aren't reaching recipients at the right time, double-check that you have the date right and are choosing "AM" or "PM" correctly (or reading military time correctly for 24-hour formats).
Crashes and freezes: Any app can crash – even native Android texting apps. Frozen apps can be closed and reopened by swiping from the bottom and holding your finger in the middle of the screen. Then select "clear all" or swipe the individual app upwards to close it so that it can be opened again. Crashed apps usually close automatically, which allows you to open them again to retry your scheduled message.
Unsuccessful delivery: When your recipients aren't receiving your scheduled texts, it can be due to using the wrong number, setting the wrong time for the text to send, or app failure. Double-check their contact information and your scheduling details before restarting the app to try again. If the app didn't send any texts (even without you scheduling them), check that you have service or internet access so that they can be delivered.
Enjoy the convenience of scheduling text messages on Android
Texting is an incredibly versatile form of communication – and scheduling text messages in Google Messages, Samsung Messages, or third-party apps makes it even more convenient.
You can avoid forgetting important dates like birthdays, have texts delivered when appropriate, and schedule follow-up texts for professional applications like meetings. With our best practices, you can improve your personal and professional communication while making the most of scheduled texting.
However, texting from your personal device isn't recommended for businesses due to security, time investment, and personalization limitations. If you're looking to schedule texts for business purposes at scale, consider sending automatic text messages with a business texting platform.