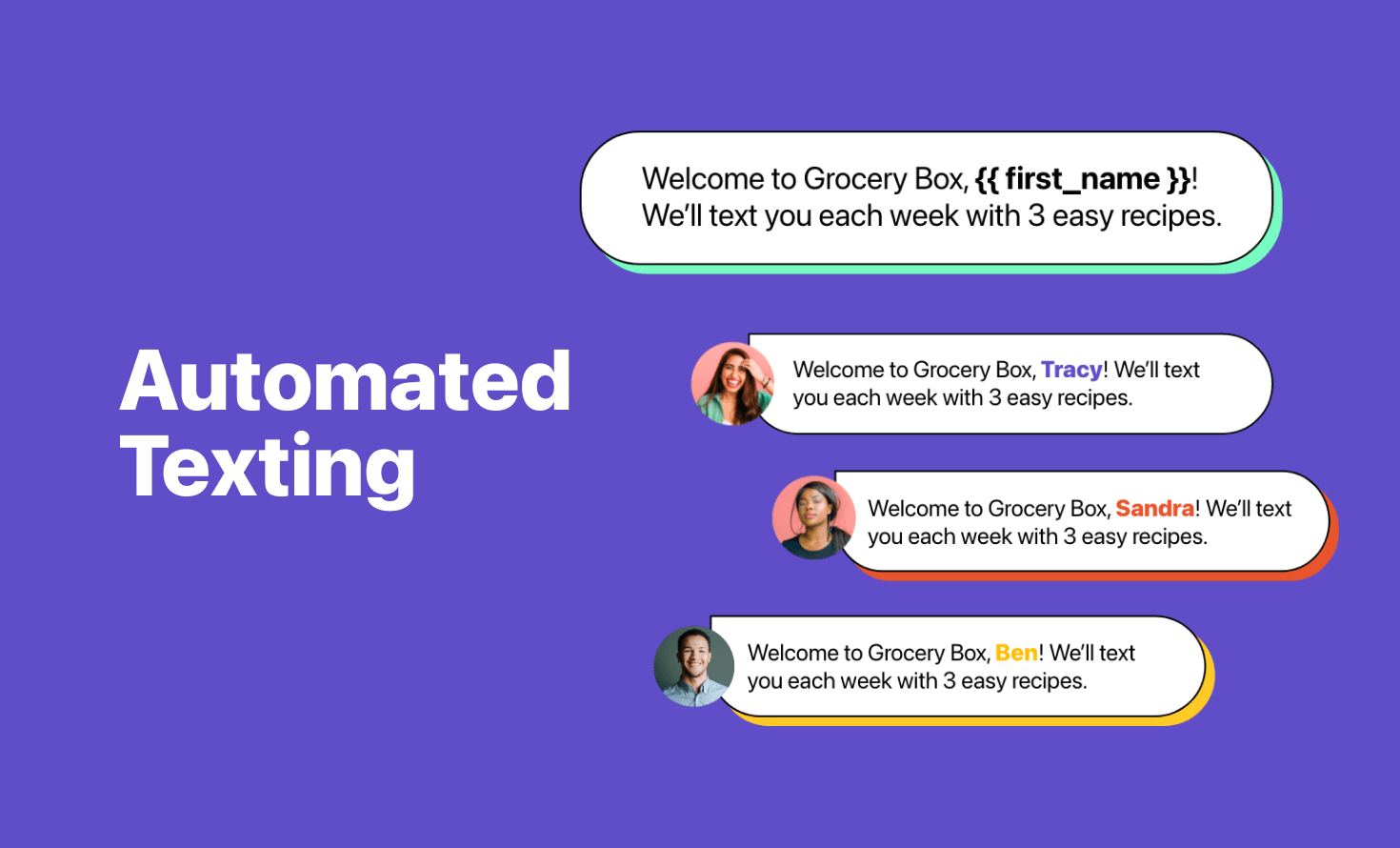 Consumers are communicating through more channels than ever, and they expect you to engage them on each one. Managing chats across all of these channels is tough, to say the least. Providing personalized experiences across them is nearly impossible—without some help.
That's where automatic text messaging comes in. Automated texting takes over repetitive tasks, from capturing leads to following up with prospects and customers. It empowers you to reach more contacts in less time while maintaining a personal touch.
Now, Heymarket's automatic text messages offer an intuitive, scaleable, and secure way to expand your reach and support your customers.
Capture more contacts, more easily
Heymarket's automated capabilities make it easy for your leads and customers to kick off conversations. They can provide their contact details across channels, and Heymarket will record them.
Ask consumers for key information, from names to phone numbers, in:
Popular messaging platforms
Social channels
Webchats
Emails
Embeddable forms
In-person transactions
Don't let your old contacts slip through the cracks, though. With Heymarket, you can import unlimited contacts during setup to ensure you're connecting with both new and old audiences.
Manage opt-ins
Heymarket helps you manage text messaging opt-ins and opt-outs so you can stay compliant with critical SMS regulations like the Telephone Consumer Protection Act (TCPA). Sending texts to only those contacts who have opted in also increases trust between you, strengthening your relationships.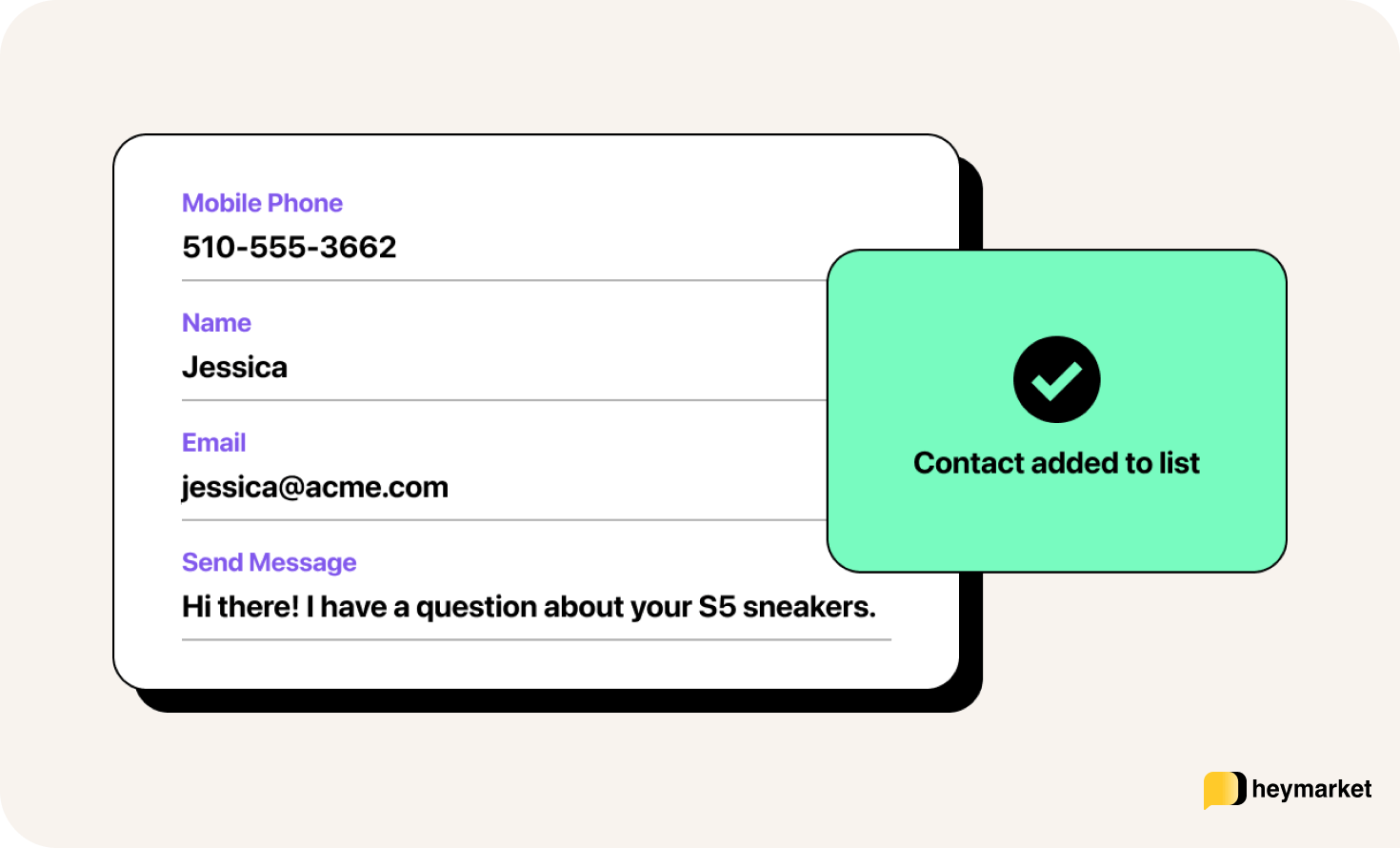 Heymarket supports opt-ins by automatically adding opted-in leads to a new list. The platform removes them automatically if they choose to unsubscribe. When it's time to send personalized mass texts to your contacts, you can simply leave space for custom fields and the platform will insert each recipient's relevant details into outgoing texts.
Within Heymarket, you can build lists based on the types of messages that leads and customers have opted into receiving. That makes it easier to send outreach texts without violating specific opt-in requests.
Automate engagement
Texting each and every customer one by one isn't feasible—especially when your contact list grows. Use Heymarket to automate simple messages like welcome texts and follow-ups.
Connect more seamlessly with Heymarket's automated texting tools:
List sends: Send personalized messages to groups of customers
Campaigns: Create sequences of personalized messages to nurture customers over time
Automated workflows: Choose triggers (time-based or event-based) and set subsequent actions (e.g., sending texts or adding customers to lists)
Cross-platform workflows: Create automated workflows that trigger events or actions in Heymarket based on changes in your favorite platforms, including HubSpot, Salesforce, Shopify, Zapier, and Zendesk
Heymarket's new sentiment analysis technology also helps you identify high-priority messages faster. You can even use intent and keyword analysis to route messages to the appropriate team members quickly, whether they're in sales, operations, or customer service.
Personalize outreach
Your leads and customers want to feel real people, not just numbers on a contact list. That's why adding a personal touch to each outgoing message is so important.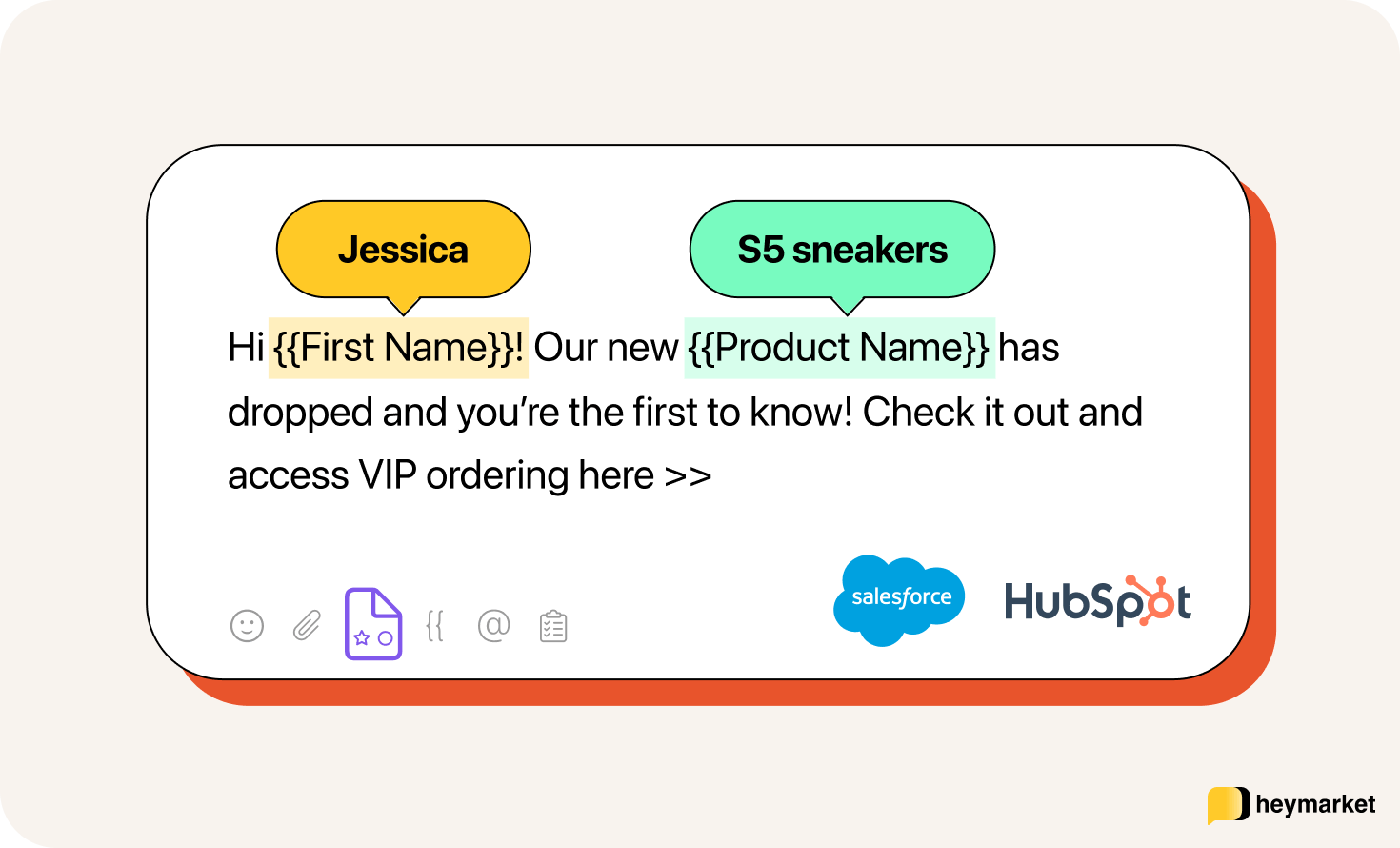 Streamline personalization with Heymarket's tools:
Customizable templates: Add custom fields like names, birthdays, purchases, and behaviors to outgoing messages
CRM integrations: Connect Heymarket with your favorite CRM to automatically sync custom fields between platforms
Targeted lists: Segment customers based on contact details, behaviors, and preferences
Your personalized messages will get your leads' and customers' attention, boosting response rates and strengthening your relationships.
Talk to contacts anywhere
Your leads and customers love messaging, but they don't tend to stick to a single channel. Heymarket connects with the popular channels they already use so you can manage all of your conversations from one inbox.
The platform accepts messages from:
Field questions from the channels your leads and customers love most—starting your conversations off on a positive note.
Text with confidence
Strong lead and customer relationships are built on trust. If they don't believe that your brand will protect their data, they simply won't give you their contact details.
Heymarket offers enterprise-grade security and administration tools. Secure logins with multi-factor authentication (MFA) and Security Assertion Markup Language (SAML) single sign-on (SSO). Secure platform data with three features:
Custom user roles and permissions: Define which team members can view, edit, delete, or configure data and features
Data retention: Choose how long Heymarket stores contacts, conversations, and message data
Restricted view: Restrict certain team members from viewing contacts' personally identifiable information (PII)
Heymarket's security-first platform is compliant with the most important regulations, including SOC 2 Type 2, the TCPA, HIPAA, and A2P 10DLC. It makes trust (and SMS compliance) easier to achieve than ever before.
Beyond automatic text messaging
Heymarket's automatic text messaging makes your job easier. Now, you can reach more leads and customers without losing that personal touch you had when you sent messages one by one.
Then, you can focus your attention on incoming responses—providing the kind of conversational messaging experience that turns leads and customers into brand loyalists.
Want to see automated text messaging with Heymarket in action? Sign up for a demo.