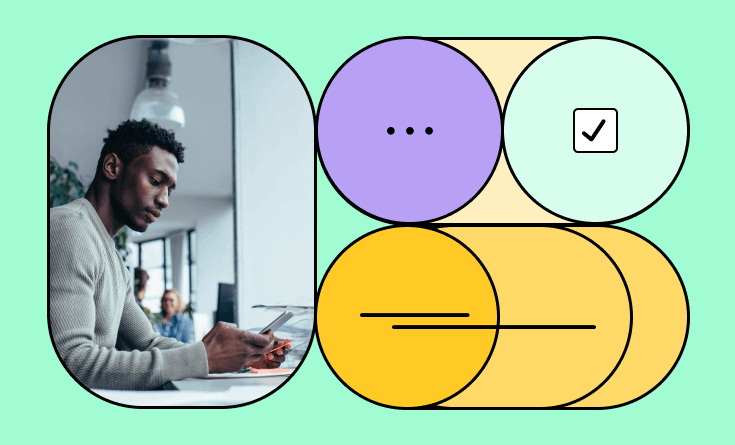 TCPA compliance may be fact- and context-specific. The information contained in this blog post should not be relied upon as legal advice or to determine how these regulations apply to your use of SMS and our service. You may use this blog post for your internal reference purposes only. This information is provided "as is" and may be updated or changed without notice. 
Of all the channels that businesses use to communicate with customers, text messaging has comparably less spam. Only 3% of texts are spam, compared to 49% of emails. Texting's low-spam, trusted reputation is thanks, in part, to the Telephone Consumer Protection Act (TCPA), a regulation that restricts businesses' communications with consumers. Its primary goal is to reduce unwanted communications.
All businesses who text their customers have to comply with the TCPA. This requirement has been effective: consumers filed nearly 11% fewer TCPA cases in 2022 compared to 2021, which means that they're receiving fewer unwanted texts. But figuring out how to comply can be challenging for businesses who are just beginning to text or refreshing their processes.
In this guide, we'll cover all you need to know for a good foundation on TCPA compliance:
For an in-depth look at complying with the TCPA and other key texting regulations, read our guide.
Get the guide
What is the TCPA?
The Telephone Consumer Protection Act (TCPA) is a regulation that was passed and signed into law in 1991. It dictates how and when businesses can connect with consumers via the telephone. The Federal Communications Commission monitors and enforces the TCPA.
Originally, the TCPA was meant to protect consumers from the many telemarketing calls they were receiving in the late 80s and early 90s. But a decade after texting was invented, some businesses began to text customers without permission.
In 2012, the FCC stepped in and updated the TCPA to apply to business texting. Additional regulations supplement the TCPA, like the Controlling the Assault of Non-Solicited Pornography and Marketing (CAN-SPAM) Act.
Another key player is the Cellular Telephone Industries Association (CTIA), an industry organization. It guides businesses that text consumers, helping them comply with the TCPA and protect customers from spam.
Why is it important to achieve TCPA SMS compliance?
Achieving compliance with the TCPA doesn't just help you meet a legal requirement. It also helps you build customer trust. Customers who opt in will appreciate that you asked for permission to text, and that you give them ample opportunities to opt out. Customers who don't opt in will appreciate not receiving unsolicited texts.
Achieving TCPA SMS compliance also helps improve critical key performance indicators (KPIs):
Lower unsubscribe rates. All of the customers you text will have asked to receive your texts. When you text them, they're less likely to opt out since they expected and wanted the messages in the first place.
Higher response rates. Since they've opted in, your recipients are primed to engage with your messages. Receiving relevant texts increases the chances they'll respond and start conversations with your team.
Increased revenue. More customer responses give your team more chances to make connections. Conversations lead to stronger customer relationships—and more conversions. Not to mention that offering a trusted channel like texting can increase conversions on its own: eight in 10 consumers consider trust a deciding factor in their decision to make purchases.
When your business achieves TCPA compliance, you'll not only improve these KPIs, but help text messaging remain a trusted channel that customers will continue to engage with over time.
TCPA SMS compliance guidelines
The TCPA mandates that consumers have a right to choose whether to receive your texts—and to know exactly what kinds of messages they can expect to receive before they sign up. Below is a rundown of some general TCPA requirements. Remember, this is a general overview. You should always consult your legal team to ensure you're meeting the requirements for your specific company.
1. Outline your texting service clearly.
Customers need to know what they're signing up for before they opt into your texts. When publicizing your SMS service, list the content you intend to text customers and how frequently you intend to contact them.

Click to Copy to Clipboard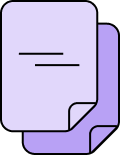 Copied to clipboard.
Paste anywhere you want.
Text YES to (555) 555-5555 to reach our customer service team! Average response time is four minutes. Text STOP at any time to unsubscribe.
2. Get customers' opt-in before texting.
Opt-ins are a customer's permission for your business to text them. Under the TCPA, you must always get customers' opt-ins before texting them.
The TCPA has different opt-in requirements for different types of texts. The CTIA categorizes texts as promotional, informational, and conversational. Each type of texting has its own opt-in rules. For example, promotional messages have stricter rules because you typically contact customers first, and larger list sizes increase the potential for spam. Conversational messages have simpler opt-in rules because customers reach out first, implying they want you to answer.
Here's a chart to illustrate the types of messaging and the general opt-in requirements for each: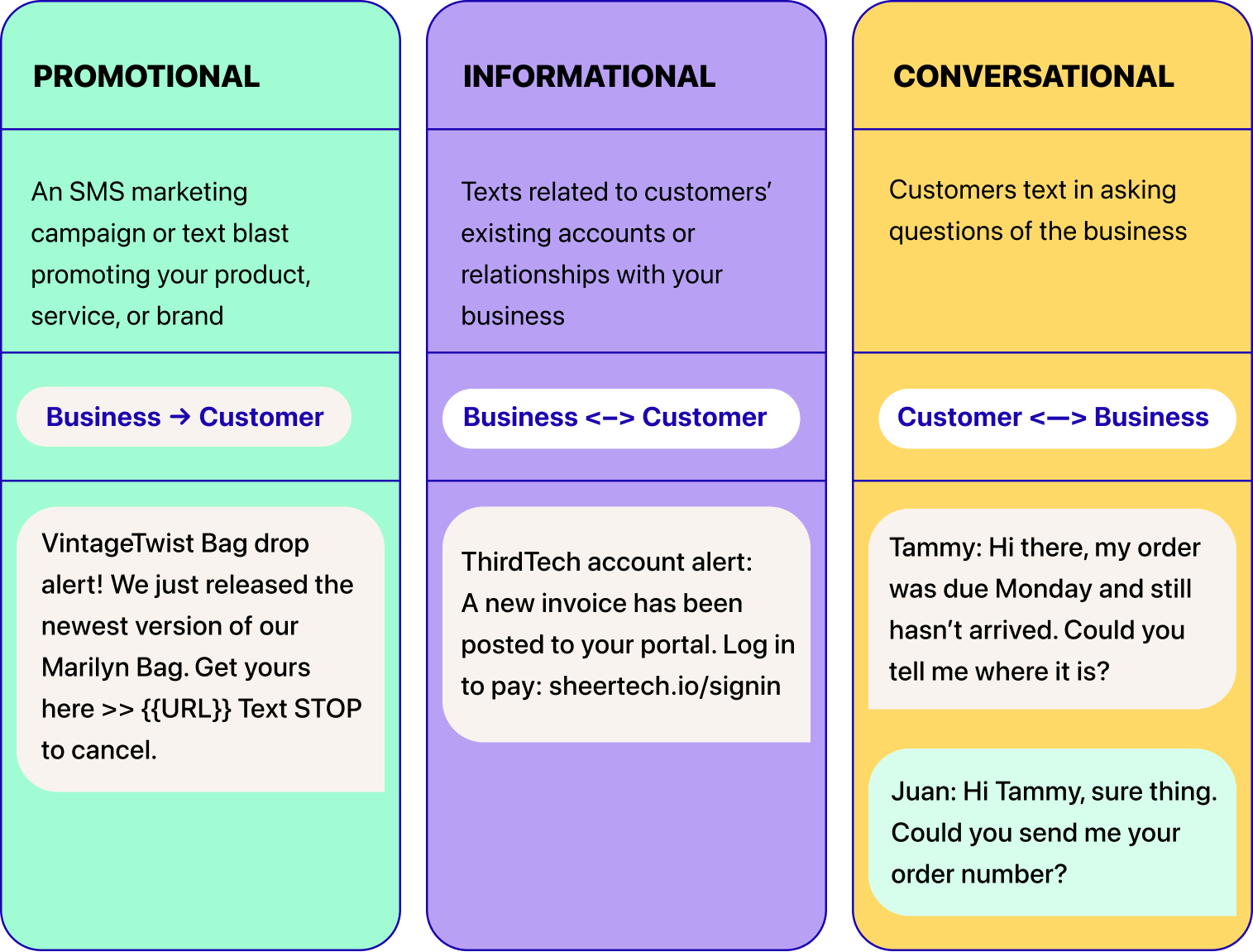 3. Make it easy for customers to opt out.
Your customers should have the option to opt out of your texting program at any point. They must be able to text in a simple keyword (e.g., STOP or UNSUBSCRIBE, or the other standard opt-out keywords) whenever they want to stop receiving texts. Your business text messaging platform should automatically opt out those customers or add them to an opt-out list. Include opt-out instructions on each initial text you send.

Click to Copy to Clipboard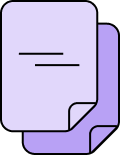 Copied to clipboard.
Paste anywhere you want.
Hey, Jane, your Local Seeds US box is on the way! Let us know if you have any questions. 🌱 Text STOP to unsubscribe.
4. Text during business hours. 
The TCPA protects customers from receiving phone calls at odd hours. You may not send or schedule texts to arrive before 8am and after 9pm in your recipients' time zone. Adhering to this regulation can be tricky if your business functions across the country. Program any automations to send within the allowed window.
5. Regularly check for reissued numbers
Your business is responsible for removing contacts who opt out and not texting people who haven't opted in. But sometimes, phone numbers are reissued without any notification. In those cases, you could accidentally text someone who hasn't opted in. To prevent your team from texting a reissued number, delete any numbers that haven't been active in a certain amount of time.
6. Do not text opted-out customers or people on the Do Not Call Registry.
Once customers have opted out, you may not text them. (If your business texting platform removes them automatically, this shouldn't be a problem.) In addition, don't message anyone on the National Do Not Call Registry. This registry is enforced by three groups: the FCC, the Federal Trade Commission (FTC), and state officials.
Next steps: achieving TCPA SMS compliance
Now that you know the basics of TCPA SMS compliance, it's time to put these practices into action. Here are some tips to consider before you dive in:
Consult your legal team first. Meeting TCPA compliance requirements can look different for each business, depending on your industry and use cases. Consult a legal team to ensure that you're meeting all TCPA requirements.
Remember that compliance is a continuous process. The FCC may amend the TCPA in the future. After all, it happened when texting came along. Additionally, industry bodies like the CTIA periodically update their guidelines for complying with these laws. Monitor regulations regularly to ensure you're up to date.
Keep a log of opt-ins. Track customers' opt-ins to ensure you're only texting those who gave their permission. (Your texting platform might do this automatically.) A record can also be useful for audits.
Once you've got these tips down, you'll be ready to start compliantly texting your customers—and building strong relationships based on trust.
To learn more about complying with key business SMS regulations, read our Text Messaging Compliance Guide: