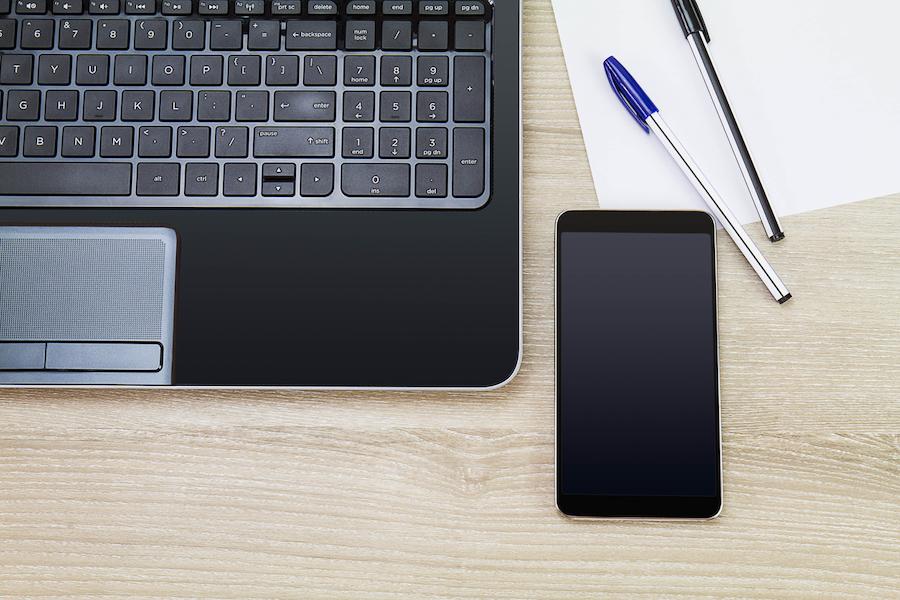 Whether you're using a laptop, desktop, or tablet, texting from a computer comes with a lot of obvious benefits. For one, laptop or desktop keyboards offer more typing space, and are more comfortable and ergonomic to use. Texting from a computer also allows you to send messages right from the same screen where you work, explore the web, or (let's face it) shop.
Ultimately, texting from bigger keyboards and larger screens helps you send text messages faster, more efficiently, and more comfortably.
In the following article, we'll walk you through how to text from the comfort of your laptop, desktop, or tablet.
1. Use an Existing Phone Number to Text From Your Computer or Laptop
There are two ways to send a text message from computers using your current phone number. (By "computers" we mean that you can text from laptops or desktops.) One option is for Apple device users, the other for Android device users:
Messages for Mac
Apple is all about convenient product use. If you already have an iPhone, Apple allows you to access full Messages capabilities from your Mac desktop or laptop. You can send SMS or MMS messages from your Mac, just like you would on your phone. If you don't connect your Messages for Mac to your iPhone, you can still send unlimited messages from your computer to any Apple product that uses iMessage—Apple's secure messaging service.
This is an ideal option for individuals who have Apple products or are considering purchasing them. It's a convenient way to seamlessly transition SMS conversations from your phone to your computer.
Apple has clear instructions for setting up Messages for Mac here.
Android's Messages for Web
Google allows you to use Android messages from a dedicated website on Chrome, Firefox, Microsoft Edge, or Safari. All you have to do is head to Messages by Google's website and sync your phone with a QR code. Then, you can start texting from the browser. With this online tool, you can send everything from emojis to GIFs via text from your computer. Just remember: if you want to skip the QR step in the future, keep your phone paired with your computer by clicking "Remember this computer" when that window opens up.
Similarly to Messages for Mac, texting from Android through the web is best used by current Android users. It helps you answer your messages through the device that's most convenient for you at the moment.
Google offers fast, simple instructions for Messages for web here.
Chrome Extensions
There are a few Chrome extensions that work similarly to Android's Messages for web. You have to download these extensions, and some charge a small fee. However, there is a lot of flexibility with some of these options. For example, you can send mass texts (e.g., single texts that go to a lot of recipients at once).
A Chrome extension may appeal to a small business or an individual business that needs basic mass texting capabilities, and is willing to pay a small price for the added capabilities.
Start looking through Chrome extension options here.
2. Text With a New Phone Number Using Google Voice
You may want to text someone from a new phone number. You can do that from your laptop or desktop, too. There are two ways to text from computers with new phone numbers:
Google Voice 
Google Voice offers free accounts for people who want to text from computers with brand-new phone numbers. You can send texts to any number—as long as it's not a five- or six-digit short code. You can also send group texts, but may only include up to seven numbers.
Google Voice is meant for personal use. It only supports one-to-one conversations. In fact, Google may block your texts if they think you're using their tool for business purposes. For example, they may block texts if you send identical messages to multiple people or send a lot of messages at once.
Find Google Voice setup instructions here.
3. Text Through Your Phone Provider or Business Messaging Service
If you're looking for a tool that you can use as a business, you may be thinking that the above options aren't ideal for your use cases. Here are two ways to text from computers you may want to consider:
Existing VoIP Providers
Voice Over Internet Protocol (VoIP) providers—like RingCentral—focus on phone call capabilities. But in many cases, they'll also offer some limited texting capabilities, too. For example, you may be able to text only a single person at a time.
This option may work for businesses that already have VoIP systems in place and don't need extensive texting capabilities. If you want to text from computers for personal reasons, you probably don't want to purchase a business-priced VoIP option.
Explore texting instructions for RingCentral here.
Business Text Messaging Platform
Business text messaging platforms offer extensive texting capabilities. You can message individuals one at a time or many individuals at once. You can send text, images, videos, emojis, and GIFs. You can also add notes and custom fields to the profiles of the leads or customers you text.
A business text messaging platform is built specifically for business teams. The platforms charge monthly fees, but you can expect to find team collaboration features (e.g., shared inboxes and private comments), efficiency tools (e.g., templates and lists), and continually-evolving feature offerings that save your business time and money. You can also create automations to streamline workflows, and even set up integrations between your business text messaging platform and your favorite business apps, keeping all your data updated and centralized.
Learn more about business text messaging platforms.