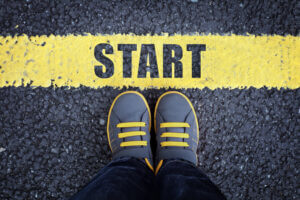 After the COVID-19 pandemic started, a lot of businesses pivoted from in-person communications to real-time messaging. Tools like business SMS have been critical, especially in the new takeout and curbside pick-up industry. But if you're new to business text messaging technology, you may feel unsure of where to start. That's why we've created this beginner's guide to business SMS. 
A business SMS platform helps your team send, receive, and manage incoming customer messages. Your platform should come with a lot of built-in enterprise-grade features—like tight IT security and roles and permissions—that are automatic or easy to use. It should also come with efficiency tools and advanced features, like automations. We'll walk you through the must-have basics so you can get started easily. 
In this beginner's guide to business texting, we'll go over helpful tips for texting customers as well as the platform features you'll want to use right away. 
Get Customers' Written Consent Before You Text Them
You can't just start texting customers, even if you have their contact information. First, you have to get their written consent. 
Why? Your business is subject to both federal laws, like the TCPA, and local laws. If you deal with customers from the EU, you may even have to deal with international laws, like the GDPR. If your business doesn't achieve SMS compliance, you may face fines or other consequences. One of the biggest requirements of compliance is that customers must opt in to your SMS program before you start texting them. 
Asking customers to opt in boosts your SMS engagement rate, since all SMS list members will be willing participants. Plus, it's pretty easy to get customers to provide their consent. They can either text in a keyword (like YES) or check a box on a web form. Then, your team can send them a quick confirmation to ensure they meant to opt in. After that, make sure to include opt-out instructions on each text, so customers can stop receiving your texts quickly. (A keyword like STOP will work well.)
Focus On SMS Customer Service and Engagement, Not SMS Marketing
Customers need a good reason to opt in to your business SMS program. You can quickly grow your SMS list by offering key customer service benefits. For example, you might offer SMS curbside pick-up alerts or SMS appointment scheduling. Because SMS is a personal, fast channel, customers can quickly read critical information or ask questions.  
If you use this same channel to directly promote your products or services, you may find your SMS audience unengaged. SMS is a more personal channel than email, as it's likely the same channel customers use to connect with friends and family. They don't want to see ads alongside a birthday note from Grandma. In fact, 91% of consumers already think today's ads are more intrusive than ever.
Instead of sending coupons and other deals, focus on messages that provide value to customers. Use business SMS to relay both SMS customer service and engagement messages. These can include order notifications, service follow-ups, feedback surveys, industry fun facts, product tips, and more. This valuable content will engage and help your customers. 
Keep Texts Short, Simple, and Cheerful
It's easier to misunderstand someone's meaning over text than on the phone. Without vocal inflections to help your team get their meaning across, there's a chance that your customers might mistake the tone of their texts. 
However, your team can easily prevent any misunderstandings by using clear and chipper language. Make sure your teams:
Keep answers brief and to the point (e.g., "That's correct! We are open 9-5 today.")

Use straightforward language (e.g., "Hello! What can I help you with?")

Avoid acronyms (e.g., "Thank you very much" rather than "TYSM.")

Write complete sentences, complete with punctuation (e.g., "Yes!")

Use emojis when it can clear up tone (e.g., "I'm glad we worked that out. 😊")

Don't forget polite phrases (e.g., "Happy to help!")

Recap conversations (e.g., "To confirm, you'd like to pick up order #8945 tomorrow at 3pm?")
These tips will ensure customers enjoy your SMS conversations, and never walk away confused. 
Use Business SMS Efficiency Features Early On
When you first log on to your business SMS platform, you'll find it easy to click on messages in your shared inbox and reply. That's the most basic tool, and it's not hard at all to use. But you won't want to stop there—even if it's your first day using business SMS. 
There are a few more tools that can drastically improve your team's business SMS performance. You should become comfortable with:
Templates

, reusable messages that let your teams include photos, links, and custom fields in addition to text; they are great for responding to frequently asked questions

Lists

, which allow you to organize customers and implement campaigns for targeted outreach

Personalization features, like

merge tokens

, which personalize mass texts with help from CRM-based custom fields; auto signatures can also add a human touch to outgoing messages

Scheduled messages, which allow you to schedule texts in advance, at the exact date and time you choose; they simplify the process of sending appointment reminders, conversation follow-ups, and feedback requests

Drip campaigns

, a sequence of text messages sent on a predetermined schedule, which help your team connect with customers on a regular basis without extra work
These efficiency tools are all easy to use and will have a big impact on your team performance right away.
Try Advanced Features Sooner, Not Later
You may want to wait until you master basic efficiency features to move onto automations and SMS integrations, but don't wait too long. Though more advanced, these tools can streamline your entire team's operations. 
SMS integrations, for example, allow your favorite business SMS apps to speak to one another. 
For example, your teams can integrate your business SMS platform with your CRM, syncing all contact data and enabling key triggers. You can even integrate business SMS with your internal chat apps, like Slack and Microsoft teams, so that your teams can answer incoming messages right within a channel. 
SMS automations work well within your business SMS platform or between integrations. For example, you can automate responses to incoming texts based on keywords. You can also automate your business SMS platform to text new opted-in contacts who are added to your CRM. 
While these tools are slightly more advanced, they're well worth using as soon as you've explored the rest of the business SMS platform. They'll help your teams reduce legwork and answer more customers with the most accurate answers possible.

If you learn anything from our beginner's guide to business SMS, let it be this: once you've grown comfortable with the basics, don't wait to test out new features. 
Want to read more content like this beginner's guide to business SMS? Check out our blog.