How to Use Business Text Messaging
Customers want to text with businesses. Here's how to start connecting with them.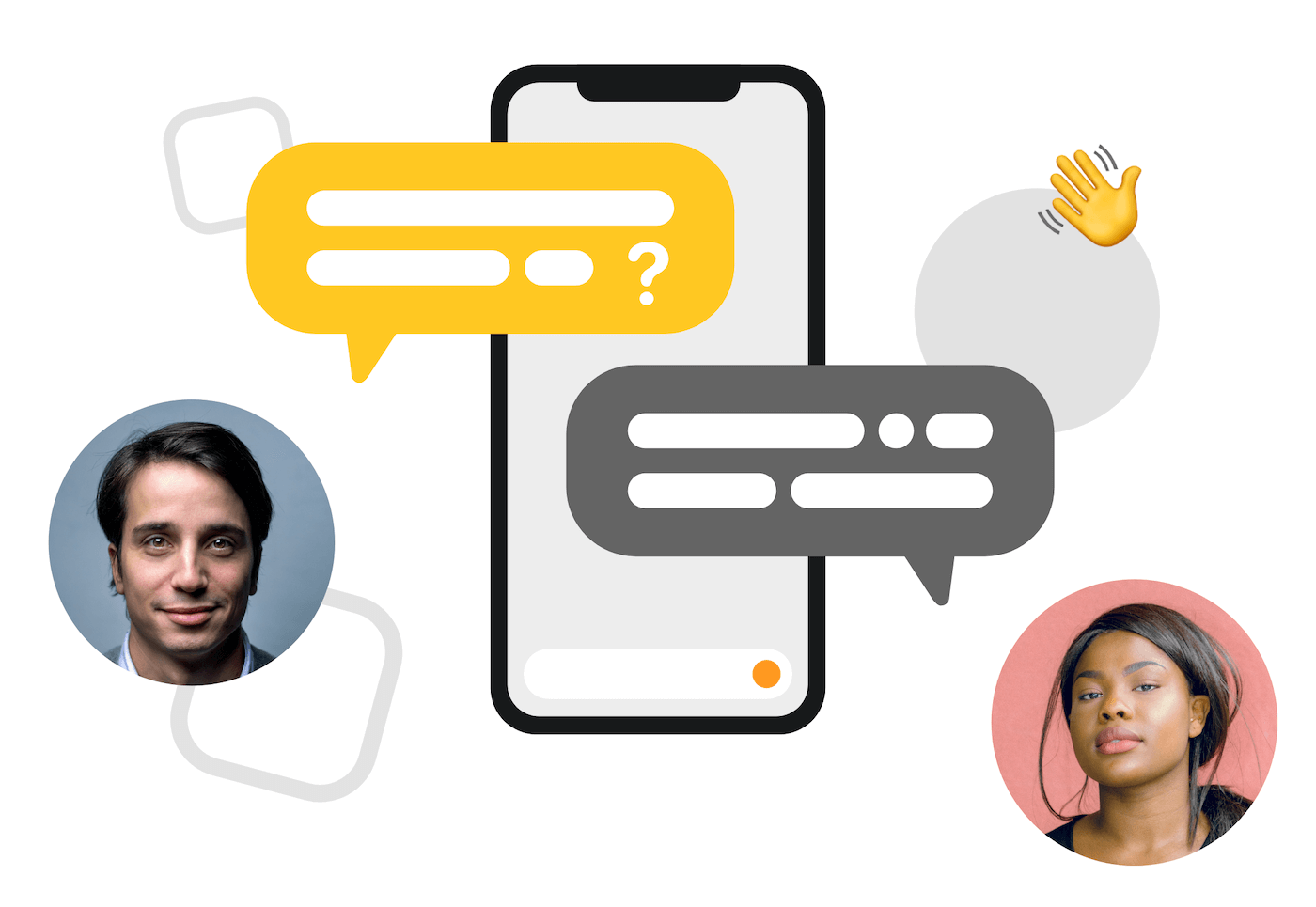 Texting has become a crucial tool for businesses. More and more companies are adopting it. But before they connect with customers, they need to learn what business text messaging is all about—and how to use it effectively. That's why we've compiled everything you need to know to get your start.
Click the links below to navigate to each question, or keep reading to learn the ins and outs of using business text messaging.
How To Send Business Text Messages
How can you send business text messages when you haven't done it before? All you really need is a phone. But you'll also need a way to tie SMS data to the rest of your communications data. In many cases, you'll need to turn to a business text messaging app or a text messaging service for business for those capabilities.
Texting customers from a single business phone
You can use a dedicated business mobile or smartphone to text customers, but that can lead to some challenges. For example, only one team member can text at a time. You won't have a reliable way to track metrics or compare them to your other communications data. You'll also have limited ability to control the security of your business phone and the texts within it.
Texting from your landline
It's easy to set up business texting if you have a landline, toll free, or VoIP number. All you need is help from a business texting services provider. They will text-enable your number after you make your request, separating SMS capabilities from your voice capabilities. Afterwards, when leads and customers message your number, their messages will end up in your SMS platform.
Using a business text messaging app
If you have a team of two or more people, using a tool gives you special features to seamlessly communicate with your customers. Business text messaging apps help you send, receive, and organize messages. They offer security features, like roles and permissions. Finally, they offer efficiency features that empower you to manage many incoming and outgoing texts.
How To Get Started with a Business Text Messaging Platform
Getting started with business text messaging is easy. There are four basic steps.
Choose Your Business Texting Services 
First you need to choose how you'll text customers. We recommend using a business text messaging app> so you can capitalize on its team-centric features. Ensure the app lets you accept messages from a wide variety of messaging services. It should offer SMS security features and efficiency tools, too. Finally, the app should allow you to sync your SMS contacts quickly.
Text-Enable Your Landline (If Necessary)
If you already have a business line that you want customers to text, you need to text-enable your number. Your business texting services provider should take care of the details after you fill out a form or two.
Publicize Your Messaging Entry Points
Customers need to know they can message you before they can start conversations with your business! Place your messaging entry points, including your business SMS number and links to your other messaging channels (e.g., Facebook and Instagram Messenger), on your website and social media accounts. Include them on marketing newsletters and customer service emails. Remember to activate your Google Business Messages and Apple Business Chat accounts.
Set Up Auto-Responses
Customers expect fast responses through a fast channel like texting. Let them know that you'll get to their messages soon with a during-hours auto response that lists your average response time. You can also set up a different auto response for after business hours that lets them know when your team is back in action.
Business Text Messaging Use Cases
Business text messaging is best used for engaging customers in one-on-one chats and building long-term, genuine relationships—not for sharing coupons or boosting short-term sales. This focus on creating personalized conversations to build brand loyalty is also known as conversational support, sales, and marketing.
Customer service and support
One of the best ways to use business texting is for conversational service and support. In fact, 80% of customer service organizations are projected to make messaging their preferred channel by 2025. Use SMS to offer product tips, answer queries, schedule appointments, send alerts, share invoices, quotes, and directions, or troubleshoot problems. And, don't forget to send survey requests to ensure you always have a good sense of customer needs.
Sales
Ninety percent of leads would rather receive a text than a phone call. SMS is the future of the sales follow-up, as leads are more likely to read and respond to follow-up texts than follow-up emails or calls. Use conversational sales to connect with customers who have questions, give expert advice, offer VIP gift suggestion services during the holidays, and send follow-ups.
Don't engage in "spray and pray" sales, or sending mass texts to large SMS lists. The more targeted your messages and lists, the more they'll resonate with your leads and move your relationships forward. You want to start conversations with customers, not think of each message as a means of conversion. Engaging with customers in an authentic, empathetic way helps create relationships, draw repeat customers, and increase long-term loyalty.
Marketing
Conversational marketing helps increase customer engagement. Encourage customers to interact with you by sending texts with unique product tips, use cases, and opinion polls. You may consider running SMS-only competitions, asking customers to send pictures of your product in use. Always let customers know that you'd love for them to respond. Creating these moments for customers to share their experiences increases excitement in your brand.
Operations
Operations teams can use texting for dispatch and field workers, especially in industries like food delivery and home services. Use it to remind field workers about upcoming job details. Navigate sudden logistical problems in the field. Coordinate directly with customers, keeping them updated about upcoming house visits, personal deliveries, and invoices.
Business Text Messaging Examples and Types
You should be sending a few types of messages regularly. They will help you answer customer questions, streamline their experiences, and foster personal connections. Create an SMS template (or two) for each of your most-used message types, then use your SMS templates whenever the same situation comes up.
Inbound responses
When leads and customers reach out to you, you should reply with uniform, on-brand messages. These messages are called inbound responses. You want to send more inbound responses than outbound messages (more on those in the next section). Here's an example of an inbound response to a customer question: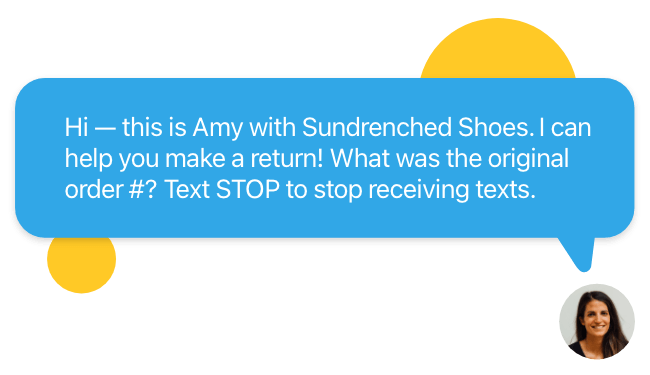 Outbound messages
Outbound messages are those you send to opted-in customers before they text you. These can include follow-ups, notifications, product tips, and more. When sending outbound messages, be sure to re-introduce yourself and provide value: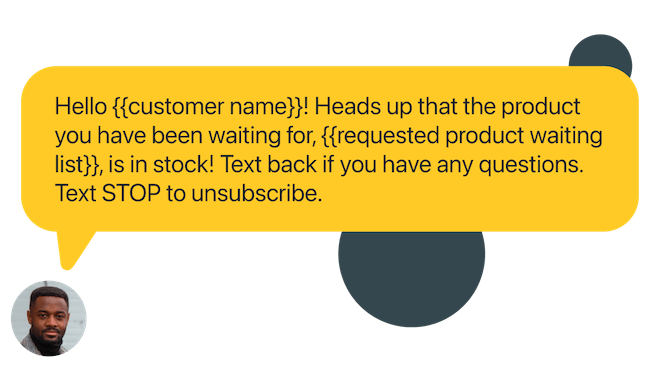 Opt-in confirmation
You can only text customers who opt in to your SMS services. A customer can opt in to texting with your business by texting in a specific keyword or checking a box via a web form. Confirm their opt ins with a quick text that outlines what your service is all about, and make sure to include a way for them to unsubscribe if they want to: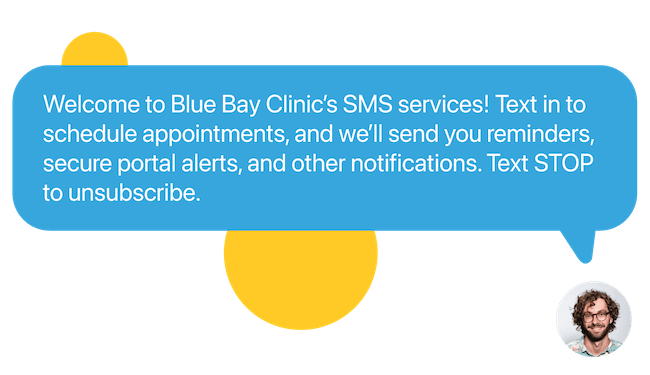 Introductions and greetings
Greetings and introductions are important. After all, they introduce your business to leads and customers. Your introductory business texts should have a clear brand voice that sets the tone for future messages: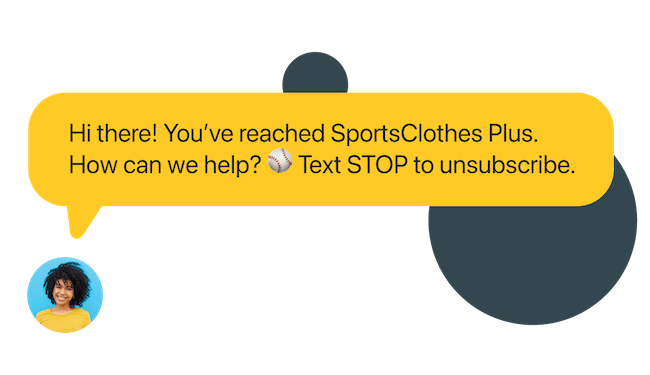 SMS order notifications
Customers want to make sure you received their orders. Use SMS order notifications to keep them up to date. Include the most important information, like the order number, and reassure them that you'll reach out when their products have shipped: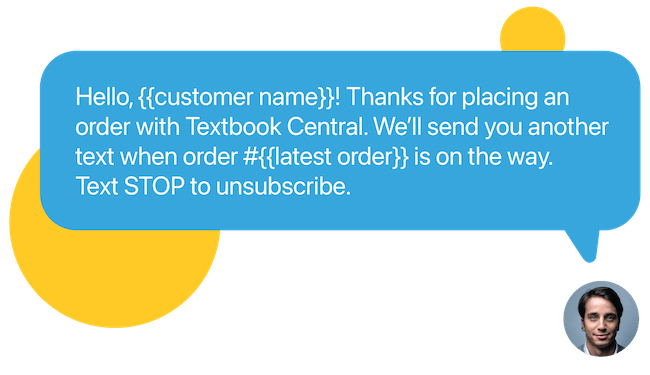 Delivery updates
Most customers want to know when to expect their orders so they can keep their eyes peeled. Send delivery updates during each step of the journey. Don't forget to link or include detailed tracking information: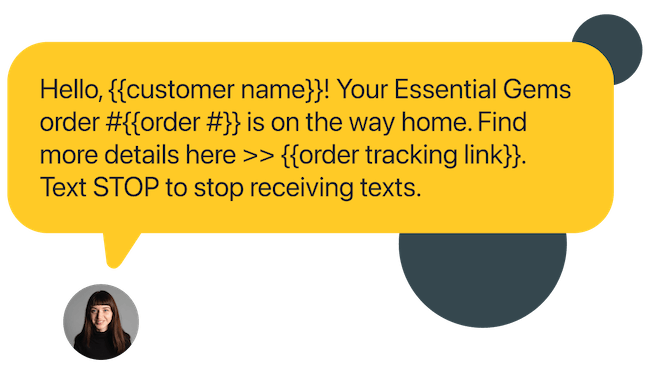 Scheduling messages
Scheduling customer or patient appointments via business SMS is fast and easy. Make sure each scheduling message is brief but asks pre-emptive questions to make the conversations move along faster: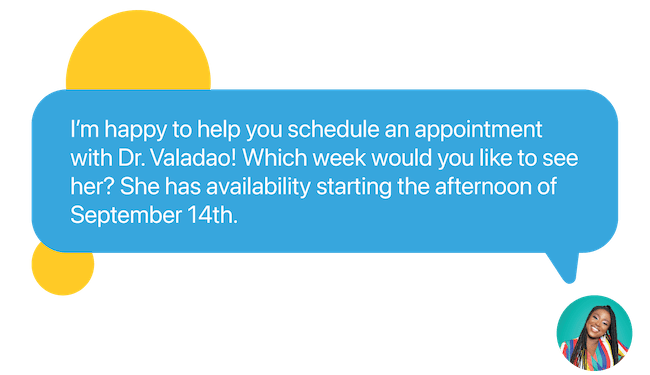 SMS appointment reminders 
Once customers or patients have scheduled their appointments, the trick is getting them to show up. Make sure they don't forget with SMS appointment reminders. Provide basic information as well as the opportunity to reschedule if they need to: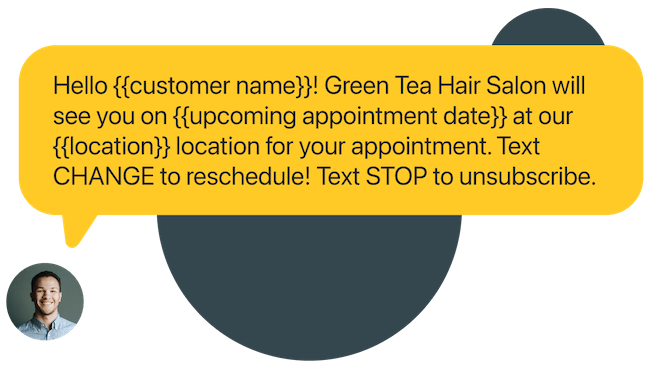 Follow-ups
Send follow-ups after every customer interaction. For example, you'll want to follow up after SMS ticket resolutions, appointments, and order deliveries. Follow-ups should clearly invite customers to respond: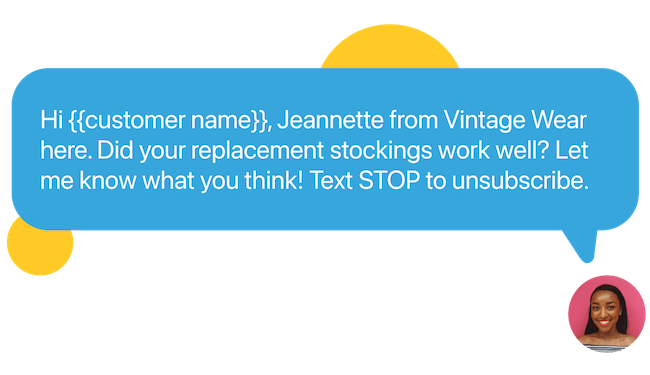 SMS survey and feedback requests
Some business SMS platforms offer built-in chat-based SMS surveys. They start by asking customers a quantitative question, then automatically follow up with a free-from question. Make the initial question simple so more customers will respond: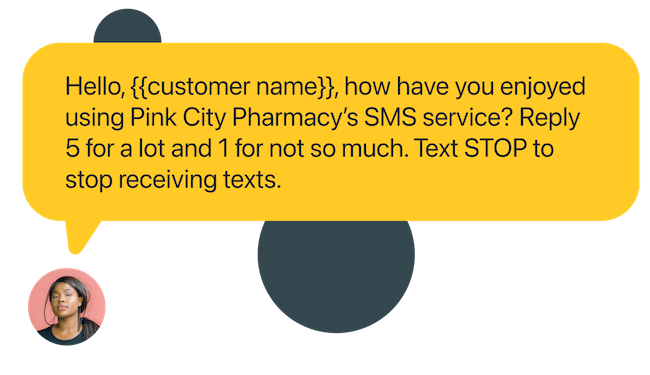 Auto responses
Customers want fast responses—even when you're not available. Manage their expectations with auto responses for when they contact you after-hours  or message you during business hours. A during-hours auto response might look like this: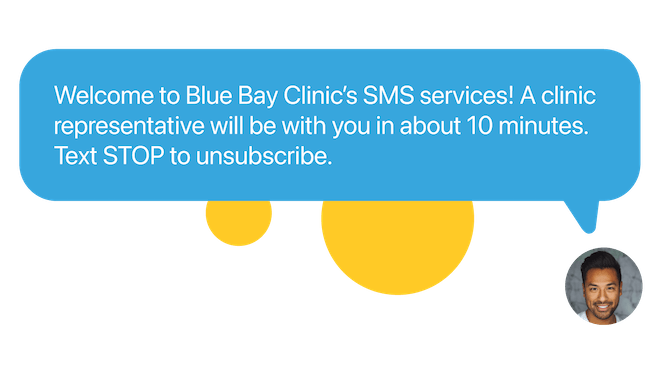 Business Text Messaging Best Practices
When you're getting started with any new technology, it's a good idea to acquaint yourself with basic best practices. Business text messaging has a few key best practices to follow.
What is business text messaging etiquette?
SMS is a casual channel, so you don't want to sound too formal—but you still want to be professional. Chat in a positive, relaxed tone, like you would use with a new neighbor. Address customers by their first names, but don't use slang or acronyms. Text during business hours, too, so you are less likely to reach them when they are spending time with friends and family.
How can I keep my business text messaging secure? 
Your business text messaging app encrypts texts while they're traveling through its system. You can help secure texts by controlling roles and permissions, and by securing your WiFi. But regardless of what tools you use, texts are insecure once they reach consumers. Anyone can read a customer's texts if they have access to that customer's phone. Plus, hackers can intercept texts when they're travelling between mobile devices.
Can I text customers without permission? 
As per the Telephone Consumer Protection Act (TCPA), you may never text customers without an SMS opt in from them, which is explicit, written permission. They can either text your number with a keyword of your choice or check a box on a web form. We advise you to text customers with a confirmation after they opt in, so you can ensure that they want you to text them.
How can I save time while managing a lot of customer texts? 
Team tools like private comments and auto assignments help you coordinate on support issues and sales handoffs. Send mass texts by texting an SMS template to a list of recipients. Automations let you streamline repetitive tasks. SMS integrations help you share data between your favorite business apps—and even streamline processes by connecting their productivity tools.
Starting Your Business Text Messaging Journey
Getting started with business text messaging is easy—especially if you're using a business texting platform.
After setting up your platform, publicizing your messaging options, and creating some auto responses, you'll be ready to start messaging with your customers. Each of your teams has its own uses for business SMS, and with help from our SMS templates, you should be able to efficiently manage lead and customer messages.
Ultimately, with help from our best practices, you'll find it easier than ever to make genuine conversational connections with your customers.
More Business SMS Resources & Guides
Looking for more resources to help you get started with business texting? Explore our guides below.
Resources for Business SMS Uses
Business SMS Resources by Industry
Business Text Messaging FAQs
You've got questions, we've got fast answers.
How can you get text messages from your business number?
If you have a landline, toll-free, or VoIP line, you can separate the texting capabilities from the voice capabilities. All you need is help from a business texting services provider. They can quickly text-enable your number.
How do you set up texting for your business?
You can get a dedicated business phone, but adopting business texting services allows your team to share information and measure results. If you adopt the latter, you will simply upload your current SMS contacts, link your current business number to the platform (if you have one), and publicize your messaging entry points.
How do you text customers?
Text customers from either a dedicated business mobile or with help from business texting services. A business text messaging app offers extra features, like team capabilities, efficiency tools, automations, and SMS integrations, that help you resolve more customer queries, faster.
What is enterprise text messaging?
Enterprise text messaging is messaging for large corporations. Enterprise text messaging apps empower teams to scale the number of team members managing texts and/or the number of messages received. They also offer features to help resolve more queries, faster.
How do you write a follow-up text?
Follow-up texts should introduce the team member, mention the customer's last interaction with your brand, and have a clear CTA. For example, you might ask customers to text back if they have additional questions or if they want to complete your survey.
How do you send automated texts to customers?
You need a business text messaging app to automate texts. Within the platform, you choose a trigger, like a certain keyword or key phrase. Then, you choose the action, like sending an SMS template. When your platform detects the keyword, it will automatically send your text.
How do you write a professional text message?
Professionalism in texting looks a little different from professionalism in emails. You should use a casual, positive tone. You can even use emojis and GIFs. However, be sure to use correct grammar and punctuation, and avoid acronyms and slang.