What is Business Text Messaging?
At its core, business text messaging is communicating with your customers via SMS.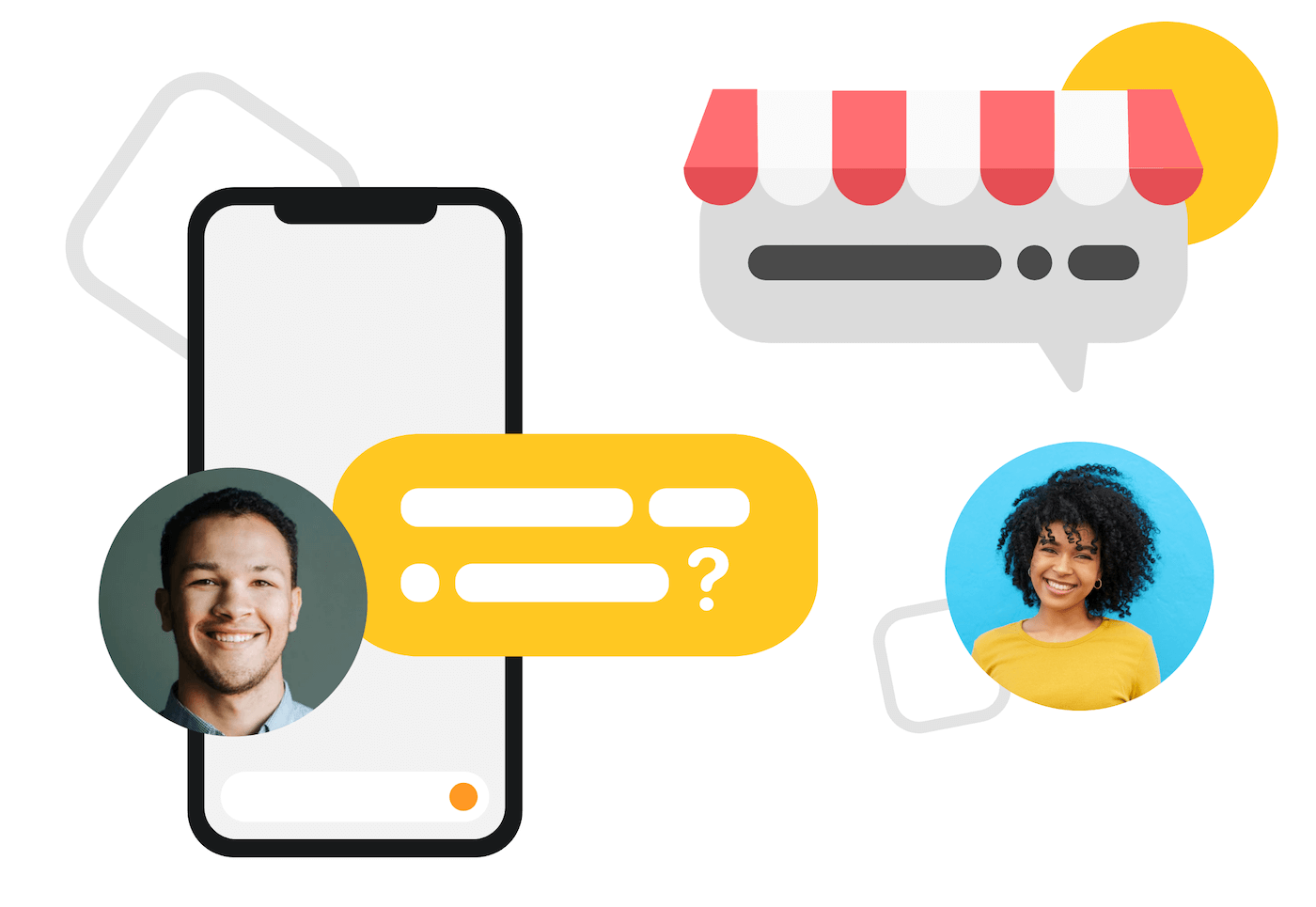 Today, 89% of consumers want to text the brands they love. As texting grows increasingly popular, it's an essential tool for businesses that want to connect with their customers. More and more companies are adopting business texting to start and scale customer conversations in a way that's inherently different from emailing and calling.
But what exactly is business texting? And how do businesses text customers? We'll answer these questions and more:
Business Text Messaging Defined
Business text messaging or business SMS is texting specifically between businesses and their customers, leads, or any stakeholder that a business has a relationship with at scale.
Like its name suggests, business text messaging is centered on SMS because the strategy originated with SMS. In the past few years, the term has evolved to include messaging through other popular services, like Facebook Messenger, Instagram Messaging, WhatsApp, Google's Business Messages, and Apple Business Chat.
What's the difference between a personal text and business text?
A personal text is a message sent from one individual to another, like from a friend to a friend. A business text is sent from a company representative to a lead, customer, or other stakeholder. Business texts are most often sent through a business SMS platform or business text messaging app. These tools help the company send, receive, and organize messages.
Who should use business text messaging?
Business texting is useful to companies of all sizes and across industries. It empowers them to have fast, direct, person-to-person conversations with customers. You should use it if you want to:
Manage a multi-person team that interacts with customers
Answer questions about your products and services quickly
Deepen relationships with customers, turning them into advocates for your brand
Communicate with customers at scale on a one-to-many basis
Prioritize customer convenience
Continually improve customer communication efficiency by tracking message response time as a KPI
What Are the Benefits of Text Messaging for Business?
Text messaging is the most convenient channel for customers. Businesses who text with their customers are reaching them on the channel they prefer. Having real-time chats with customers also helps resolve their queries faster. Finally, business texting services offer efficiency tools that help companies streamline workflows, speed up response times, and create the kind of seamless experience that customers crave. These are just a few of the benefits of text messaging for business.
Why is business text messaging important for businesses?
Texting has become a crucial part of everyday life for most people. On average, most people use 3 different messaging apps each week to chat with friends and family. Nine in 10 consumers also want to text with businesses, but less than half of companies are currently equipped to meet their needs.
Still, businesses are recognizing the demand for texting and quickly adopting the channel. Global mobile business messaging traffic hit 2.7 trillion in 2020, up 10% from 2019, and is expected to only keep growing.
How Does Business Texting Compare to Other Channels?
Most businesses already communicate with customers over the phone and in email conversations. Text messaging as it relates to businesses is an inherently different type of channel, with its own role to play in customer relationships.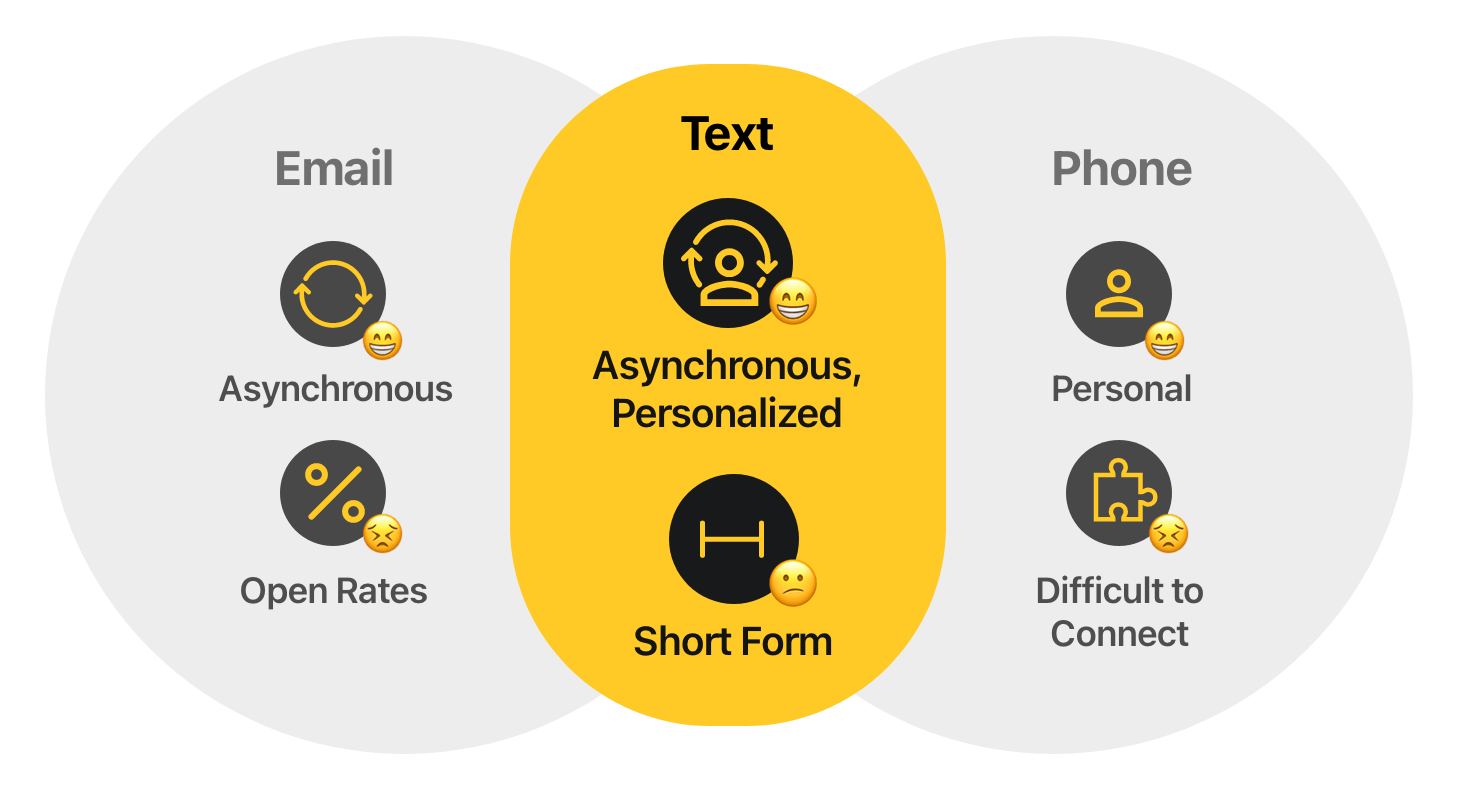 Business texting vs. calls 
Calls are great for fostering personal connections. But, they're also time-consuming; it takes time to connect with a customer, and you can only speak to one person at a time. Here's what the stats say:
Business texting vs. email 
Email has been around since 1971, long before text messaging became widely prevalent. It's embedded into the culture of business, so companies have a strong command of using it in a professional setting. It's also asynchronous, allowing customers to have conversations at their own paces.
Your email inbox and SMS inbox likely look quite different. Email is a more saturated channel. Customers receive an immense amount of emails every day and, consequently, sometimes miss important messages:
The average office worker receives 121 emails a day, but only responds to seven of them. That's a 6% response rate.
Nearly 50% of email is spam. Of those 121 emails, 60 of them are irrelevant to the office worker receiving them. Responses take around 90 minutes. When recipients do respond to emails, it takes them a considerable amount of time. Resolving queries, even for simple questions, can take days.
SMS, on the other hand, has a 45% response rate and an average response time of 90 seconds, allowing conversations to happen at a faster pace.
Business texting vs. traditional texting
Texting combines the personal touch and immediacy of phone calls with the ease and asynchronous communication style of email. So what's wrong with using traditional texting in a business context? Your personal phone doesn't let you organize texts or analyze texting patterns. It offers no internal security features. You can't text multiple customers without using a group text. Business messaging platforms fill all of these gaps and more.
How does business texting complement these channels?
Really, you should be using all three channels together. Use texting for quick chats and notifications, keeping communications moving along. Use email for more in-depth conversations, adding details and a sense of formality. Finally, use phone calls for important or confidential conversations, solidifying those personal connections you started making with SMS.
The Bottom Line: Entering the World of Business Text Messaging
Business texting offers you the opportunity to connect with your customers through a new channel that they love.
It's fast, convenient, and personalized, helping boost customer engagement. Business text messaging apps allow you to send, receive, and organize messages with ease. Plus, texting works well alongside traditional channels like phone calling and emailing. You can use texts for day-to-day communications, emails to provide depth, and calls to solidify personal connections.
Ultimately, if you choose to adopt business texting for your team, you'll enhance the customer experience by reaching them in a way you couldn't before.
Ready to learn more about using business texting, and how to get started? See Part 2 of this series: How to Use Business Text Messaging.
More Business Texting Resources & Guides
Looking for more information about business text messaging in your industry? Check out our resources below.
Industry Resources for Business SMS
Business Text Messaging FAQs
You've got questions, we've got fast answers.
A business text is a message that is sent from a representative of a business to a lead, customer, or other key player such as a field employee. It's usually sent by either a dedicated business phone or, most often, a business text messaging app.
When should you use text messages?
You should text customers for short, day-to-day tasks. This can include scheduling appointments, answering short questions, starting returns, troubleshooting issues, and notifying customers about orders, deliveries, upcoming appointments, and returns.
Can businesses text customers?
As long as customers have opted in to your SMS services, you can text them. Send limited marketing and sales material, focusing on customer service and support instead. You must immediately remove customers from your SMS list if they choose to opt out.
There are a few differences between short messaging service (SMS) and multimedia messaging service (MMS). The biggest difference is that SMS messages can only include text and MMS messages can include photos and videos. Business text messaging apps send both.
Can you text customers without permission?
No. The Telephone Consumer Protection Act (TCPA) explicitly states that customers must provide written permission before you text them. They can opt in to your SMS services by texting in a keyword you specify or by clicking a box on a web form.
Is it better to email or text?
Each channel works best in different circumstances. Texting works best for short, day-to-day use cases, like scheduling appointments and sending basic notifications. Email helps you add even more detail to complex conversations, plus a touch of formality.
How do companies send text messages?
Larger companies always use business texting services to send, receive, and organize messages from a variety of messaging channels. Smaller companies usually use texting services, but occasionally use dedicated business phones.