If you use Microsoft Teams and need to talk with your colleagues, chances are you don't need to leave Teams unless it's an in-person conversation. That's probably because Teams lets you chat with your teammates, collaborate and share documents, jump onto voice calls, and have face-to-face Meetings. Really, is there anything it can't do?
Microsoft Teams was purpose-built for communicating within an internal team. But as customer demand for texting with businesses grows, so has business' interest in messaging customers right from Teams, where they can collaborate with their own team to answer questions. But can Microsoft Teams receive and send text messages?
Microsoft Teams does not have a built-in text messaging feature, but luckily, one of its biggest benefits is that it integrates with multiple third-party tools. These tools empower you to send messages, both via SMS and on popular messaging channels like Facebook Messenger, to coworkers or customers. Here's how to send a text through Microsoft Teams.
Want to start sending texts from Microsoft Teams? Check out Heymarket's Microsoft Teams SMS integration.
Learn More
Step One: Choose a Third-Party Messaging App
Before you send your first text through Microsoft Teams, you need to choose the right third-party messaging integration from Microsoft's AppSource. Many SMS apps require you to send texts through their SMS platform, rather than directly through Teams. To send a text through Microsoft Teams itself, find a product that allows you to send texts right from the Teams interface.
Look for a messaging integration that allows you to:
Start new texting chats from within a Microsoft Teams channel
Receive and reply to texts from within a Microsoft Teams channel
Receive and reply to messages from popular apps (e.g., Facebook Messenger) from within a Microsoft Teams channel
Use pre-made message templates from an integration-specific Tab within Microsoft Teams
Once you've identified a tool that offers these features, you can start setting up your Microsoft Teams SMS integration.
Step Two: Configure the Messaging Integration
Configuring a messaging integration should only take an hour at most with help from a step-by-step guide. In this phase, what you're doing is ensuring that both platforms are set up to share data and take actions in one another.
To configure the messaging integration, you will need to:
Download the third-party messaging app within Microsoft Teams. The Microsoft Teams AppSource marketplace offers multiple direct SMS integrations, like Heymarket and Text Bot.
Set up the third-party messaging app (if you haven't already done so). This process will likely include sharing your basic information (like email address and company name), as well as authenticating this information.
Confirm the integration in both platforms. Within your business SMS platform, you should see a new screen that allows you to set up the Microsoft Teams SMS integration. You'll follow the guided process, which asks you to begin an authentication process within Microsoft Teams SMS.
Decide which business texting inbox will map to which Microsoft Teams channel. If you have multiple SMS inboxes for multiple teams (like Sales and Customer Service) you will have to make this decision. You'll also need to decide on the Microsoft Teams channel these rerouted messages will go to.
Map your business SMS inbox to your designated channel. Now that you've made that decision, you can proceed with the setup process. On the Microsoft Teams integration page within your business SMS platform, choose your inbox and Microsoft Teams channel.
Test the integration. Finally, your business SMS platform will send your Microsoft Teams channel a message. If you set up the integration properly, you'll receive a text within your designated Microsoft Teams channel.
In this step, you'll notice that both Microsoft Teams and your third-party messaging app require a lot of authentication. This is a good thing: since you will be texting customers and business partners, you'll want to ensure that there are security measures in place to protect their personally identifiable information (PII).
Step Three: Learn Basic Texting Features
Before you send a text to a customer or business partner, you'll want to learn how to use basic texting features, exploring how exactly they work within Microsoft Teams.
All third-party messaging apps don't offer the exact same features. They'll allow you to text in different ways. For a platform like Heymarket, for example:
You have to mention the bot @Heymarket to text a phone number.
You can start a new SMS conversation in Teams by @mentioning Heymarket, choosing Heymarket from the hint pop up, then choosing the selected action to start a conversation. The formula looks like this:

Template:

@Heymarket text [Phone] [Text Message]

Full Example:

@Heymarket text 1(415)423-3980 Hi Janet, don't forget your meeting with Charlie from Swift Shoes Sales tomorrow at 6!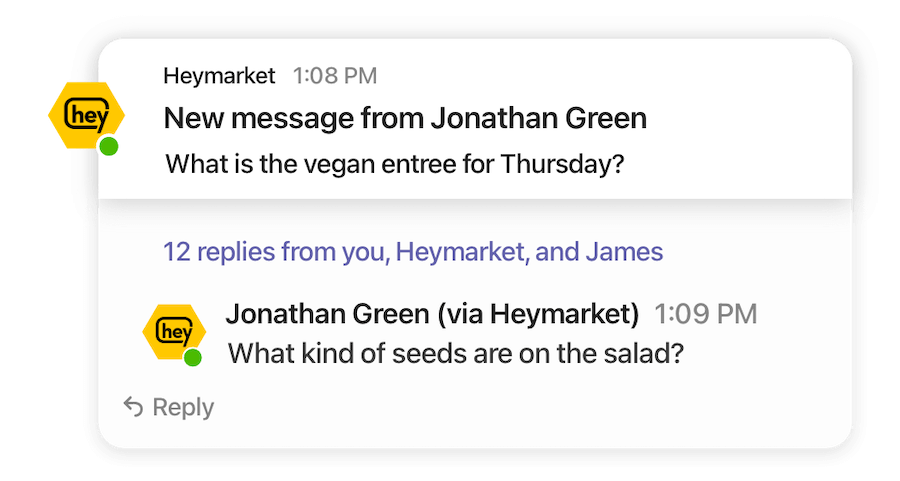 You'll receive replies in a single Teams channel, which you designate. Answer these texts by @mentioning Heymarket again.
You can send a single message to a list of your customers from within Teams. Recipients will not see one other and can respond back to your team. The formula looks like this:

Template:

@Heymarket [List name] [Text message]

Full Example:

@Heymarket [Recruits] [Please submit your time sheets by EOD tomorrow!]

To learn these key features and make sure your Microsoft Teams SMS integration is working, text your own number (or one of your other business numbers) from Microsoft Teams SMS.
Step Four: Start Sending and Receiving Texts
After you've set up the Microsoft Teams SMS integration, it's time to start sending texts to customers and replying. Remember that, depending on the third-party messaging app you choose, you may need to @mention the messaging app before you can send your texts. Then you'll be able to manage customer texts from your favorite team collaboration channel.
The Bottom Line: Using Microsoft Teams Text Messaging
A Microsoft Teams SMS integration brings a much-needed tool to your favorite internal messaging platform, so you don't need to leave Teams to make connections over text. It makes it easy to connect with your customers and business partners—while collaborating with your team members. Ultimately, SMS for Microsoft Teams helps you provide accurate replies to customers in record time.
Want to learn more about sending texts through Microsoft Teams? Explore Heymarket's Microsoft Teams integration.
Learn More