You can't reply to customers' texts while you're recharging at home. Instead, use after-hours auto replies to let customers know when you and your team will be available for business text messaging.
How Business Text Messaging Auto Replies Work
Business text messaging auto replies work just like email auto replies. You can set up your business SMS platform to send an SMS template when it receives customer messages during a certain time period. In this case, the time period would be your out-of-office hours.
When you return to the office, you can review your shared inbox to see the messages your customers sent and the replies sent by your business texting platform's auto-reply feature. Then, you and your permissioned team members can reply to them.
You can create different auto replies for each of your shared inboxes. For example, you might have a business SMS number for general messages, one for customer service, and another for dispatch and operations. Alternatively, you may only have a business SMS number for customer service.
We've rounded up 21 examples of after-hours auto replies to help you craft your own. Feel free to borrow them and tweak as needed!
After-Hours Auto Replies: General
Create a general after-hours auto reply for customer messages that arrive in your main shared inbox. Depending on your texting brand voice guide, this response can mimic a standard email response or sound a little more casual. (We'll dive into industry-specific examples at the end of this article.)
After-Hours Auto Replies: Customer Service
Customers may reach out to your customer service line for a variety of reasons, ranging from complaints to questions about your newest product. With this in mind, your customer service after-hours auto reply should offer something for everyone:
After-Hours Auto Replies: Sales
Ninety percent of leads would rather communicate via texts than phone calls. This is a great opportunity, but you can't sit by the phone every second, waiting for leads to text in. After-hours auto replies allow you to ensure that your leads receive fast responses and know exactly when you'll be available. Make these responses personable to keep your leads interested:
After-Hours Auto Replies: Operations
In today's always-on environment, deliveries happen around the clock, but your dispatch and operations team isn't always in the office. With after-hours auto replies, you can reassure customers that answers are on the way. Customers messaging your dispatch team are likely already contacts in your business SMS platform. In that case, you can include space for custom fields in your SMS templates to give these messages personal touch:
After-Hours Auto Replies for Key Industries
Your business's industry will influence your auto replies. You need to take into account what customers might need when they text in—and, in some cases, what services regulations will allow you to provide:
eCommerce After-Hours Auto Replies 
eCommerce customers are most likely reaching out for help with an order or delivery. In general, these customers expect 24/7 service. Let them know when they'll receive a reply—and don't forget to add your main time zone, since shoppers may be cross-country or even international. Add your holiday hours during the busiest time of year:
Medical After-Hours Auto Replies 
Patients should contact your SMS for healthcare services for administrative tasks, like scheduling. In case they accidentally reach out for other purposes, include instructions for emergencies or health-related questions:
Professional Services After-Hours Auto Replies 
Professional services teams serve a wide range of customers, from other businesses who need a cloud server to average consumers in need of help with taxes. All of these businesses are relationship-centric. Infuse messages with your brand voice to emphasize that authentic connection:
Getting Started: How to Set Up Auto Replies
Now you have ideas—so how do you put them in action? The steps for creating an automation will differ depending on your business messaging platform, but they should look something like this:
Navigate to Automations. Then select the option to "Create Automation."
Select the trigger for your automation. It will be that the time of the incoming message is after your business hours.
Select the action you want to happen next. This will be sending your after-hours auto reply text.
Choose a template for your auto reply message. Alternatively, create a new one or use one of the templates from this article.
After this, you will be able to set your automation in motion. With an after-hours message in place, you can rest assured that customers feel supported—even when you're out of office.
Want an in-depth look at automating texts to expedite every area of your business? Read our ebook Automated Text Messaging: The Complete Guide.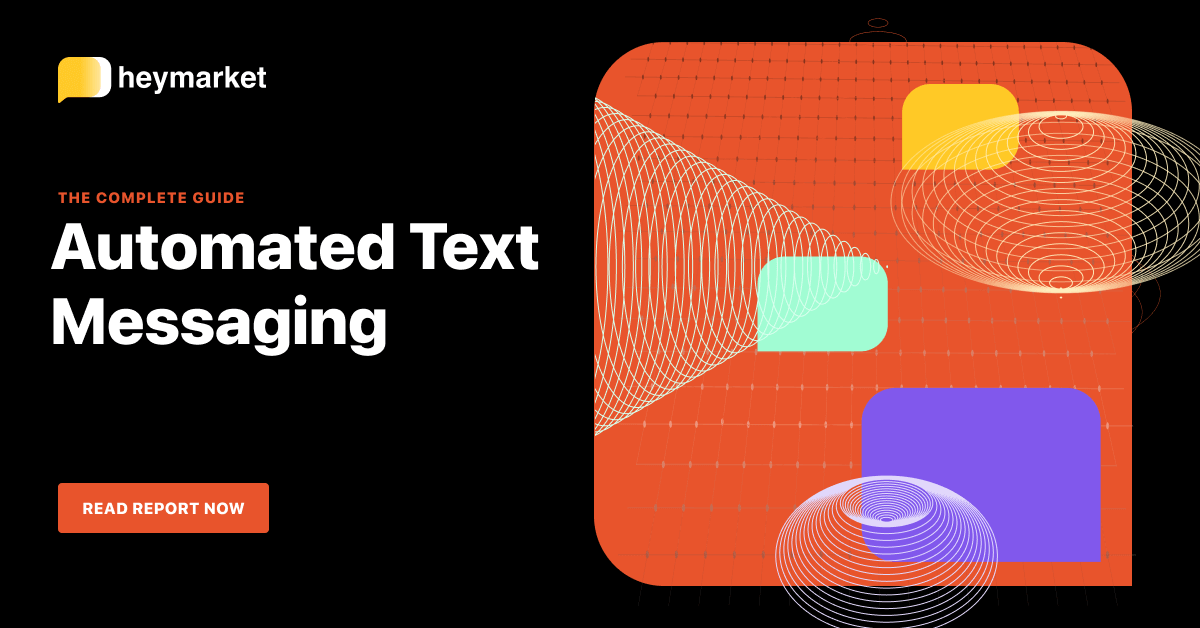 ---