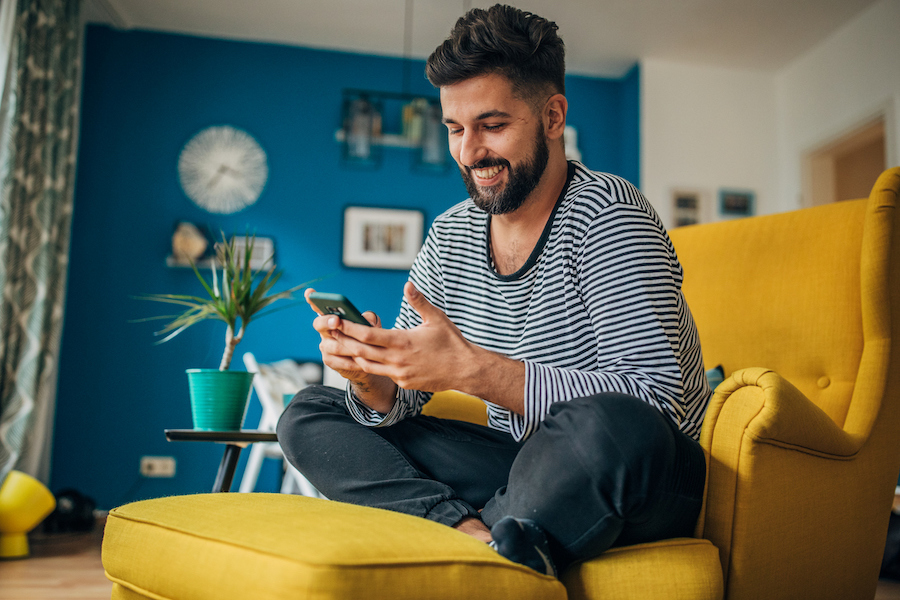 If you're anything like the average person, you send at least 13 texts daily. You also probably find yourself sending the same texts again and again. For example, you may send a quick "How are you?" to Mom every other day. You may text "Sorry, in a meeting" to anyone who texts you during the work day. If you text for work, you may even text "Hi there, how may I help you?" to customers who message your business line.
If you could have that pre-written message lined up and ready to go when you need it, it'd be a lot easier and faster to send those routine texts. That's where text templates come in. Text templates are reusable texts that help you send frequently-used messages. Once you set them up, you can send the pre-written messages without having to type them out again.
Read on to learn how to create text templates for personal purposes or on behalf of a business.
What's a Text Template?
A text template or SMS template is a text that you can use over and over. After you create your template, you should be able to select it, copy it into a messaging conversation, tweak it if you need to, then send it. SMS templates can contain words, punctuation, and, depending on what method you use, emojis and GIFs.
Your phone lets you use shortcuts to insert SMS templates into messaging conversations. (If you're texting for a business, you can insert text templates into chats by clicking a simple dedicated button. More on how businesses can create text templates at the end of this post, and how they can use templates for marketing campaigns in Part 2 of this series.)
At the end of the day, SMS templates save you time. Instead of typing out an entire message, you can simply access a text template and insert it. It can also help you reduce the chances of making a mistake with spelling or grammar that might happen if you text quickly.
How to Build a Text Template on Your Phone
You have a few options for building your SMS template in either your iPhone or Android device. Your choice will depend on what you need to make text templates for and whether you're satisfied with your phone's built-in options. If you're not, you may want to consider downloading an app. (We suggest testing out the free options first.)
Creating a Template on iPhone with Text Replacements
Text replacements are an easy way to create and send text templates. After setting up a text replacement, each time you type a shortcut like "meeting," your iPhone will offer you the option to select the phrase you previously identified, like "Can't text right now—in a meeting!" The process for setting up text replacements is easy:
Open a conversation in your Messages app.
Click on the text bar, then touch and hold the smiley face or world symbol.
Tap "Keyboard Settings," then tap "Text Replacement."
Tap the plus symbol ("+") in the top right of the page.
Type a phrase in the "Phrase" field and the corresponding text shortcut in the "Shortcut" field.
Tap "Save" in the upper right corner.
Alternatively, you can follow this process outside of the Messages app:
Open the Settings app.
Navigate to General > Keyboard > Text Replacement.
Tap the plus symbol ("+") in the upper right corner.
Type the phrase in the "Phrase" field and the corresponding shortcut in the "Shortcut" field.
Tap "Save" in the upper right corner.

Creating a Template on Android with Text Replacement or Quick Responses
Android offers a text replacement option with Gboard, which is similar to Apple's option. The process of setting up text replacement for Android is similar to Apple's. Depending on what Android device you have, the steps may look slightly different, but the basic process should look something like this:
Open your settings menu. (Pull down the notification tab and tap the gear. Alternatively, open the app drawer and select "Settings.")
Navigate to Languages & input > Personal dictionary.
Tap the plus sign in the upper-right corner.
Type your phrase and the corresponding shortcut into the suggested area.
Many Android users have Samsung phones. Samsung devices allow you to navigate to the "Quick response" icon under the messaging bar, then select pre-written templates. The process of creating quick-response templates for a Samsung device will look something like this:
Open your Messages app.
Click the three dots in a vertical row above the message.
Select "Settings," "More settings," then "Quick responses."
Write your message.
Press the green plus symbol to the right of your message to save the template.
Creating a Template with a Third-Party App
You also have the option to choose a third-party texting app with Android or iPhone. Pulse, for example, is a popular option. While the template setup steps will look different for each app, you can expect it to follow a similar process:
Open the app and navigate to a texting conversation.
Select an attachment or insert option.
Choose your pre-written template or create a new one.
Insert the template into the conversation.
Sample Text Templates
Now you know how to create a template. But you may be wondering what kind of templates will be useful for daily use or how you can write templates that are general enough to be useful in multiple situations. We've rounded up sample text templates to provide inspiration and get you started on your own template library.
Templates for On-the-Go Situations
Templates are handy if you're on the go and can't spend time writing out a text. For example, you may send a quick template when you're on a phone call, exercising, or about to drive to work. Here are three examples of templates you can use (and corresponding shortcuts) when you don't have time to chat:
Text: Hi! I'm on a call—I'll get back to you in a few minutes.
Shortcut (if applicable): call
Text: I'm on a run 🏃 call when I'm done!
Shortcut (if applicable): run
Text: Can't today. I'm running errands 😫
Shortcut (if applicable): errands
Templates for Family Members
Keeping in touch with family is easier than ever with text messages. Use templates (or schedule texts for the future!) to check in with family members or share important information quickly. For more complex templates that include details, use all caps for words that you will want to replace in the future. That way, you can easily identify the words you want to replace and make the appropriate adjustment when the time comes:
Text: Miss you, NAME! ❤️  How have you been?
Shortcut (if applicable): miss
Text: Hi Gran! It's been a while. What's going on?
Shortcut (if applicable): Gran
Text: I'll be coming home on DATE! Can't wait to see y'all.
Shortcut (if applicable): home
Templates for Friends
Your friends probably text you all the time—so much that it's hard to keep the pace. Templates make it easier to quickly share news, plan meetups, and celebrate birthdays. Make sure the templates sound like you. For example, if you usually include emojis in texts to your friends, include emojis in your texts:
Text: Want to meet up on DATE at TIME?
Shortcut (if applicable): meet
Text: Anyone need a ride? I'm leaving home at TIME. 🚗
Shortcut (if applicable): ride
Text: Happy birthday! 🎈🎂
Shortcut (if applicable): birthday
Building Text Templates for Business Needs
Companies can also use templates if they message customers using business text messaging. However, the prior options won't cut it if you need to text customers all day. (In fact, you shouldn't be texting customers from your personal phone in the first place.) Instead you'll want to use a business SMS platform, which lets you create and manage robust SMS templates on your computer.
SMS templates from a business SMS platform can contain text, emojis, and images. You can even include custom fields, like first names and prior order numbers, which your business SMS platform will automatically insert in outgoing texts to personalize them.
The process for setting up a template in a business SMS platform will be slightly different depending on your provider. But the process will look something like this:
Click on "Templates" at the bottom of the platform interface.
Select "Create" at the top of the new screen.
Title the template, so you can easily find it later. (Customers won't be able to see the title.)
Add text and, if you'd like, a photo or custom field to your blank text message template.
Tap "Done" at the top of the screen.
You can also create text templates from texts you've already written. Simply:
Hover over the message you'd like to make a template.
Select the "Create Template" icon to the left of the chat bubble.
You'll be able to access your SMS template when you're texting customers from your business text message platform. If you have the right SMS integrations set up, you can even access templates when you're texting customers from other platforms' interfaces, like Salesforce or HubSpot.
Saving Time (And Frustration) by Building Text Templates
It can be tedious to send the same text over and over again. SMS templates save you a lot of time—and annoyance. After all, you only have to create them once. Then you can insert and send the template whenever the situation calls for it.
If you're looking to create and send templates from your phone, you can use either the built-in options or you can download an app. If you need to create and send templates for a business, you can easily send them from a business SMS platform.
With the right process for your situation, you should be able to create text templates quickly and easily—and save yourself thousands of keystrokes.
Facing a blank text message template and need inspiration? Check out our 10 Must-Have SMS Templates.