Heymarket text messaging campaigns have been used for appointments, requesting reviews, and customer satisfaction surveys. Drip campaigns for SMS can also be used for engaging with new leads and making it easy to answer any questions they might have. A critical component to a successful drip campaign is ensuring that recipients receive personalized messages.
We've added a few features to simplify that process for your team.
Remove Contact from Campaign on Reply
When any contact in a text messaging campaign replies, they can now automatically be removed from the campaign. This ensures they will no longer receive any automated messages, and your team can reply with a personalized message. This is especially when contacts in a campaign reply, and you're ready to engage with them one-on-one.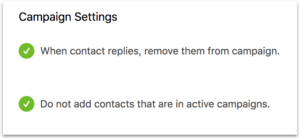 Prevent Duplicates
When working with a large number of contacts, it's important each only receive messages from one campaign. Heymarket now has a check to ensure that. When a list is added to a campaign, Heymarket can now notify you of contacts that are already members of another campaign.
We hope you find these enhancements useful. There are some other, exciting campaigns enhancements coming soon.