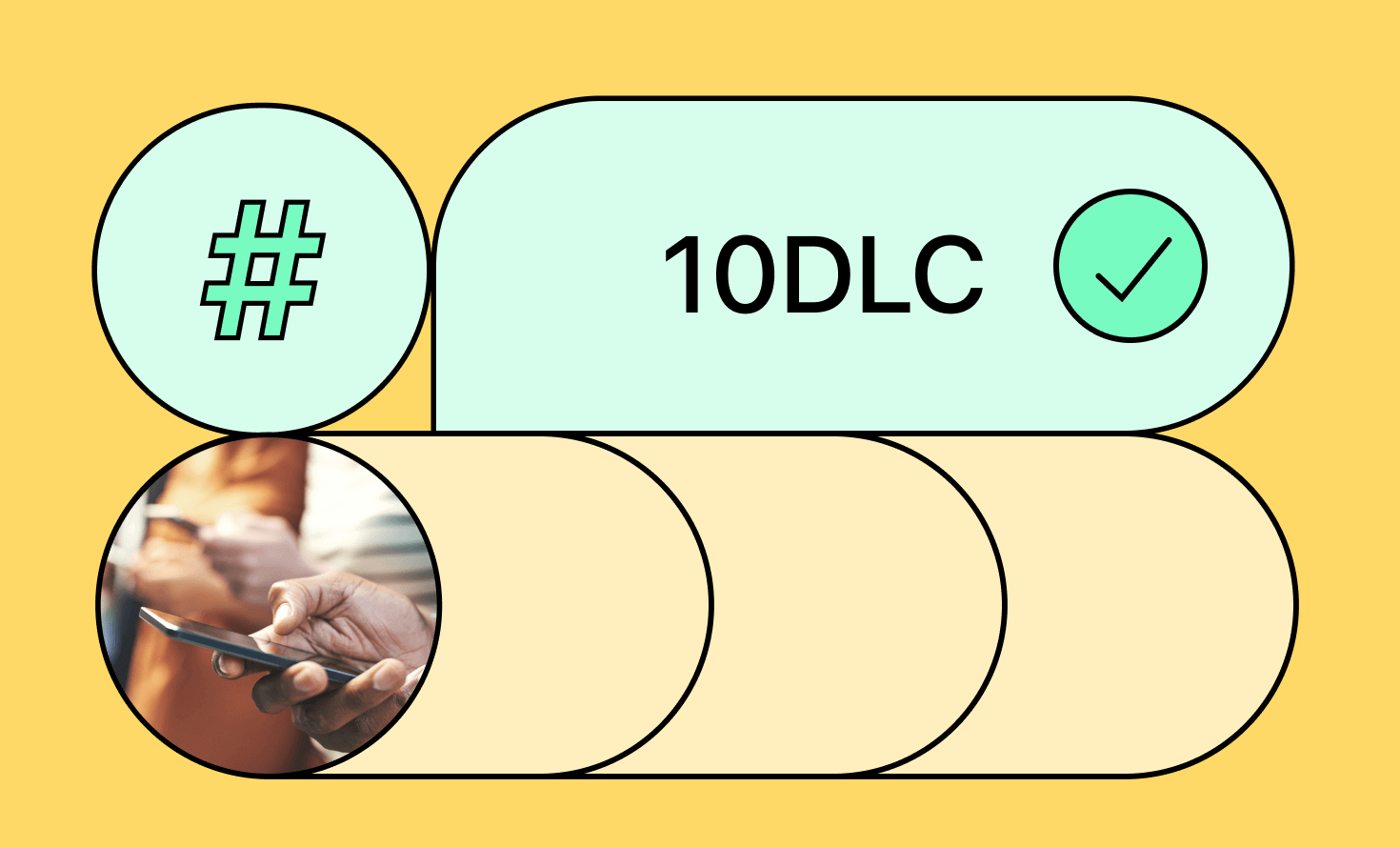 Texting has rapidly become a top channel for businesses to connect with their customers. Texts have a 98% open rate, significantly outpacing email and calling. As texting grows as a channel for both professional and personal communication, telecom carriers are adapting how they interact with companies that text. A2P 10DLC is the latest step in this industry shift.
At its core, A2P 10DLC means carriers (telecom companies like AT&T, Verizon, and T-Mobile) are seeking more visibility into how businesses are using text messaging. They are requiring businesses to start sharing information about how they text customers, all in an effort to improve how they connect with consumers and to maintain those consumers' trust in text messaging.
Here's a breakdown of what A2P 10DLC means, and what U.S. businesses that text their customers should be aware of right now. It's also worth noting that 10DLC guidance can change quickly, so we'll update this post and all our communications with any new information as it becomes available.
What is 10DLC?
10DLC stands for 10-digit long codes, the standard phone numbers with local area codes that you're used to using every day.
Businesses have texted with 10-digit phone numbers for years, but these numbers were not originally intended to support messaging large volumes of contacts the way businesses do now. Up until now, carriers had limited insight into whether businesses were getting customers' consent to text them, and what content businesses were sending.
10DLC aims to:
Protect text messaging as a trustworthy channel: Businesses are now required to register their brand and tell carriers what content they're sending via text. This helps carriers block spam traffic from illegitimate businesses that have not secured customer consent.
Allow businesses to send more messages: 10-digit long codes previously just allowed for low messaging volumes, but registering their brands will enable businesses to send texts to larger lists of customers.

Who does 10DLC apply to?
Your business is required to register for 10DLC if you send messages of any kind from a 10-digit long code phone number. While 10DLC only currently applies to messaging traffic in the United States, it's still highly recommended that you register as a campaign best practice.
How do I register for 10DLC?
To register for 10DLC in a nutshell, businesses need to:
Tell carriers who they are (called "brand registration"). To do this, businesses need to provide information including their name, address, business type, and EIN.
Tell carriers what content they're sending customers via text (called "campaign registration"). To do this, businesses need to describe their messaging use case (e.g., marketing), describe their opt-in flow, and provide some examples of messages you send.
If you're a Heymarket customer, you can complete all of these steps in your Heymarket account.
What happens after I register?
After you submit the information required for 10DLC, Heymarket sends that information to a third party that works with carriers to manage registration. From there, your brand will be assigned a Trust Score between 0 and 100. Carriers look at this score, as well as the type of messaging you do, to determine the maximum throughput, or number of daily messages you can send.
What happens if I don't register for 10DLC?
10DLC applies to you (see above) and if you don't register for it, your messaging service could be disrupted. Carriers could filter your messages, and your messages might fail to send and display an error message. Your messages might also become subject to increased fees.
Starting September 1, 2023, carriers began to block traffic from unregistered 10DLC numbers.
How long does 10DLC registration take?
Submitting your business's required information for 10DLC should only take 10-15 minutes, provided you have all information including your EIN on hand.
Depending on which provider hosts your number, finalizing your registration on the carrier side could take up to two weeks (but the process is getting faster. We'll update this article with any changes to estimated time frames).
What if I don't want to use A2P 10DLC?
This new protocol is making 10-digit numbers the industry standard for business texting, and these numbers now have all the capabilities of the options available before: a more personalized customer experience with local numbers that support conversational texting as well as calling, plus a high message volume.
Still, businesses do have the option to register for a verified toll-free number. Businesses can register for these non-local 10-digit numbers (often starting with 1-800) to get a relatively high daily message volume. Registration for toll-free numbers is required, and they support voice calling in addition to text. These numbers work well for businesses who are not tied to one specific area code.
10DLC best practices
As more brands register for 10DLC, we've heard more questions about tips and best practices for a successful 10DLC registration. Here are some guidelines to keep in mind to set your company up for a smooth registration process:
1. Have your company information ready.
The 10DLC process, which you'll complete through Heymarket, requires basic yet thorough information about your company. We recommend taking some time to assemble your information beforehand. When you fill out your registration, set aside 10-15 minutes to fill out each field carefully. For this and all steps, ensure all of the information you include is accurate and consistent because carriers review each field closely.

Here's the information you should prepare to have at the ready:
Company representative Name, Phone, and Email
Company name, address, website, and industry
Company Federal Tax Identification Number (EIN) or business number
Company Organization Structure and Vertical
Your company website
2. Be ready to describe how you use texting
10DLC registration also requires you to describe your messaging use case — in other words, the types of texts you send and why. Prepare to write a clear and comprehensive, 2-3 sentence summary of how your recipients interact with your business over texting.
Here are some tips of what to include in your messaging use case description:
Describe the purpose of your texting program
Describe who you are as the sender
Describe who your recipients are and why you're texting them
Describe any products or services you are offering
Describe the interactions your recipients experience after opting in
Here are some examples of successful descriptions:
Example 1: We will be facilitating customer support and marketing conversations with our contacts who have subscribed to our text messaging number. We sell clothing and shoes, and manage our promotional campaigns and customer inquiries via SMS.
Example 2: We are a sales team that manages clients who are interested in or signed up for our personal fitness services. We offer personal training and nutrition/diet services.
Example 3: We are a dentistry clinic providing various dental services including regular cleaning, orthodontics, and periodontics. We will be scheduling appointments and sending reminders to the patients of our clinic who have provided their number for text message communication.
→ As you can see, all of these examples clearly describe who the company is and what they do, why they're texting contacts, and what interactions their contacts can expect.
3. Describe and document your opt-in flow
10DLC aims to build consumer trust by only sending them texts they want to receive. Because of this, 10DLC registration requires you to demonstrate how customers opt into your texting service.
You'll be asked to select all of the opt-in methods you use, and then clearly describe and document how customers consent to receiving texts from you. Each option will provide some suggested responses, and you should edit them to best describe your process. For any method you select, you'll be required to include an exact website URL, attachment, or image that clearly displays verbiage describing your opt-in and opt-out terms.

Here are the different opt-in methods you can choose from in Heymarket, and what information to provide for each one:
Inbound SMS: Customers opt in by sending you a text message, e.g. by texting in a keyword. Include a screenshot of the collateral where customers learn about the keyword. Website URL is required here.
Public-facing website: Customers opt in on your external website, e.g. by checking a box or filling out a form. Website URL is required here, and the link you provide should show the form of optional opt-in you use.
Website behind a login or paywall: Customers opt in on a website that's not accessible to the public. Include a screenshot of exactly what customers see. Screenshot image file or PDF attachment is required here
Email: Customers opt in via email. Attach a screenshot of the email and opt-in language included. Screenshot image file or PDF attachment is required here.
Written form: Customer opt-in by filling out a paper form. Attach an image showing the form. Screenshot image file or PDF attachment is required here.
Other: If none of the above options seem relevant to you, you can contact our support team for guidance.
Here are some additional tips for documenting your opt-in process:
Explicitly use the terms "opt-in" and "opt-out" in your description
Use clear language about opt-in and any associated fees or charges
Note that verbal opt-in will not be accepted.
To learn more about opt-in, here are some additional resources:
What Do Opt In and Opt Out Mean?
4. Prepare two sample texts (one with opt-out)
Finally, your registration will also ask you to include two sample text messages that represent the types of text you send. These sample texts are important because they're your chance to demonstrate that you are clearly communicating your texting service to recipients, and that you make it easy for them to opt out of texts.
Here are some tips for your example texts:
Include opt-out language in at least one of the sample texts
Include your company name in at least one of the sample texts
Use brackets to indicate any templated fields that you use to personalize your texts
Include the language "Msg & data rates may apply" in at least one sample message

Here are some sample text examples:
Welcome to SheerTech status alerts! By texting JOIN to this number, you agree to receive status and outage-based notifications. Msg & data rates may apply. Contact 123-555-6789 for details.
→ This message is likely to be successful because it identifies the company name,
You have successfully opted in to receive texts from Star Shoes for account notifications. Message and data rates may apply. Reply STOP to unsubscribe.
→ This message is likely to be successful because it identifies the company name, says message and data rates may apply, and includes opt-out information