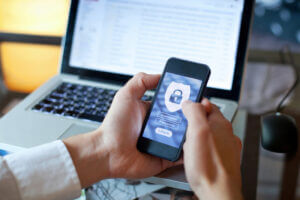 Companies that use business text messaging to connect with their customers have to navigate quite a few regulations. While compliance is critical for legal purposes, it also helps your teams provide customers with the best possible experience. For business texters asking what is SOC 2 compliance, we've got an initial answer for you: it's similar to legal regulations, but it's really a way to offer great service to your customers.
In technical terms, SOC 2 is a standard released by the AICPA. Most businesses that manage customer data are encouraged to meet its requirements. 
To help you navigate SOC 2 compliance, we've rounded up key information about where it comes from, its policies—and what it has to do with business text messaging. 
For an in-depth look at complying with SOC 2 and other key texting regulations, check out our guide.
Get the guide
What Is SOC 2?
So what is SOC 2 and what is SOC 2 compliance?
The American Institute of Certified Public Accountants (AICPA) regularly creates data-related guidelines. These guidelines cover security, availability, confidentiality, privacy, and processing integrity. SOC 2 is one of their newer guidelines.
Service Organization Control 2 (SOC 2) is a new standard that the AICPA has created around data security. If your organization stores customer data in the cloud and sells to other businesses, you might be asked to prove the effectiveness of your security measures by agreeing to an SOC 2 report. If your report passes with flying colors, you are SOC 2 compliant.
To receive an SOC 2 report, your business must be audited by a third-party organization. The organization will inspect and test the processes described in the SOC controls, looking for evidence that correct procedures are followed.   
Why Is SOC 2 Important?
We've answered what is SOC 2, but that's not quite enough. Now you're probably wondering why it's so important. 
Once an SOC 2 report is conducted for a business, the report will be made available, upon request, to its business partners, vendors, and customers. Among other things, customers can use the report to evaluate vendors. 
If the report shows you that a vendor committed to cyber security, it might increase your confidence in the brand. If it shows otherwise, you'll know you might need to review their security protocols. Not submitting to an SOC 2 report—and refusing to reveal data security practices—might exclude a business from consideration. 
Choosing SaaS companies that are SOC 2 compliant is critical, given that unsecure integrations and app ecosystems can leave all of your systems vulnerable. Today's ample cybersecurity threats are a real challenge to businesses, and a stricter grasp on cybersecurity can help your business prevent any potential problems. 
What Do SOC 2 Reports Cover? 
SOC 2 reports cover five main aspects of your business. These include:
Security

: Your systems and stored data must be secured against unauthorized access or disclosure.

Availability

: Your information and systems must be readily available for use.

Confidentiality

: Your business's confidential information must be protected.

Processing integrity

: Your data processing workflow must be complete, valid, accurate, timely, and authorized. Customer data must be accurate throughout the process.

Privacy

: Personal information must be collected, used, retained, disclosed, and disposed of as pre-stated policies request. 
To get an SOC 2 report, a business must at least submit to having the first category reviewed. The others are optional, but encouraged. 
A business may also choose a Type I or Type II report. A Type I report, which takes less time to complete, gives a snapshot of a company's performance, describing security controls but not judging their effectiveness. Type II reports describe and evaluate a company's long-term performance, usually over a period of 3-12 months. 
When you review a business partner or vendor, Type II reports are preferable. They provide a highly detailed look into the status of a vendor's security practices over time. 
How Can Your Business Vet SOC 2 Vendors? 
It's important to ensure that your business, your business partners, and your SaaS vendors are SOC 2 compliant. Because most business apps and SaaS providers integrate with your API and gain access to your critical customer data, they need to be SOC 2-compliant to ensure that your customer data is staying safe. 
Before entering into a contract, ask your vendors:
Whether they have an SOC 2 report

Whether they have the full report with all 5 aspects (and at least the first aspect)

Whether they have the Type I or Type II report
If a vendor hasn't met any of these requirements, you might want to review their current data security processes to ensure they can keep your data and your customers' data secure.  
How Does SOC 2 Affect Your Business SMS Service? 
After asking what is SOC 2, you might want to ask how does this affect my business SMS service? 
SOC 2 doesn't directly affect how you manage your business SMS service, unless you have a vendor that is not SOC 2 compliant. If your vendor is SOC 2 compliant, you just need to have your own policies in place to keep the business SMS platform safe on your business's side.
For example, your business should have:
Generally strong procedures and tools to keep your infrastructure and code secure

Carefully chosen roles and permissions for team members using business SMS 

Company-wide data security training
With each of these items in place, your customer data will be safe. 
To learn more about complying with key business SMS regulations, read our Text Messaging Compliance Guide: