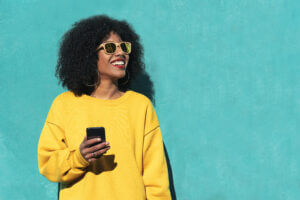 Your customers are busy. They've got family commitments and work responsibilities. They barely have time for their hobbies—let alone long email chains about product returns or appointment scheduling. 
As customers get busier and busier, brands are stepping up. They're making it easier for customers to connect when and how it's convenient for them. To do this, many businesses are expanding their communication channels to include more popular options, like over-the-top (OTT) messaging apps. They're also adopting omnichannel messaging and integrations to manage these new channels.
Why let customers connect when it's convenient? 
Leads and customers want to connect with your team. 
They need to:
Get advice about which of your products or services are right for them

Learn about your store policies

Check on their orders

Make returns

Provide feedback.
Customers are willing to put more effort into some of these actions more than others. For example, if a customer needs to make a return, they'll take a fair amount of time to call or email your team if necessary. It may annoy them, and they may leave a less-than-satisfied review, but they'll still do it. 
Customers are more likely to give up on certain tasks. For example, if they want to ask questions about a certain product, but realize they have to call or email your team to do so, they may tell themselves they'll do it when they have more time. However, if your team offers a chat or texting option, they may decide that a chat is quick enough for them to manage. 
Making it easy for customers to connect when (and how) it's convenient for them increases the likelihood that consumers will connect with your team. Leads be more likely to ask questions about purchases, increasing sales. Customers will be more likely to ask about product functionality or problems, increasing the chance that your team can help them get the most out of their purchases. 
So how can you make it easy for customers to get in touch? There are three key steps to follow. 
Step 1: Offer a variety of communication options.  
On average, customers use at least 3 messaging apps each week. They also use a smattering of other communication channels. Your team should offer as many popular and reliable channels as possible to ensure customers can reach them no matter their favorite channel of the moment. 
Your business should allow customers to contact your teams through:
Native SMS 

Over-the-top (OTT) messaging apps

Web chats

Emails

Phone calls 
These are a mix of synchronous and asynchronous channels. Synchronous channels, like web chats and emails, require customers and your team to talk in real-time. Asynchronous channels, like texting, messaging, and emails, let customers read and reply messages when it's convenient for them. With all of these options on the table, your customers are sure to find one that suits their needs at any given moment. 
Step 2: Integrate your channels. 
You want to offer an omnichannel communications service. No matter which channel customers choose to contact you through, they should have a uniform customer experience. Omnichannel communications also streamline backend operations for your teams. 
Integrate your channels by:
Choosing platforms with APIs

Selecting a central messaging platform, like a

business texting solution

, that can receive and send both native SMS and OTT messages

Integrating these channels, so data is shared between them 
Channel integrations empower platforms to share data, so they can sync contact information in real time. A fully integrated communications app ecosystem lets your team access up-to-date customer contact information, purchase history, and agent notes within each channel. Plus, some platforms will allow you to create triggers and actions. For example, you can set a business texting platform to text new contacts that are added into Salesforce. These integration features ensure your team's omnichannel communications are frictionless. 
Step 3: Set up plenty of entry points.
Entry points are the buttons and promoted numbers your leads and customers use to connect with your brand. It's critical that you set up plenty of entry points so they can get in touch quickly.
You should include:
SMS entry points, publishing your SMS phone number where people can text to opt in

Web widgets, placing clickable buttons on your website for instant chats online

Messaging buttons, like Facebook Messenger buttons, on your web page and emails.

Search and Maps, for Apple Business Chat and Google's Business Messages 
Don't forget to plan out entry points carefully. For example, you may want to encourage customers to text in with quick product questions by adding an SMS widget to your checkout page. You may want to encourage customers to email about returns by adding an email under your returns policy. Certain messaging channels like Apple Business Chat and Google's Business Messages will allow customers to directly connect with your brand from apps like Apple Maps and Google Search. Well-placed entry points make it even easier for customers to connect with your team in the most convenient way possible. 
Want to learn more about omnichannel messaging? Check out our blog.