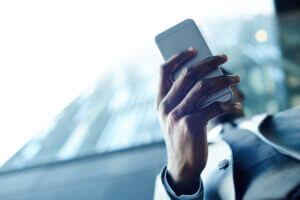 COVID-19 has changed the sales world. Where in-person meetings were necessary in many industries, everything has moved online. Tools that were convenient for your sales team before, like business text messaging and video conferencing, are the primary options now. But this can be a good change. 
These real-time channels are more convenient for your leads—and you. Take business text messaging, for example. Ninety percent of leads would rather be texted than called. Plus, business text messaging platforms empower salespeople to easily send, receive, and organize lead messages. On top of all that, these platforms can sync with your CRM, allowing you to get a 360-degree view of your leads with ease. 
Read on to learn how to take your in-person sales online. 
Choose Online Sales Channels 
Different situations call for different communication channels. Choose multiple online contact options. Your leads can decide how they want to reach you, increasing the chances that they'll connect with you at all. 
Your team should offer five key choices:
Messaging.

Messaging is popular.

In fact,

90% of leads

would rather be texted than called.

Leads use both native SMS apps and over-the-top apps like Facebook Messenger

and Apple Business Chat

to connect with their favorite brands. They enjoy the fact that they can send and answer messages on their schedule. On average, leads have

3 messaging apps

on their smartphone's main screen. 

Email.

Email is not fast, but it is useful. Most of your leads will feel comfortable using it. Plus, your business probably has an email account already.

Email is ideal for longer-form conversations that occur later in the sales cycle and require sharing attachments (for example, quotes).

Phone calls.

Leads may want to

speak on

the phone if they have in-depth questions. Phone calls consume a lot of time, but may be worth that conversion. It's almost always appropriate to offer it as a choice.

Business SMS is also a great way to initiate a phone call; the salesperson or lead can first text to see if the other party is available.

Video meetings or calls.

For teams with

more involved

sales funnels, video calls may be a necessary addition to the online sales process. Video calls can offer the immediacy of an in-person sales meeting, even if agents and leads are miles or states apart.

They are often scheduled ahead of time

.  

Web chat.

Web chats are great if you sell a product online. Install a widget on your website, so leads can click on it when they have questions. Once web chats are open, conversations occur in real-time. Unfortunately, you can't save your leads' information unless they provide it within the chat.

Look for a business text messaging platform that supports your web chat widget. It can capture a lead's phone number to enable asynchronous conversations after the initial web chat.
No matter which channels you offer, create a streamlined, omnichannel experience. Keep your branding uniform, share data between platforms, and offer leads a high-quality experience. 
Let Leads Know (And Opt In) 
Once you decide to take your sales team online, you need to let your leads know. Otherwise, they won't actually use your new services. =
Publicize your online sales service through your:
Website

Social media webpages

Marketing initiatives

Current email newsletters or other online communications

Shop (print a poster or flyers, etc.)
Spreading the news far and wide is the best way to get your leads online.
Consider Changing Your Approach For Certain Situations
When your sales activities are in person, it's easy to know what channel you'll focus your attention on. Moving online is a little different. You have a lot more choices. 
Each channel has its own benefits that suit certain situations.Phone calls and video calls, for example, are slow. They're useful for in-depth conversations about the nuances of a product or service. But these channels aren't so great for fast, initial conversations, such as:
Introductions 

Quick product questions

Updates 

Check-ins
Use call deflection to direct your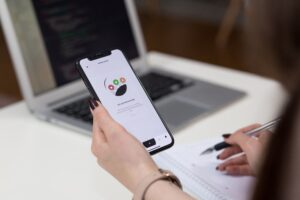 leads to faster channels for these conversations. For example, you may want to emphasize your sales SMS number or Apple Business Chat icon on your Contact Us page. You can include your call-only number in smaller print. 
Simplify Assignments
When you're working as an online team, you aren't in person to chat about who handles which leads. But your online channels should make assignments easy. 
For example, your business text messaging platform should have a shared inbox, where all incoming messages arrive whether they're from native SMS apps or over-the-top apps. These shared inboxes should offer auto-assignments. With auto-assignments, the sales team member who clicks on an incoming lead message within your shared inbox is assigned that chat and lead. Sales managers and administrators can even pre-assign a set of contacts to each sales person. 
Even though your team may not be in the room together, this tool will empower them to streamline the lead assignment process. 
Integrate Your Systems With Your CRM
Good CRM utilization and clean data is critical to smooth sales processes. This is even more important when your team is working online, where it's more difficult to turn to a fellow salesperson and ask about a lead's history with the brand. Your online communication channels should offer integrations that make this easy. 
For example, modern business text messaging platforms often offer SMS CRM integrations. They connect with the biggest CRMS, like Salesforce, and allow you to:
Sync contact information between platforms

Save messages to the right contact and case 

Start campaigns and texts from within the CRM interface
SMS and other channel integrations will make it easy to track leads, even when all of your team members are working online. SMS interactions can help with scoring opportunities and sales forecasting, too. 
Keep Your Internal Team Aligned
Your sales team might struggle to work remotely at first. After being together on the sales floor, it can feel like a huge change. But most online sales platforms have streamlined internal communication tools that will make it feel easy.
For example, business text messaging platforms offer key tools, like private comments, within the SMS platform. Private comments empower sales teams to work together on a lead's chat behind the scenes. Business text messaging platforms also offer integrations with messaging systems like Slack. A Slack SMS integration empowers team members to text and coordinate from within the Slack interface. 
These internal communication tools are critical for a well-run online sales team. 
Want to learn more ways to adjust to online sales? Check out our blog.