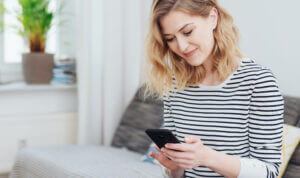 While your business should focus on SMS customer service and conversational customer engagement efforts, it won't do to forget about marketing outreach. But what should your strategy be? Should you stick with traditional SMS marketing tactics? Or try a new tactic, like conversational marketing?
Conversational marketing is a powerful tool that works especially well with business text messaging. Let's explore what exactly SMS marketing and conversational marketing are—and why one strategy is so much more effective. 
What Is SMS Marketing? 
SMS marketing can refer to a lot of different strategies. In this context, we're talking about the traditional "spray and pray" strategy, where marketers select a large list of customers and text them identical marketing content.
SMS marketing content usually includes:
Coupons

Deals

Sale announcements
This strategy is specific to business text messaging. However, it's similar to sending direct mail with coupons for customers to cut out, or direct mail with codes customers can type into a website. 
What Is Conversational Marketing?
Conversational marketing is one of the newest strategies in the field. It focuses on engaging leads and customers in live conversations. This content aims to start one-on-one conversations between team members and customers. 
Conversational marketing content can include:
Widgets for inbound marketing (e.g., questions from leads)

Polls and surveys

Product tips or interesting use cases

Promotions for expert SMS advice/consulting sessions
Business text messaging can provide a natural progression to conversational marketing content. It's easy for customers to respond to content through SMS. Plus, business SMS has high engagement rates, which increases the chance that customers will start conversations based on the content. 
Conversational Marketing Builds Lasting Customer Relationships
SMS marketing's immediate goal is to drive reply rates. Conversational marketing content's immediate goal is to engage with customers and quickly convert them to the next stage of the marketing funnel. 
When customers engage with your conversational marketing widget, your team members have a chance to make a real connection with them. They can respond to questions, share relevant content like help articles, or even provide expert advice. Agents can make each conversation even more personal by:
Introducing themselves by name

Referencing customers' past history to make observations

Using GIFs and emojis to create a cheerful, friendly atmosphere
Employing a conversational marketing strategy helps increase lasting customer relationships. Customers will feel comfortable chatting with team members if they have questions in the future. Plus, your team can employ conversational customer engagement after conversations, reaching back out to ensure that certain advice worked or a purchase went well.
Conversational Marketing Content Boosts Conversions
Conversational marketing aims to create lasting customer relationships. But the chats that result from conversational marketing content can lead to conversions, either right away or in the future. 
Once customers reach out with their comments or questions, your team can advise them on your products or services. One-on-one, authentic conversations can lead to immediate purchases or future purchases. Holding these conversations over business text messaging makes it easy for customers to make purchases, too. Business SMS allows your team members to offer:
Fast appointment scheduling 

Links to baskets with mentioned products
These advanced features make it easier than ever for customers to convert right from within their messaging apps. Ultimately, conversational marketing reduces the steps customers have to take from looking at marketing content to making their decisions. They can do it all within a single channel.
Conversational Marketing Content Is Budget-Friendly
One of the problems with traditional SMS marketing is that it involves offering deals or sales to customers. While sales are a great way to increase purchases, they reduce your profit. Plus, most traditional marketing content requires teams to produce both copy and flashy design, which is sure to affect your budget.
Conversational marketing increases engagement and sales without forcing your team to undervalue your products or spend exorbitant amounts on design. Instead, you'll increase sales based on:
A branded widget with an inviting greeting, encouraging leads to ask questions

Engaging, simple content

Authentic agent-to-customer connections

A streamlined path to purchases
Ultimately, conversational marketing is one of the most effective and efficient strategies available to teams using business text messaging. 
Want help setting up your conversational marketing strategy? Chat with our team.