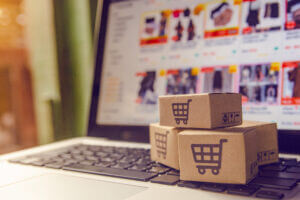 As COVID-19 continues to impact the business world, retailers have had to pivot at a rapid pace. In order to survive, retailers are starting to move from physical retail to eCommerce. They're uploading their wares online and marketing their new online services. 
The steps it takes to move retail to eCommerce can seem daunting. Some companies might not know the first thing about how to sell retail products online. However, a simple five-step procedure—and help from business SMS—can streamline the process and kickstart your thriving eCommerce store. 
Let's dive in.
Step 1: Tweak Your Business Plan 
To move from physical retail to eCommerce, you need to get your online business rolling quickly. However, in the long run, it will serve you to take a moment to update your business plan. Because you already have a business plan for your brick-and-mortar store, updating it with eCommerce goals and plans shouldn't take too long. 
As you plan how to sell retail products online, you'll want to consider your new:
Online inventory

. Will you offer your full stock online, or only your most popular products? Will you allow for customizations? 

Shipping or pickup process

. Can you ship all of your products, or are some too delicate? (This will help you determine what inventory to add online.) Where will you deliver? 

Billing

. How will customers pay for your product? How will you charge taxes? How will you send receipts?

Sanitation policy.

How will you and your team safely manage inventory and shipping? This is a top concern for both businesses and customers in the current environment. Governments may even require that you have new sanitation policies in place. 
Once you've set up your online store, made the initial move from physical retail to eCommerce, and settled into the swing of things, you can take further steps. For example, you'll want to re-evaluate your business plan in depth, considering aspects like unit economics. But first, you've got to create your online presence. 
Step 2: Create an Online Store
When you move retail to eCommerce, your website is your most important asset. Today's shoppers expect a sleek, streamlined online shopping experience. Luckily, with help from online website-building tools, your team can quickly, easily, and inexpensively meet customer expectations. 
To create an online store, you'll need a(n):
Domain name

. Choose and secure a domain name that will help customers find your business quickly. Keep it close to your original store's name if you can.

eCommerce platform

. eCommerce platforms like

Shopify

,

GoDaddy

,

Squarespace

,

Etsy

, or

Square

charge subscription or transaction fees. In exchange, they provide websites that display your inventory, facilitate online payments, and can even help with shipping. 

Attractive, on-brand design

. Your eCommerce platform will probably offer templates that make design easy. Choose a design that adheres to your original branding or is customizable enough to support it. 
With these three aspects secured, your website will be ready to launch. That completes the move of your products from physical retail to eCommerce. 
Consider a soft launch with your existing or most trusted customers. This will give you an opportunity to tweak your online presence, confirm payments, and understand how to use built-in reports. 
Step 3: Plan Order Fulfillment Strategies
If you have not had experience with eCommerce before, you'll be in for a surprise. The order fulfillment process adds time to your day. It's one of the biggest changes when you move from physical retail to eCommerce. Order communications can take up even more time. A text service for business will offer an easy way to manage these messages. Once you select your SMS platform, you can integrate it with your eCommerce platform. Then, you simply ask each customer to opt in during checkout. The SMS eCommerce integration can automate outgoing order messages. 
You can use business SMS to send:
Order confirmations once orders are logged in the eCommerce platform

Shipping notifications once postage is printed

Delivery confirmations once carriers note that they've dropped off the delivery 

Confirmation when an order is ready for pickup

Pickup coordination details (especially for curbside pickups)
Most customers will have their phones on them at all times, empowering them to read and answer your messages quickly. In the current changing environment, a speedy communication channel will let your customers know they're in good hands as they wait for their deliveries. This is key to a successful move from physical retail to eCommerce.
Step 4: Create a Marketing Plan
Once your online store is set up, you can get the word out. There are quite a few fast and easy ways to get your content in the world. To save time, try to reuse and repurpose as much content as you can.
You'll find three main channels easy to work with:
Social media

. Organic social media marketing is an effective and inexpensive way to promote your new online store. Facebook is especially easy to use. Be sure to set up a

Facebook Business Page

for visibility and

Facebook Messenger

for communications. 

Email marketing

. Email marketing is helpful if you already have an email list of loyal retail customers. Use email to announce your new online store and encourage customers to take a look.

SMS eCommerce marketing

. After customers

opt in

to receive your texts, you can advertise new online store updates and products. Send notifications that have value so customers don't unsubscribe from your list.

Internet marketing

. Tools like text-enabled

Google AdWords

campaigns allow your business to collect email addresses or textable phone numbers for each lead. They can help your business connect with customers specifically looking for your product. 
With the help of these online marketing tools, you'll get the word out about your new website in a flash. 
Step 5: Expedite Customer Communications
Once you've made the move from physical retail to eCommerce and your store is live, you'll need to start communicating with your customers. Even without face-to-face contact, customers will expect you to connect with them in a personal yet convenient way. Consider creating an omnichannel customer service approach so that customers can connect with you through multiple channels. However, you'll want to encourage customers to write in via business SMS. (After they've opted in, of course.)
Business SMS can be used to quickly communicate key content to customers, including:
Responses to queries

Feedback requests

Return information
By sending these communications through a fast channel, you can be sure that customers are always in-the-know during this rapidly changing time. 
Already made the move from physical retail to eCommerce? Learn more about business SMS for retail.