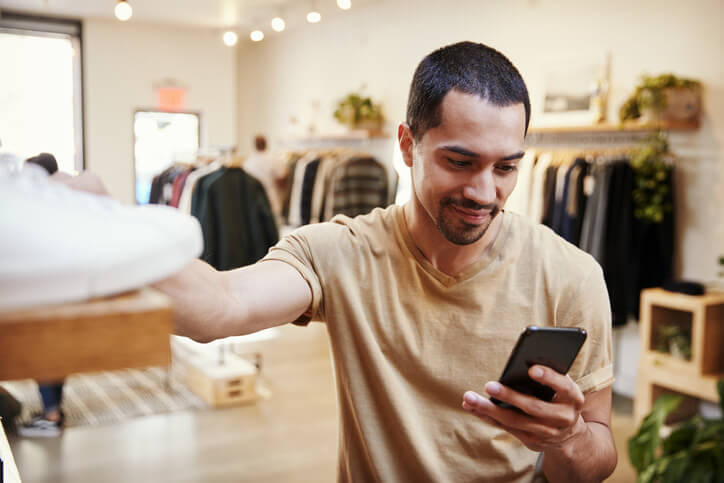 Consumers' expectations for customer service have hit an all-time high. In a recent report, nine out of 10 business leaders reported that customers have higher expectations than in the past. Many of these expectations revolve around how brands personalize their experience. In a different study, 71 percent of consumers want personalized interactions and 76% become frustrated when they don't receive that personal treatment.
As customer interactions continue to shift online in response to COVID-19, creating a personalized digital experience is crucial for businesses. It's time for businesses to rethink their customer focus.
"Customer focus" is not a new strategy, but a clear response to how companies have begun to automate their customer service in an age of technology.  Customer focus literally prioritizes customers, but goes beyond personalizing marketing and service. It requires a deep knowledge of and concentration on customers' needs, fulfilling their expectation for personalization where and when they need it .
This article explores the ins and outs of customer focus, from what it is to what it looks like in action, and how your business can work toward becoming more customer-focused.
What Is Customer Focus?
Customer focus (or client focus, depending on your industry) is a business-wide strategy that involves building your operations, products, and services around customers. It emphasizes the importance of having all-consuming knowledge of what your customers need and how your business can give it to them. The goal of a customer-focused business is customer success.
In a 2005 Harvard Business Review article that established the meaning of customer focus, experts noted that businesses must "learn everything there is to learn about their customers at the most granular level, creating a comprehensive picture of each customer's needs—past, present, and future." Steadfast data-gathering is the foundation of this strategy.
Customer focus also involves building every aspect of your brand around these needs. Your teams must coordinate to share customer information, using it to guide product and service offerings, operations, and even your brand's mission.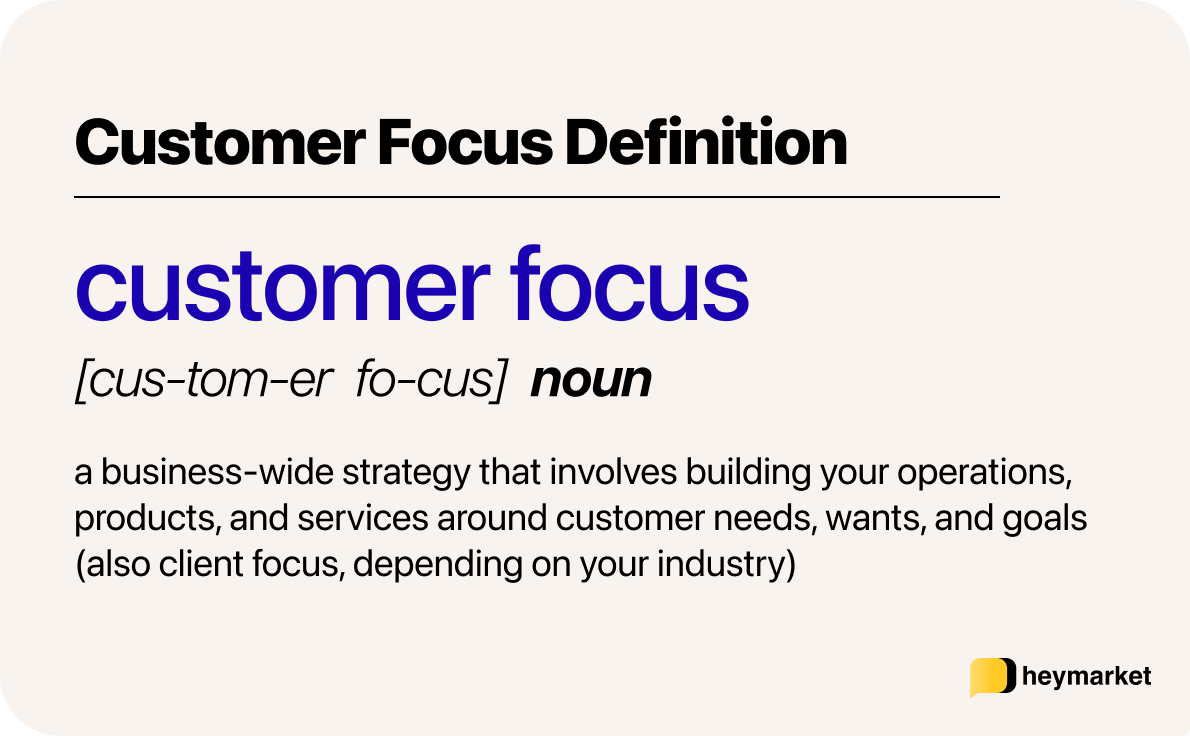 Customer Focus vs. Customer Centricity
Customer centricity refers to providing customers with top-notch service that reduces friction before and after transactions. There are multiple definitions of customer centricity across industries and companies. While they differ in multiple aspects—and some of them even have a definition closer to our definition of customer focus—they all highlight the importance of the customer experience.
Customer-centric businesses prioritize both a knowledge of customer needs and also a streamlined customer experience. They provide value with marketing content, focus sales interactions on meeting lead needs, and provide frictionless customer service. Customer-focused businesses achieve these goals too.
However, customer focus further emphasizes an obsessive knowledge of customer wants, needs, and goals. In addition, a customer-focused business uses this deep customer knowledge to guide its entire business. It monitors customer needs and feedback, then adapts its products, services, operations, and mission to match it. (We'll give some examples of these types of adaptations later in the article.)
Ultimately, customer focus is a more comprehensive strategy than customer centricity, affecting businesses down to their foundations.
Why Is It Important to Be Customer-Focused?
Today's customers expect businesses to be customer-focused—even if they aren't using that term. Seventy-three percent of customers expect companies to understand their needs and expectations while 62% expect companies to adapt based on their behaviors. However, only half of consumers believe companies actually understand their needs, and 47% think companies are adjusting based on their behaviors.
Becoming customer-focused will help your team meet these expectations. It will also help you:
Build relationships. The more attuned you are to your customers' backgrounds, interests, needs, and goals, the better you can connect with them. You can provide more useful products and services. You can offer more engaging marketing content. You can also have more empathetic customer service messaging and email chats.
Increase customer satisfaction. Customers are a lot more likely to feel satisfied if you've built strong relationships with them. A customer-focused business asks for frequent feedback—empowering your teams to proactively solve customer problems.
Retain more customers. The biggest factor for gaining customer loyalty is having empathy. Understanding customers better—and catering to that knowledge—helps your customer service team connect with customers more easily, your marketing team create resonant content, and your product team produce items or services that customers actually need.
Grow your business. Businesses that demonstrate a deep knowledge of their customers (also called "customer intimacy") achieve faster revenue growth than competitors. That comes as no surprise when you've built strong customer relationships, boosted their satisfaction, and keep them coming back for more.
Customer focus brings undeniable benefits across teams—which makes sense for a strategy that touches every aspect of your business.
5 Customer-Focused Behaviors (and Examples of It in Action)
To show you what a customer-focused business looks like, we've rounded up five types of relevant behaviors. We've also created customer focus examples from a sample business called Camping Clean, which sells gear to environmentally-conscious campers.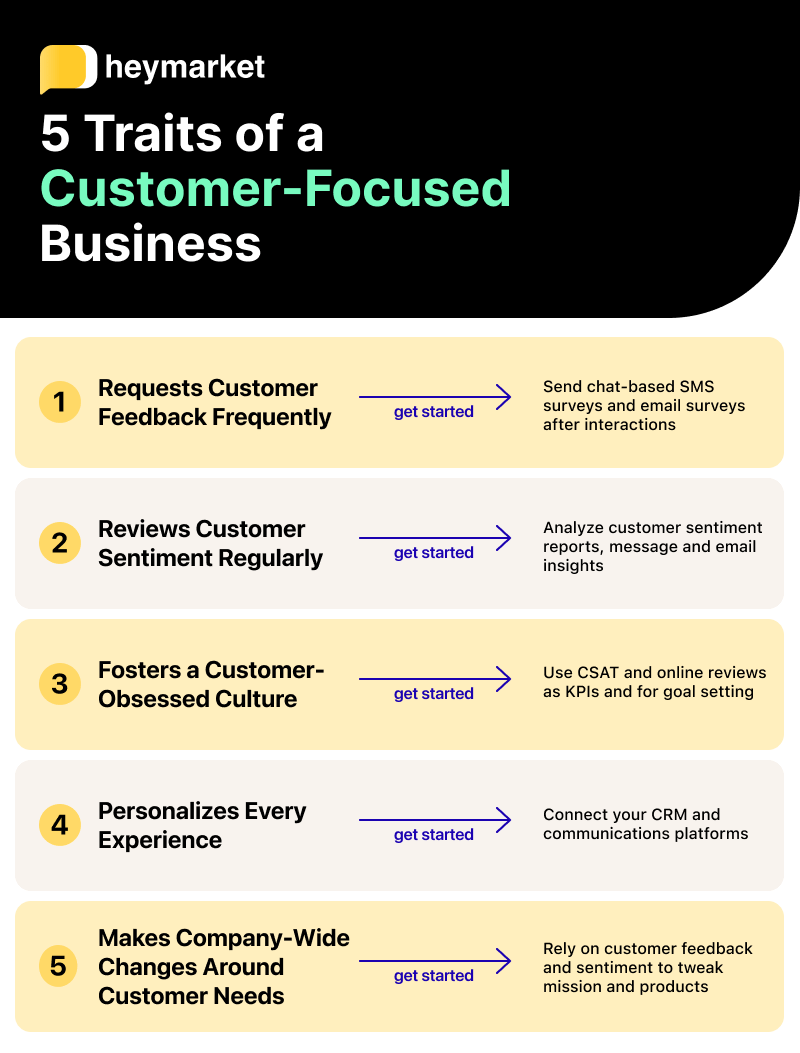 Constantly Asking for Feedback
A business with strong customer focus requests customer feedback often. Creating a constant feedback loop gives you a direct line to your customers' needs and expectations of your business, and whether you're fulfilling them. This knowledge is the foundation of customer focus.
Each Camping Clean team has a feedback or survey system. The marketing team sends leads and customers follow-ups about content. The customer service team sends customers chat-based SMS surveys after messaging conversations and email surveys after email tickets. The customer engagement team sends big-picture surveys that ask about customer needs and goals, and how Camping Clean products fit in.
Regularly Analyzing Customer Feedback and Sentiment
A business with strong customer focus will set aside time to carefully comb through customer feedback, interactions, and online activities. From this data, they discern customers' needs and goals, and how the business's current products, services, operations, and mission meet them.
A dedicated Camping Clean team member sets aside time to review solicited feedback and surveys. They go through new online reviews and social media posts, responding to comments from both happy and frustrated customers. At the end of the month, they send upper management a report that highlights customers' strongest opinions about key products and the brand overall.
Forming a Culture Around the Customer
Companies with a strong focus on customers base their top-level business goals on their customers' needs. Customers come first in all aspects of team members' workdays, from scheduled meetings to business-wide culture initiatives.
Camping Clean meetings revolve around sharing customer information, customer-focused KPIs, and proposing ways to meet their goals. Teams set OKRs and measure success based on customer satisfaction levels or positive online reviews. The entire business runs a friendly competition: the team with the highest number of positive customer reviews at the end of the month gets a Friday half day.
Building Personalized Customer Experiences
Customers want brands to remember them. Fifty-six percent of customers will shop with a store that recognizes them by name, while 65% are more likely to shop with a brand that knows their purchase history. Customer-focused businesses use channels that empower them to personalize interactions, like messaging services and email. These channels allow teams to sync with CRMs to access customer data, like names and order numbers.
Camping Clean teams primarily communicate with customers through email. However, after researching more personalized channels and reading industry reports about messaging channel popularity, they adopted webchat, messaging services, and SMS. The teams centralized all incoming messages in a single inbox through a text service for business. This inbox also connects with Salesforce, empowering them to access customer information within their inbox to personalize every chat. They begin each chat by asking if the customer is reaching out about their last order.
Making Organization-Wide Changes Based on Customer Information
Creating frictionless, personalized customer experiences is a great start, but businesses with true customer focus also use the customer knowledge they've gathered to guide their business decisions. They make foundational changes based on customer needs, adapting as those needs change. (That's the biggest difference between customer focus and customer centricity.)
Camping Clean's original mission was to provide environmentally-friendly camping equipment to mid-level to advanced campers. But after ten years of business, customers began saying they wanted to feel safer while camping. Camping Clean listened, tweaking their mission to include this safety element. They also released a line of safety-first equipment and updated several current products to include safety features.
How to Become a Customer-Focused Business
Customer-focused behaviors don't appear from thin air. Here are four ways to start your journey to customer focus.
Step One: Understand customers' wants, needs, and expectations.
The only way you're going to provide what customers want is by understanding what they want in the first place. You should know what customer needs and goals are, what is driving their decisions, and what they feel (in general and about your brand).
There are a few key ways to listen to your customers:
Surveying customers. Your customers can tell you exactly what they want. Send surveys through the channels they use the most. Send them chat-based SMS surveys, messaging app surveys, email surveys, and social media surveys. (Facebook, Twitter, and Instagram offer built-in polling tools.)
Customer service tickets, emails, and messages. Customer service communications can be telling. This is where you'll find explicit complaints about your brand. Pay attention to trends you see in this sphere, and consider how they reveal what your customers actually want.
Website and online reviews. Check your website's reviews and third-party online review sites for comments about your brand. See what problems—or successes—they mention frequently. (Customer sentiment analysis can help you review these comments more efficiently and effectively.)
Noting which products, services, or content customers prefer. Customers don't have to say anything for your team to understand which of your products are most helpful. Mark which items, services, or content are most popular, and send surveys or reviews to determine why.
Social listening. Over a third of consumers share their customer service experiences, whether they're good or bad, on channels like Facebook and Instagram. Check the internet for direct mentions and hashtags around your brand. See what they're saying about both your customer service and your products or services. (And take the opportunity to remedy complaints if you run into them.)
Compile all of your learnings to create a composite look at your customers. It will be critical in step four.
Step Two: Ensure each team stays up to date.
The larger your company grows, the more distance your employees—particularly higher-ups—have between themselves and customers. Customer service agents chat with customers each and every day. C-level employees, high-level managers, and marketers? Not as much.
Set up regular touchpoints between these team members and customers to create a 360-degree customer view. For example, you might have a marketing manager take over a customer service messaging inbox for a day, or have an operations team member answer support phone calls. They will get close contact with customers and learn a lot about them quickly.
In addition, return to that customer listening you did in step one. Don't keep that valuable information in a silo. Share learnings about your customers in company newsletters, internal reports, town halls, and Slack channels. This can include hard data and even relevant customer emails and messages (personal information redacted, of course).
Step Three: Meet customers where they are.
Customer focus requires your teams to provide customers with a seamless experience from start to finish. Today's customers specifically prioritize fast answers and a personalized experience. Sixty-five percent are more likely to buy again from a retailer that remembers their name, what they bought before, and talking points from prior interactions.
Conversational messaging is one-on-one messaging between your team members and customers, as opposed to one-way forms or automated response systems that prevent customers from having quality conversations with real people. It meets customers' need for speed and personalization where they are—on their mobile phones.
Meeting customers where they are through conversational messaging makes it easier for customers to reach out. Plus, real-time conversations with team members help customers form closer connections with your brand.
Step Four: Make customer-fueled business decisions.
You can't stop at meeting customers where they are, gathering extensive information about them, and focusing them in all aspects of your culture. Customer focus is about making the entire business revolve around them.
After those important initial steps, consider how your business—from your products and services to operations to your mission—can better serve customers. Then, implement changes that make those strategies a reality, and don't be afraid to make large adjustments. Your business has to make everything, from start to finish, connect with, serve, and benefit customers.
Remember to communicate company changes and the reasons behind them, too, so customers are aware of your dedication to meeting their needs.
Customer Focus for Long-Term Business Success
As the world changes, your customers' expectations will too. Delivering on their shifting needs for personalization and empathy will differentiate good companies from great ones. Adopting a customer focus mindset is the best way to stay up to date in an ever-changing market. Customer focus will:
Keep your team updated on your customers' goals and needs as they shift
Help your teams form tight relationships with customers over time, promoting long-term loyalty
Create a flexible environment that makes it easier to change business directions when necessary
Customer focus will help your business transform alongside customer needs, helping it stay relevant—and growing—well into the future.
Want to learn more about meeting customers where they are? Check out our conversational support guide.