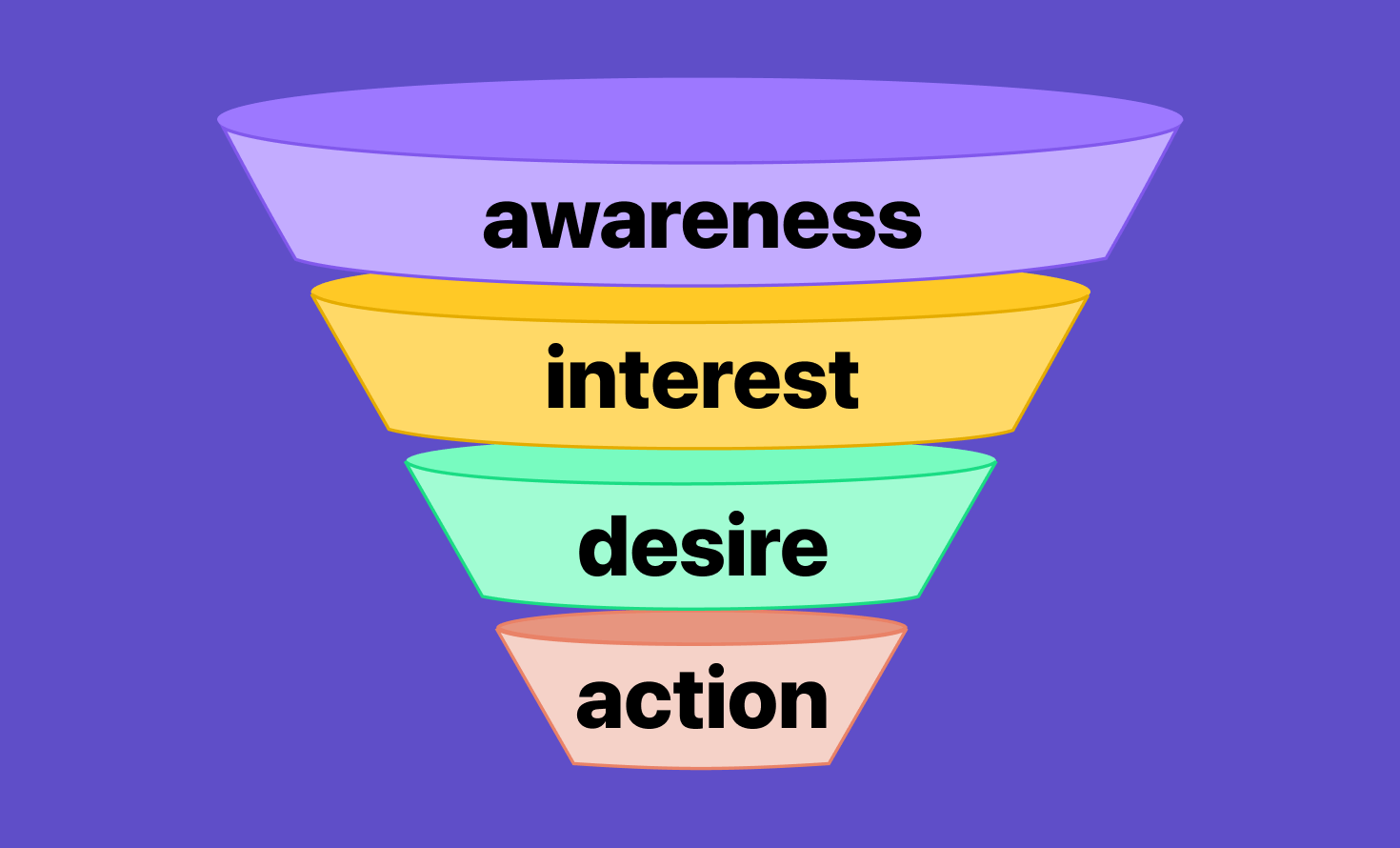 Efficiency is a crucial element of succeeding as a business. The faster you can take prospects through various stages of the sales process, the more revenue you can generate for your business. But, it's hard to be efficient if you don't have a plan in place to segment and evaluate the steps of your sales process.
Instead of improvising when it comes time to attract and convert leads, use a sales funnel template to establish proper procedure for your team to efficiently approach the marketing and sales process.
We'll cover:
We've also provided a blank, customizable sales funnel template to help you build and hone your own sales funnel, which you can access here: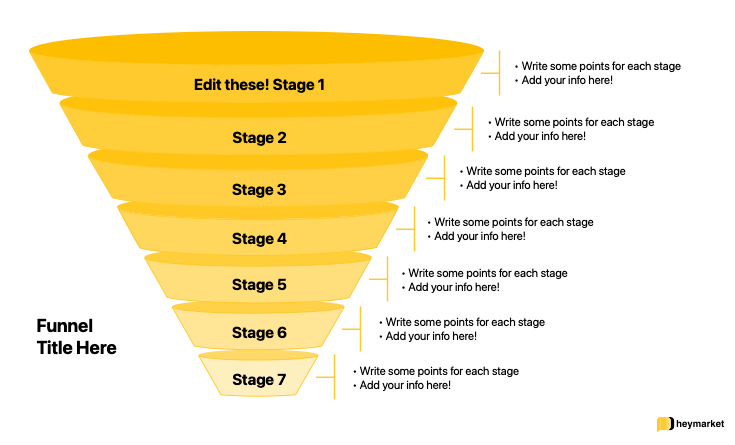 → Get your blank sales funnel template as Google Slides.
→ Get your blank sales funnel template as a PDF.
What is a sales funnel?
A sales funnel is a general outline of how your business will generate sales from prospective customers. It helps to guide the development of your sales process, including segmenting responsibilities for marketers, sales reps, and customer service agents.
The traditional sales funnel consists of four layers: awareness, interest, desire (also called decision), and action (AIDA). Each layer consists of a necessary step to take to move a prospect through the funnel. They're represented as layers of varying widths that reflect the number of leads in that stage of the funnel, and are categorized as either top of the funnel (TOFU), middle of the funnel (MOFU), or bottom of the funnel (BOFU).
Top of the funnel (TOFU)
The top of the funnel is home to the awareness stage. Awareness refers to customers just discovering that your business, products, and services exist. It's the largest of the layers because it encompasses every single potential customer in your target audience. At this stage in the funnel, the marketing team is often responsible for driving awareness through campaigns that educate leads on your offering and bring them to your website for conversion.
During the awareness stage, your primary focus is going to be researching to discover your target audience. Understanding their demographics and pain points allows you to spend your marketing budget effectively by targeting the highest-intent buyers. Knowing their needs helps you create informed messaging that allows you to craft content, ads, and campaigns that speak to your audience effectively so that you can increase the market's awareness of your business.
Middle of the funnel (MOFU)
Interest follows awareness because it consists of leads that show interest in your business. During this stage, you'll aim to inform the lead about their problem and demonstrate that you have a solution. For B2C companies, you might do this through high-quality copy on a website or product listing. For B2B brands, this could be a product demonstration or presentation.
Desire (or decision) is next in the middle of the funnel, which includes all leads that you've successfully convinced to consider making a purchase during the interest stage. This stage is where you focus on making the best offer you can and the strongest case for why they need to buy your product instead of someone else's. The desire stage will often be longer for B2B sales due to negotiations and potential contracts, but can be very short for B2C companies that just need to elicit a few clicks to reach the bottom of the funnel.
Bottom of the funnel (BOFU)
In many traditional sales funnels, the last step of the process is the action stage. Here you're learning whether or not your lead decided to become a customer. In some cases, the desire and action stages will blend together, especially for B2C brands that have shorter stages and low barriers to purchasing.
During and following the action stage, your sales funnel should focus on delighting customers and providing the best customer experience possible. Your business can accomplish this by putting customers' needs at the forefront of your service and nurturing relationships. You can be proactive in your service and support with personalized communication, timely customer service, and providing a wealth of accessible information so that potential and existing customers always feel engaged.
When your customers are happy with your service, they're more likely to come back – and with returning customers converting at a higher rate, spending more, and costing less to engage, they become essential to your business. Delighted customers are also more likely to become ambassadors for your brand, bringing valuable social proof with reviews and referrals that grow your customer base.
Nurturing: a crucial funnel-wide strategy for every stage
Sometimes a lead gets stuck at a section of your sales funnel and isn't ready to move forward yet. You don't want to focus your resources on moving them through the funnel when they're unlikely to progress, but you also don't want to risk them losing interest in your business. The answer? Nurturing.
Nurturing is an essential part of every sales funnel and applies to all stages. When you nurture leads within your funnel, you're working to keep your name at the top of their minds – that way, when they're ready to move forward to the next stage, it's easy to continue the sales process with them.
At the awareness stage, you don't have much of a relationship with your leads yet. But, you can still use personalization to set the stage for nurturing future relationships by building educational assets like eBooks or guides that are targeted at a specific segment of your audience.
Nurturing at the interest level may include marketing campaigns about new releases and promotions, or sending applicable blog posts and other content that helps inform leads.
During the desire stage, nurturing could include offering samples, case studies, consultations, and sales content that addresses that lead's problem.
Throughout the action stage, personalized direct communication with a sales rep can help nurture the relationship and bring them over the finish line. Meanwhile, a seamless handover to customer service afterwards sets the stage for accessible communication post-purchase.
When nurturing existing customers, all divisions of your company work together to take that successful customer and bring them back into the sales funnel – hopefully with friends. To accomplish this, it's important that you provide exceptional customer support and build positive relationships with the customer so that they re-enter at the middle of the funnel with referrals.
The evolution of sales funnels
Sales funnels began as a simple guide for businesses to use for structuring their sales approach. It still applies today, but the elements, layers, and ending stages have changed.
Before the internet made it easy for consumers to learn about products and services, marketers and sales teams emphasized outbound sales funnels to generate demand. As the primary source of information, sales reps used strategies like cold-calling and information-heavy sales pitches that aimed to inform and qualify leads, but they didn't focus closely on specific leads' needs.
In the current digital age where customers have endless access to information about products and services, inbound sales strategies thrive. Inbound sales funnels focus on customers' needs rather than giving an un-targeted pitch. The customer focus works: Inbound sales have a close rate nearly 9 times as high as outbound strategies.
Customers want personalization – 80% of consumers prefer buying from companies that tailor experiences – so the ability to qualify leads and personalize customer experiences becomes more valuable. Plus, you can use lead segmentation to create targeted content for entire groups at a time instead of each individual, saving time, resources, and money. As a result, the customer-centric flywheel model from Hubspot has grown in popularity thanks to a wider focus on positive customer experiences and relationships as well as social proof as a sales tool.
Benefits of a sales funnel
A sales funnel, in whatever form works best for your business, has a number of benefits to consider in addition to providing a structure for your sales process.
A sales funnel:
Qualifies leads
A benefit of sales funnels is that they help to organize your marketing efforts and qualify leads. When you have clear stages of the sales process, it becomes easier to see what is working with your marketing and how well different kinds of customers convert. The further down the sales funnel they get, the more valuable the customer becomes, so you can focus your attention on converting high-quality leads instead of every potential customer in your target audience.
Segments responsibilities
Sales funnels are great at defining the roles and responsibilities of your team. Marketers, sales reps, and customer service agents will have clearly-defined roles and know when a lead is their responsibility to avoid confusion and to ensure they're engaging the lead. Funnels also make it easy to transition between the stages of the process so that your most qualified representatives are assisting with moving the lead through the funnel, improving conversion rates.
Informs sales reporting and strategies
When you create groups and stages of a sales funnel, you're able to segment not only the responsibilities, but also the steps of the sales process. When you can isolate where a customer falls in the funnel, you're able to measure the effectiveness of your strategy so that you can improve any weak spots.
For example, if you have a high conversion rate to the intent stage but it drops off steadily during the desire stage, you should evaluate your resources and efforts at that stage to improve the chances of reaching the action stage.
How to build your own sales funnel
No two sales funnels are the same. Depending on your type of business, industry, size, and business model, the right funnel for you will vary. As a result, you'll need to inform yourself about your business so that you can develop a sales funnel that works for you.
Here's what to keep in mind when you build your own sales funnel.
Research your audience
The first step to building a sales funnel is considering who your target audience is. Are they a certain age or do they live in certain locations? Do they have specific interests? What social channel is most likely to reach them? These considerations will help you to effectively market your business and inform your content for each stage of the funnel so that you can tailor leads' experiences.
You'll also want to find out what the pain points for your target audience are. If you know why they would want your product, you can address those pain points with your messaging. Plus, you'll know how to present value to leads during the middle of the funnel to further drive conversions.
Consider the sales process
The next consideration is about the length and complexity of the sales process. Are you a B2B company that needs to have multiple meetings, prepare presentations, complete demos, and negotiate terms before closing a deal? Or, are you a B2C company that just needs to provide the resources necessary for customers to make an informed decision?
No matter your business type, thinking about the sales process can help make sure you're segmenting the stages well and giving the various stages the appropriate amount of attention based on your specific business. It will also help you to organize your team's responsibilities for improved efficiency.
Emphasize relationship building
A major part of any successful sales funnel is building effective relationships with your leads. When building your sales funnel, it's important to integrate stages and aspects of the process that work to personalize messages, address specific needs, and keep communication open.
For B2C companies, following up with a customer who sent an inquiry or quote request with a personalized automated text can help engage the lead and move them through the funnel. For B2B businesses, you could send an SMS follow-up after each meeting with important information or reach out to let your customer know that your rep is available if they have questions before closing the deal.
Relationship building is also important for post-sale nurturing where your customer service team works to bring the customer back into the funnel. Re-engagement becomes easier with personalization, making it crucial to build positive relationships throughout the sales funnel for both repeat sales and recommendations.
Track results and iterate
As your business and market landscape change, your sales funnel needs to adapt as well. Part of building an effective sales funnel template for your business is constantly evaluating the stages of the sales process so that you can refine your approach over time. You can do this by evaluating the conversion rates for various stages of your funnel, or by asking won and lost leads for feedback using an automated text message that triggers based on their stage of the funnel.
For example, if you're seeing a lot of lost leads at a certain stage of the funnel, you may need to change the content or focus more on personalization. Or if you're seeing a greater success rate from a certain marketing channel than others, you can narrow your "awareness" efforts for more efficient advertising spending.
Always evaluate both your wins and losses so that you can see what works and what doesn't.
Example sales funnels
Not sure where to get started with creating a sales funnel template for your business? Here are some examples of templates you can use as a basis for customizing your own.
E-commerce sales funnel template: product launch
Companies doing product launches commonly implement a sales funnel that focuses on either collecting personal information to prepare for a future release or generating a sale with effective ad copy. They're generally thin stages with a lot of segments to help evaluate the efficiency of the process and will vary depending on the size, type, and niche of your business.
Here's an example of a sales funnel that aims to quickly move a lead through the sales funnel from a paid digital campaign.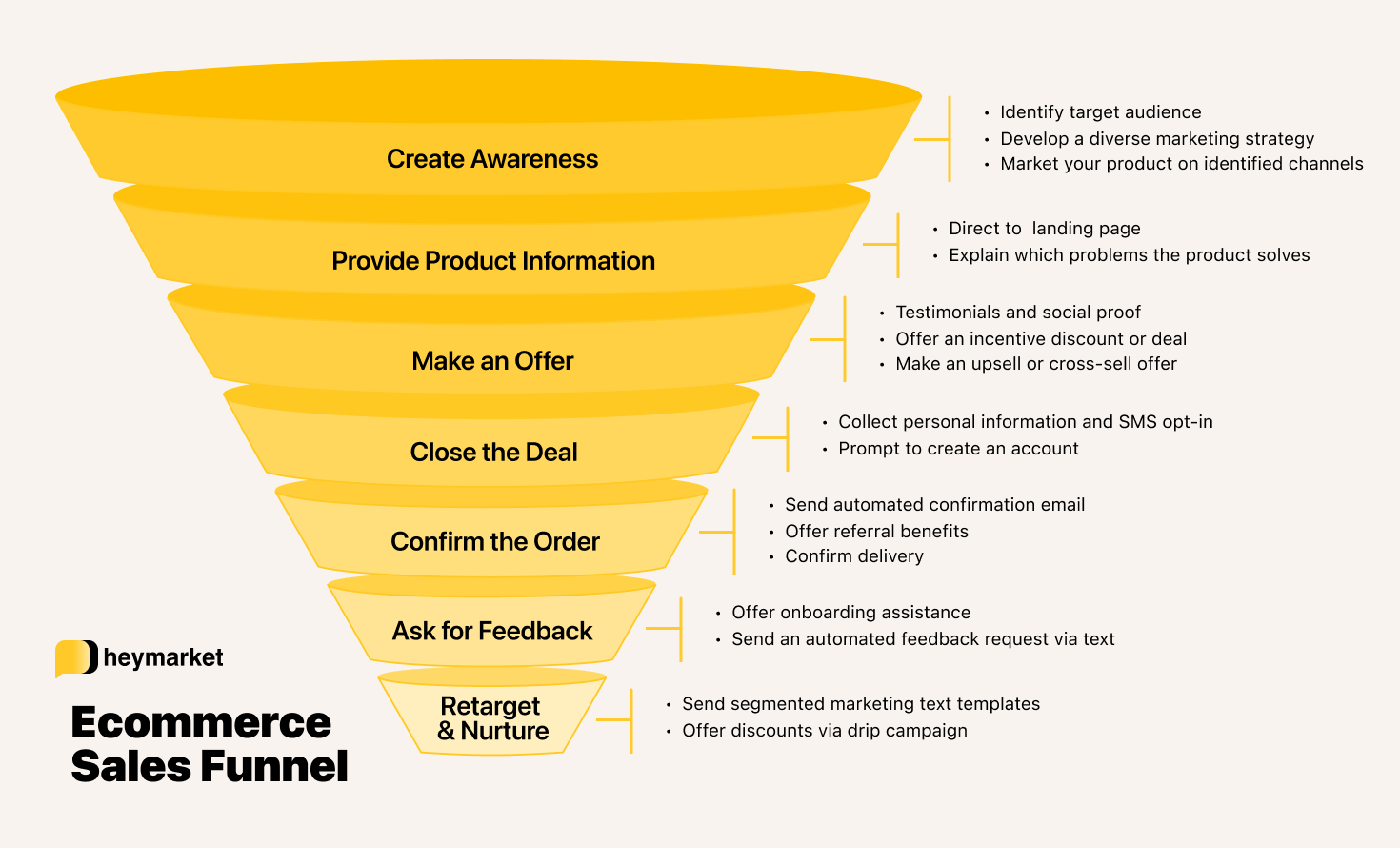 B2B sales funnel: SaaS
B2B sales is a more complex, time-intensive, and resource-intensive market to create a sales funnel for. They're often larger-scale transactions and spend a lot of time in the interest and desire/decision stages of the funnel.
Here's an example of a software as a service (SaaS) sales funnel.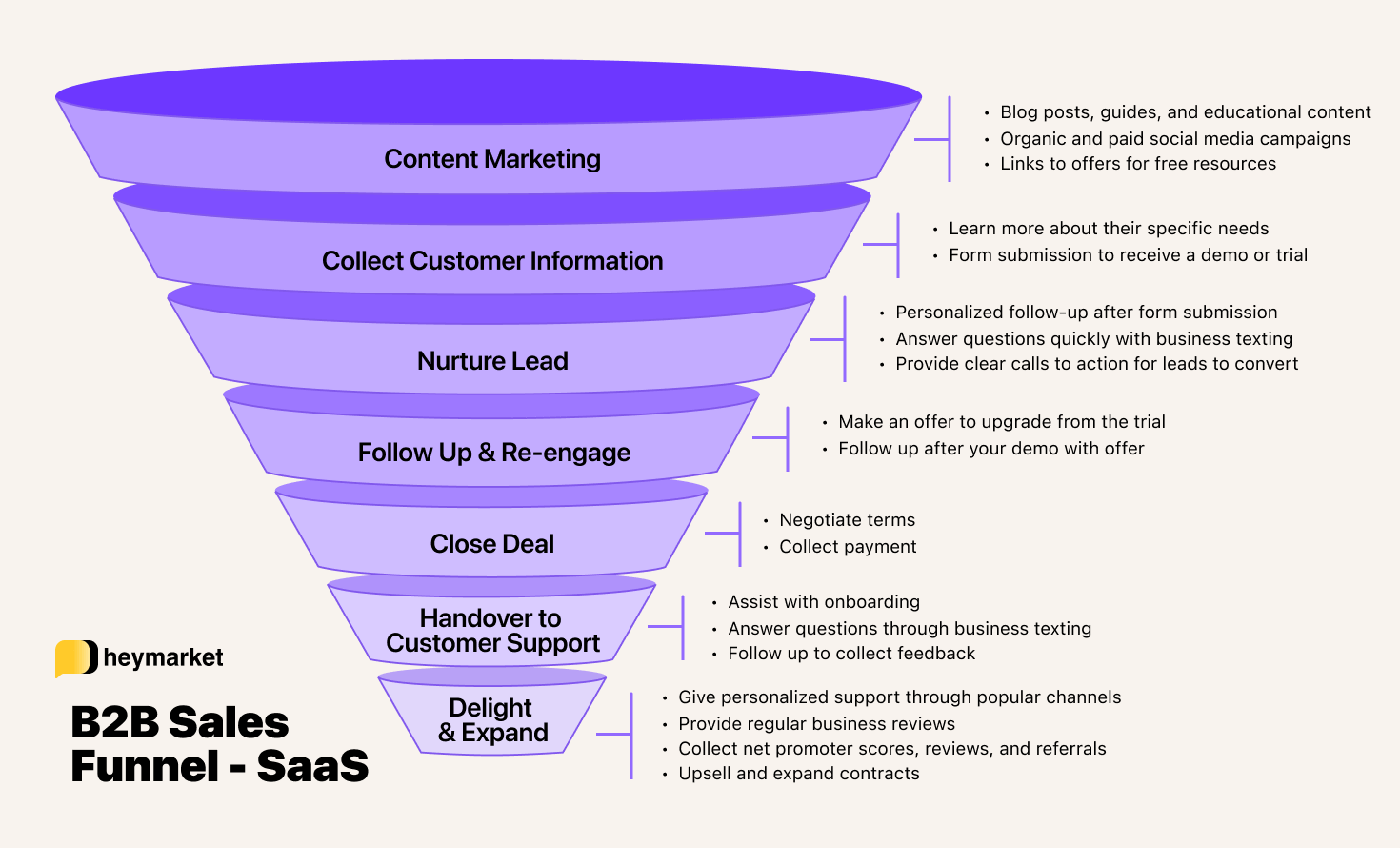 3 tips for taking your sales funnel template to the next level
Your sales funnel is the basis for the success of your business. An effective sales funnel means that you can easily expand your business, refine your marketing strategies for high-quality leads, segment responsibilities for more efficient lead processing, track performance and conversions to help optimize results, and make sure you're making the most out of the customer experience to encourage returning customers.
Here are three tips for making the most of your sales funnel:
Collect phone numbers when possible
Collecting lead information is a major part of any sales funnel. This is especially true for lead-generating offers that provide a resource in exchange for information.
If it makes sense for your business, collecting a phone number (and securing an opt-in) is a valuable piece of information that can help you successfully convert the lead.
Texting is one of the most effective forms of sales communication possible, owning a 98% open rate that surpasses other forms of marketing or communication. It's more intimate than email but less disruptive than a phone call, which allows you to build better relationships with your leads.
With a business texting platform, you can provide faster and more complete lead nurturing and support throughout all stages of the sales funnel. From sending marketing SMS templates for drip campaigns to addressing direct questions from leads during the desire and action stages, it makes your business accessible to minimize any clogs in your sales funnel.
Personalize the experience
Even with the most well-refined sales funnel possible, you still need to implement effective sales strategies to convert leads. One way to elevate your sales funnel is to personalize as many interactions as possible through conversational sales strategies – ideally through texting.
Start by researching your target audience, identifying their primary pain points, and tailoring your marketing to their needs. Once you've collected leads' information in the intent stage, use an email marketing or business texting platform to send an automated text template that confirms their opt-in and offers support for the next steps.
During the desire and action stages, it's a good idea to make your sales reps as accessible as possible to quickly address issues that arise so that you don't interrupt the flow of the sales funnel. Business texting makes this easy, including providing automated responses to FAQs, out-of-office notifications, and more.
Finally, follow up with successful leads using information like their purchase history to nurture the relationship over time to encourage returning purchases.
Automate where possible
Customer expectations have changed, so your strategies must as well – and by implementing the right technology into your marketing, sales, and support strategies, you can achieve better results.
For many businesses, integration with the internet and the use of online tools allows you to tailor customer experiences in ways that mirror in-person communication. With digital transformation, you can create awareness, make offers,collect information, and accept payment through custom-tailored software solutions that let you do more with fewer resources while providing a more personalized experience that drives engagement.
As a result of a tech-heavy sales funnel, you're also able to implement automation for a lot of the stages so that you can save time and provide a better customer experience. This means that your sales funnel can be operating 24/7 – even outside of business hours.
If you're able to collect a phone number, you can use a business texting platform to automatically send personalized text messages based on the step of the funnel your lead is on and the action they take.
For example, you can set up an automatic message that notifies a demo user that their trial ends soon when it hits a certain time in the cycle. Or, you can schedule follow-up messages after meetings to nurture your relationship with the lead. Order and delivery notifications are other ways you can use automatic text messages along with drip campaigns for leads that haven't converted yet that can result in salvaged conversions.
Shape your business with a customized sales funnel template
As we've shown, sales funnels are an important element of your business strategy. Sales funnels provide a basic structure that ensures that you always have a clear direction to follow and goal in mind, allowing you to streamline sales and marketing processes. They've changed over the years, but no matter the type of sales funnel you choose to use, it's essential to fit it to your specific needs and implement inbound sales strategies for the modern market.
With your own custom sales funnel template, you'll be able to better qualify leads for improved close rates, segment responsibilities for efficient movement through the funnel, and track what's working at each stage of the process to help inform your strategies.
Our sales funnel examples are a great place to start, but no two businesses will have the same needs. Be sure to customize your sales funnel so that you can stay organized and grow without limitations. To help you build your own funnel, we've provided a blank sales funnel template that you can access as a Google Slide or PDF: You can download your own customizable sales funnel template here to put that growth in motion.
→ Get your blank sales funnel template as Google Slides.
→ Get your blank sales funnel template as a PDF.