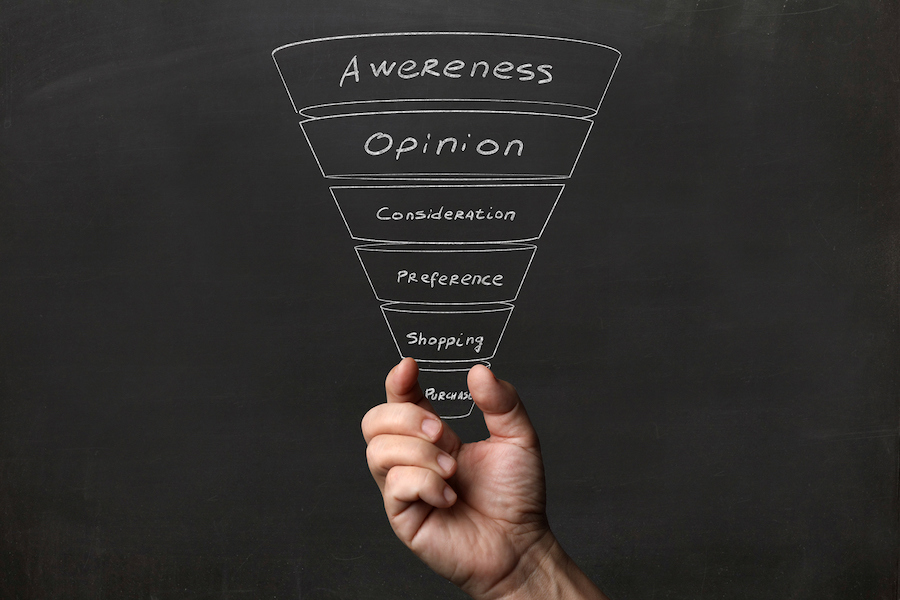 A classic marketing funnel is critical to strategic planning. It can help your business map out how you should interact with leads and customers throughout the buyer's journey. But how do you create one for your business? Read on to learn how to build marketing funnels with help from three key communication methods: texting, emailing, and calling.
What Does a Classic Marketing Funnel Look Like?
When we say classic marketing funnel, there are a few versions we could be referring to. For the purposes of this blog post, we're talking about the Attention, Interest, Decision, Action (AIDA) model. But your business may use other models; for example, HubSpot prefers a simple three-step marketing funnel (or, even better, their flywheel.)
Each business will build its marketing funnel in its own unique way, but the basics usually remain the same. The top of the funnel focuses on people who don't know much at all about your brand. Then, as the funnel narrows, it focuses on leads who are close to making a purchasing decision. (We'll explain each AIDA funnel phase in more detail below.)
How To Build Marketing Funnels with Communication Channels
Communication channels are critical to successful, functional marketing funnels. Texts, emails, and calls help you guide your leads through the funnel and out the other side.
It's important to use the right channel during the right funnel phase. That way, you can provide experiences that fit leads' current intent levels, keeping them moving forward.
Let's explore how to build marketing funnels using texts, calls, and emails.
Attention Phase: Time to Let Other Channels Shine
The Attention phase is also known as the Awareness phase. It's the phase where you focus on marketing efforts, and try to get your branding in front of potential leads as much as possible. In this phase, you'll focus on attracting customer attention through social media campaigns, content marketing, and other digital marketing efforts—not texts, emails, or calls.
Why? Federal regulations (and good lead communications etiquette) require that your leads opt in before you call, email, or text them. In other words, they need to already know about and be interested in your brand before you start communicating with them.
Not to worry, however; you can start using these three communications channels during the Interest stage of the marketing funnel.
Interest Phase
Leads give you their contact information when they've seen your marketing content and have questions about your products or services. Once they give you their details, they're firmly in the Interest phase. This is the perfect time to fan that flame of interest and share more information about your brand.
Encourage leads to text your brand during this phase. Texting is fast and convenient, which makes it the ideal tool for answering simple questions, scheduling demos, and keeping their interest going strong. It's critical that they text with a live team member, not a bot, so they can start making genuine connections with your business.
For a positive initial interaction during this SMS marketing funnel phase, you should:
Confirm that leads have opted into your SMS services
Use your name or signature in initial texts
Text with an authentic, casual tone (but remain polite)
Include emojis or GIFs to show off your personality
Point leads to additional online information or share photos and videos
It's critical that leads' first interactions with your brand are fast and personal. With this SMS marketing funnel phase, you can keep their interest piqued all the way to the decision phase.
Decision Phase
After leads progress past the interest phase, they are ready to make their decisions. Here, they may have more complex questions about your products or services. They may want to learn about how you compare with competitors if they've been doing some research. In these cases, it's time to put emails to good use.
Encourage leads to email you with complex queries. Since many of your leads have reached out already during the Interest phase, you'll have a little more information about them. It will most likely be stored in your business texting platform. With a CRM SMS integration, you can access and use that information while you send emails.
In your Decision-phase emails, employ all of the prior phase's tips. You can also:
Use custom fields with what information you have (e.g., lead names and products of interest)
Share documents, links, and other useful supplemental information
Use HTML emails to reinforce your branding
Emails are a great way to add context to your leads relationships. With this extra depth, you can better propel your leads from the decision phase to the action phase.
Action Phase
The final phase of the AIDA model, the Action phase, is a critical moment in the buyer's journey. Actions may include leads purchasing your product, signing up for your subscription service, or scheduling an appointment with your team.
Your texts and emails should make it easy to take action directly after interactions. For example, you should allow leads to schedule appointments manually through SMS, with help from smart reply chips (Google's Business Messages), or via time pickers (native to Apple Messages for Business). Emails should offer links to items in question or scheduling software. No matter what, offer customers the chance to call with their queries.
Let customers know that they can call to:
Ask last-minute questions
Troubleshoot purchasing problems
Manually purchase items or schedule appointments
Offering customers a person-to-person connection right when they're about to take action can mean the difference between a conversion or an abandoned shopping experience.
Looking for more ways to build marketing strategies with business texting? Check out our blog.