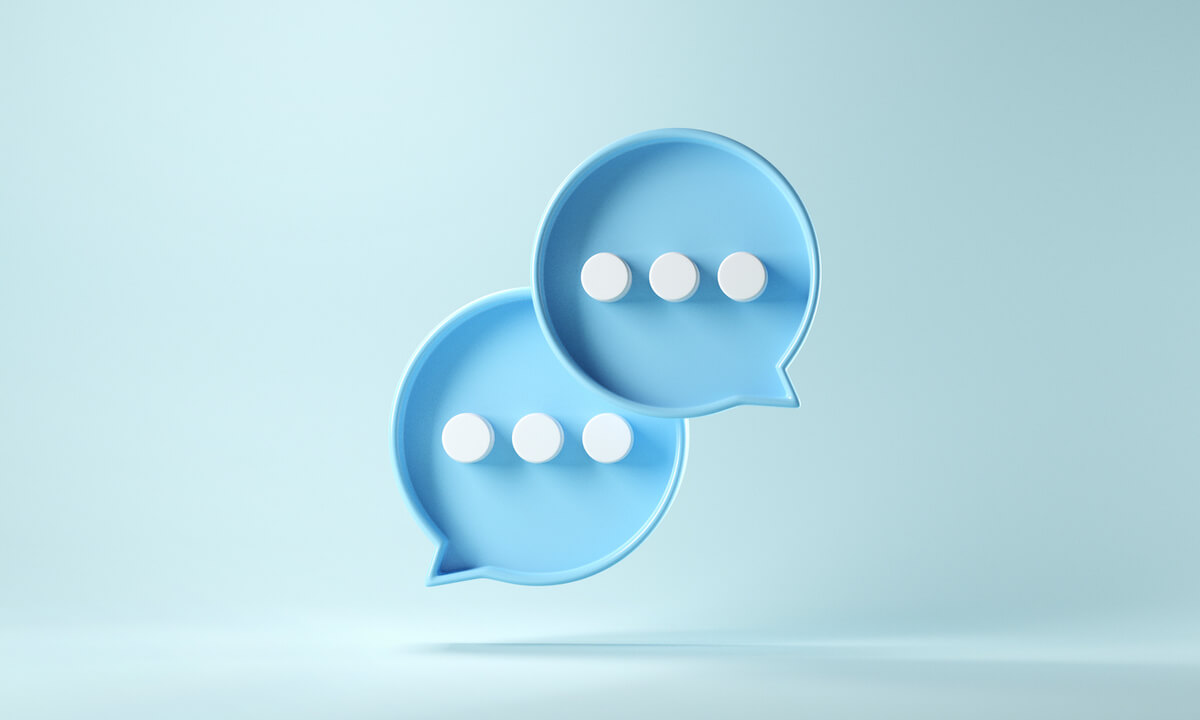 A whopping 90% of consumers strongly consider customer service when trying to decide whether or not to do business with a company. That puts a lot of pressure on each and every interaction with your Shopify customers. How can you connect with them through Shopify and, what's more, ensure each conversation is effective?
Shopify offers native and third-party communication channels that help you connect with customers throughout their journey. Used correctly, these tools empower you to create a top-notch customer experience that keeps them engaged with your brand.
In this beginner's guide to Shopify customer communications, you'll learn why they're so important, which channels to use, and when to connect with customers during the customer journey.
Why Are Shopify Customer Communications So Important?
Customer service is based on communications. Think about it: in order to resolve tickets, check on deliveries, or survey satisfaction levels, you have to chat with customers. The channels you use to connect with customers—as well as the conversations themselves—are critical to customer perceptions of your customer service.
As we established before, customer service is critical to your business's success. Sixty-seven percent of consumers say they'll pay extra for a great experience.
In other words, if you have the best customer service around—and that means the best customer communications—your customers will stay loyal and even pay a premium for your products.
4 Ways to Connect with Shopify Customers
You have four options for connecting with Shopify customers. Each option has its pros and cons. Implement as many options as possible to capitalize on the benefits. (As long as you can maintain a streamlined omnichannel experience.)
Email
Email is a well-known, reliable communication channel. You can almost certainly reach your customers this way.
Shopify offers Shopify Email for free. Use it to send eye-catching store newsletters or simple order notifications that arrive from your domain name. Then, you can track email performance and make improvements for your next campaign. (Keep in mind that open and response rates for emails are 20% and 6% respectively. It might not be the best channel for timely content.)
Customers can reply to these newsletters. Their responses will redirect to your default business email. Include your email address on your Shopify site so customers can reach you for queries or concerns there, too.
Web Chat
Web chats are necessary for businesses that want to offer a fast customer service option. They are becoming more popular with customers; general customer satisfaction with live chat is increasing as businesses become more adept at providing this service.
Shopify offers a free live chat tool called Shopify Inbox. In addition, there are also third-party web chat integrations available. Use web chats for fast-paced yet personal customer service.
Web chats allow customers to send messages while they're browsing your Shopify site. If you don't respond before they leave the website, your reply will go to the email address they entered at the beginning of the chat. Or, if you use web chat to text, customers can choose to continue the chat conversation over SMS so they can chat on the go.
Business Text Messaging
Customers are likely to read your texts. After all, SMS has a read rate of 98% and up to a 45% response rate.
There are four ways to send texts from Shopify. Shopify has a simple native tool, and business text messaging platforms integrate with Shopify so you can access advanced texting tools right from your Shopify interface. Use SMS to engage interested leads with tailored marketing content, send timely information (think: order updates), and resolve simple queries.
Make sure to include your business SMS number on your contact page so customers can text in. In addition, add a widget to your website so customers can tap it to text while they're browsing your website on their smartphones.
Instagram Messaging
Instagram is an increasingly important tool for Shopify stores. It's a popular channel for customers discovering products and asking questions. Case in point, 150 million Instagram users have conversations with businesses every month.
You can integrate your Shopify store with Instagram Messenger with help from an omnichannel messaging app. This tool shares data between the platforms so you can get a big-picture view of customer interactions across both Shopify and Instagram.
Plus, you can reply to customers' Instagram messages from within the Shopify interface. That way you don't have to keep switching back and forth between platforms.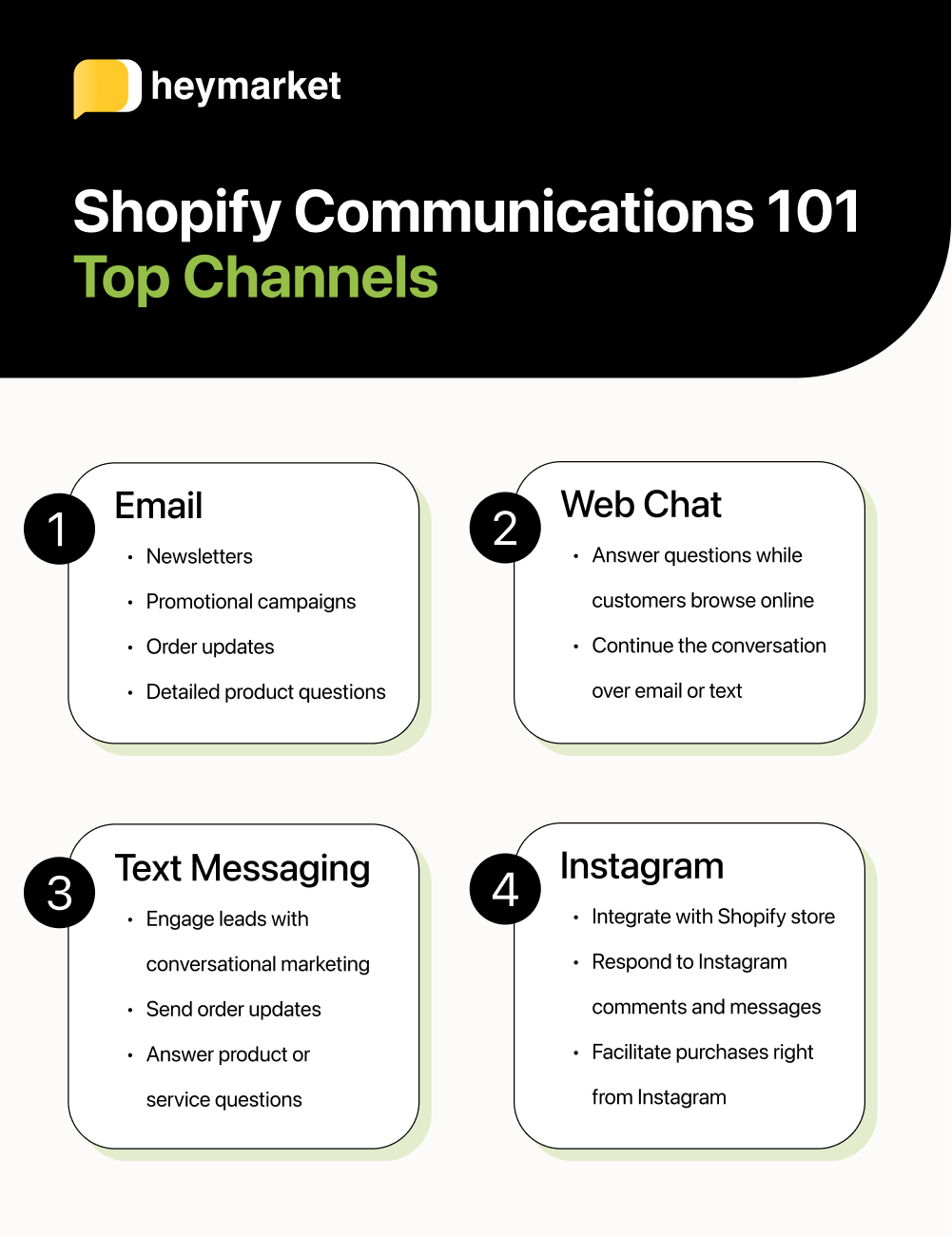 When to Connect with Customers
Now that you have these new channels in your toolkit, you may wonder when it's appropriate to use each one. We'll walk you through which channels to use in each phase of the classic marketing funnel—then, which tools to use during each aspect of customer service.
Attention/Awareness Phase
The attention phase is all about attracting new leads to your Shopify site. At this point in the marketing funnel, you'll rely on ad campaigns to do the heavy lifting. Since customers don't know much (if anything) about your brand yet, you will spend time interesting them through digital ads.
Once leads land on your Shopify site, let them register their interest in your products and services by signing up for your email newsletter or SMS service. Once leads have opted into receiving text promotions, you can start to engage them with conversational marketing. Send them personalized texts to start building a relationship between them and your brand.
Interest Phase
Once leads get curious about the products on your Shopify site, they'll reach out to your team with questions. Show off your speedy service and share information about your brand. Encourage leads to connect through SMS, Instagram Messenger, or live chat at this stage. These tools are perfect for quickly answering basic questions or scheduling calls to learn more. Plus, messaging one-on-one with a person helps customers make authentic connections with your business.
Decision Phase
When customers are deciding what to purchase on your Shopify site, they may have more complex questions. They can still ask these questions via SMS, Instagram Messenger, or web chat. However, if customers ask more complex questions, direct them to email. You can use this channel to send longer replies and attach documents.
Action Phase
The action stage is a critical moment in the customer journey, when your leads decide to buy your product or sign up for your subscription service. During this stage, focus on removing any friction from your leads' path. Ensure your texts and emails make it easy for leads to ask questions, get fast answers, and take action. Include links to items in question. If you use Apple Messages for Business or Google's Business Messages, allow leads to pay with one tap right from your chats.
Post-Order Customer Service
After you've made a sale, it's important to keep customers informed about their deliveries. Send order updates via email or SMS throughout the delivery process. You can set up automatic text updates using a Shopify SMS integration, which customers can respond to with any questions. Once customers have received their order, follow up with an SMS survey to see how they perceived the customer experience. If customers make repeat purchases, send them more detailed customer satisfaction survey requests or online review requests through email.
Shopify Customer Communications for Beginners
Customer service is critical to attracting and retaining loyal Shopify customers—and customer service is all about communications.
By using Shopify's built-in and third-party apps, you can chat with your customers through four key channels. Each channel has its own pros and cons, from reliability to high open rates, that makes it ideal for different situations.
Connecting with customers at key moments in their journey, with the right channels, creates a seamless experience that will keep them coming back to your store again and again.
Want more tips about using Shopify? Check out our blog.