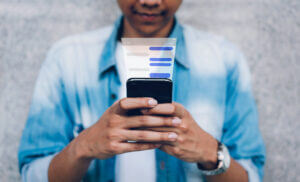 Shopify makes it easy to manage your eCommerce store. But while it allows you to send follow ups to existing customers via email, it doesn't offer SMS capabilities. This can be a setback for a modern business. Customers expect fast, convenient communications, which is why SMS is the ideal channel for communicating with them. Enter Shopify SMS. 
With a Shopify SMS integration, your team can communicate with existing customers faster than ever before. Sending follow ups quickly is critical for customers who expect updates on demand. 
Read on to learn how to use Shopify SMS to follow up with customers. 
Set Up Your Shopify SMS Integration
Business text messaging platforms like Heymarket can easily integrate with your Shopify profile. A Shopify SMS integration allows the two platforms to talk to one another, sharing data behind the scenes. This data sharing allows you to automate key tasks—like sending SMS follow ups. 
Your business text messaging platform should make it easy to set up an integration with Shopify. You should be able to send a quick email to their team or follow built-in instructions within the platform. 
After they set up the correct code on the back-end, your two platforms will sync. All contact data will be shared between the platform, and will update regularly. Once this sync is complete, you can automate customer follow ups. 
Create an Automation for SMS Order Alerts
Sixty-three percent of online shoppers need to know when their order is expected to arrive if they're going to have a good experience. They want to know that their orders have been confirmed and have an idea of when they should check the front porch to see if their order is waiting. 
A Shopify SMS integration lets you send fast order alerts. Plus, customers are sure to see them, since business texting has a high open rate of 98%. To set up the automation for Shopify order confirmation SMS messages, you simply need to:
Create personalized order alert

templates

for confirmed orders, orders that have shipped, and orders that have been delivered.

Set up three

trigger/action sequences

that send the templates to customers once their custom fields in Shopify change to "order received," "order shipped," or "order delivered."
Automated Shopify order confirmation SMS messages will let customers know that their packages are in good hands. This small automation can bump your CSAT scores—without increasing your team's workload. 
Form an Abandoned Cart Follow Up Automation
Most (77%) online shopping carts are abandoned. Customers may abandon their carts for a lot of reasons, but sometimes it just comes to checkout confusion.
With your Spotify SMS integration, you can quickly reach out to customers who have abandoned their carts. To set up this Shopify SMS automation, your team can:
Create a basic abandoned cart

template

for carts that are abandoned (and whose owners have

opted in to your SMS services

already).

Set up a

trigger/action sequence

that sends the template to customers once their cart has been designated as abandoned by the Shopify system. 
Your template should offer checkout assistance. If customers reply, their text will arrive in your shared inbox, where you can respond to any customer questions. A Shopify SMS shopping cart automation prevents confusion and lowers online shopping cart abandonment rates. 
Send Feedback Requests
Customers want to know that you care about their experience. That's why feedback requests are so important. Asking for feedback lets them know that you are both interested in what they have to say and also willing to make improvements. 
Your Spotify SMS integration lets you automate feedback requests, too. To set up a Shopify SMS feedback follow up, your team can:
Create follow up

templates

for both delivered orders and also resolved service tickets.

Set up

trigger/action sequences

that send the templates to customers once their orders have been marked as delivered in the Shopify system or once their tickets have been resolved. 
Automating Shopify SMS feedback requests empowers your team to improve customer satisfaction without any additional work from your team. It's one of the most important follow ups you can send customers. With this automation, your team never has to worry that they forgot to send them. 
Want to start using Shopify SMS? We can set you up.