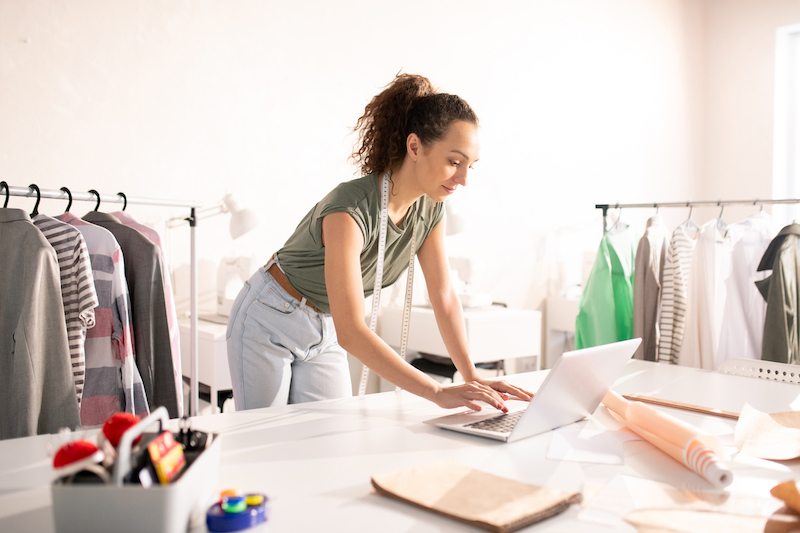 Communicating with Shopify customers through email is a popular option for businesses, but today's customers prefer other communication channels. In fact, nearly four out of five consumers wish more businesses would text them. Businesses that do text see the benefits quickly. Text messages have a read rate of 98% and response rate of 45%, compared to email's read rate of 20% and response rate of 6%.
Luckily, Shopify does allow companies to send simple text messages to their customers in the form of a one-way notification. Plus, the Shopify app store offers integrations with third-party apps to help you message with customers through the channels they love best.
Here are four ways to send text messages to customers through Shopify.
Want to learn more about sending texts from Shopify? Check out Heymarket's Shopify SMS integration.
Learn More
1. Send Automated Texts through Shopify Settings
You can allow customers to choose whether to receive email or SMS order updates during the checkout process. To set up this choice for Shopify customers, you should:
In your Shopify account, navigate to "Settings." Then navigate to "Checkout."
Under "Customer contact," choose one of the available SMS settings:

To allow customers to check out with multiple forms of identification, select "Customers can check out using either their phone number or email."
To let customers check out with email only, select "Customers can only check out using email."
To allow customers to receive shipping updates by SMS, select "Customers can choose to add a phone number or email to receive shipping updates after they complete their order."

Choose "Save."
Remember: customers can't respond to SMS notifications if they have questions or concerns. However, they will stay up to date on their orders.
2. From Your Shopify Customer's Order Screen
You can send two types of texts from your customer's order screen. Shopify's native tool allows you to resend SMS notifications from the order screen, while some third-party messaging apps allow you to send open-ended texts that customers can reply to.
Sending Texts through a Third-Party App
With a third-party app from the Shopify App store, you can set up a Shopify SMS integration. This integration lets you use business SMS features from the Shopify interface. To text customers from your customer's order screen:
Navigate to "Orders" in Shopify.
Click a customer order.
Select "More actions" in the top right of the screen, and click "Message customer."
Shopify will redirect you to the business texting app in a new window, pre-populating the customer's information in a message.
Write your text, then press "Send."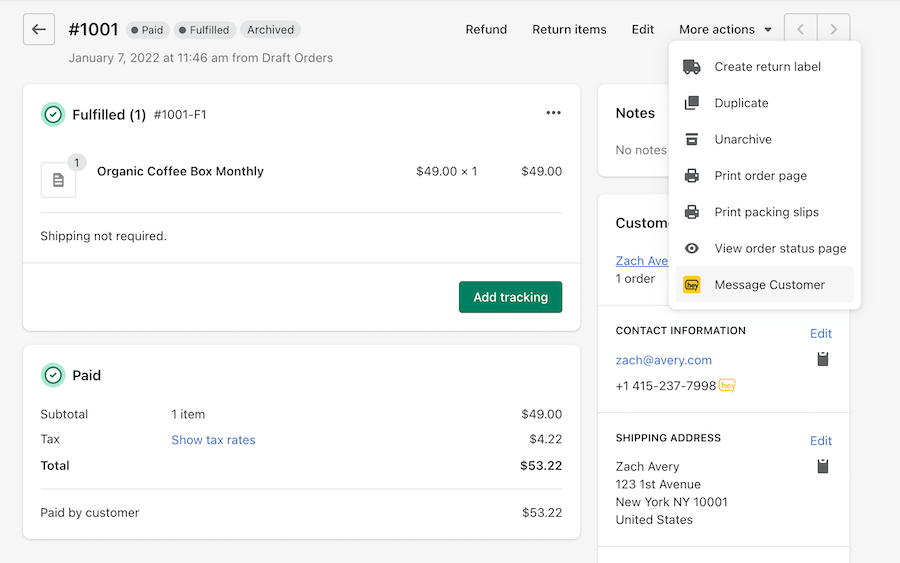 Resending an SMS Notification from Shopify's Native Tool
You can resend SMS order notifications to customers with Shopify's native texting tool. To resend SMS notifications, you should:
Navigate to Shopify's "Orders" page.
Click a customer order.
Under the "Timeline" section, find past SMS notifications.
Click "Resend SMS" under the notification.
This action resends the exact text your customers received before. Remember that they can't respond to texts through this Shopify service.
3. From Your Business SMS Platform
You can send texts to your Shopify customer through your business SMS platform. You need a Shopify SMS integration for this option so your business SMS platform can access Shopify contact information:
Set up the Shopify SMS integration, and enable data syncing.
To text one person, navigate to the chat tab in the left column (icon is a text bubble). In the left "Chats" window, click on the "New Chat" option. This chat bubble will open, allowing you to create a message and choose a Shopify contact.
While this option isn't within Shopify's interface, it's a seamless way to message Shopify customers.
4. From Any Chrome Browser Window
Some business SMS platforms also offer Chrome integrations that allow you to text any number in a Chrome browser—including customer numbers within Shopify. The process of texting from a Chrome browser window is simple:
Download your business SMS platform's Chrome extension.
Open the Shopify "Orders" page.
Click on a customer's order.
Navigate to the customer's contact information on the right side of the screen.
To the right of the customer's number, click on the business SMS platform's icon.
In the chat window that opens, create your message.
Press "Send Now."
Texting from a Chrome window is an easy way to quickly connect with your Shopify customers.
Deciding How To Send SMS Messages to Shopify Customers
These are four possible ways to send SMS messages to Shopify customers. Your choice depends on whether you want to leave the Shopify platform or centralize your eCommerce activities in one place. Either way, texting customers helps you boost engagement—and encourage future conversations.
Want to start sending 2-way texts from Shopify? Explore Heymarket's Shopify SMS integration.
Learn More