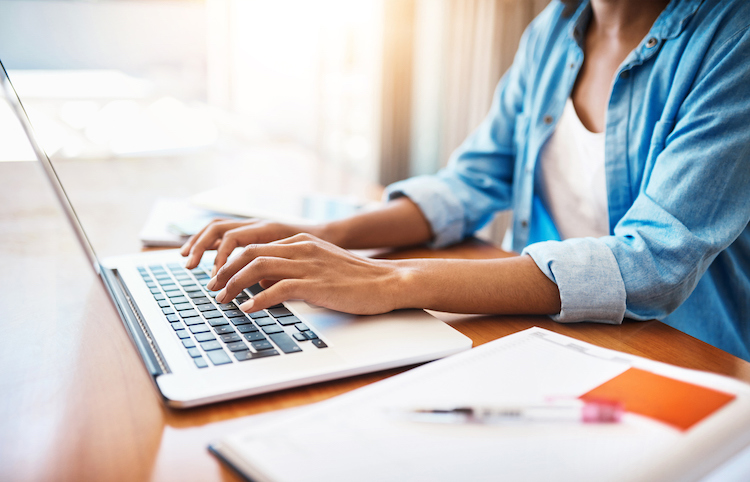 Mass texting—sending one text to multiple recipients—helps businesses directly connect with dozens or hundreds of customers and prospects efficiently. The strategy has grown popular with businesses in recent years because those on the receiving end of a mass text message are almost certain to read your message, since texts have a 98% open rate.
But there are a lot of business SMS services on the market, each offering different features that fit a wide variety of businesses and business needs. How can you find the best mass texting service for your business's needs? What features should you be looking for?
In this article, we'll walk you through the four most important features to consider while you're searching for a mass texting service, and how to make sure they work for your business. (Plus, check out our flow chart for a visual guide to finding the right service.)
1. Mass Texting Basics
A mass texting service needs to have certain baseline features to even be considered to work for your business needs. You should make sure your service of choice offers:
These tools provide the foundation of a good mass texting service. With their help, you can quickly send personalized messages to lists of customers.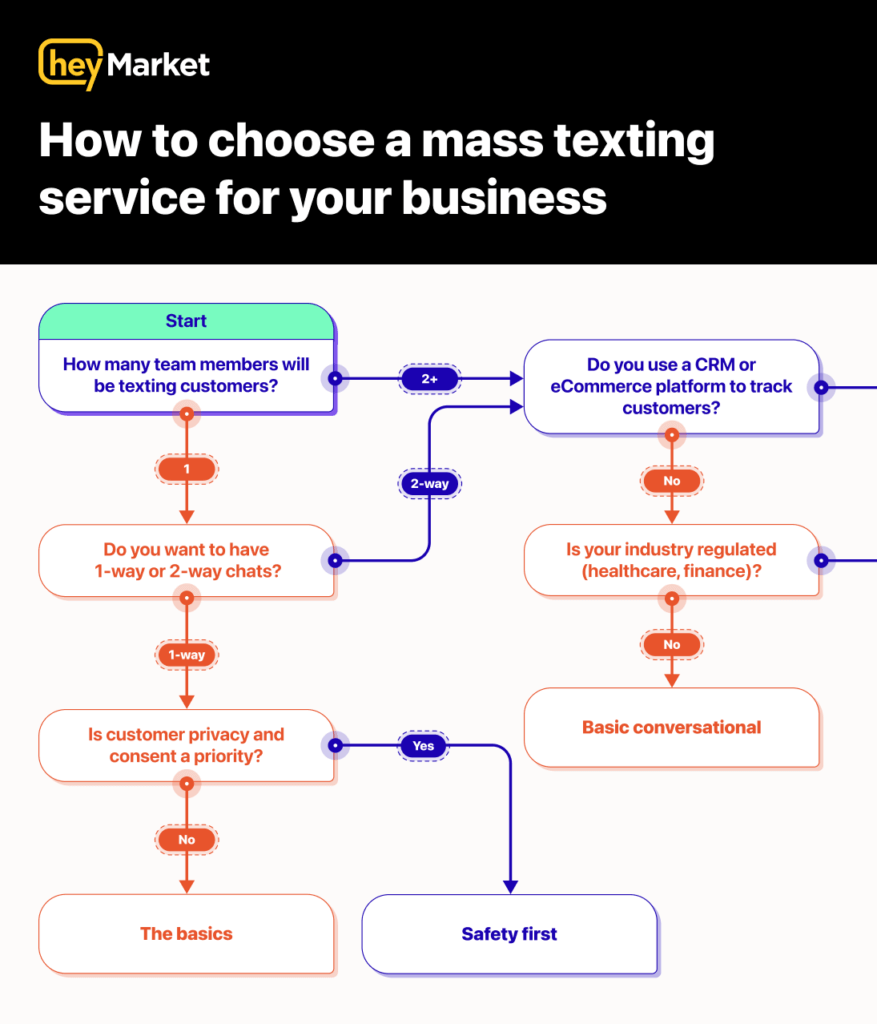 2. Industry Regulation Support
Following your industry's respective regulations is especially important when you're sending texts to customers. Certain texting platforms offer more security or regulation-supportive features than others. Secure text messaging platforms can help you protect your data more thoroughly—and help you adhere to business text messaging's regulations, too.
For example, your texting service should offer support for:
Ultimately, the best mass texting service for you will help you cover all of your legal bases. That way, you can focus your attention on the most important thing: connecting with customers.
3. Connecting Your Data
If your team relies on business apps, like CRM or eCommerce platforms, your texting service should offer integrations with other apps. With help from an integration, you can share data and even text from those platforms. Having an interconnected business app ecosystem helps you personalize texts even when you send them to multiple customers at once. It can also help you manage customer replies efficiently.
Take stock of the systems you use daily, and look for texting services that integrate with:
The best texting service for you will integrate with your favorite business apps and internal tools. With an interconnected business app ecosystem, your team can easily send and manage texts—and keep all of the respective messaging data organized.
4. Two-Way Messaging
At their core, mass texting services focus on sending outbound texts to multiple recipients. But your business may need to do more than send one-way texts. In many cases, you may want customers to be able to reply to you and engage with your team. The following features allow you to have conversations with customers and make that process more efficient for your team:
Two-way messaging is essential for brands that need to allow customers to respond to their texts. These team-based features will make it easier to streamline responses.
Conclusion: Finding the Best Mass Texting Service for Your Business
Every business has different needs, and yours is no different. The key to finding the best mass texting service for your business is understanding your requirements and finding the platform that meets each of them. With so many mass texting services on the market, you'll be sure to find one that's just right for you.
The four categories explored in this article will help you examine the most important factors in a texting service. You absolutely need basic texting features, which empower you to send texts easily. Depending on your industry and needs, you may also need features that help you achieve compliance with industry regulations, connect your texting platforms with the tools you use every day, and have two-way customer conversations.
Ultimately, this guide—and the accompanying flow chart—will help you pick the perfect service for you, streamlining your customer communications and helping you create a seamless customer experience.