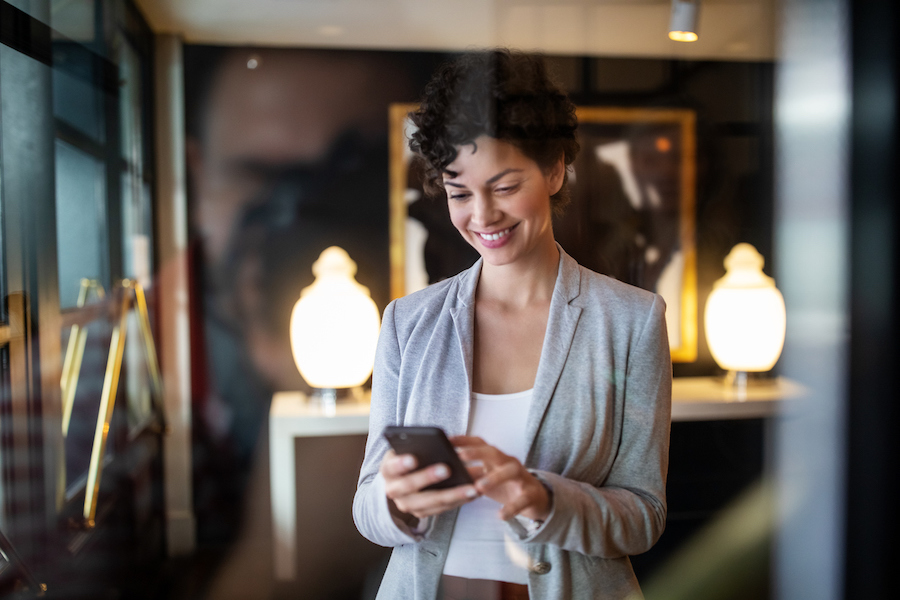 Messaging customers through your texting service for business is easy, but it's infuriating to learn your texts aren't being delivered after they leave your platform. There are a few factors that can affect your texts' deliverability — including carrier filtering and new regulatory changes. While deliverability is a complex topic, there are some relatively straightforward steps you can follow to give your messages a better chance of reaching your customers.
Let's explore this issue—and what actions you can take to help prevent it from happening.
What's Carrier Filtering?
There are a few forces at work after you send texts to customers. For example, carriers practice carrier filtering, where they remove messages that they consider inappropriate. Each process carriers use to filter messages is different, and the exact criteria they use is not public knowledge. It's also important to note that over the past year, carriers have been rolling out a new regulation called A2P 10DLC. With this change, we expect some carrier filtering practices to change. (Read up on the most up-to-date information on A2P 10DLC here.)
Even with new regulations keeping things in flux, following some best practices can improve your chances that your messages will reach their final destinations. Let's explore the 5 steps to help ensure your texts are delivered.
Step 1: Use Custom Fields
Mass texts are popular. You can use them for alerts, updates, and more. But when SMS carriers identify an identical text sent to a large number of subscribers, they may assume that it's spam.
Prevent carriers from mistaking your messages for spam by using custom fields to personalize mass texts. In your SMS templates, leave space for custom fields like:
First names
Order numbers
Ticket numbers
Loyalty statuses
When you press "send," your texting service for business will use merge tokens to personalize each outgoing text. Carriers will be more likely to consider each of your messages an individual text, and let it go through. Plus, your customers will appreciate the personal touch.
Step 2: Send Texts to Small Lists
In a similar vein, carriers may also flag texts sent to thousands of subscribers. (This may change in the future, since 10DLC numbers support businesses sending more messages at once.) For now, even if your messages are personalized with help from your texting service for business, carriers may still identify them as spam.
Instead of sending business texts to thousand-person SMS lists, send them to small lists of around fifty customers. You can divide your lists by categories such as:
Location
Loyalty status
Appointment dates
Change the content of each message to match the corresponding list. That way, you can show carriers you're sending targeted content to its intended recipients. Customers will be more likely to respond to your highly personalized content.
Step 3: Send Valuable, Relevant Content
SMS spam filters will try to stop messages that they think customers won't like. They may consider unsolicited advertisements inappropriate. They may also block religious or political propaganda.
Ensure all of your SMS content is relevant to your brand and valuable to customers. Content least likely to be stopped by filters includes:
Order fulfillment alerts (e.g., order and delivery updates)
Customer service notifications (e.g., ticket resolutions and paperwork reminders)
Conversational customer engagement content (e.g., customer satisfaction check-ins and feedback requests)
Avoid short links, too. Carriers often assume that they're spam. Sending relevant content without short links will make it more likely that your texts go through. Customers are also more likely to remain on your SMS lists if they consider your content useful.
Step 4: Keep Your Lists Updated
There's a chance that carriers will notice if you send the same message to the same customers multiple times.
Prevent double texting customers with the same content by updating both your SMS lists and SMS campaign content. Set a schedule for reviewing your contacts on a regular basis to ensure your team doesn't forget to do so.
Carriers won't see any identical messages sent to customers, and customers won't get tired of seeing the same texts over and over. In addition, provide clear opt-out instructions in texts to ensure customers can opt out whenever they'd like.
Step 5: Monitor Deliverability Changes
Carrier filtering continues to evolve, especially with the introduction of A2P 10DLC compliance. Regardless of what best practices you're currently following, it's always a good idea to keep up-to-date with industry changes.
As we mentioned earlier, A2P 10DLC is an emerging regulation for businesses who use the familiar 10-digit phone numbers with local area codes. With A2P 10DLC, telecom carriers aim to create better message deliverability in exchange for businesses registering their information. However, exactly how much these changes will affect deliverability, and registration details, are still in flux. Read this article for the most up-to-date information on A2P 10DLC requirements, where we'll continue to keep businesses informed.
Consult these resources and keep an eye out for communications from your business texting platform (like Heymarket), who will help you through the registration process.
Want to learn more about your texting service for business? Chat with our team.