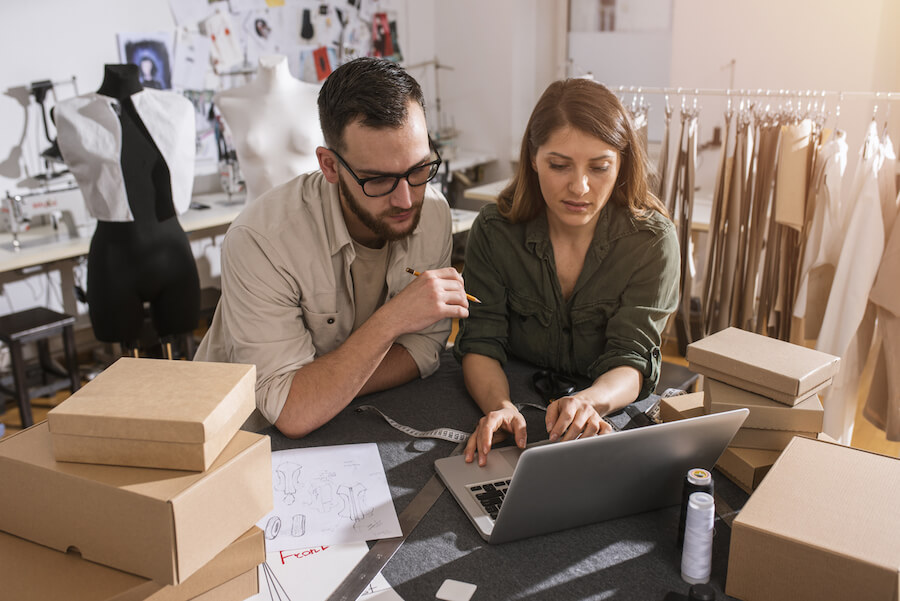 Customer service issues can deliver a big blow to your eCommerce brand. In fact, 63% of American consumers will switch companies because of poor customer service. On the flip side, improving your customer service will bring clear benefits. Businesses can grow revenues between 4% and 8% above their market when they prioritize better customer service experiences.
Luckily, customer expectations tend to be consistent across the board. You can quickly learn what the most common customer pitfalls are from surveys, studies, and observations (which we'll explore below). Then, your team can sidestep these problems to deliver top-notch customer service and set your business apart from competitors.
Read on to learn about the 10 most common customer service issues in eCommerce—and how to fix them.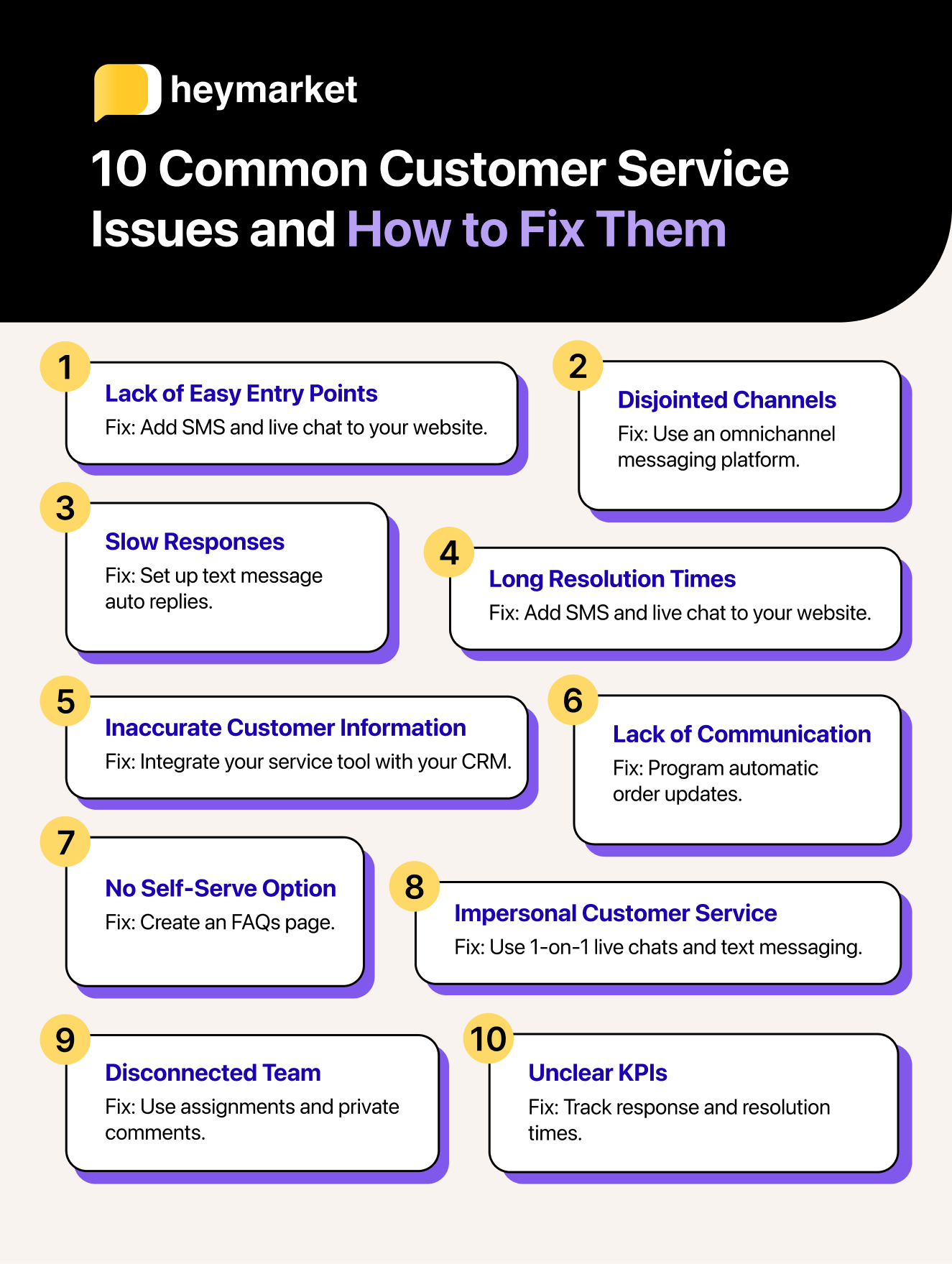 Problem #1: Lack of Easy Entry Points
Problems with website usability are a consistent customer complaint. For example, customers might struggle to figure out how to call, email, or message your team.
It should be easy for customers to reach out. The easier it is for them to connect with your team, the easier it is for them to get answers and solve their queries. (Customers love speedy responses and resolutions, as we'll explore a little later.)
To nip this problem in the bud, make your communication channel entry points visible. Post your business SMS number and email address on your About Us page. Include a live chat widget on each page of your website. Activate your Apple Messages for Business and Google's Business Messages account. Ensure customers can access your team via social media channels, like Facebook and Instagram Messenger.
Problem #2: Inconsistent Multi-Channel Service
Because of today's "Me-commerce" trend, customers expect you to provide customer service through their favorite channels. These channels may include crowd-pleasers that we mentioned above, such as:
SMS
WhatsApp
Apple Messages for Business
Google's Business Messages
Facebook and Instagram Messenger
Many businesses struggle with providing seamless omnichannel service through so many channels. For example, you might offer all of the above customer service channels, but struggle to provide consistent branding and access customer information across each channel.
To improve the customer experience, use an omnichannel messaging platform to centralize incoming messages. This type of platform will allow you (and your team members) to read and respond to all messages in one inbox, switch seamlessly between chats, and even create automations that work across channels. You can also review comprehensive customer history while you message customers, allowing you to tailor each message.
With an omnichannel approach, your team can provide a uniform experience no matter which messaging service customer queries originate from.
Problem #3: Slow Responses
Today's customers are constantly busy. It's no wonder that one in ten customers consider lack of speed their biggest problem with customer service. They simply don't receive initial responses to their queries quickly enough to satisfy their need for speed.
To head off this problem, set up text messaging auto replies. Auto replies let customers know when they can expect answers so they know you're not ignoring their messages. You can set up auto replies for busy times of day, letting them know your team's average response time in minutes. You can also set up auto replies for after business hours, letting them know that their wait will be a little longer.
In addition, make sure customers know you offer messaging as a way for them to get in touch. Your team can handle multiple messaging chats at a time. Customers are also much more likely to reply quickly through messaging channels, given that they open messages more often than they do emails (98% vs. 21%).
Problem #4: Long Resolution Times
Long resolution times can frustrate customers just as much as initial reply wait times. Customers want to receive answers quickly after connecting with agents. That's why monitoring and improving your time to resolution is so important.
To prevent extended waits for customers, ensure your team attends regular training sessions so they're always on top of your brand's newest products and policies. That way, they can respond to customers without spending time searching for answers in their emails or your knowledge database. Ensure your knowledge base is easy to navigate, too.
In addition, consider creating automatic text responses to simple FAQs. FAQ auto replies help your customer service team focus on more complex queries in the customer support funnel, boosting overall resolution times.
Problem #5: Inaccurate Customer Information
Customers expect you to know what they ordered last and its order number. Seeing agents reference the wrong information (or no information) in chats is off-putting to customers because it suggests you're not prioritizing their experience. Seventy-two percent of customers say they expect all of a company's representatives to have the same information on file for them.
It's critical for both chatbots and live agents to have immediate access to up-to-date customer data. That way, they can personalize conversations in a way that makes customers feel that you care about their entire experience. Plus, agents won't have to spend time searching for customer data; they report spending 10% of their time hunting down information across disconnected systems.
To ensure customer information is up to date across platforms, integrate each of your customer service platforms (especially communication platforms) with your CRM or eCommerce platform. The platforms will sync information, keeping customer profiles accurate. For example, with a Shopify SMS integration, customers' last order IDs and names will be visible right alongside agents' messaging window so they don't have to switch between platforms for accurate information.
Problem #6: Lack of Communication
Customers expect regular communication about their orders. Without updates, they can lose trust in your brand and become frustrated. They may even reach out to your customer service team for updates. These kinds of simple questions consume time that your team could spend answering more complex questions.
Get ahead of the problem by preemptively sending customer updates. Your eCommerce platform should offer native email or SMS tools that send customers a 1-way text when their orders progress to another part of the shipping process. You may also want to send updates when orders don't progress as quickly as usual, like during the holidays.
You can also use a third-party app, like an omnichannel messaging platform, to update customers with two-way messages. While eCommerce platform messages can seem one-way, formats like SMS can encourage customers to reply with questions.
Problem #7: No Self-Serve Option
Customers may be reluctant to reach out to your customer service team at first. They may be shy or not want to take the time to wait for a response from a human. In fact, many customers like to try a self-service approach before contacting a customer service team.
If these customers can't find some sort of knowledge base on your eCommerce site, they may contact your team while harboring negative feelings. They may forgo getting help and make a purchase that isn't right for them or keep a product they don't enjoy using. Worse, some may move on to a competitor.
Luckily, this is an easy fix. Create a simple FAQ page to satisfy the needs of self-service customers. They can find their own answers if they'd like at a speed they feel comfortable at. In addition, your customer service team can reduce the number of tier 1 inquiries you have to manage. Instead, they can spend their time managing more complex queries.
Problem #8: Impersonal Customer Service
Seventy-four percent of customers become frustrated with impersonal website content. Customer service web chats, emails, and texts are no exception. They want their shopping experience to center around their current needs and their past interactions with your brand. They also want to feel as though your brand genuinely cares about them.
Make customer service more personal by using live chats and texts to have one-on-one chats with customers. Include customer history, like order numbers and loyalty statuses. Add team member signatures in messages. Allow team members to use personal touches like emojis where appropriate.
If you do use chatbots, personalize their scripts so they seem friendly and approachable. In addition, always offer customers the chance to connect with live agents if they want. It's important that they can connect with a real person as soon as they'd like to.
Problem #9: Disconnected Team
If your customer service team has slow response speeds and resolution times—or if team members report that they feel like they're working in silos—it's time to make sure your team is collaborating.
Collaboration empowers team members to rely on one another for help during customer interactions. This is especially the case if different team members have varying strengths and knowledge about your product or service. Collaboration can help team members get answers to customers more quickly.
One of the simplest ways to do this, especially for remote teams, is to adopt customer service platforms that allow you to collaborate on customer questions in private chats. Team members can share information quickly through the channels they spend the most time in.
Problem #10: Unclear KPIs
No matter how well your customer service team is performing, there's always room for continual improvement. Many eCommerce teams know they can change some aspects about their customer service—they're just not sure what. Without an improvement plan, you won't be able to make changes efficiently or measure the results.
Create an improvement plan by measuring your team's performance and customer satisfaction. Customer service tools should offer tracking and measurement features so you can tell exactly which aspects of your team's performance (e.g., response speed or resolution time) need work. These key performance indicators (KPIs) help you clearly identify what's working well and what needs improvement.
Once you identify your KPIs, send a survey to collect customer feedback about your service. Ask how they feel about your KPIs, and take their responses seriously when deciding on next steps. You may also consider searching review sites and social media for more feedback. (Sentiment analysis can help there.)
Addressing Customer Service Issues in eCommerce
Customers can encounter a number of service issues, from slow response times to impersonal conversations. But now that you know what to look out for, you can take proactive steps to make sure your team never experiences any problems in the first place.
With these tips—and the right tools—you can offer the kind of customer service that makes customers return to your eCommerce site time and time again.
Learn more about communicating with customers in our eCommerce SMS resources.