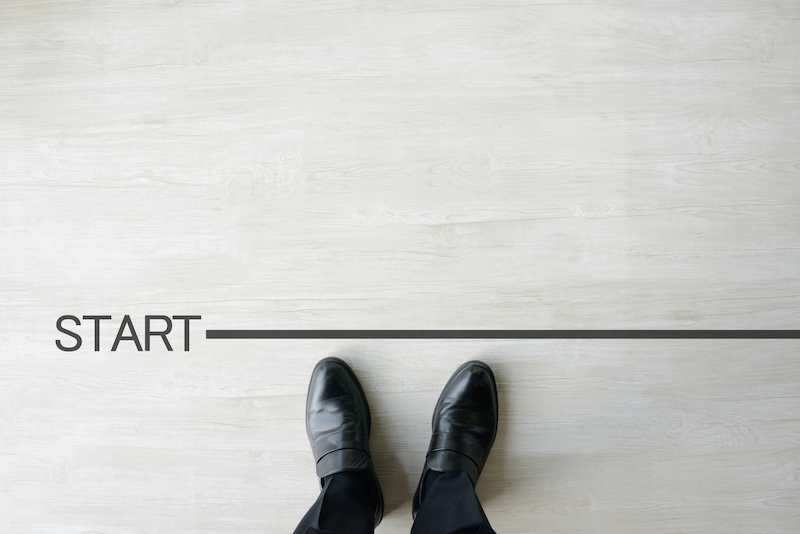 Many first-time business owners choose Shopify to host their new online stores—and it's no secret why they're drawn to the easy-to-use eCommerce shopping platform. In 2020 alone, businesses on Shopify racked up $166+ billion in economic activity in the U.S. There are over one million businesses on the platform, and these businesses support 714,523 jobs.
These are exciting statistics, but setting up your Shopify store can be intimidating. There are a lot of decisions to make. You have to create your website, attract leads' attention, make sales, get your products to customers, and manage customer service. Where do you even begin?
In this beginner's guide, we'll help you get started on creating your eCommerce empire. You can also take these tips to go with our printable Shopify Cheat Sheet. Find it here. Here's a preview: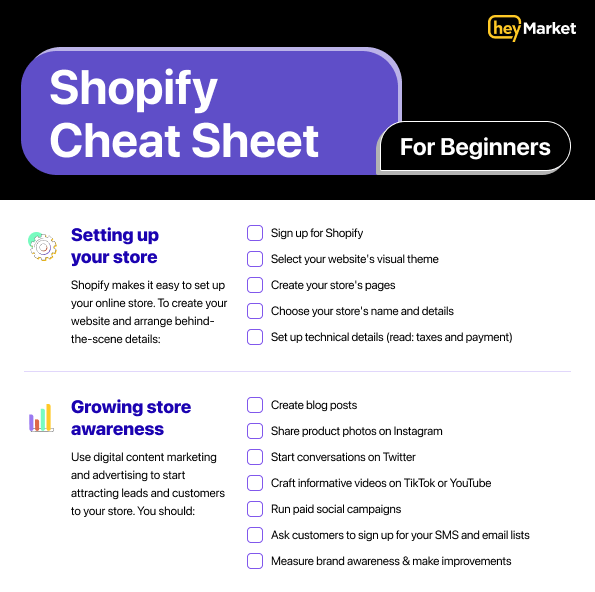 Setting Up Your Shopify Store
One of the reasons why Shopify is so popular is that the company makes it easy to set up your online store. The platform offers written setup instructions and video tutorials for beginners that help you build your store from scratch.
In the administration page, choose a visual theme, create pages, and set up a navigation bar. Preferences are where you'll choose your store's title and meta description. Navigate to the Settings page to sort through technicalities—for example, how to charge customers taxes and how to receive payments.
Take care while setting up your Shopify store. This is the center of all of your efforts, and what customers will return to again and again to make purchases. You can make changes in the future—but by then, you'll have so many orders to process that you may struggle to find the time to do so.
Growing Store Awareness
In order to sell your products or services, you need to have someone to sell to. But how do you get the word out and create a community around your Shopify store?
Shopify gives you a leg up. The platform provides built-in search engine optimization (SEO) features that help your store rise to the top of Google searches. In addition, you can edit your store's title tags, meta descriptions, and URLs for blog posts, webpages, and more to improve SEO.
You can also employ content marketing in digital spaces to attract more attention. Think of ways you can get customers excited about your products and also preemptively answer their questions. Then create relevant content. You don't necessarily have to spend money to create and share this content. For example, you can:
Inform customers about your industry or product by adding blog posts to your Shopify Store
Boost your social media presence by sharing product photos on Instagram, starting conversations on Twitter, and creating product review videos on YouTube or TikTok
Directly share important updates and releases with leads and customers through an email or SMS newsletter (or both)
You can also try paid digital media campaigns—paying to get social media posts and Google search results in front of your target audience. Regardless of the process you choose, measure brand awareness to track how well these efforts are going. That way, you know where you can improve—and where you're getting the most traction.
Boosting Sales
Once you've got a community, you can start cranking up sales. Before you use any tactics, research consumer behavior and figure out exactly what kind of buyers you're targeting. Knowing the ins and outs of consumer behavior can help you increase sales.
There are plenty of tactics to use to boost your sales. Hype up product drops by leveraging limited drops or one-time collaborations with your established community. Install Shopify's native live chat tool or SMS so your team can answer product questions and help customers make decisions in real-time.
In addition, you can freshen up your content marketing program with a brand-new tactic, like guest posts or a podcast. Encourage customers to submit online reviews—one of the most effective ways to boost sales—to get the word out.
Don't forget to track sales metrics and periodically check in on sales performance. If you notice sales slowing down, consider sending your email or SMS list a promotional message to get things moving again.
Fulfilling Orders with Shopify
Fulfillment is the process that takes place after customers get their orders—i.e., how your products get in your customers' hands. How you fulfill orders depends on what kind of product you are selling. (If you're running a service-based business, this doesn't apply to you.) No matter what you're selling, there are a few things to do to ensure the process is streamlined.
First, decide who will be fulfilling your orders: you, a dropshipper, or a logistics company that handles everything from warehouse storage to fulfillment. (Tip: if you're just starting out, you may want to manage fulfillment yourself. It's time-intensive, but cheaper.)
After you make your choice, set up your fulfillment process in Shopify. If you're fulfilling orders yourself, make sure you meet the shipping speed expectations that you've shared with customers. Today's customers expect fast (and free) deliveries!
The steps to this process are relatively simple—but important. Spend time thinking about which choice will scale well as your business grows. But remember: you can always change your process if you're faced with a quickly-growing business.
Aceing Customer Service
Customer service throughout the customer journey is critical to making sales. In fact, 90% of consumers factor in customer service when trying to decide whether to purchase from your brand.
Communications are the backbone of customer service. Offer customers plenty of entry points so they can reach you through their favorite channels. For example, you'll want to provide an email address for them to contact, a web chat, text service for business, and other third-party messaging services, like Instagram Messaging and Google's Business Messages.
In addition to connecting with customers as they're shopping and as their orders are being fulfilled, send post-order surveys to ensure they're fully satisfied. Answer all incoming customer queries quickly; 73% of customers say their top priority is a fast resolution.
Finally, don't forget to personalize all customer interactions—a data-backed tactic for success. Use the customer's name and mention the customer's past history with your brand, if there is any. In addition, ensure customers know they're talking to a person and not a bot. Include your signature on all communications, and use a natural (and polite) tone.
Getting Started with Shopify
There's a lot of work ahead as you begin setting up your Shopify store. But Shopify makes it easy to get started—and with these beginner's tips, you know your next steps to building your customer base and making sales.
Just remember that creating an eCommerce business is an ongoing process. Stay flexible, keep making improvements, and you'll be well on your way to success.
Want to track your progress? Find our Shopify Cheat Sheet here.