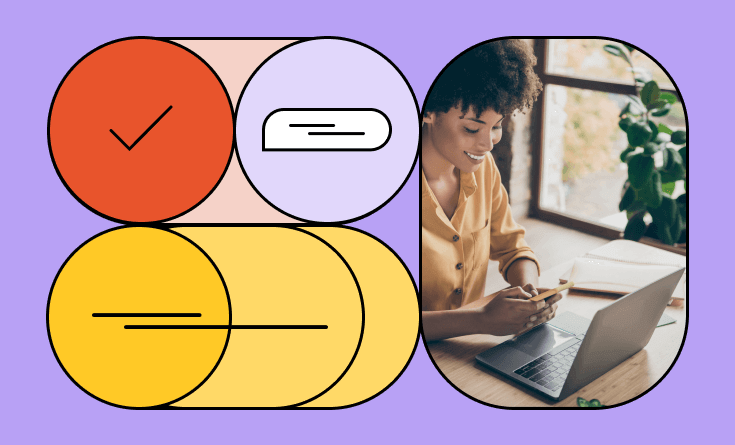 With a 98% open rate, texts are a direct connection to your leads and customers. They're also a proven engagement tool, achieving up to a 45% response rate. But to get the best results and move the needle on ROI, you have to optimize your SMS marketing campaigns.
Personalized messages that foster relationships are the key to boosting your texting ROI. After all, nine in ten consumers are more likely to shop with brands that offer relevant, custom experiences. Customized messages are more likely to spark conversations, too, helping your team build authentic relationships with leads and customers.
Use these 12 SMS marketing best practices to create personalized text campaigns that boost your ROI.
What is SMS marketing?
Short message service (SMS) marketing is sending texts that encourage recipients to engage with your brand or make purchases. The goal of this strategy is to transform leads into loyal customers.
Marketers may text product announcements, product tips, VIP service invitations, polls, event information, coupons, or other content. However, they can only send these types of messages to recipients who specifically opt in to receive them. (More on that later.)
SMS marketing is an effective way to get your leads' attention and transform them into customers. If done correctly, it increases engagement, helps you personalize mass outreach, and raises revenue. Case in point: sending three or more "purposeful" texts increases conversions by 328%.
A quick history of SMS marketing 
In the early 2000s, SMS marketing was synonymous with mass spam texts sent to huge lists of contacts—often without their consent. But in 2012, the Federal Communications Commission (FCC) mandated that the Telephone Consumer Protection Act (TCPA) applied to business texting. Since then, businesses have had to get permission before texting consumers.
Texting regulations like the TCPA helped make SMS marketing what it is today: a relationship-building tool. Marketers always get opt-ins before texting contacts to increase trust. Then, they use modern virtual SMS technology to send targeted, personalized messages at scale through business texting platforms. This technology allows recipients to reply, sparking conversations that establish close customer-brand relationships.
12 SMS marketing best practices
Good text marketing focuses on relationship building with both leads and customers. Messages that nurture these relationships are what will increase your ROI—not mass coupon blasts. After all, a 5% increase in customer retention can boost company revenue by 25-95%.
Below, we've rounded up 12 SMS marketing best practices for better connecting with your audience and boosting ROI as a result.
1. Build your list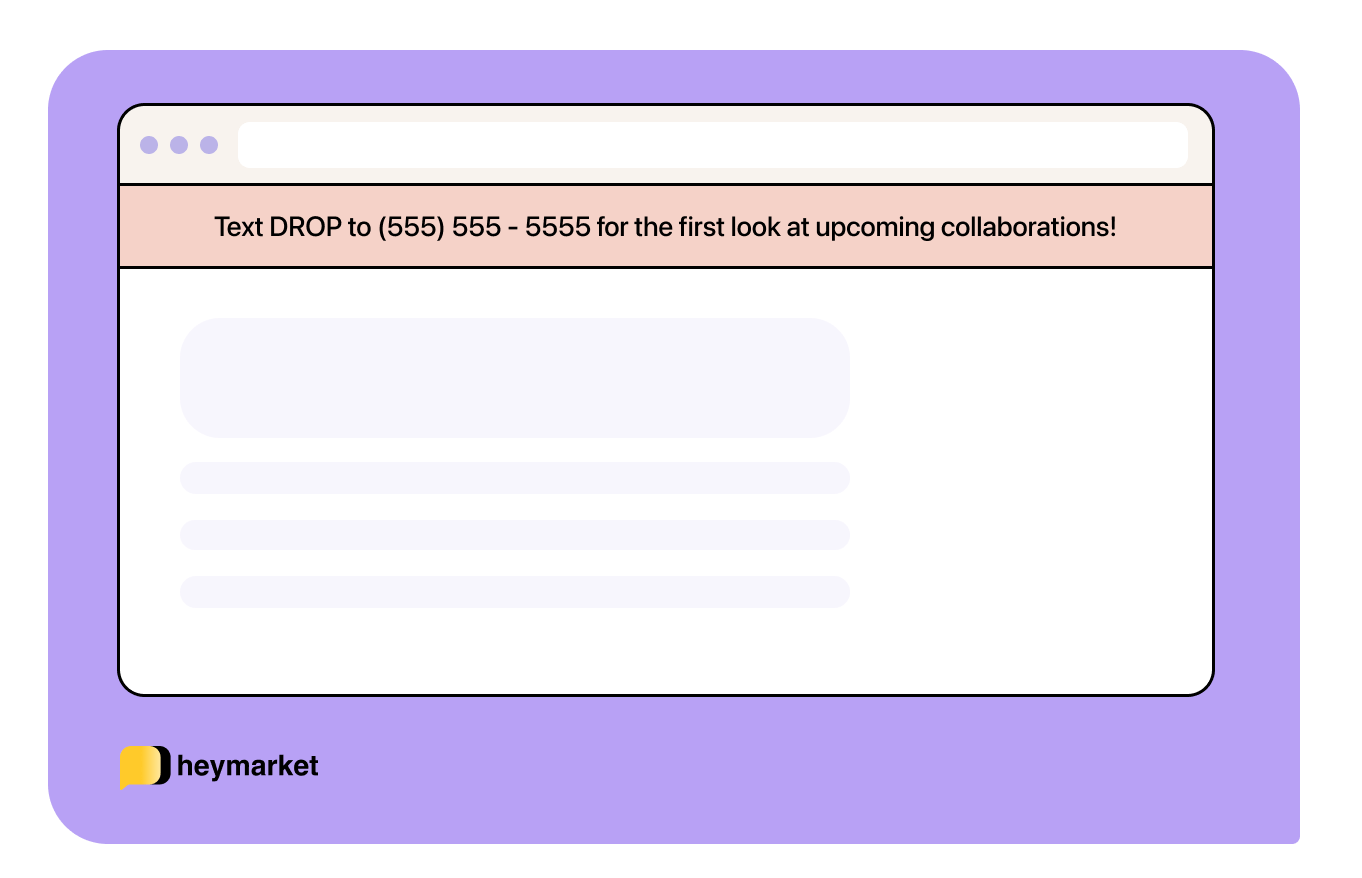 You can't move the needle on ROI if you don't have any contacts to text. And you can't build your SMS marketing list if people don't know texting you is an option. Get the word out about your texting service by publicizing your number across channels.
Post your number and opt-in keyword on your social media channels and emails. Add it to your website in multiple places, like your Contact Us page and homepage. (A banner across your homepage is a great way to get attention.) Focus on advertising it to relevant markets to save money—and to create a targeted audience for more refined personalization.
2. Get opt-in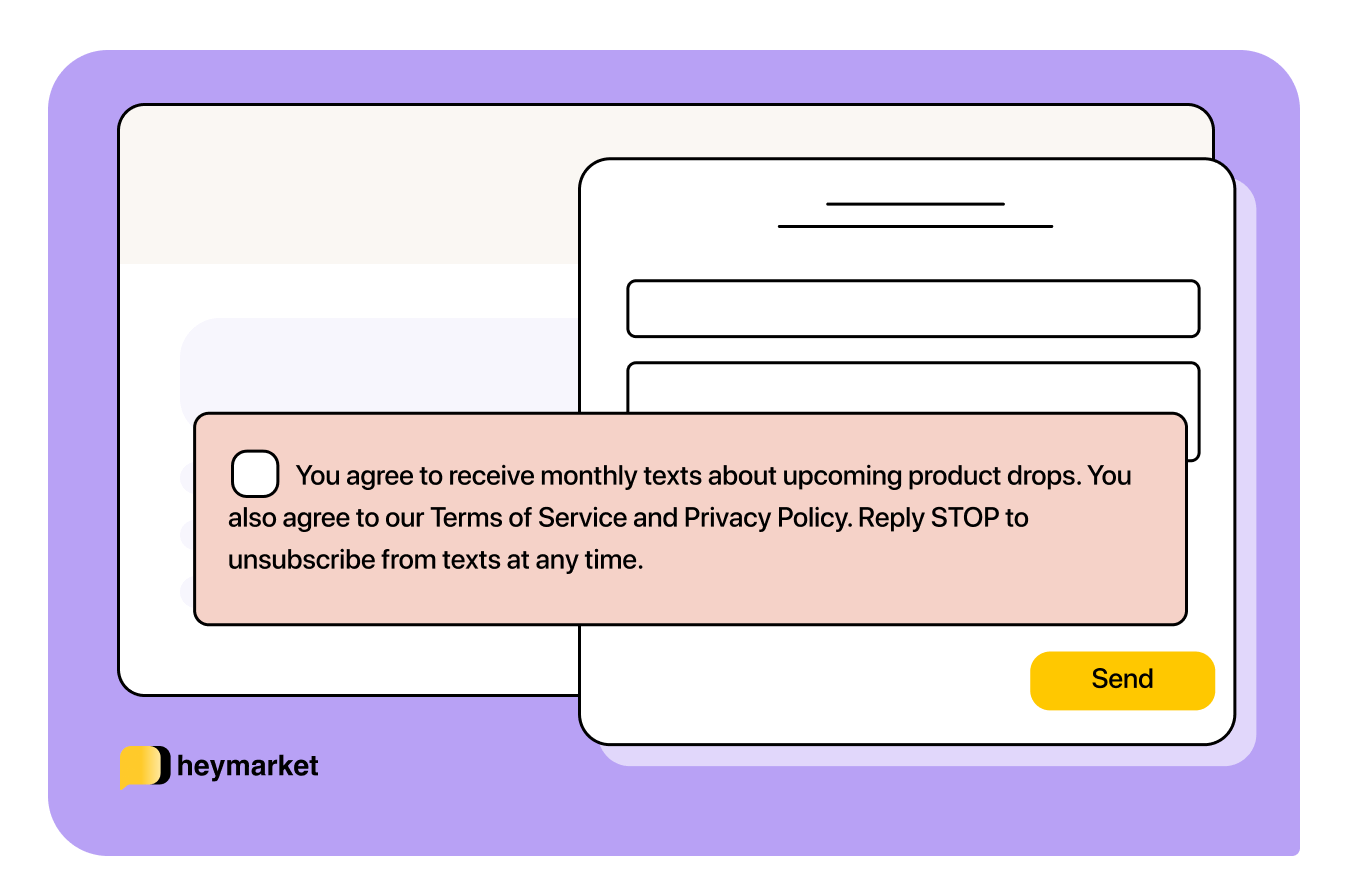 You need your recipients' permission before you start sending them marketing texts. Asking for opt-ins establishes trust with them and helps you stay compliant with SMS opt-in requirements regulated by the TCPA. Leads and customers can opt in by texting a specific keyword, checking a box online, or filling out a form.
When you share list sign-up information, describe what contacts are signing up for so they aren't surprised (or worse, upset!) by your messages. Create unique keywords for different types of messages so customers can decide what kind of marketing information they receive. You might want specific lists for promos, event details, and general brand updates.
3. Craft an informative opening text

Once customers text in with your established opt-in keyword, send them a welcome message. This introductory text should introduce them to your texting service—and ensure they intended to sign up in the first place.
Identify your business name, what to expect, how frequently you'll text them, and disclaimers. At the end of this text, include opt-out information. (Check out a full list of opt-out keyword options in the next best practice.)
4. Make it easy to opt out

Providing simple opt-out steps is key to compliance with important SMS regulations. Plus, it ensures your leads and customers know you will only text them if they want you to, establishing trust. (And lead and customer trust is critical to those ROI-boosting, strong relationships.)
Recipients should be able to text a simple keyword to opt out. Include opt-out instructions at the end of each marketing text. You can offer one example of an opt-out keyword, but your business texting platform should be able to recognize all common opt-out terms, like END, ENDALL, STOP, STOPALL, CANCEL, QUIT, and UNSUBSCRIBE. Your platform should remove contacts from your lists as soon as it identifies these keywords.
5. Don't just send promos 

Some leads and customers specifically want SMS coupons, but you should offer more interactive SMS marketing content types, too. In addition to SMS marketing promos, offer SMS services that let contacts get to know your brand better and even connect with your team.
Let leads and customers sign up for product drop announcements, product tips, loyalty card reminders, or event information. You may want to offer VIP SMS services, too, like an on-staff stylist or gift concierge. Unique SMS marketing services can help you form stronger relationships with more leads and customers, transforming them into brand evangelists.
6. Send to targeted lists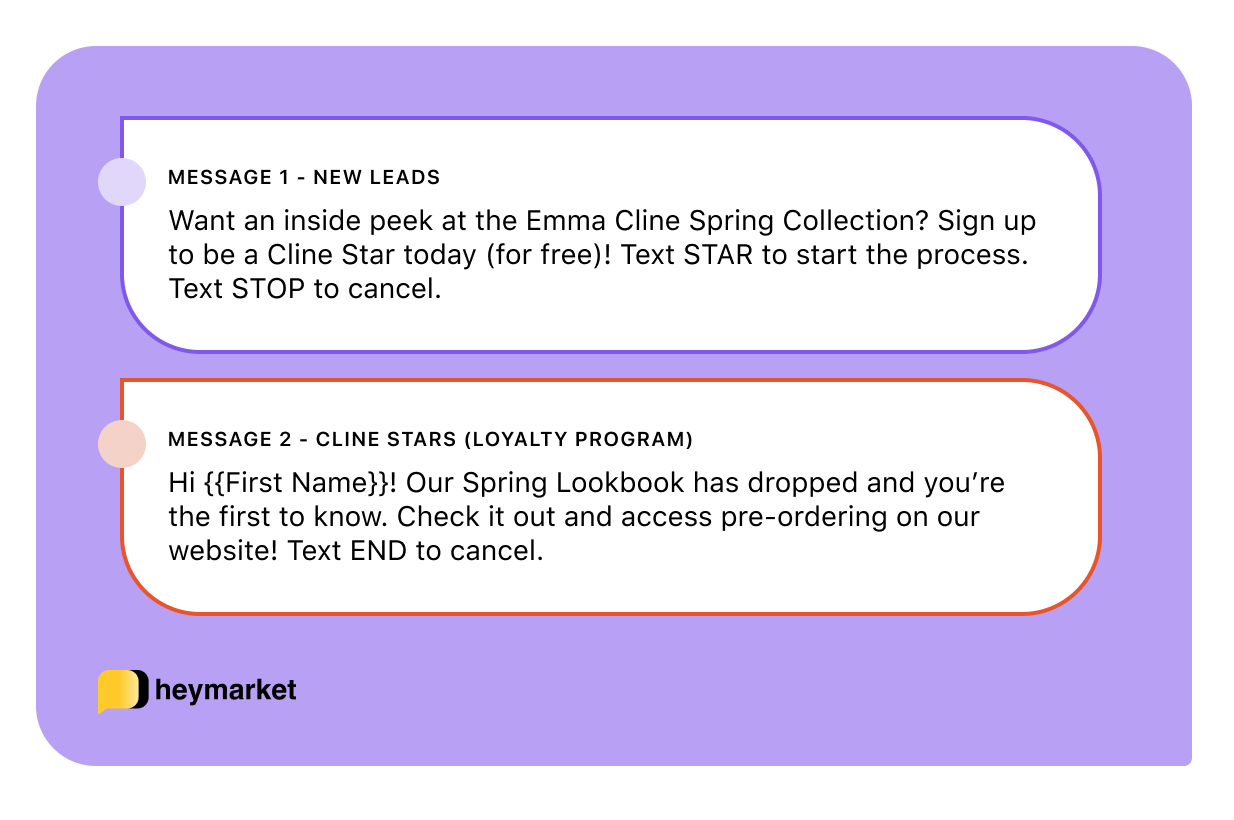 Relevant texts are going to get your audience's attention. They might spark a conversation with your team, helping build stronger relationships. They could even lead to more purchases.
Creating specific opt-in keywords for different types of SMS marketing texts is a great start to divvying up contacts into lists. You can segment lists further, dividing them by demographics, interest, or type of relationship with your company (i.e., lead vs customer). Then, craft messages that apply specifically to one group. Product tip texts sent to leads might look a little different from those you send to customers, for example.
7. Personalize every message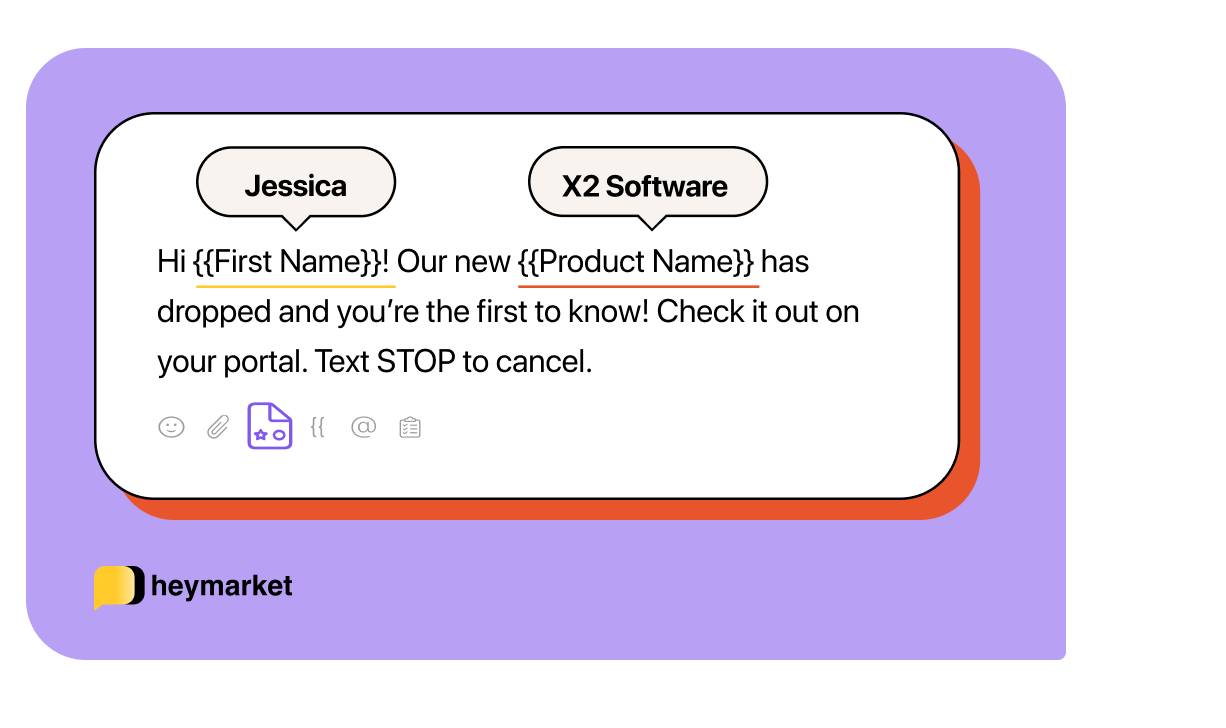 Fast-growing companies drive 40% more of their revenue from personalization than slow-growing competitors. Mention recipients by name and other information, if it's relevant to a message.
Your business SMS platform will help you personalize outgoing texts. It allows you to add space for custom fields, and inserts each recipient's specific custom field input into outgoing messages. Beyond names, you can add custom fields like loyalty statuses, demo attended date, and more.
8. Be conversational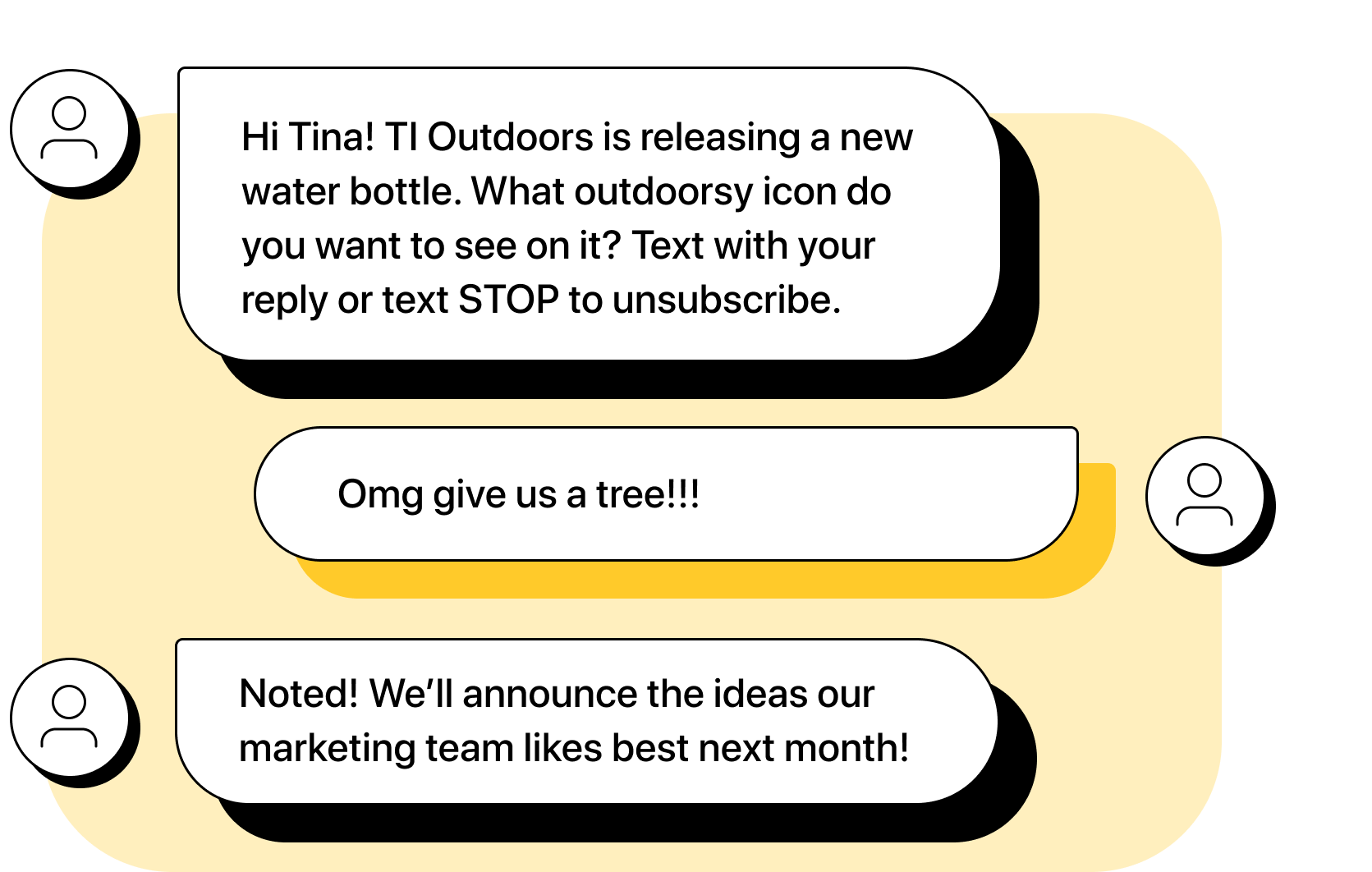 Seventy-two percent of customers are more likely to purchase from a website if the brand's team members can communicate in real time via texts. Use conversational marketing to introduce customers to your product in a more personal way.
Conversational marketing is all about helping customers get to know your brand or product through one-on-one conversations. Ensure that most of your outgoing texts invite conversations, letting leads and customers know that your team can chat with them if they'd like to engage. When they message in, answer their questions, provide relevant content links, or connect them with your sales or customer service team.
9. Be strategic about how often you text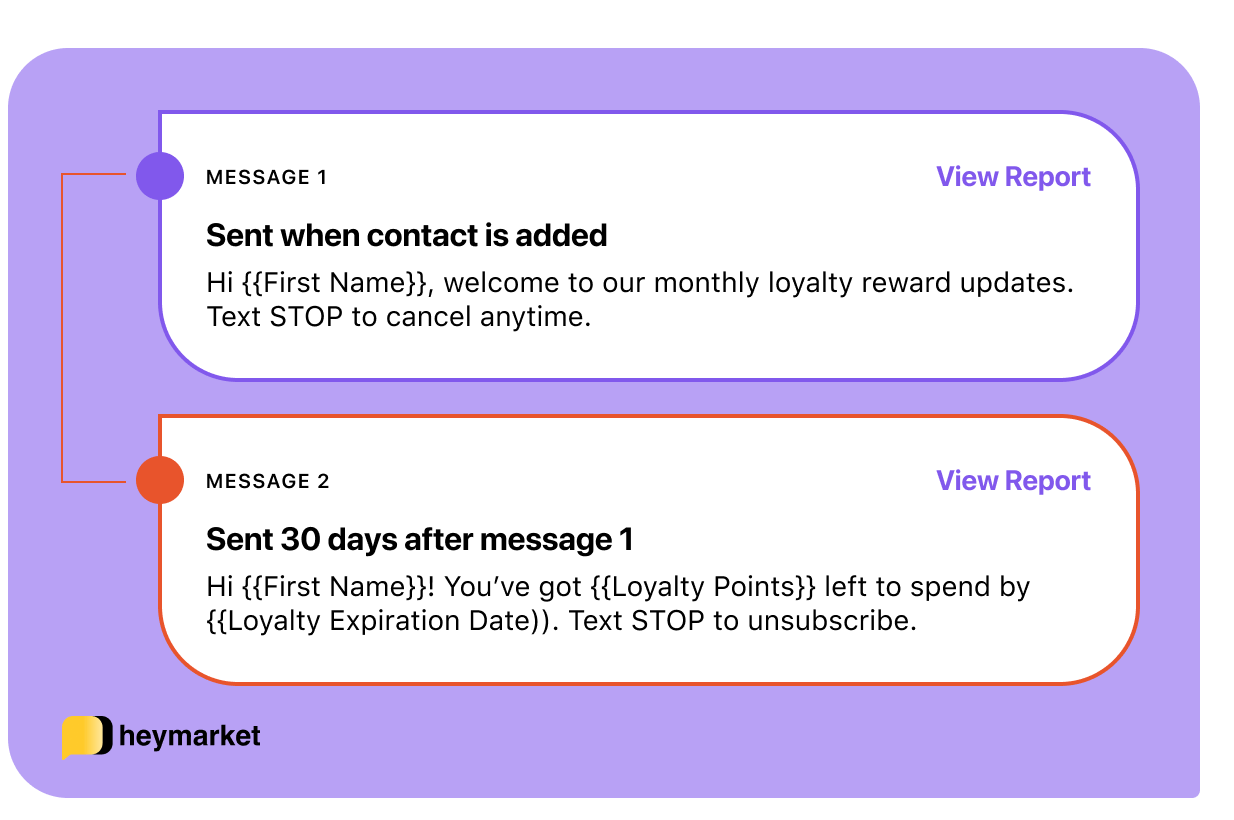 Choosing your texting frequency is an important part of your strategy. Space out your messages so customers engage enthusiastically with each message. This reduces the chances they'll unsubscribe, and keeps your business on their mind over longer time periods.
The industry standard is two to six messages monthly, but the frequency you choose depends on the type of texts you're sending. If you're sharing heavily promotional messages, like coupons, send fewer texts. If you're sending more conversational texts, like polls, you might be able to send more.
10. Press send at the right time

Don't send or schedule texts after hours. The TCPA doesn't allow you to text before 8am and after 9pm in your recipients' time zone.
Beyond that, there's room for more creative sending schedules. For example, consider timing your promos for relevance. For example, if you're sharing lunch promotions, send them right before lunch time to help hungry recipients find their next meals.
11. Practice good texting etiquette
Business texting is a relatively new marketing tool, which means that business texting etiquette is fairly new, too. Here are four tips:
Respond quickly with help from tools like automatic text messages
Create a texting brand voice guide to help determine if and when you can use fun tools like emojis and GIFs
Only use text abbreviations in the right situations and with the right audience
Balance professional politeness with texting's naturally casual tone
The key to texting etiquette is balance. You want customers to know they're chatting with a person—but you want them to remember that you're a responsive, knowledgeable professional, too.
12. Measure your results 
After you've created and executed your campaigns using these SMS marketing best practices, measure your results. You might find that one general best practice doesn't fit your brand perfectly. For example, if you decide to send marketing texts three times monthly—well within the industry standard—you might notice that the unsubscribe rate increases at the end of the quarter. In that case, you might decide to send marketing texts twice monthly instead.
Your texting platform should automatically track important key performance indicators (KPIs). Keep a close eye on open rates, response rates, and unsubscribe rates, which will help you gauge recipient engagement. Some platforms may also track overall campaign performance to help you compare campaigns and optimize them for the future.
Best practices in action: SMS marketing examples
Brands across numerous industries use the above SMS marketing best practices. Here are a few examples for inspiration:
West Elm SMS marketing list subscription
West Elm combines its email and mobile list sign-up forms for list building, helping them capture leads for both lists at the same time. They promote their SMS marketing services with a pop-up box on their website, specifying what kind of messages they will send and how to opt out. They link to additional terms for curious customers.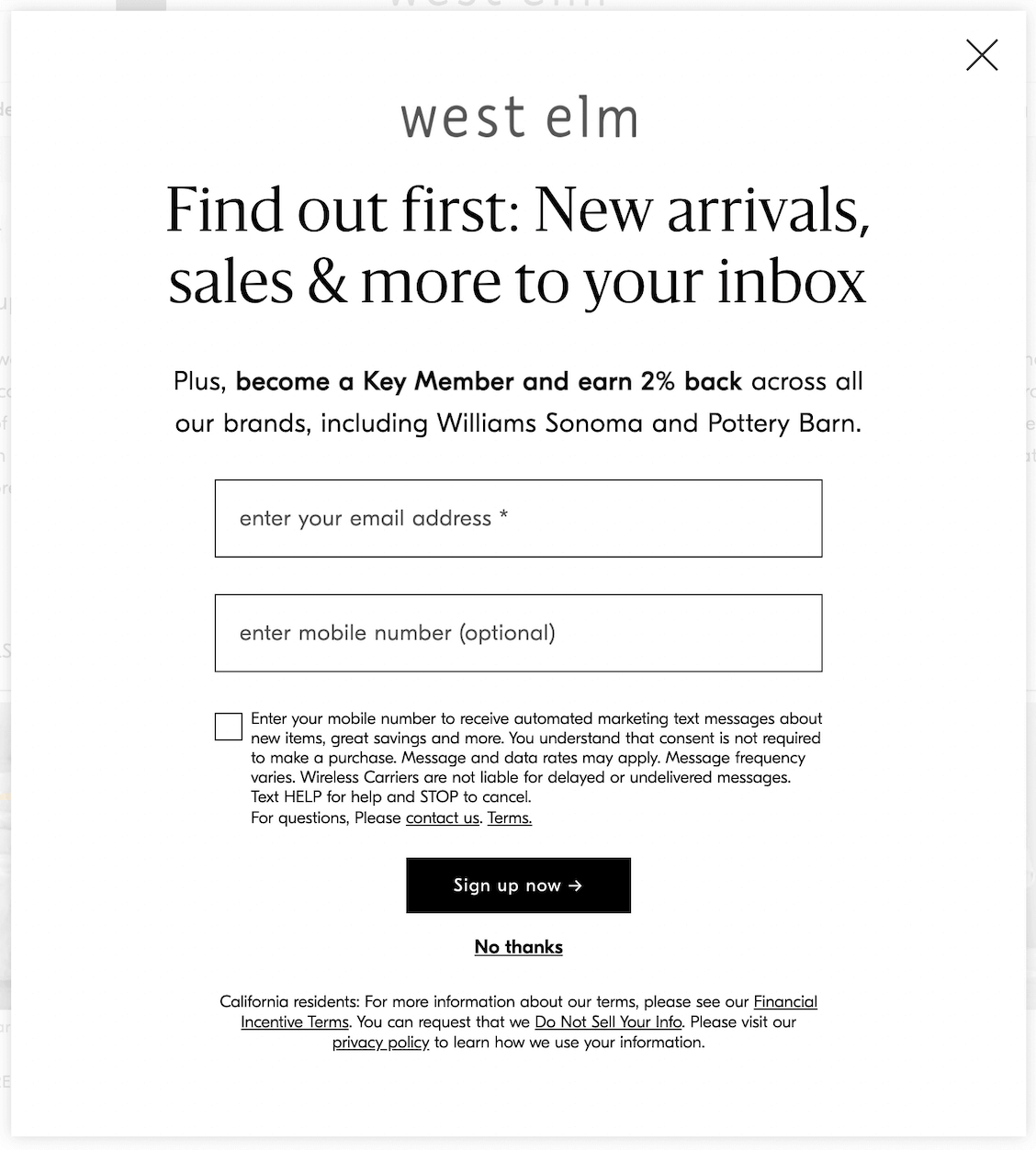 Sherwin-Williams opening texts
After customers sign up for Sherwin-Williams texts, they receive a few introductory messages. First, the company asks customers to ensure they want to opt in, and reply if so. Then they share a coupon to reinforce the value of the subscription as well as a welcome text that reiterates the SMS service parameters so customers know what to expect.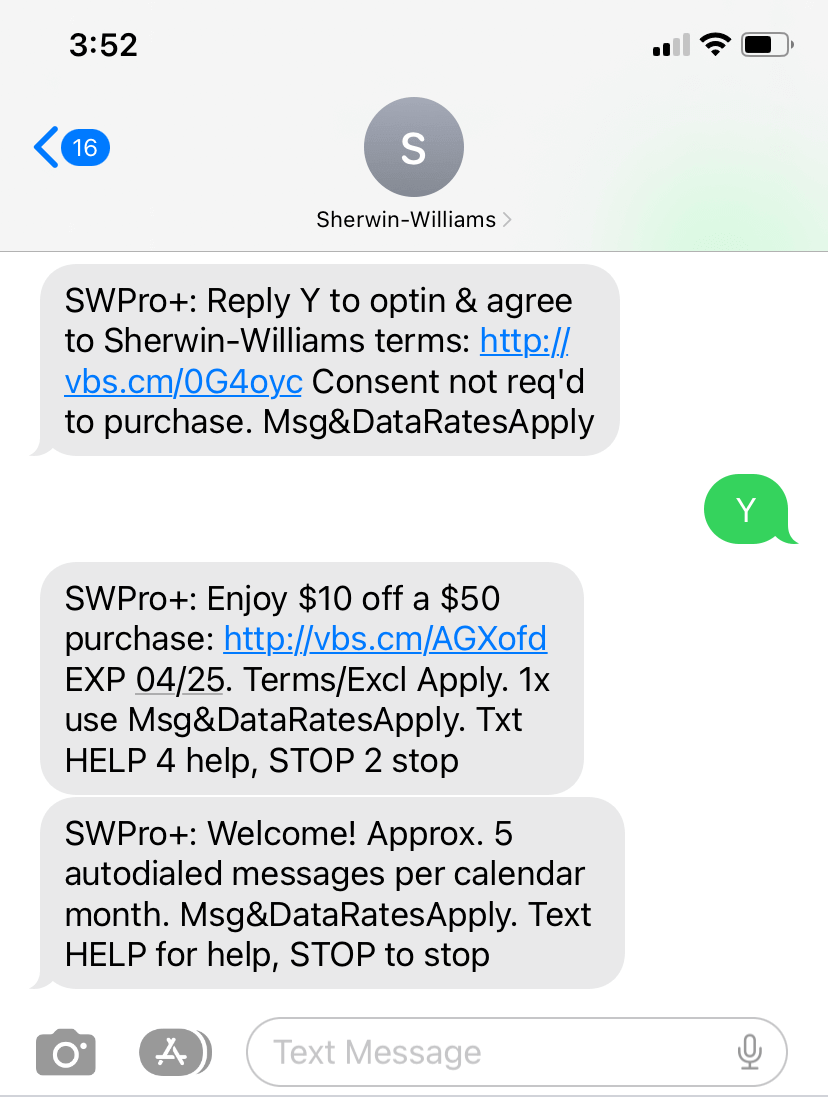 Garnet Hill coupon texts
Garnet Hill sends coupons to customers who sign up for them. But, to provide value, they combine the deal with a product tip that makes the ad more personal to subscribers who fall into the segment they describe, such as hot sleepers and those interested in purchasing American products.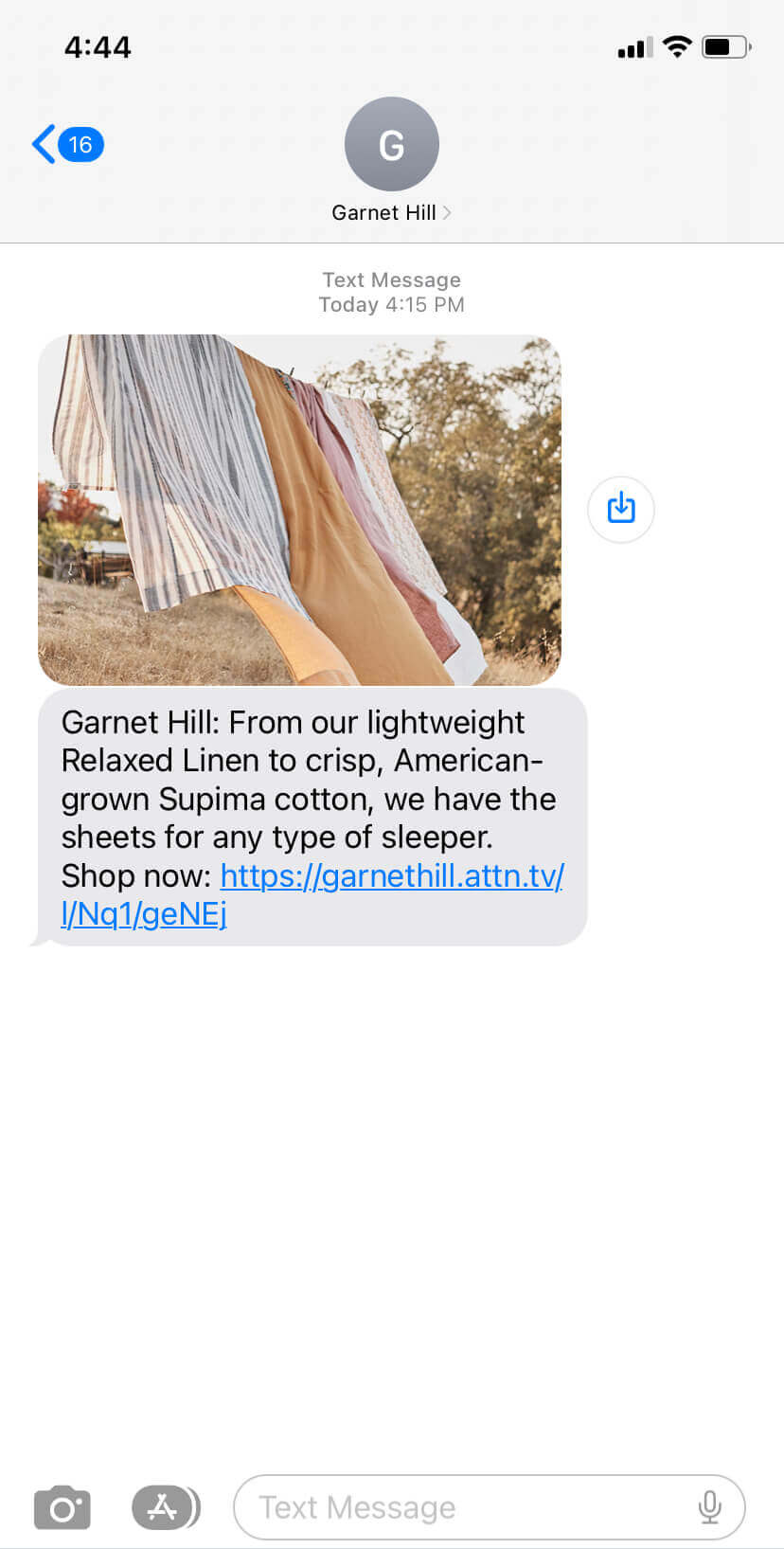 The bottom line: building relationships with SMS marketing
SMS marketing is all about efficiently connecting with your leads and customers. Implementing these best practices will help you reach an audience that's primed to receive your content, send relevant messages, and spark conversations that lead to stronger brand-customer relationships.
Ultimately, it's these close relationships that will boost your text marketing ROI.