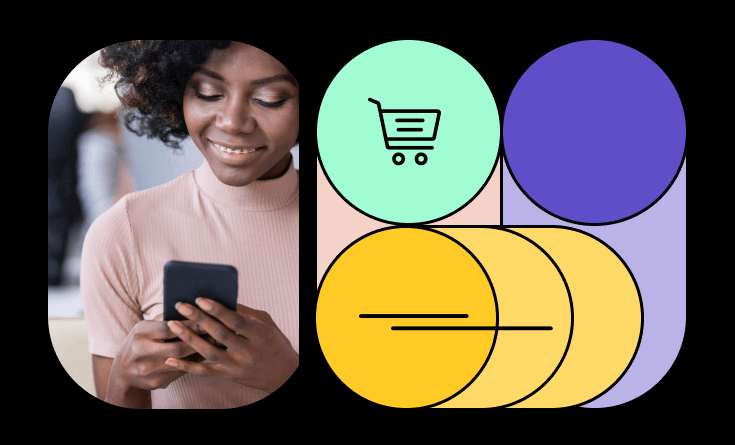 There are more types of marketing than ever before. (HubSpot, for example, names 41 different strategies.) Many of these tactics are inventive, fresh, and effective. But what kind of marketing do consumers prefer? 
Here's one commonality: your leads and customers specifically want relevant and personalized ads. Seven in ten consumers expect personalized interactions, and 65% of customers are more likely to buy from a business that recognizes and remembers them. 
SMS marketing can help you meet this need for hyper-personalized outreach. Messaging is personalized like phone calls, and also fast and convenient, just like email. Plus, new business texting technology makes it easy to send mass personalized texts that resonate with recipients. It's no wonder that 76% of brands planned to invest in text marketing in 2022.
In this guide, we'll answer all the questions you have about text marketing, including:
What is SMS marketing and how does it work?

How can you use it?

What's

the ROI of SMS marketing?

How can you create a good SMS marketing campaign?

What do successful SMS marketing campaigns look like? 
This post isn't just about how to use SMS marketing. It's a guide to creating a resonant SMS marketing program that drives ROI and, most importantly, helps you build strong relationships with your leads and customers. 
What Is SMS Marketing?
Short message service (SMS) marketing, also called text message marketing, is the strategy of sending texts to leads and customers that encourage them to purchase products or services, or take another kind of action that brings them closer to becoming loyal customers. Recipients must opt in to receive these messages. SMS marketing is a type of mass texting (also called bulk texting), which means sending one text to a list of recipients.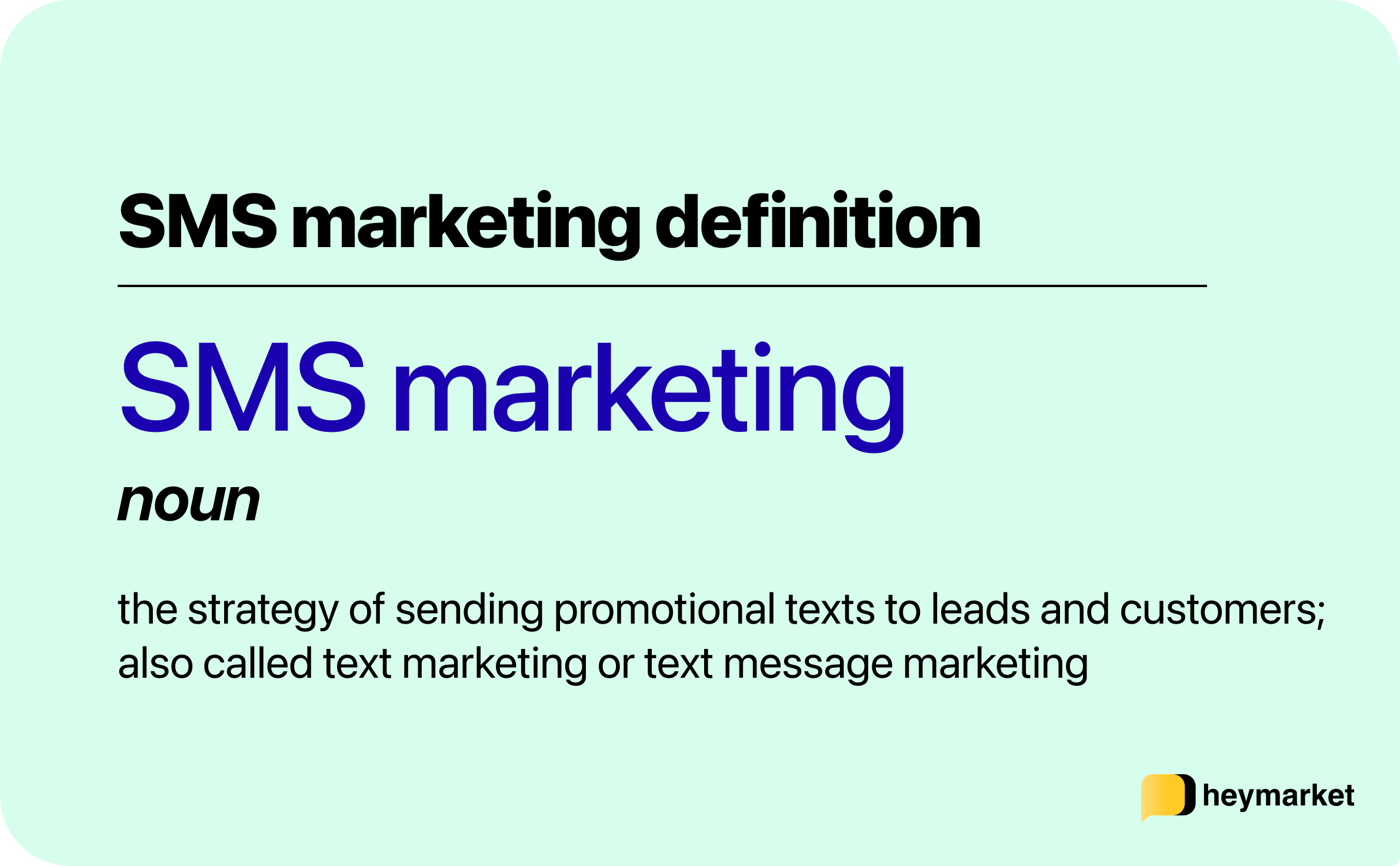 SMS marketing helps brands:
Capture leads

Grow brand awareness

Increase engagement

Boost event or product anticipation

Nurture leads

Build customer relationships
A decade after texting was invented, businesses began to text customers. Back then, SMS marketing reflected the basic text blast technology available, which couldn't personalize messages or segment lists dynamically. Companies would send a single, generic, and often unwanted text to large customer lists. Text spam like this led the FCC to regulate text spam in 2012.
Luckily, text marketing technology has evolved to include advanced segmentation and personalization tools, allowing brands to adopt conversational marketing. This type of SMS marketing focuses on sending targeted text messages customized for each recipient, then engaging them in one-on-one conversations.
6 Popular Ways to Use SMS Marketing
Before you text leads and customers, they have to opt in to receive your promotional texts. Requiring opt-in can help you narrow down what kind of messages you're sending. For example, some customers may opt in to learn more about a specific event while some may opt in to more general promotional messages. Here are five popular campaigns:
Announcing New Products or Collaborations
Get your audience excited about your newest offerings with an announcement text. Send a short and sweet introduction to your new products or services, and let them know when they can start shopping. 
Sharing Product Tips
Help recipients learn how to make the most of your product. Consider sharing expert-provided tips, user success stories, and more. Let recipients know they can reply with questions about product use to spark conversations. 
Offering VIP Services
Text-based SMS services are fast and accessible to your leads and customers. Depending on your business, you might allow recipients to text in for advice sessions from on-team stylists, gift concierges, shoe fit specialists, and more. 
Taking Polls
Get interactive with your marketing. Send a poll asking customers what kinds of products, collaborations, free add-ons, or events they want to see in the future. Don't forget to share the results once the poll is over! 
Spreading Event Awareness
Boost event attendance by providing event information and easy ticket purchasing. Allow leads and customers to message in with questions or to make purchases. Later, your team can use SMS for event management, too.
Offering Coupons
Sharing SMS coupons can help customers learn about sales or other deals they might not have known about before. Just take care not to send coupons too often—and ensure recipients have specifically signed up for this type of campaign. 
A Note on Spam
As we mentioned earlier, businesses had a reputation for spamming customers with SMS marketing texts. (Even then, the channel still had less spam than other channels, like phone calls). Today, all businesses must comply with two regulations, the Telephone Consumer Protection Act (TCPA) and 10DLC Registration, that help reduce spam on the channel. 
Complying with these regulations is key to building trust with your customers—and maintaining texting's current reputation as a trusted channel. You should also rely on best practices to ensure your texts never sound like spam when you're messaging opted-in customers.  
Does SMS Marketing Work? Key Benefits and ROI
SMS marketing can have a profound effect on your marketing strategy and your business. You will be able to: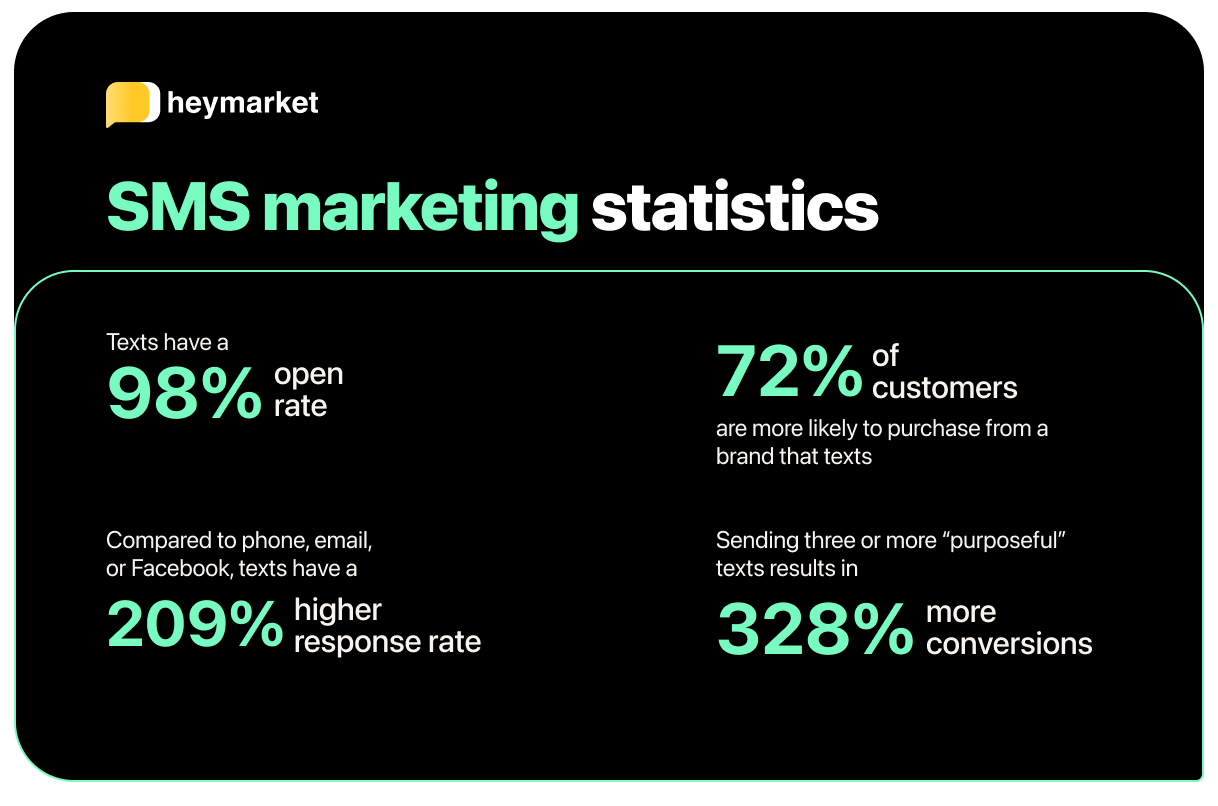 Ultimately, texting helps you better connect with leads and customers—while boosting ROI.
How Does SMS Marketing Work?
At its core, SMS marketing works by sending a text message to a list of opted-in subscribers. Most companies use business messaging platforms to send these messages and store their contacts. Here are the steps to sending a mass text with one of these platforms: 
Create an

SMS template

or choose a pre-written template

.

SMS templates

are reusable texts. You can include space for custom fields, emojis, and links in templates. Here's what one might look like:




Click to Copy to Clipboard
2. Choose a list to send your message to. Lists are groups of your contacts. Select a list that is relevant to the message. (It's a good idea to have a list in mind as you're writing your template.)
3. Press send. Your texting platform will insert each individual's custom fields into outgoing messages so each text is personalized. 
That's how you send a single, one-to-many text. If you need to send SMS marketing texts often, you'll need help from a few additional tools. 
Other Ways to Send Mass Texts
Beyond sending a text to a list, business messaging platforms offer more advanced ways to engage customers with marketing texts: scheduled messages, drip campaigns, and multi-step automations. 
SMS marketing drip campaigns are similar to email drip campaigns. You can create a series of texts and schedule them to send on a series of different dates and times. You can add leads and customers to these campaigns at any time. 
You can also set up several types of automations. For example, you can set up auto replies that respond to various keywords. You can also create cross-platform automations. For example, you can trigger an SMS marketing text to send based on a custom field change in your CRM. 
SMS Marketing Integrations
You can also integrate your platform with your favorite marketing apps, from your marketing automation software, like HubSpot, to your eCommerce platform, like Shopify. Integrations let your platforms speak to each other and share data. For example, you can sync custom fields so each outgoing message has the most up-to-date information. 
5 Examples of SMS Marketing Campaigns
The best way to learn how to create a standout marketing campaign is to check out what other brands are doing well. Here are five successful text marketing campaigns from brands we know and love:
Friendly competition
This Nike campaign promotes a branded shoe through a competition. It increases brand awareness, engages recipients, and encourages customers to show off their photography skills all at the same time.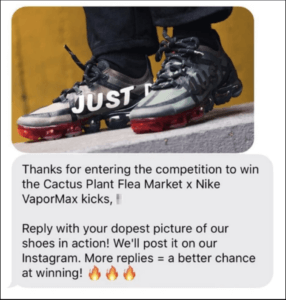 Back in stock notification
Back-in-stock notifications can help leads and customers get their hands on their favorite products. Add some flair with images like ROKA does in this campaign: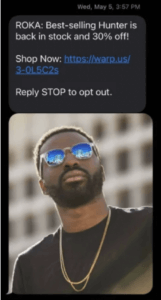 Event reminder
Boost event attendance with a timely event reminder. This SIGNAL event reminder from Twilio adds emojis for a fun touch: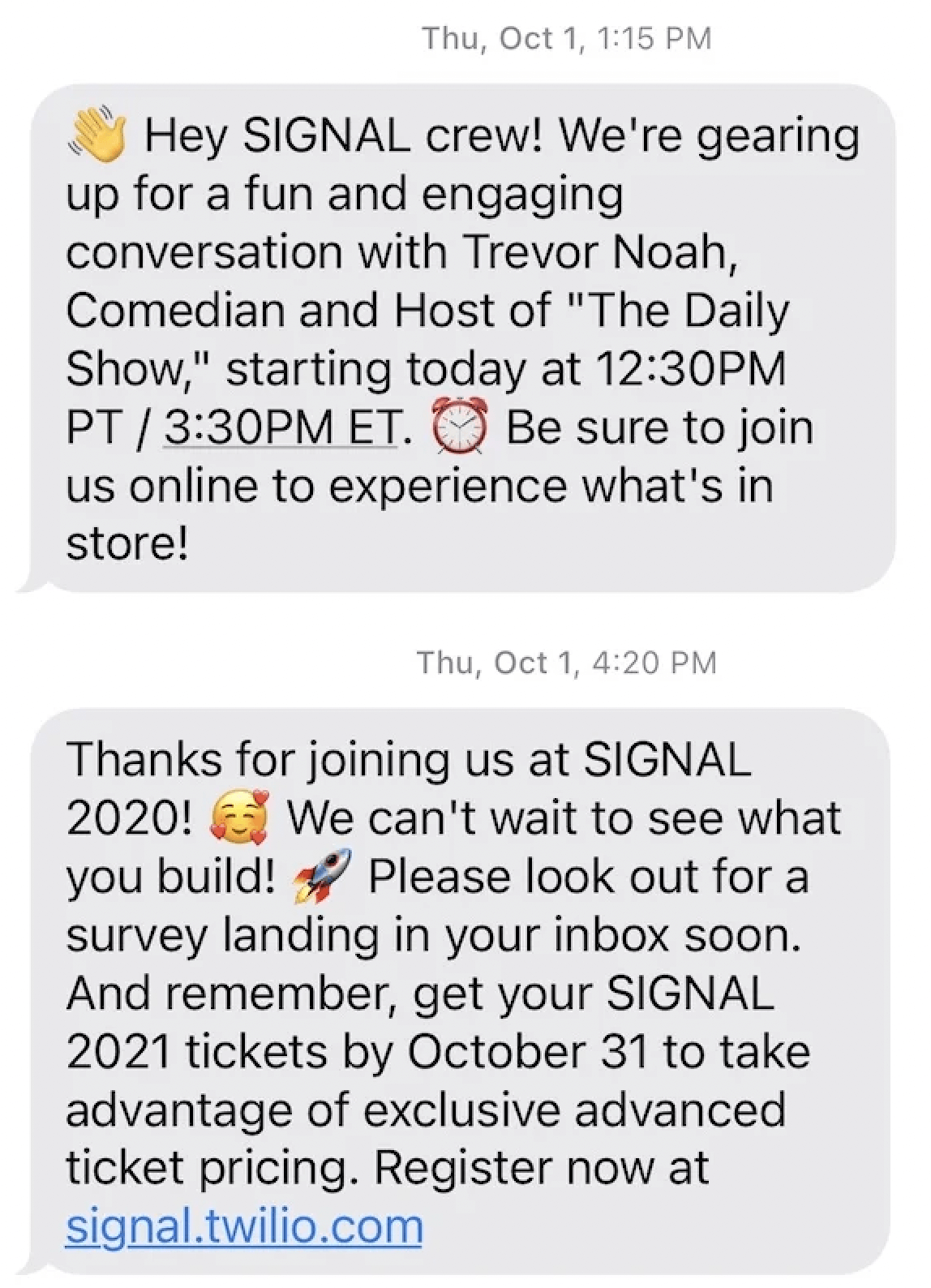 Welcome message
Share a greeting when customers sign up for your SMS marketing services. You may choose to include a coupon, just like you would for customers who sign up to receive emails. Here's an example of Funboy's welcome text, complete with fun emojis and an enticing image: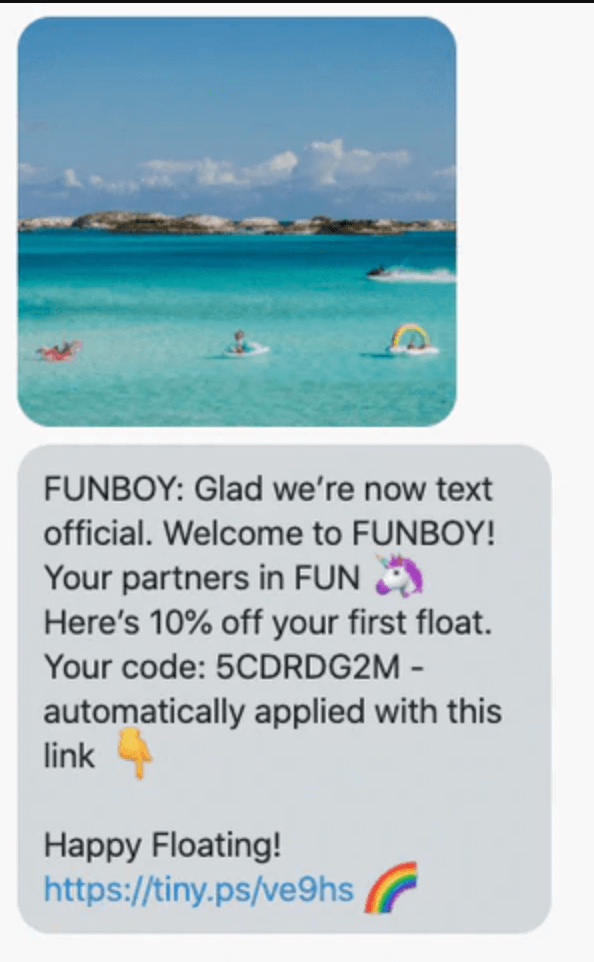 Sale promotion
If your team sends direct promotions or discounts, focus on messaging that goes beyond the coupon to focus on the relationship between you and your customers. This Jenni Kayne campaign does a good job of reaching out to customers: 
5 Tips for Creating SMS Marketing Campaigns
That Drive Conversions
Once you've learned your way around your SMS marketing platform's features, you're ready to start sending marketing texts. Here are five tips to help you craft compliant, engaging messages.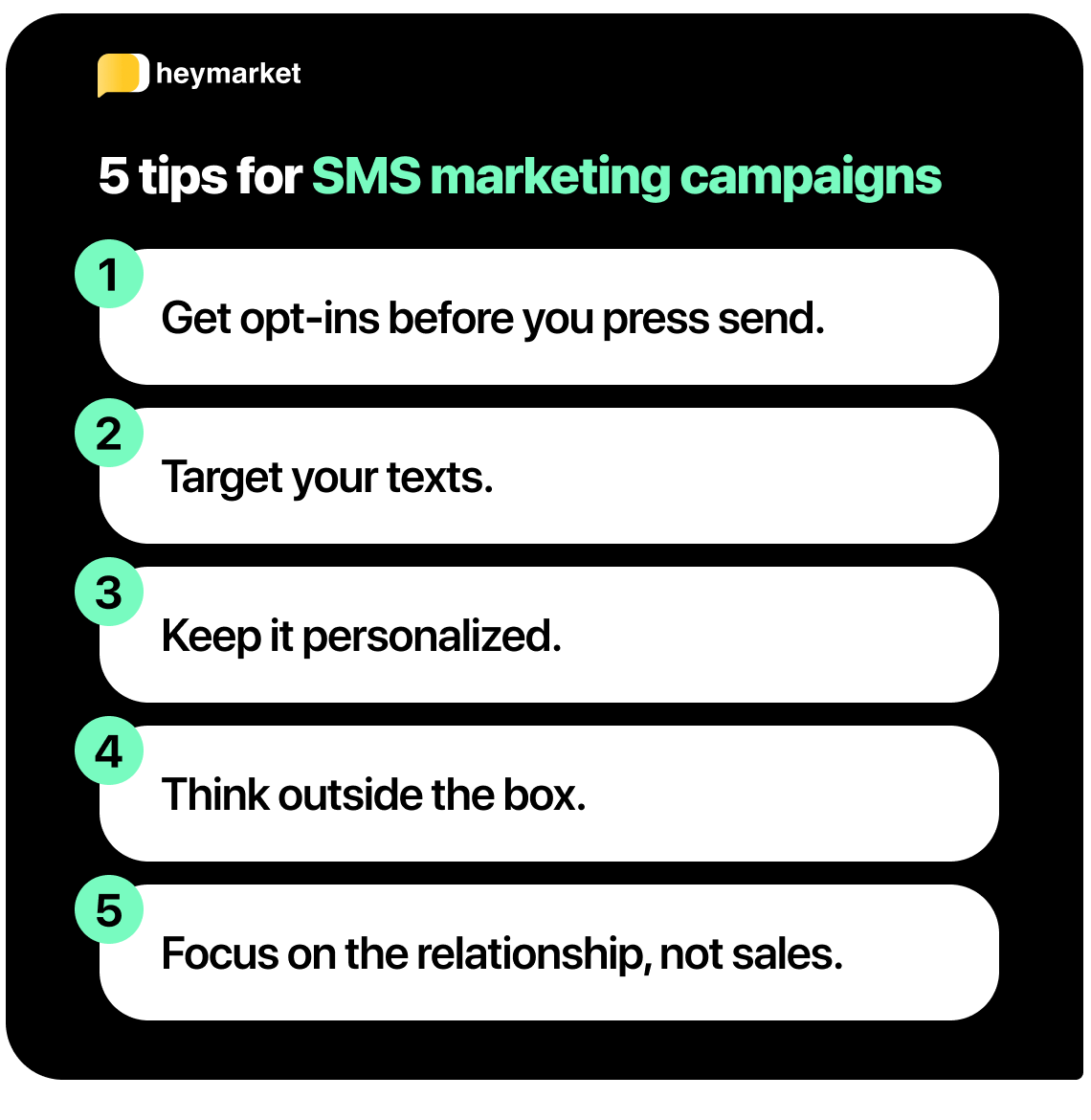 Get opt-ins before you press send. 
This isn't really a tip; it's the law according to the Telephone Consumer Protection Act (TCPA). You must secure leads' and customers' opt-ins before you send marketing texts. Doing so helps you stay on the right side of the law—while building trust with customers and increasing their engagement. 
Target your texts.
Segment your lists, creating small, hyper-focused groups of contacts. With smaller lists, you can craft messages that better resonate with recipients. You can segment lists based on demographics (e.g., age), brand engagement (e.g., lead vs brand evangelist), and more. 
Keep it personalized. 
Leads and customers don't want broad marketing texts. They want to feel like you crafted their messages just for them. Meet their needs with targeted, personalized texts. Include their names and other custom fields, like their loyalty statuses or last events attended. You can also include a team member's signature to let them know a real person (not a bot) wrote their text. 
Think outside the box.
Make your texts stand out from those sent by other businesses by leaning into your branding and marketing persona. For example, consider adding emojis to basic texts and creating fun campaigns, like polls that make a real impact and SMS competitions. (Examples in the following section.) You can even create a brand voice guide just for your texting, since its tone is inherently more casual than email. 
Focus on the relationship, not sales. 
Customers respond best to messages that provide value. Ensure each marketing text is useful in some way. Your content should either help customers make the most of their purchases, answer their questions, guide them toward useful events, give them the VIP treatment, or entertain them.
What to Look for in an SMS Marketing Platform
Text marketing is a lot easier if you have the right tools to get started. Your platform should have the following features to support marketing messaging:
Drip campaigns.

SMS drip campaigns are a must-have for staying in touch with your leads and customers, just like they are for email marketing.

Automations.

If you're going to go beyond one-off marketing texts, you'll need automations.

They allow you to trigger personalized texts based on your leads' actions, like making a purchase or texting you a question.

Automations will help you send more

targeted and timely messages

to your ever-expanding lead and customer base. 

Two-way texting.

Don't leave your customers hanging when they reply to your marketing texts. Choose a platform that supports conversations with two-way texting and a shared inbox.

Campaign reporting.

The only way to determine whether your SMS marketing campaigns are successful is to track and measure

key metrics, including response rates and unsubscribe rates

. Then, you can

optimize your next campaigns

.

Compliance support.

Compliance with

telecom

regulations

is an important part of texting. Make sure your platform supports key regulations like the TCPA, HIPAA, 10DLC, GDPR, and more. 
Top SMS Marketing Platforms
There are plenty of SMS marketing platforms out there. Here are three popular options that might meet your needs.
Heymarket

. (Yes, us!) Marketers can start sending promotional messages through our platform in minutes. Conversational features allow you to personalize each text and manage incoming responses easily.

To help you scale your texting strategy,

we offer robust integrations with your favorite apps to maximize your data, plus time-saving automations to create seamless workflows.

TextMagic

. This tool focuses on efficiency. Use its contact management and efficiency tools—like templates and lists—to connect with your leads and customers quickly. It also features an email to SMS tool that converts your emails into texts and delivers them just like they would any SMS message.

Podium

. Made specifically for local businesses, this platform simplifies community outreach with a central inbox and efficiency tools. As an added bonus, their review management tool lets you address questions and comments on popular review sites, too. 
Next Steps: Setting Up Your SMS Marketing Strategy
SMS marketing is an efficient way to connect with your leads and customers. So what do you need to get started? Here are your first five steps:
Choose your SMS marketing platform.

Use the criteria above to pick the best platform for you. You'll need it to send your promotional messages securely and efficiently!

Build your SMS marketing subscriber list

. Ask leads and customers to opt in to receive your promotional messages. Advertise your SMS marketing services on your website, social media, and emails.

Decide how to send your texts and set up workflows

.

Figure out if you need to

schedule out one-to-many texts

,

create SMS drip campaigns

, s

et up message triggers

, o

r use a mix of all

three

strategies

.

Choose which of your business messaging platform's tools you'll take advantage of.

Craft your messages and kick off your campaigns

. Take advantage of our tips to craft messages that engage recipients.

Measure your results

. Your SMS marketing platform will track your messages' response rates and engagement. Use this data to determine what types of promotional messages are engaging leads. 
At the end of the day, SMS marketing is all about forming connections with your leads and customers. Be prepared to spark conversations with excited recipients and watch those relationships grow. 
Extra: SMS Marketing Resources
Looking for more information on SMS marketing? Check out these resources:
Still have questions? Book a demo to get a look at SMS marketing in action!