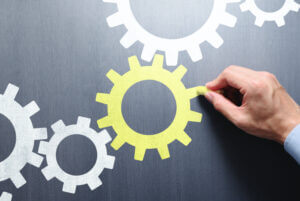 Your marketing strategy probably relies on (or at least includes) advanced software that supports content automation and lead management. These tools make it easier to focus on what matters—creating compelling, high-quality content. With help from a business text messaging platform, your team can streamline SMS marketing workflows and add SMS marketing to already-established workflows. 
But it's one thing to understand that SMS integrations and automations can streamline your workflows. It's quite another to brainstorm and create the automations yourself. 
We've rounded up 5 examples of SMS marketing automated workflows to help you get your creative juices flowing. These are some of the most common—and effective—examples we see our customers use. 
Want to learn more about using automations to streamline your workflows? Read our ebook Automated Text Messaging: The Complete Guide
Get the guide
SMS Marketing Automated Workflow #1: Welcoming New SMS Subscribers
Some companies include SMS list sign-ups within their marketing campaigns. For example, a business might promote a new product on social media, then ask leads to sign up for their SMS program to stay updated. The business will set up an automation ahead of time so that the SMS marketing platform will automatically send welcome texts to leads who opt in. 
Your team will find it easy to set up this workflow. You can:
Create one (or more) welcome text

templates

Ask customers to opt in by texting your number with certain keywords, like NEWPRODUCT or SPRING21

Set the platform to reply to specific keywords with a branded welcome text (make sure to include opt out instructions, too)
Ask customers to text in with different keywords that indicate the campaign they're interested in. For example, you may have a general sign-up keyword and a marketing campaign keyword. This way, you can create targeted welcome messages. Once your customers have received their welcome text, they may reply. You can either begin a conversational marketing chat with them or assign the chat to a salesperson. 
SMS Marketing Automated Workflow #2: Including SMS in HubSpot Campaigns
HubSpot is a popular marketing platform. A business might enhance HubSpot's lead management features by including an SMS automation for new leads. For example, a marketing team can set their SMS marketing platform to automatically send an SMS template if a new contact is added to the HubSpot system. 
To set up an automation like this, your team can:
Integrate

your SMS marketing platform with HubSpot

Create a template

Set up the action and trigger sequence within your SMS marketing platform (for example, when someone wants to learn more after reading a blog post, give them ability to receive business SMS updates instead of emails)
Leave space for custom fields in the templates. Your SMS marketing platform will use the custom fields stored within HubSpot to personalize each outgoing message. This kind of advanced automation streamlines your marketing workflows without losing that personal touch. 
SMS Marketing Automated Workflow #3: Adding SMS to Salesforce Journey Builder
Many teams use Salesforce Marketing Cloud to help automate and track marketing campaigns. Now, they can include business SMS in their automated content by integrating the two platforms. After integration, a business might choose to add SMS to their Journey Builder. For example, they might set their SMS marketing platform to send a text if Journey Builder has already sent two emails to a lead with no reply. 
To set up a Salesforce Journey Builder automation, your team can:
Integrate

your SMS marketing platform with Salesforce to access Salesforce SMS

Select a trigger situation (i.e. send text after the second Journey Builder email is sent)

Choose an SMS template(s) to send
Adding SMS to Journey Builder increases the chances that leads will read and engage with your team's content. You can easily add texts to any content automations so you can reach leads through a fast, convenient channel. 
SMS Marketing Automated Workflow #4: Sending Regular Content to Leads
Many companies use SMS drip campaigns to keep leads engaged. For example, a company might allow customers to sign up for product tips. Marketing teams can create the content in advance, then set the platform to send product tips to customers once every two weeks. 
Your team can set this workflow up within an hour. They will:  
Choose a

list

of recipients

Select a schedule to send the texts on

Create multiple templated messages
Your team can even get your platform to automatically add leads to an SMS drip campaign. You'll simply choose a keyword that triggers addition to the list. Then, your teams won't have to manually add new opt-ins to your drip campaign. As soon as customers reply to your SMS crip campaign messages, their messages will arrive in your shared inbox, where salespeople can reply. 
SMS Marketing Automated Workflow #5: Directing Google Ads Queries to SMS
Plenty of businesses use Google Ads to promote their products and services. Now, they can also make it easy for customers to directly ask questions about those campaigns. A business might set up a Google Ads extension text CTA. When leads click on this CTA, their native SMS apps immediately populate the business's number and a pre-defined text response. 
Google Ads SMS has a quick setup process. If you already have a Google Ads account, your teams can:
Create a Google Ads campaign (as per usual)

Select the option to add an extension text CTA

Create a pre-defined text response
Marketers will find Google Ads SMS especially useful for connecting with leads who have questions about new products or even your product's use cases. With a shared inbox, they can seamlessly pass off leads to salespeople if conversations extend beyond the marketing scope. 
Want a step-by-step look at building text automations to expedite every area of your business? Read our ebook Automated Text Messaging: The Complete Guide.