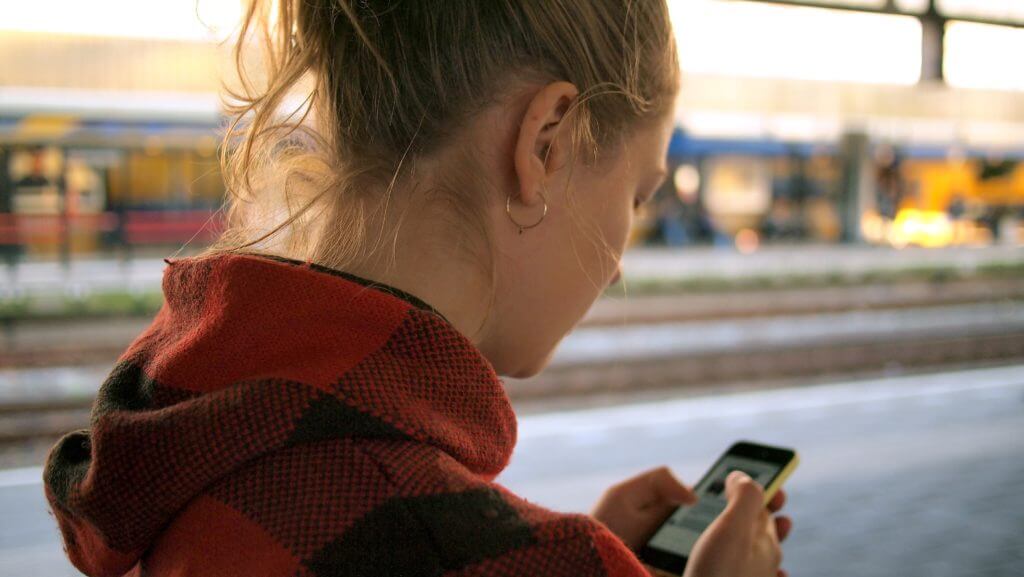 Nowadays, most people—especially those in younger generations—don't want to make phone calls and likely won't answer them. You can't expect responses via email either. Text someone, however, and you'll probably get an answer quickly.
Businesses are taking note, offering customers the option to text—and customers love it. Texting means they can skip waiting in service queues, chat at their own speed, and connect with live agents. Behind the scenes, businesses enjoy texting's efficiency. They can send personalized texts at scale, boosting customer satisfaction and conversions without increasing workloads.
But when channels come and go so frequently, it can be hard to make a case for yet another one. Does your business have to adopt texting to successfully connect with leads and customers? Does it really have a convincing return on investment, or ROI?
Don't take our word for it. Below are 42 texting statistics that prove just how much customers and brands love texting.
Constant Smartphone Use Means Customers Are Always Accessible via Messaging
The majority of your customers rarely let their phones leave their sides. They take their phones everywhere, from home to work—which means that your business has constant, direct access to them. They're constantly checking their phones, too, which means they'll almost always see your messages.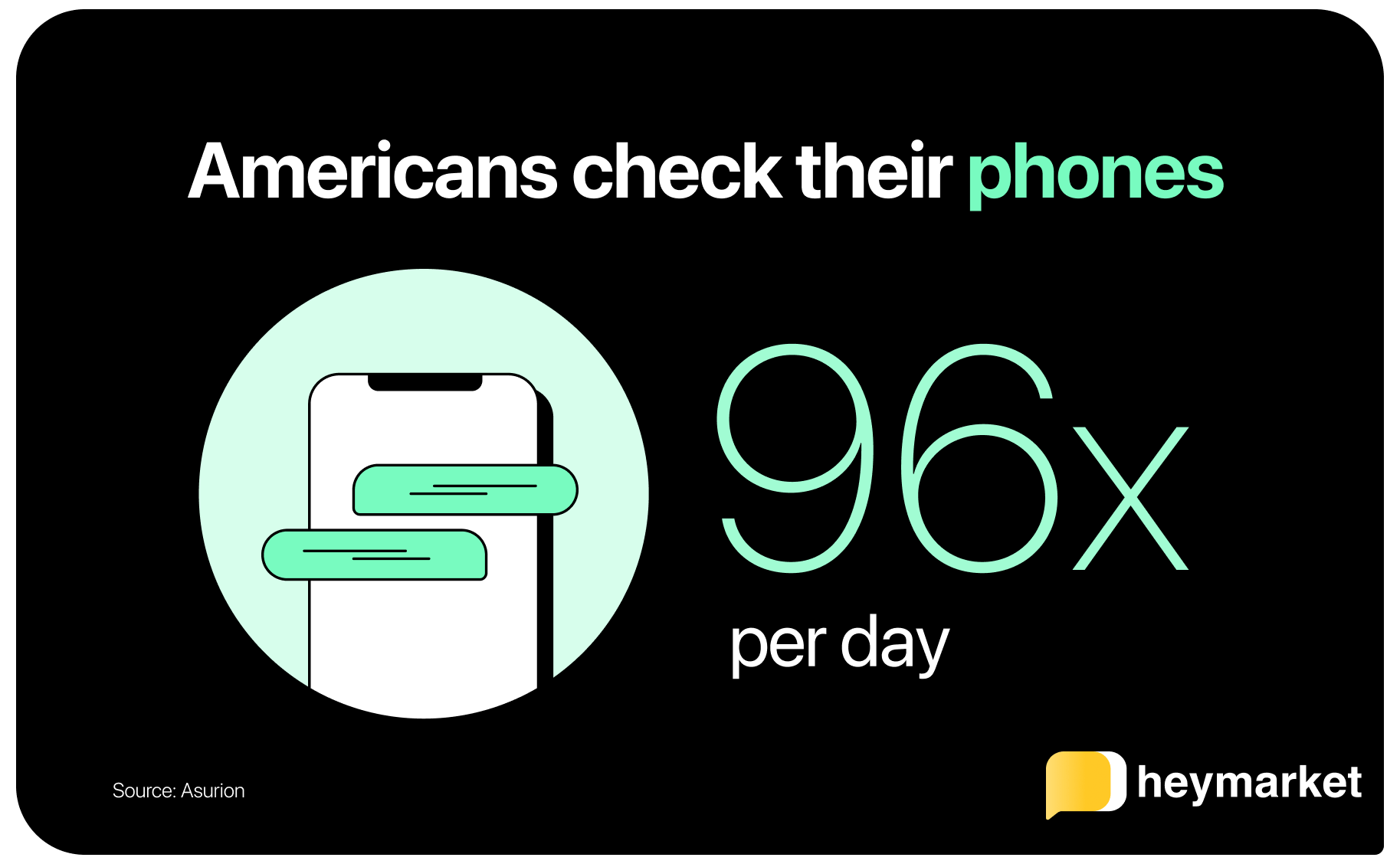 Customers Are Ready to Read and Respond to Your Texts
Texting is part of the average consumer's daily life. While your business's emails might go unread (and probably unanswered) for days, texting usage statistics show that consumers are probably going to read your messages. There's a good chance they'll answer them, too.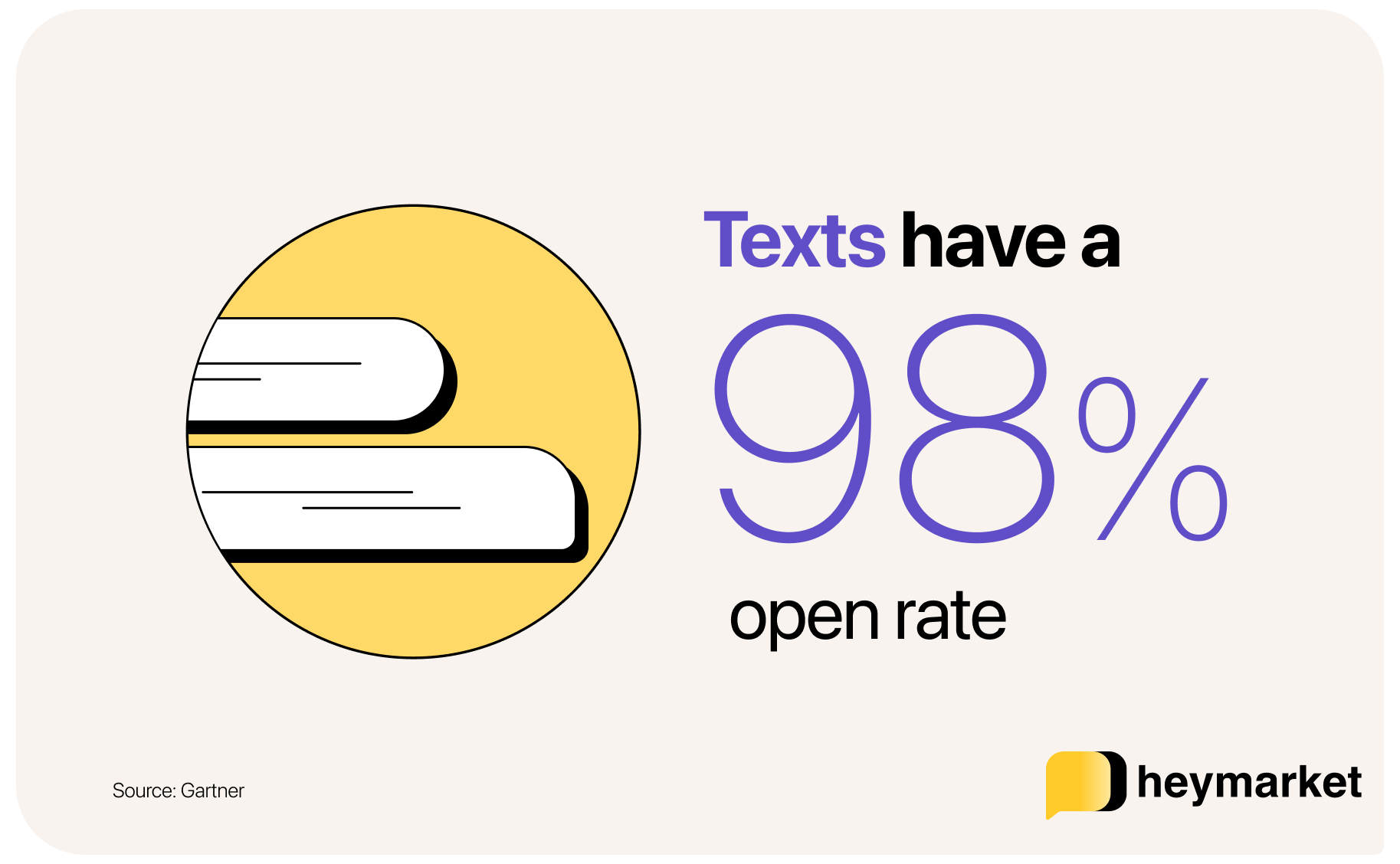 Customers Prefer Texting to Other Communication Options
Your customers love texting. It's a fast way for them to get answers, and convenient since they can respond to your messages whenever they have a spare minute. It's no wonder that so many customers prefer it to calls and emails.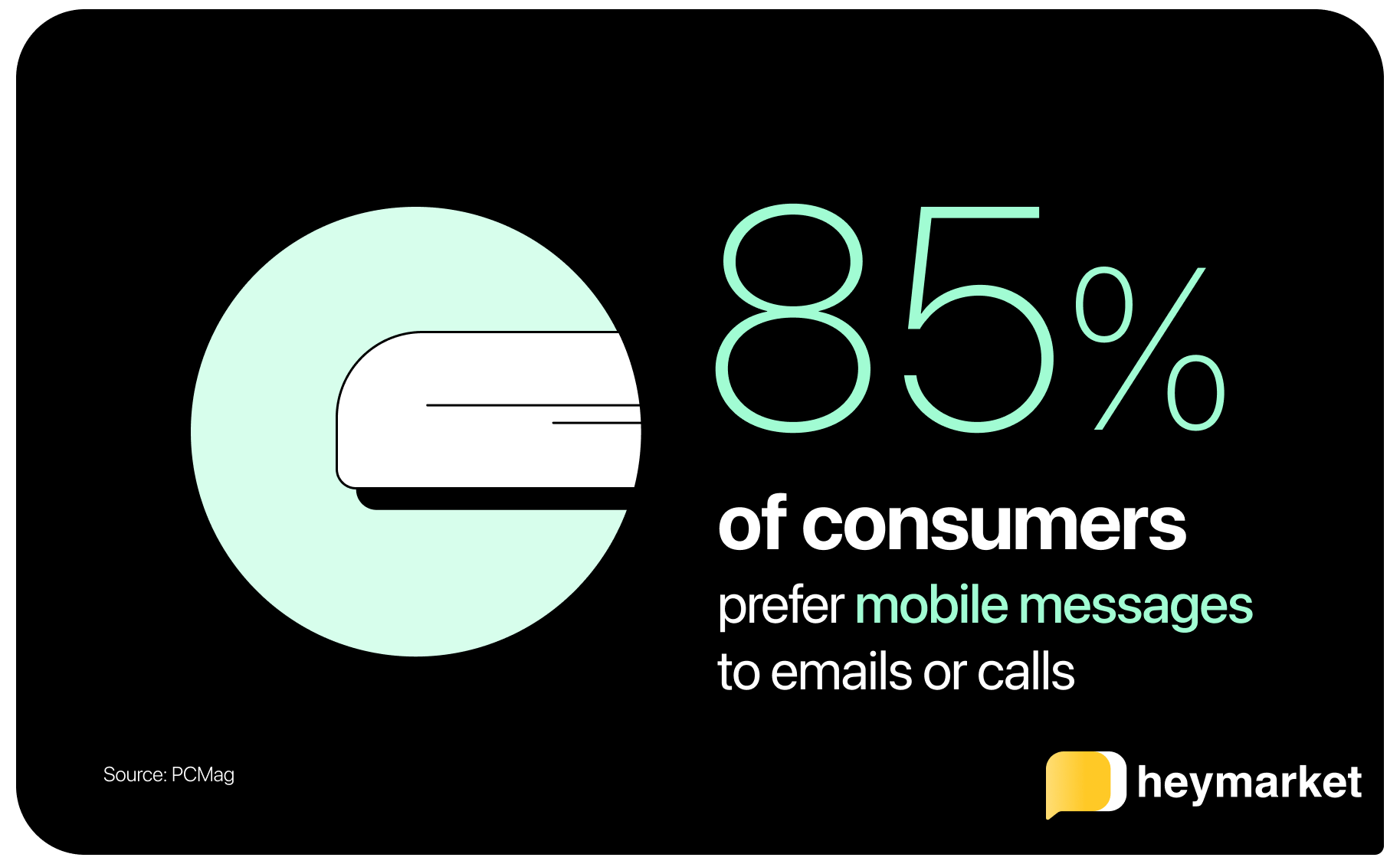 Customers Specifically Want to Text Your Business
Texting isn't just for chats between friends and family anymore. Consumers rely on messaging channels to communicate with their favorite brands and organizations. Your customers want to text your team, too.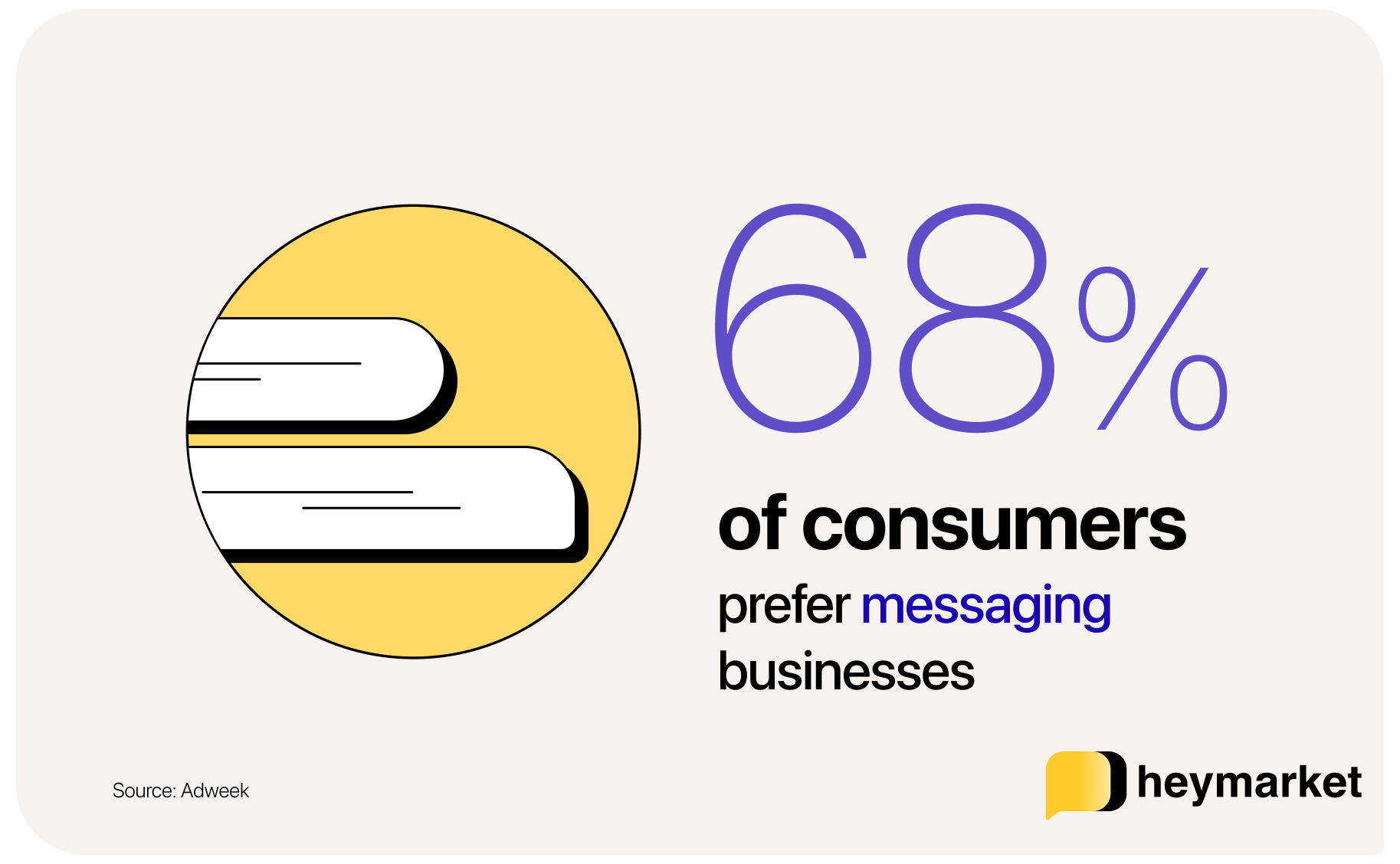 Businesses That Text See Results
Businesses that communicate with their customers via texting engage with them more easily and efficiently. As a result, they're seeing an impressive ROI across departments and use cases.
Businesses Are Quickly Adopting Texting
Businesses have started noticing these impressive customer texting statistics, and they're taking action. More and more are offering texting as a communication option. Many professionals are also using texting in the business world to connect with vendors, partners, and coworkers.
The COVID-19 Pandemic Made Messaging More Popular for Consumers and Businesses
The COVID-19 pandemic accelerated shifts in communication technology. Without the opportunity to shop in person, customers turned to messaging channels like texting for real-time updates and shopping assistance.
Texting Will Stay Popular in the Future
The digital transformations that started during COVID-19 are only going to continue. Texting still has room to grow in the business world as consumer demand grows. Both customer service texting statistics and SMS marketing statistics show promise for this popular channel.
Getting Started with Business Texting: 3 Steps
Once your business has seen the receipts, you may be ready to explore adopting texting for one or more of your teams. Today's business texting platforms are intuitive, and it should only take minutes to get up and running. While you'll want to consult a beginner's guide to text messaging before you launch your new texting services, here are some tips to start you off on the right foot.
1. Choose an Omnichannel Messaging Platform 
Customers like both texting and messaging through third-party providers, like Facebook Messenger and WhatsApp. (They often use multiple channels at once!) Before you start messaging them, choose a text service for business that accepts messages from all platforms. That way, incoming messages from all channels will arrive in a single inbox. Your platform should accept texts as well as messages from Facebook Messenger, Instagram Messenger, WhatsApp, Google's Business Messages, and Apple Messages for Business.
2. Adopt Conversational Strategies
Today's consumers love messaging for its speedy responses, but they also want personalized interactions with live agents. Consider adopting conversational messaging, a strategy that emphasizes connecting with customers through authentic, one-to-one messaging chats.
The strategy has three sub-categories that work for each stage of the customer journey: conversational marketing, conversational sales, and conversational support.
3. Get the Word Out 
You can't just text every contact you have collected in the past. Leads and customers have to opt in specifically to your texting services for you to text them. Let them know about your program and how to opt in via your website, social media pages, and email communications. In order to build your contact list, you have to give them a reason to opt in, too. Share customer service text response times or marketing information to encourage them to sign up.
The Bottom Line
The texting statistics say it all: customers love messaging—and its popularity is still growing. It's a must-have channel if you want to meet customers where they are.
Adopting texting and other messaging channels is easy, especially with help from an omnichannel messaging platform. But to stay relevant with customers in the future, you'll want to keep tracking and adopting the most popular messaging channels. As customers' preferences change, it's important to change with them.
Texting is a popular, fast, and personalized channel that helps you reach and engage customers. With help from key conversational strategies, you'll find yourself creating close relationships with customers that last.
Ready to integrate messaging into your business? Try out Heymarket today.