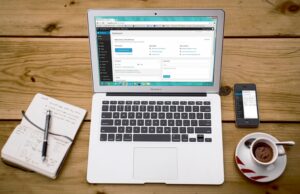 In-person networking, event participation, and print or digital advertising used to be B2B marketers' only options. Now, marketers can work with these go-tos in addition to brand-new tools like SMS. Used for everything from customer service to operations, SMS is a flexible and efficient channel. It helps small teams reach large audiences quickly with personalized messages, and streamlines communication workflows for mid-market businesses and enterprises. But what is SMS business to business marketing? 
SMS business to business marketing helps companies send, receive, and organize lead texts. Once leads (or customers) opt in to your business's texting service, your team can start sending them branded content. 
It's similar to email marketing in that marketers can send a wide variety of content through it. However, SMS has a 98% open rate and response rate 8x higher than emails. In other words, your leads are more likely to read and engage with your SMS B2B marketing content than your email SMS content. 
So what exactly is SMS business to business marketing? And how does it fit in with your current marketing strategies?
Let's dive in. 
What Is SMS Business to Business Marketing?
SMS business to business marketing is SMS specifically used by B2B companies. These companies sell their products to other businesses, instead of directly to consumers. As such, they use slightly different marketing strategies than B2C (business to consumer) companies. 
For example, B2B marketing can be more :
Relationship-focused (i.e., may involve more in-person conversations)

Lengthy (i.e., may have a longer sales cycle)

Difficult (i.e., may take more effort/cost to catch a business's attention)
SMS business to business marketing adapts well to these differences, allowing your brand to attract, connect with, and convert leads over a longer period of time. Advanced SMS platforms empower your teams to send, receive, and organize customer texts, streamlining the process. 
SMS business to business marketing is the perfect addition to your conversational marketing, content marketing, and direct marketing strategies. 
SMS B2B Conversational Marketing
Conversational marketing is a newer term in the world of marketing—but it's a tool that has been used for decades by salespeople and customer service agents. It's critical for B2B salespeople, who focus on networking to make sales. 
In essence, conversational marketing is simply marketing your products or services through dialogue with leads or customers. It can involve answering questions about use cases and performance, describing products, and suggesting purchases within a conversation.
SMS B2B conversational marketing can add a new dimension to your current marketing strategy. Texting is a real-time, two-way channel that emulates in-person chats, making leads feel comfortable having a casual conversation with your team members. 
Your team can engage leads in conversational marketing via SMS by:
Connecting with leads to answer questions after an SMS content campaign

Offering a Q&A SMS line

Having sales or marketing teams follow up with leads after they sign up for your SMS service
Once your team members start messaging with B2B leads, they can help guide them to the service or product that works best for their business.
SMS B2B Content Marketing
B2B marketing teams are finding that leads often become interested in a brand after learning from or being entertained by their content—just like B2C leads.
Content marketing includes offering leads advice, best practices, or information through blog posts, newsletters, articles, e-books, white papers, webinars, videos, and more. It's a great way to gain and engage leads.
SMS business to business marketing can bolster your content marketing strategy. With a high open rate of 98%, texts almost guarantee that your customers will read the content. 
You can use business text messaging to:
Announce and link to new content 

Distribute photos, GIFs, and video content

Send invitations to webinars
With help from SMS business to business marketing, you can spread content more easily and increase the chances that customers read it. Once they read your content, they may text back with questions or comments, at which point your team can engage them with conversational marketing. 
SMS B2B Direct Marketing
Direct marketing is one of the oldest strategies available to businesses. You could say it's been around since the invention of the printing press—or at least since businesses started sending mail advertisements directly to targets and leads. 
Direct marketing is all of the advertising content your business sends straight to other businesses. This can include everything from snail mail offering discount codes to paid social media ads asking businesses to sign up for free trials. 
SMS business to business marketing is a powerful addition to direct marketing campaigns. In fact, reports have shown that promotional SMS programs with fixed time frames and strong CTAs typically see a 23% conversion rate. 
Your teams can send the following through text messages:
New product announcements

Referral information

Free trial information
While SMS business to business marketing can be an effective tool, your team may want to take care not to send too many direct marketing messages. Over-marketing to leads can lead them to unsubscribe from your SMS service. Instead, focus on conversational marketing and content marketing, sprinkling in a few instances of direct marketing on occasion. 
Still wondering about SMS business to business marketing? Check out our blog or connect with our team.