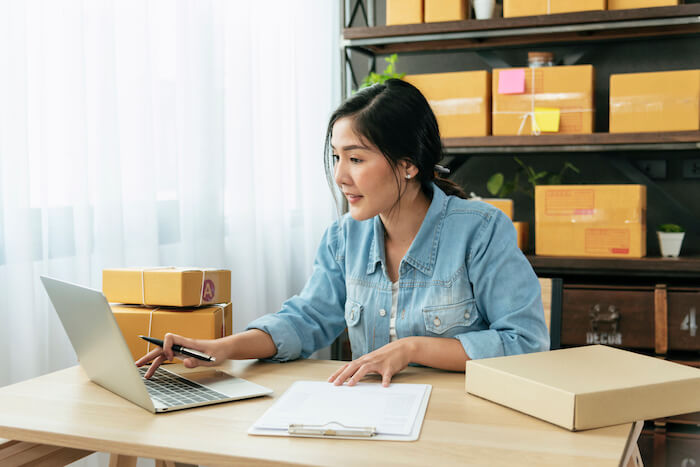 Customer service is critical to the growth and success of your Shopify store. After all, 90% of consumers consider customer service important in their choice of and loyalty to a brand. With that in mind, how do you improve your customer service and make sure that your customers have a positive experience with your company when they have questions or problems?
There are plenty of tactics for creating a streamlined, personalized, and delightful customer service experience. Many of these tactics involve improving your communications—a key aspect of customer service—as well as expediting response speeds and increasing convenience.
Let's explore seven ways to improve customer service for Shopify stores.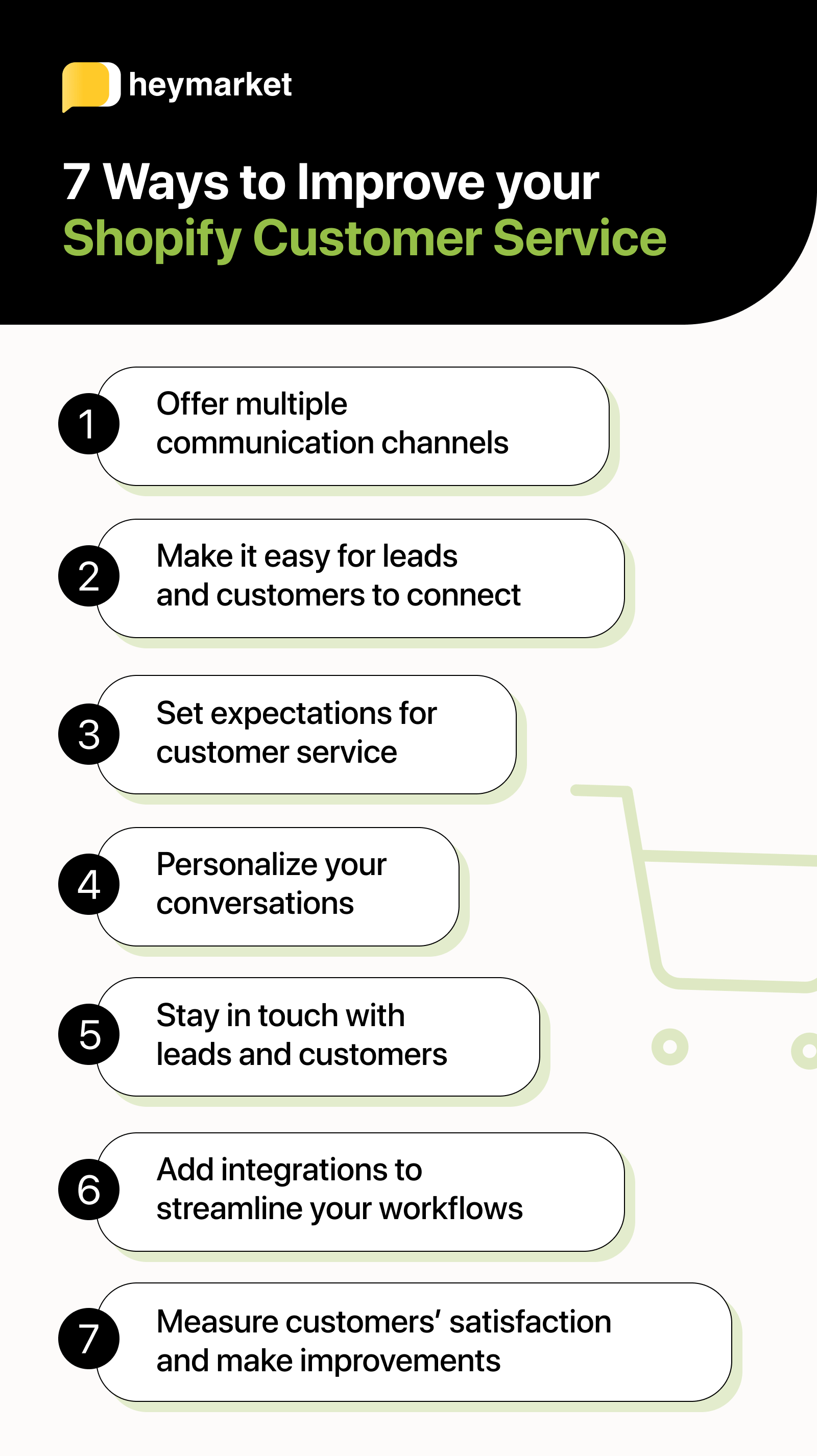 1. Offer Multiple Communication Channels
Digital channels are growing more popular for business communications—but your customers enjoy different options. Some of them prefer communicating via traditional email on your Shopify site. Others would rather chat with your team via live chat on your site. Many prefer messaging through business SMS or messaging services like Instagram Messenger.
Offer multiple options so customers can reach out through channels they feel comfortable with. At the very least, offer popular options like Facebook Messenger, Instagram Messenger, WhatsApp, Apple Messages for Business, and Google's Business Messages.
Remember: don't just offer multiple communication channels; ensure you're keeping up with each. Look into an omnichannel platform that centralizes messages from all messaging channels in a single inbox.)
2. Make It Easy for Leads and Customers to Connect
Your customers shouldn't have to search hard to find out how they can reach you. Publish a Contact Us page on your Shopify site that lists your business SMS number, email address, and other communication channels. Feature a live chat widget on all of your Shopify web pages. Set up your social media messaging platforms so customers can message in easily through those channels. Finally, create Apple Messages for Business and Google's Business Messages accounts so customers can seamlessly reach you through Apple and Google products.
3. Set Expectations for Customer Service
Customers expect to hear from your team members as soon as they write in. For example, customers expect a response within an hour if they message you on WhatsApp. But if your customer service team is in a single location or if you're having an especially busy day, there's a good chance that you won't be able to respond that quickly. Create a during-hours auto response to let customers know how long they'll be waiting to hear from a team member. Create an after-hours auto reply to let them know when your team will be back in the office.
4. Personalize Your Conversations
Personalization is a proven way to connect with customers and boost sales. You want customers to know they're talking with a human, not a bot. In one-on-one conversations—no matter what channel you're using—introduce yourself by name, write in a positive tone, and add your personality to messages. You can even include GIFs and emojis, if your brand voice allows it. In addition, refer to your Shopify customers' order history (if they have one). In addition, if you send your customers automated messages, make sure they include custom fields, like names and loyalty statuses. That way, customers will feel like each text was sent individually to them.
5. Stay in Touch with Leads and Customers
Once customers finish their conversations with you, you shouldn't make that the end of your rapport. Continue to communicate with them via the channel of their choice throughout the customer journey, supporting them along the way. For example, you can create Shopify order updates that automatically text customers as their orders make their way home. In addition, you can follow up with Shopify customers at key moments to check on their satisfaction levels, like after their orders arrive.
6. Add Integrations to Streamline Your Workflows
Shopify has plenty of integrations with third-party apps that make your life easier. Connect Shopify with your CRM, for example, to share data between platforms and make sure you're always accessing the most up-to-date information. Add survey apps to include feedback forms on your emails or even right on your Shopify web pages. Connect your Shopify platform with your SMS platform to text right from your Shopify interface.
7. Measure Customers' Satisfaction and Make Improvements
One of the most effective ways to improve customer service for Shopify stores is to discover what your customers think about it—then make improvements. There are plenty of ways to gather Shopify customer feedback, most of them involving integrations. Ask customers for feedback after every interaction with your customer service team, especially after ticket resolutions. Then, if multiple customers mention the same problems, you can make changes—and win a loyal customer base.
Making Strides for Your Shopify Store with Customer Service
After you establish your Shopify store, improving customer service should be your next step. Stellar customer service is one of the most efficient ways to increase customer retention and boost revenue. After all, it costs five times more to attract a new customer than to keep an existing one.
The customer experience should be your guiding light throughout the process of improving your customer service. Remember to listen closely to their input and keep their needs top of mind as you prioritize strategy adoption.
Creating a streamlined, personalized, and delightful customer service experience with help from these seven tips will show customers that you care about their experience. This will boost overall customer satisfaction, ensuring that they'll return to your shop again and again for future purchases.
Want a cheat sheet for these seven ways to improve customer service for your Shopify store? Access the printable graphic here.