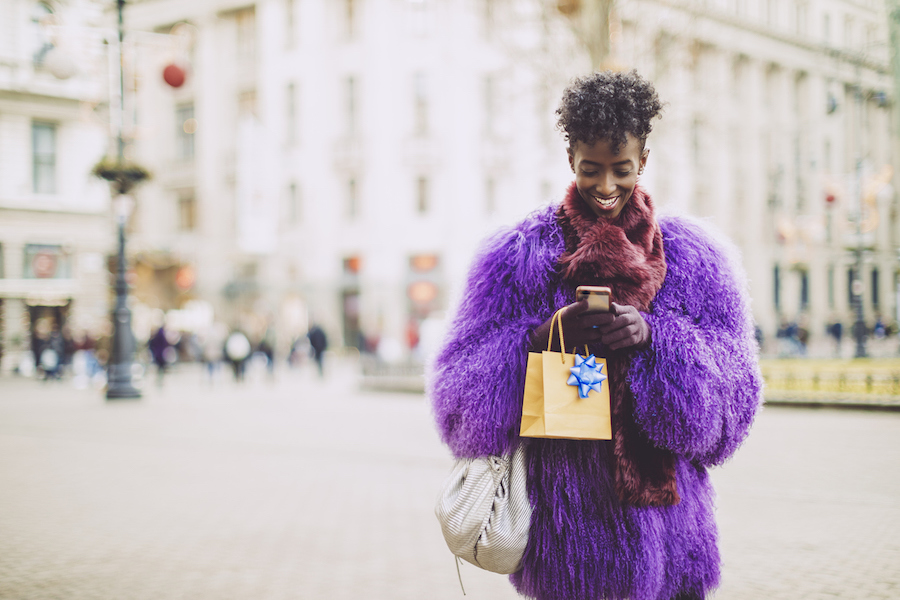 In 2019, 84% of the holiday season's e-commerce growth came from smartphones. And from 2019 to 2020, the number of texts sent in the U.S. increased from 2 trillion to 2.2 trillion. Experts say that retailers should expect 18% more social messages during the 2021 holiday season. Lesson learned? Customers clearly want to use their smartphones to navigate this holiday shopping season.
Customers who opt in to receiving texts from your brand are giving you a direct line of communication to their favorite devices. Use this one-of-a-kind connection to keep customers informed and satisfied as they search for gifts for their loved ones.
In this blog post, we'll walk you through eight steps to using business SMS to support customers through the holiday season.
Review Past Holiday Communications Data
If you used business SMS last year, take a look at any business SMS reports from your holiday communications. Reviewing these trends helps you gauge how your team will need to approach this year's messaging strategy. Look for data that answers key customer service questions like: what was the average volume of texts during the holiday season? Was it much larger than your usual amount? Did your team's response time slow down? Were certain times of day busier than others? Were there any questions customers asked frequently? Use this data to prepare your team in the next step.
Prepare Your Team for the Holiday Rush
After reviewing last year's data, you can prepare your team for the busiest shopping time of the year. If your team received an overwhelming amount of customer queries—and their response times slowed down—consider adding temporary team members for the season. You may even switch shifts around to make sure the busiest times of day will be covered. Create SMS templates for any FAQs you identified so your team can address them faster. Finally, integrate your business SMS platform with your other messaging systems, like Facebook Messenger and WhatsApp. That way, your team can easily access all customer queries in a single shared inbox.
Let Customers Know About Your SMS Services
Next, it's time to get the word out about your SMS services—if you haven't done so in a while. Make sure your Contact Us page features your SMS number, opt-in information, and basic SMS service information. Consider creating a paid or organic social ad mentioning your SMS service's fast response times. You can also add your SMS number to a Google Ad to encourage customers to reach out there. Include holiday-themed phrases and images, like opt-in keywords and winter emojis, to let customers know that this will be a valuable tool for them during the holiday season.
Set Expectations for Holiday Operations
Proactive support helps reduce your team's workload and ensure customers are starting the holiday season on the right foot. Text customers with basic information about your holiday operations. Announce holiday hours, any special holiday services (like a gift concierge service), curbside or in-store pickup information, and health and safety guidelines. In addition, be sure to remind customers that they can reply with any questions at any time.
Alert Customers When Their Favorites Are in Stock
The global supply chain is still struggling to keep up with consumer demand during the holiday season, when so many more people purchase goods. Customers are eager to buy their loved ones' ideal holiday gifts—and sometimes they're not available right away. Allow customers to request SMS updates when their dream gifts are back in stock so they can snatch them up in time for the special day.
Send Regular Holiday Order Updates
An astonishing 85% of consumers will buy from a retailer again if they can track their purchases from order confirmation to delivery. Keep customers informed about new package movements by sending regular holiday order updates. Include up-to-date custom fields featuring customer order details with help from an eCommerce integration, like Shopify SMS. You can even add a splash of the holiday spirit to your templates with emojis or holiday greetings.
Answer Customer Queries Quickly
Holiday shopping can be stressful for customers, who want to give the perfect gifts to their loved ones. That's why it's so important to answer customer queries quickly. Set up an auto reply that lets customers know when they can expect a reply from you. Then, use key team-focused tools to the best of your ability. For example, use assignments to direct incoming customer queries to the best agent to answer them. Rely on private comments to coordinate with team members behind the scenes, so you can answer customers quickly and correctly every time. And make sure you've integrated your business SMS platform with your CRM; a Salesforce SMS integration, for example, lets you access customer history within your business SMS platform so you can provide customers with personalized service faster.
Don't Neglect Holiday Returns
There's a good chance you're prioritizing the holiday ordering experience, but don't forget about returns. A smooth returns process will make 92% of customers buy from you again. This is a critical fact to remember when you're trying to build connections with people who have received your products as gifts. Let customers start the return process via SMS. Keep them updated on the status of their returns, just like you do with orders. Once you receive their returns, send a chat-based SMS survey to gauge your performance—and see if there's anything you can do to win their business in the new year.
Want to learn five hacks for using business SMS during the holidays? Check out our free ebook and special one-month free trial.