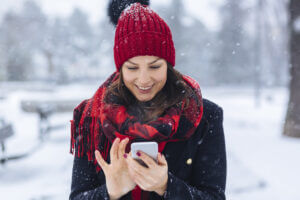 Since more customers will be avoiding in-store shopping this holiday season, your team can expect an increase in online communications. Customers will be texting questions instead of asking your retail associates for help in person. SMS automations make it easier to respond quickly. 
SMS automations take over your team's repetitive, simple tasks, so your team can focus on connecting with customers and increasing sales. Advanced business SMS platforms make automations easy. They empower you to set triggers that, when recognized by the platform, set off an action. 
This holiday season, your team should set 5 key SMS automations. These tools will take over simple tasks, leaving your team free to help customers find the perfect gifts. 
Let's dive in. 
Order Notifications
Customers rely on order notifications to track their gifts, so they can tell whether they'll arrive in time. You may already have a point of sale (PoS) or eCommerce platform that emails customers with order updates, but these emails are often lost in junk folders or otherwise missed by customers. Business SMS messages have a 98% open rate, which almost ensures that your customers will read them. 
Your team should send notifications after orders are:
Confirmed

Shipped

Delivered
Your team can set up automated SMS order notifications by integrating your business SMS platform with your PoS or eCommerce system. Then you can choose the appropriate cross-platform triggers and actions. Your business SMS platform can immediately text customers when their order changes status. Automating order updates ensures customers know where their gifts are—without any extra work from your team. 
Automatic Opt-In Confirmations
When leads and customers sign up for your SMS service, you want to make contact quickly. But during the busy holiday season, you'll have too many incoming messages to respond to each new contact immediately. Set up an automated opt-in confirmation and welcome message instead.
In your confirmation text, your team should include: 
A welcome note

Confirmation that the recipient has opted into your SMS program

A holiday emoji (optional for the holiday season)

Opt-out instructions
Within your business SMS platform, you should be able to create a template that sends as soon as someone texts in the relevant opt-in keyword. Automating welcome texts helps your team make a great impression with the newest members of your SMS list—just as they're looking for holiday gifts. 
Scheduled Seasonal Content
Your team has to engage leads and customers throughout fall and winter to ensure you're top of mind during gift shopping. Starting early in the season, send content that's both educational and entertaining. You can send this content on a regular schedule with SMS drip campaigns. Automating customer engagement saves your team time during the busiest season of the year. 
Your team may want to send content like:
Seasonal product tips

Holiday operations updates

Polls and surveys
Setting up an SMS drip campaign should be easy. Your team members can choose a list of leads or customers, select when you'd like to send the texts, and create multiple templated messages. Any lead or customer replies arrive in your shared inbox, where you can address them quickly. 
During-Hours and After-Hours Auto-Responses
Your team will be busy answering leads and customers throughout the holiday season. It will be difficult to personally answer each customer message right away—but you can let customers know when they can expect a reply. 
Your team should set up during-hours and after-hours replies that list:
Response times 

Business hours

Alternate sources for answers (like an FAQ page)
Your team can quickly set up these auto-reply automations with an advanced business SMS platform. Be sure to include holiday emojis and greetings throughout the holiday season, removing them once you're a week or so into the new year. 
Purchase Follow Ups
Reaching out after interactions shows customers that you're determined to give them a top-notch holiday shopping experience. But with so many gift orders and questions coming through, it'll be difficult to remember to follow up with everyone. Automate these follow ups so your team will never forget a customer.
Your team will want to send follow ups after:
Gift concierge and advice services

Questions or queries

Order delivery 
Your business SMS platform will allow you to write the follow-up text directly after a conversation and schedule the text for a specific date/time. When customers reply to your follow ups, the messages will arrive in your shared inbox, where you can start chatting with them right away.
Want more holiday business texting tips? Check out our blog today.