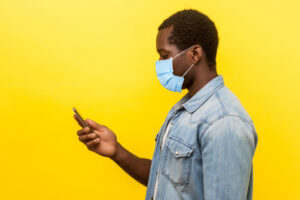 Companies have had to pivot during the COVID-19 pandemic, adjusting everything from their operations to their product lines. Some are replacing older channels, like phone calls, with messaging, so they can handle contactless communications better. Companies that already use business texting solutions are changing how they use them. 
COVID-19 texting has proved to be a flexible tool during this unprecedented time. It's helped teams roll out and publicize frequent changes, which is just what companies need in this day and age. Nearly every industry has found new use cases for COVID-19 texting while retaining most of the older use cases, too. 
Let's explore the ways companies in various industries are using business texting solutions during COVID-19, from restaurants to healthcare organizations. 
Retail Establishments
For retail establishments, business texting solutions are often a key customer engagement and marketing tool. Through business SMS, they can connect with customers when they're not in stores, sending them local event information or product tips. Now that contactless shopping has become popular, retail establishments are also using business SMS to coordinate pickups. They can send customers pickup notifications, ensuring they know the status of their orders. Then they can use SMS to communicate with customers who are ready to grab their orders, ironing out last-minute details.
Home Services Companies
Many home services companies are absolutely essential, even during the pandemic. Plumbers, electricians, and other key workers have to be able to get inside homes to work on critical infrastructure and appliances. While home services companies used business texting solutions to streamline home visits and scheduling before, now they're also using it to make home visits safe. Professionals can coordinate home visits in real time, texting safety instructions, letting clients know when they're on site, and letting customers ask follow-up questions from a safe distance. 
Professional Services Groups
Professional service groups, like law firms and accounting firms, often used business texting solutions to streamline client operations. They texted them with appointment reminders, paperwork updates, and other administrative details. Now that in-person meetings aren't on the table, they're managing even more with business SMS. Professionals are also texting with leads to answer basic questions about their services and share quotes. Now that in-person chats are out of the question, it's become the best way to connect with leads and stay in touch with clients. 
Real Estate Firms
Before COVID-19, business texting solutions offered brokerages and real estate agents a convenient tool for connecting with homebuyers. They shared new listings and kept their clients up to date on the status of their future homes. During the pandemic, business texting solutions have become a critical channel for both staying in touch with homebuyers and also managing brokerage teams. Real estate agents are relying on texted videos and photos to communicate with homebuyers. Brokerages are using business SMS to coordinate their agents, ensuring they have everything they need while they can't come into the office.  
Restaurants
In the past, restaurants mainly used business texting solutions to manage deliveries. They would text couriers, arranging schedules and sending overtime requests en masse. A few would offer delivery notifications for customers, too. Now, restaurants are also using business SMS to coordinate curbside pickup and in-store pickup. They can send all order pickup updates to customers. Then, they can collaborate with customers in real-time when they arrive at their restaurants, ensuring they know where to go and how to grab their orders.
Want more COVID-19 texting tips? Read our COVID-19 guide.