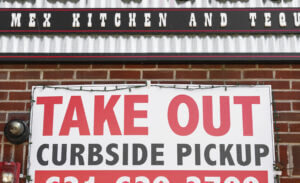 After COVID-19 started spreading across the U.S., businesses had to adapt. Instead of closing their doors, they quickly implemented additional safety measures and adopted new processes. Some of the most popular—and enduring—changes have been curbside and in-store pickups. But while customers love these new options, businesses still need help making them more streamlined. Enter SMS for curbside pickup and in-store pickup. 
Customers love texting; the average adult spends a total of 23 hours a week texting, 98% of SMS messages are read, and 90% of texts are read within the first three seconds of receipt. With this fast, easy-to-use channel, businesses can coordinate pickups better than ever before. 
Read on to learn how to use business SMS to streamline your business's pickups. 
Step 1: Publicize Your Business SMS Pickup Service
First, you need to let customers know that you offer SMS for curbside pickup and in-store pickup.
Include your business SMS number and basic information in your online content, especially if it mentions pickups. This might include social media posts, app listings, your website, email newsletters, and other key communications. Be sure to include:
Opt-in instructions ("You can opt in by texting 'SUBSCRIBE' to this number.")

Expected outreach amount ("We will only text you during the order process.")

Pickup use cases ("We will text with notifications, coordination details, and answers to questions.")
If customers know why SMS for curbside pickup and in-store pickup is useful, they'll be more likely to sign up for it. Be sure to explain the benefits of using business SMS on all of your content.
Step 2: Text Customers with Pickup Notifications
The key to a good pickup process is useful, consistent communication. If your products are timely—like food or drinks, for example—customers need to know as soon as their orders are ready. That way, they won't get cold. Even if your products are shelf-stable, customers are often eager to receive their orders as soon as possible. 
Use SMS for curbside pickup and in-store pickups to send:
Order confirmations 

Pickup time estimates

Pickup ready notifications & process details

Pickup reminders (if no one picked up the order)
This level of communication will help your customers feel secure about the pickup process. It will also ensure that your team doesn't have a backup of pickup orders on your premises—or waiting on the curb. 
Step 3: Answer Customer Questions via Business SMS
Even with your pickup notifications, you will still receive incoming customer questions. If pickups are new for your business, they may feel unsure about proceeding. SMS for curbside pickup and in-store pickup is a great way to answer customer questions as they arise, and assuage any worries swiftly. 
You can answer questions about:
Safety practices ("Our employees are wearing masks and gloves. We ask that customers wear masks as well.")

Pickup process details ("Please text when you're outside and we'll bring your order to your car.")

Store locations ("We're located on 1435 Johnson Avenue. That's right behind the Taco Bell.")

Timing ("Your order will be available for pickup from 1pm to 5pm, Friday 5/22.")

Pickup changes ("Since it's raining, we're going to bring your pickup order to your car!")
Your business SMS platform empowers your team to answer these incoming questions quickly. All messages arrive in a central shared inbox, where permissioned team members can see and answer texts. The inbox accepts messages from both native SMS apps and third-party messaging apps, allowing your business to centralize all messages in one place. By answering incoming messages quickly, you can put customers' minds at ease and get them excited about their orders. 
Step 4: Use Business SMS for Pickup Coordination
In-store pickups are usually easy. You can text customers with details about where in the store they can find their orders. But curbside pickups, which are growing more and more popular, require a little bit of real-time coordination. 
You can use SMS for curbside pickup to:
Get customers to text right when they're arriving to the pickup location

Text customers when a team member can't locate them

Answer questions about confusing or difficult directions
Business SMS is perfect for real-time communication, which is critical during curbside pickups. 
Step 5: Send Feedback Requests via Business SMS
One of the best ways to streamline your curbside and in-store pickups is to get feedback from your customers. They may come up with ideas for improvement that you haven't even considered yet. 
Sending feedback requests via business SMS is a great way to increase responses. Because business SMS has such a high open and response rate, it's far more likely that your customers will actually provide feedback. Plus, you can ask for feedback specific to your SMS for curbside pickup and in-store pickup programs, which can help you improve those services in the future. 
Additionally, you might ask customers to leave a review on a trusted review site, like Yelp, if they like your services. This will get the word out about your sleek pickup service, convincing even more people to place orders. 
Want help using SMS for curbside pickup and in-store pickup? Ask our team.