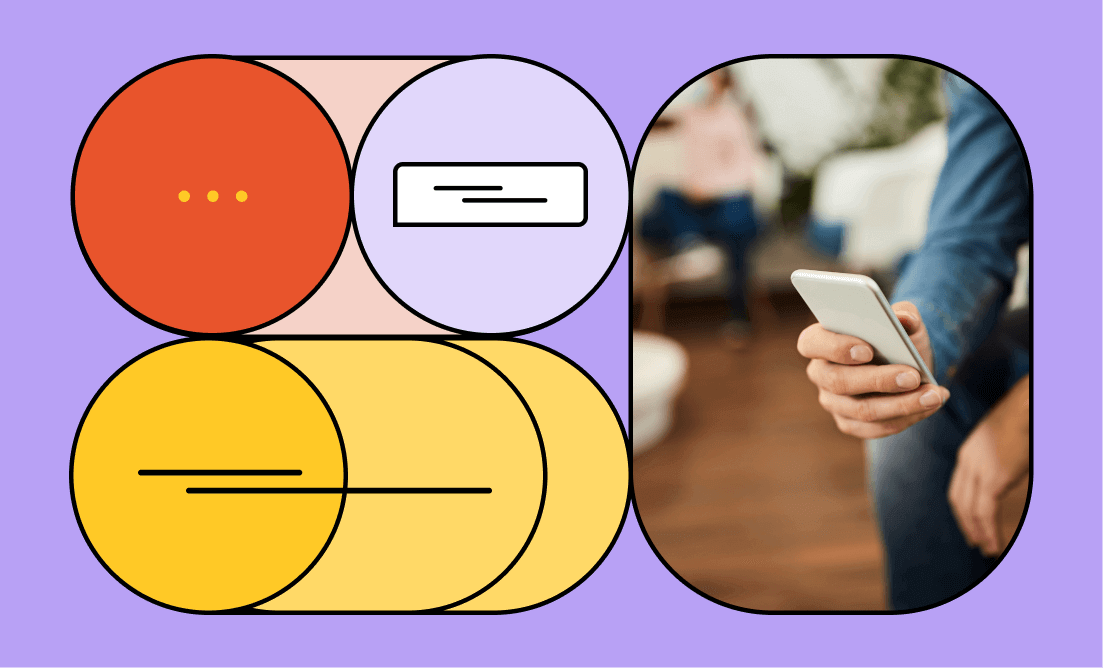 More than one in 10 appointments never show. For some industries, the no-show rate can be as high as 39%—meaning nearly 40 out of 100 patients you're supposed to see aren't receiving care.
No-shows also have a big impact on revenue. If an appointment brings in $100 and your business has 100 appointments a day, 10 no-shows costs you $1000 daily. For a business open seven days a week, that's $7000 weekly, $28,000 monthly, and $336,000 yearly. Case in point, the UK hairdressing industry loses 1.2 billion pounds (1.4 billion dollars) each year from no-shows.
Missed appointments don't just eat into your revenue—they also eat into your organization's time, efficiency, and customer satisfaction. And even late appointments can throw off your entire schedule—causing wait times, decreasing customer satisfaction, and losing you customers.
You can't prevent all no-shows or late arrivals. Customers or patients may have emergencies or simply not feel well enough to show up. But some customers simply forget they have appointments. You can prevent these no-shows with appointment reminder texts.
Appointment reminder text messages can reduce no-shows by up to 38%, which makes sense considering that texts have an impressive 98% open rate. They're an easy way to increase the number of customers who walk through your doors.
In this guide, we'll explore:
What appointment reminder texts are
What to keep in mind when writing one
28 text message appointment reminder templates
Best practices for sending reminders
Let's get started.
What Is an Appointment Reminder Text?
An appointment reminder text is a message a business sends to confirm an appointment with a customer. It prevents busy customers from forgetting their appointments or even arriving late.
These texts can be short and simple. They can also be more detailed, including appointment details, emojis, links, or team members' signatures. Here are two examples of the types of reminders businesses send: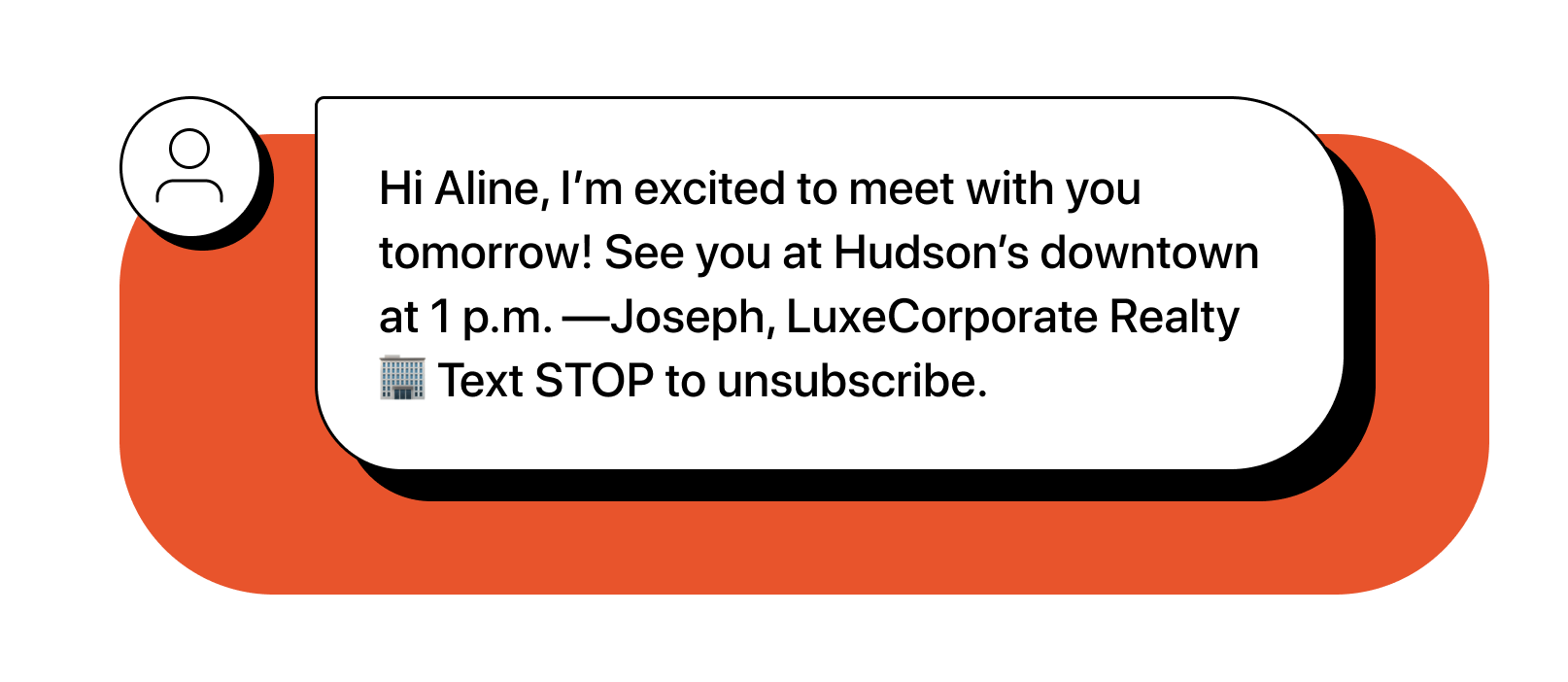 What to Keep in Mind as You Write Your Reminder Texts
Before you send reminder texts, consider your goal—to get your customers or patients to show up. Think through what might help them remember your appointment and feel encouraged enough to come. At the very least, include:
Appointment details
Customers can't show up if they don't know when or where they need to be somewhere. Include your business's name (and branch if you have multiple locations), appointment date, and appointment time. If they need to bring something or do anything special (like enter a building code) include that too.
Personalization
Make it clear that you know who you're texting! At the very least, include the customer's name. You can also add the signature of the team member who will be taking care of the customer.
Steps to reschedule or cancel
If your team is equipped to have two-way SMS customer service chats, offer customers the option to reschedule or cancel their appointments. Consider creating an option for them to confirm the appointment, too.
Opt-out information
Your customers must opt in to receive your appointment reminders before you send them. They should also have the option to opt out at any time. Include simple opt-out keywords and instructions at the bottom of each SMS reminder.
28 Examples of Appointment Reminder Text Templates
SMS templates are reusable texts that help you send appointment reminders faster. You can choose a template, then adjust it and send it to a patient or customer. You can also choose a template with custom fields and send it to a list of customers; your texting platform will personalize each outgoing message with the relevant appointment information.
At a minimum, you need to include your business name, appointment date, and appointment time in your reminder. Here's what a basic appointment template looks like:
You'll want to spice up your texts based on your branding, industry, and message purpose. To help spark your imagination, explore the following appointment reminder text examples from several industries, from medical to automotive. Feel free to adjust and use these templates for your own business!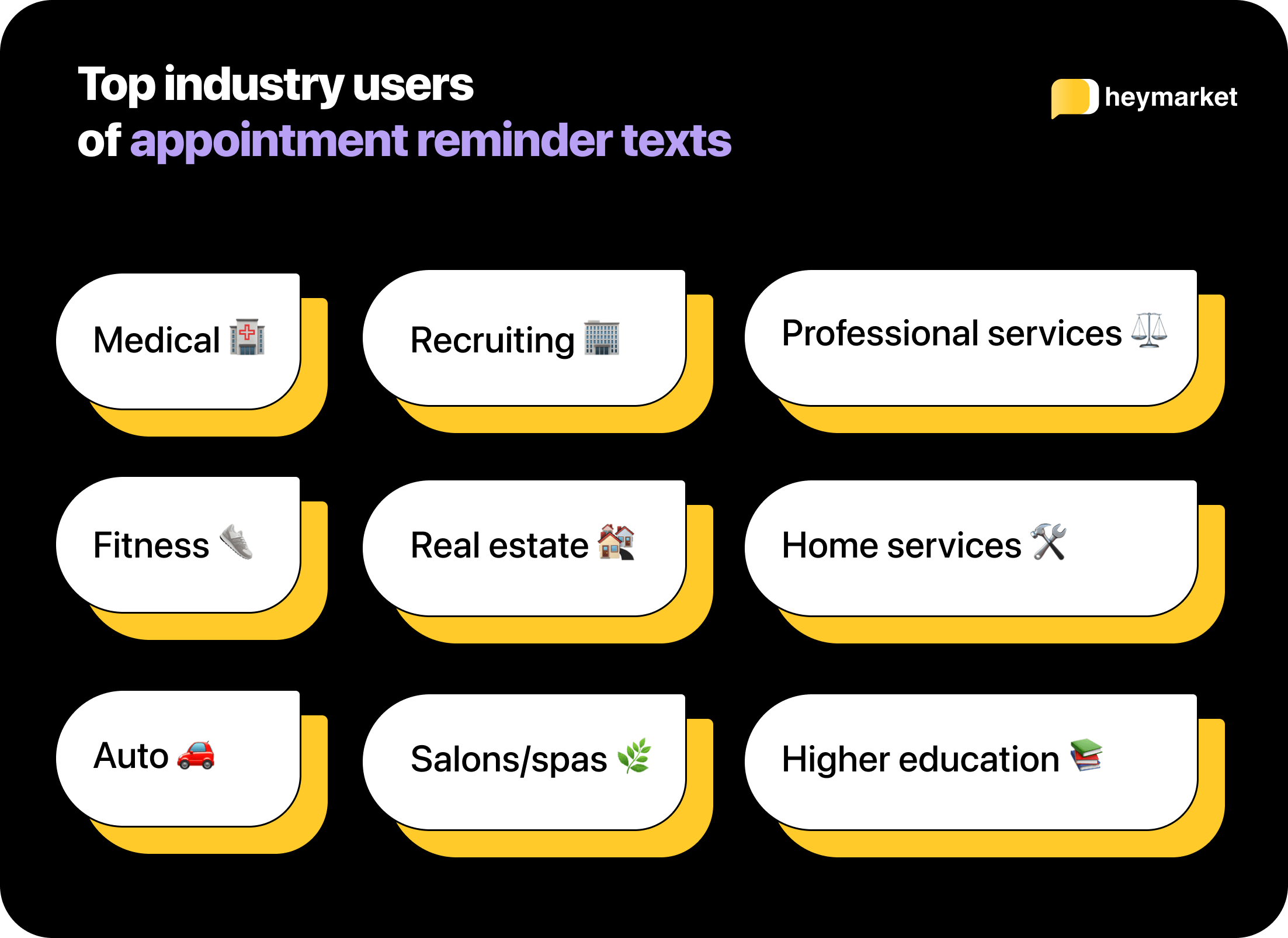 Medical Organizations
When it comes to medical texting appointment reminders, HIPAA mandates that you refrain from texting patients any personal health details. Only mention administrative details like dates and times when sending clinic or doctor appointment reminder texts. Consider pointing patients toward their secure portals for more information.
Recruiting
The more job interviews you do, the more likely you'll find the perfect candidate. Use text recruiting to make sure they're showing up prepared with quick, to-the-point reminders. Consider giving candidates an option to reschedule or cancel their interviews to keep the recruiting pipeline moving smoothly.
Professional services
Clients can forget meetings easily—especially if you meet with them on an annual or quarterly basis. Include meeting topics in semi-regular reminders so they know exactly why they need to show up.
Home services
It's critical that clients remember their appointments with your home services team—otherwise you might not be able to complete the work at all. Personalizing these messages can help customers feel more comfortable with your presence in their homes and help your team do their work as planned.
Real estate
Clear reminders help you keep house showings on schedule—and make it easier to snatch up the dream home for your clients. Add a lot of personality into your real estate text messages to help strengthen your connection with homebuyers.
Higher education
Prospective and current college students are entering one of the busiest times of their lives. Help them meet deadlines with short and sweet college SMS reminders that they'll actually check.
Fitness
The gym might be the last thing on your busy members' minds. Keep your fitness classes full with appointment reminders a day or two before the class and the day of. Include any equipment they might need to bring along.
Salons and spas
Missed appointments mean missed revenue for your salon or spa. A late appointment means your entire schedule runs behind. Prevent no-shows and late-shows with one or two reminders. Consider adding a stylist's signature for a personal touch.
Automotive Dealerships and Repair Shops
Encourage customers to show up to test drives and tune-ups with automotive appointment reminders. Include a sales team member name or signature if they've connected with one already.
Best Practices for Sending Text Reminders
Once you've written your SMS reminder, it's time to send it. But first, you have to ensure your customers or patients have opted in to receiving them in the first place. Here are best practices to keep in mind before pressing send:
Get opt-in.
You can't text your customers without their permission. Get their opt-in for appointment reminders by creating an online form (e.g., a checkbox) or asking customers to text a confirmation keyword (e.g., YES). In addition, you should get familiar with text messaging opt-in best practices.
Make it easy to opt out.
Customers must choose to receive your texts. They should also have the option to stop receiving them. Simplify the opt-out process with clear opt-out instructions at the bottom of your SMS reminders. Customers should be able to text basic keywords, like STOP, END, and ENDALL to opt out.
Be strategic about send time.
Send your reminders too early, and customers may forget about them before their appointments. Send them too late, and customers might be on their way to something else. Consider sending two reminders—one a few days early, one a day before, and/or one the day of.
Automate where possible.
Sending appointment reminders one-by-one can be time-consuming. Take advantage of your business texting platform's text automations to save time. For example, you can:
Set up a response workflow.
If you included options in your text (e.g., "Text 1 to confirm, 2 to reschedule, and 3 to cancel") consider creating an automated reply for each instance. That way, team members don't have to respond each time a customer confirms or cancels an appointment.
If you integrate text messaging with your CRM system, you can also build advanced workflows that automatically allow customers to change or reschedule their appointments based on their response.
Next Steps: After the Reminder Text
Reminder texts are an effective way to get your customers, clients, and patients to show up. With efficiency adjustments—like using automations—you can send hundreds of reminders with the click of a button.
What's your next step after sending a reminder text? If customers do attend the appointment, you can send a chat-based SMS survey through the same exact channel:
We were so glad to see you today! Let us know how your appointment went. Text STOP to unsubscribe.
Keeping customer communications in their favorite channel is a powerful way to increase response rates overall—and build stronger relationships.
Need more text message templates? Check out our 10 Must-Have SMS Templates.