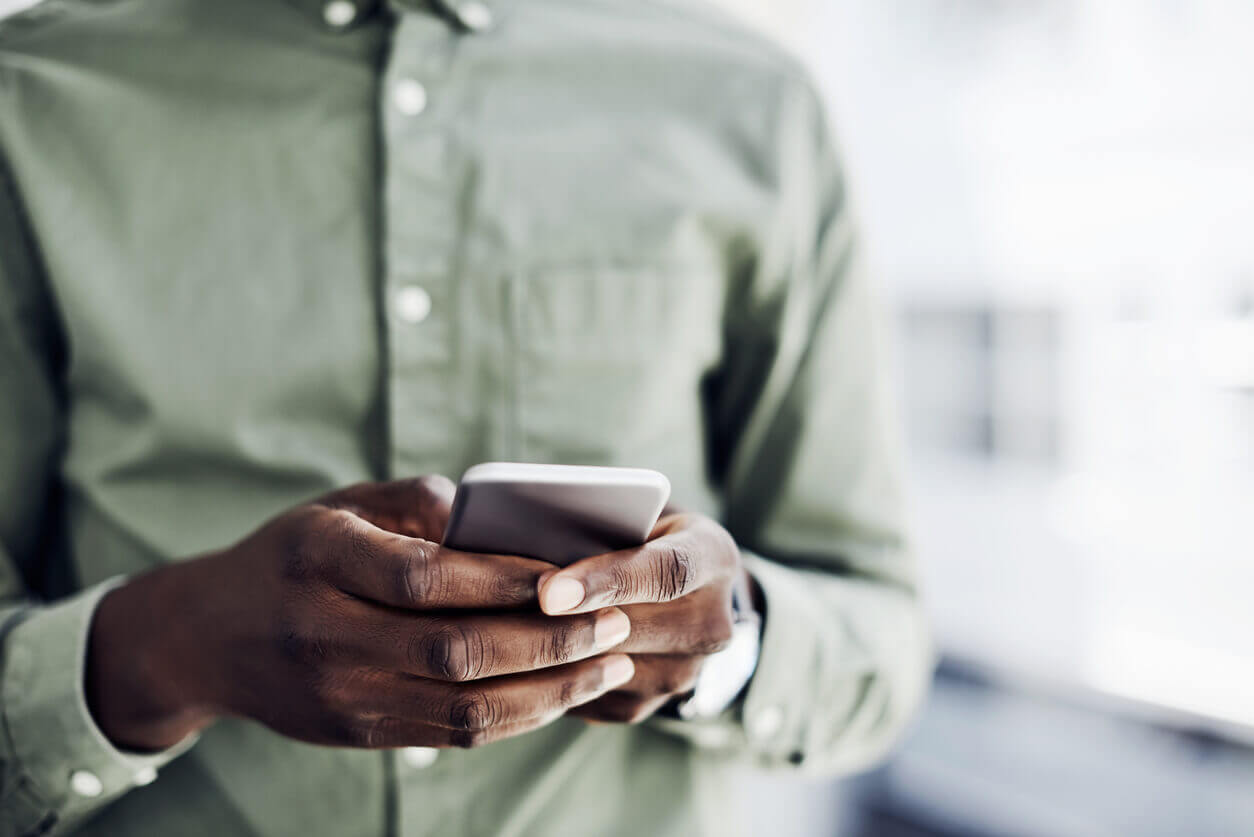 Customers missing appointments creates headaches for business across industries, from healthcare to hospitality. Professionals lose valuable time, team members have to shift their schedules, and businesses miss out on revenue. In the U.S. healthcare industry alone, missed appointments cost $150 billion.
Appointment confirmation texts are an effective way to prevent missed appointments. With help from a polite—and personalized—reminder, your patients and customers will be less likely to skip out on your services. Instead, they'll walk through your doors on time and ready to engage with your team.
Read on to learn:
What an appointment confirmation text is
Why you need one
How to start sending them
What effective confirmations across industries look like
Let's get started.
What Is an Appointment Confirmation Text?
An appointment confirmation text is a message sent to remind a patient or customer of an appointment, meeting, or reservation. The term can refer specifically to confirmations sent directly after an appointment is made. Alternatively, it may be used more loosely to refer to any appointment updates, including confirmations, reminders, and cancellation alerts.
Appointment confirmation texts are used in many industries, but are most often seen in consumer-facing industries like:
That being said, they are also used in the finance, B2B, insurance, automotive, and retail industries, among others. If a business relies on appointments for revenue in any way, then it probably uses (or should use) texts to confirm appointments.
Why It's Important to Send Appointment Confirmations
Missed appointments and reservations plague many industries and companies. In the medical field, 42% of appointments become no-shows. For salons, 44% of clients aged 18-29 have skipped a hair appointment at least once. Twenty percent of big-city diners miss restaurant reservations.
No-shows can disrupt your working schedule and even affect your business's revenue. For example, missed appointments have led to:
Sending appointment confirmations and reminders helps prevent missed appointments. Sending them by text—which has a read rate of 98%—is even more effective.
How to Confirm an Appointment by Text
Sending an appointment confirmation text is easy, as long as you have a text service for business to help. The steps may differ slightly depending on the platform you use, but they'll look something like this:
Decide on your use case. There are many ways to ensure customers show up to their appointments. You can send a confirmation text right away, then a reminder later. If customers cancel their appointments, you can also send an appointment cancellation text message. Choose your text type so you can create a relevant message in the next step.
Write your confirmation template. Next, create your template. You'll want to include space for customers' custom fields, such as first name and appointment date, so you can provide customers with as much detail as possible. If you integrate your SMS platform with your CRM or eCommerce platform, your SMS platform will draw custom fields from there.
Create an automation. While you can send appointment confirmations one-by-one, that's a time-consuming process. Instead, create an automation to immediately send a confirmation text as soon as a patient or customer schedules an appointment. You'll need a CRM SMS integration to do this. Then you'll:

Choose a trigger. In this case, the trigger will be an appointment being scheduled in your CRM system.
Choose an action. The action will be sending a confirmation text.
Add any follow-up actions. You may choose to remind a customer about their upcoming appointment a certain number of days beforehand. You can automate that in your CRM system too: add another action to send a reminder text, then select the number of days before the appointment for it to automatically send.
Confirm the automation. Test the automation immediately to ensure it works for customers.
Checklist: How to confirm an appointment text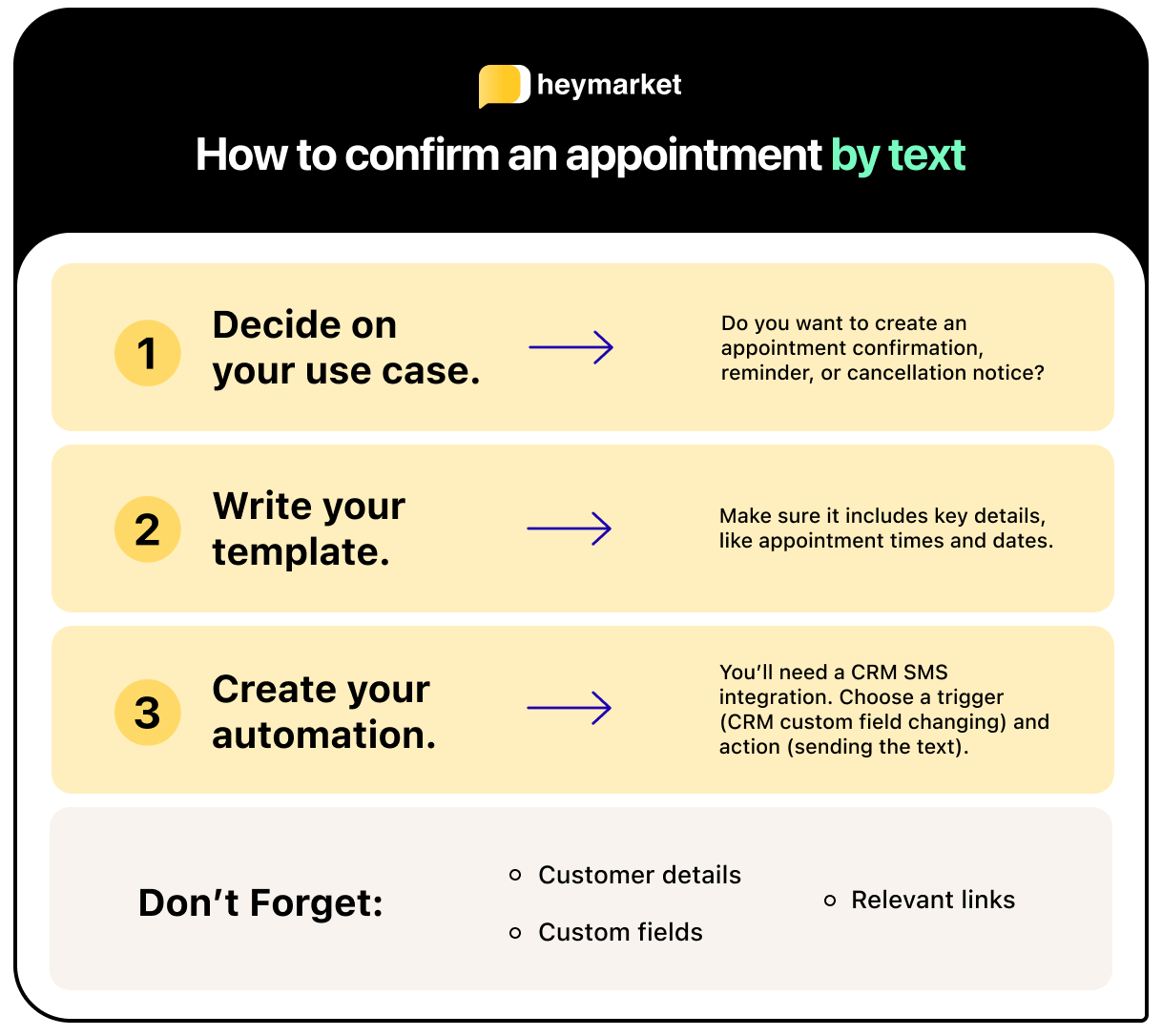 Effective confirmation texts attract customers' attention and give them the information they need. To create successful confirmation texts, include:
✅ Customer details. Use first names up front so customers know you're talking to them specifically. Include vital information like appointment time, appointment date, and even appointment location (especially if your business has multiple offices).
✅ Custom fields. You can add customers' information one-by-one, but it's easier to leave space for custom fields in your template and let your SMS platform do the heavy lifting. Again, you can use a CRM SMS integration to draw from custom fields in your CRM.
✅ Relevant links. If you need to, include links in your texts. You might insert a link to your secure portal, main website, or FAQ page. However, don't shorten links or you might run into compliance roadblocks.
14 Appointment Confirmation Text Templates
Now that you know how to create and send an appointment confirmation text, it's time for you to start creating your own. Here's some inspiration for the different types of appointment confirmations, across industries and brand types.
Appointment reminder texts
Keep four types of appointment update texts in your template arsenal: appointment confirmations, reminders, cancellation alerts, and rescheduling requests. Here are examples of each of these types of messages from one dentist's office:
Hi Tanner! Your appointment with Two Cities Dental, Carepoint East Location, is on 5/11 at 1:00pm. Text CHANGE to reschedule or CANCEL to cancel. Text STOP to stop receiving reminders.
Don't forget, Tanner — you've got an appointment at Two Cities Dental on 5/11 at 1:00pm. Text CHANGE to reschedule or CANCEL to cancel. Text STOP to stop receiving reminders.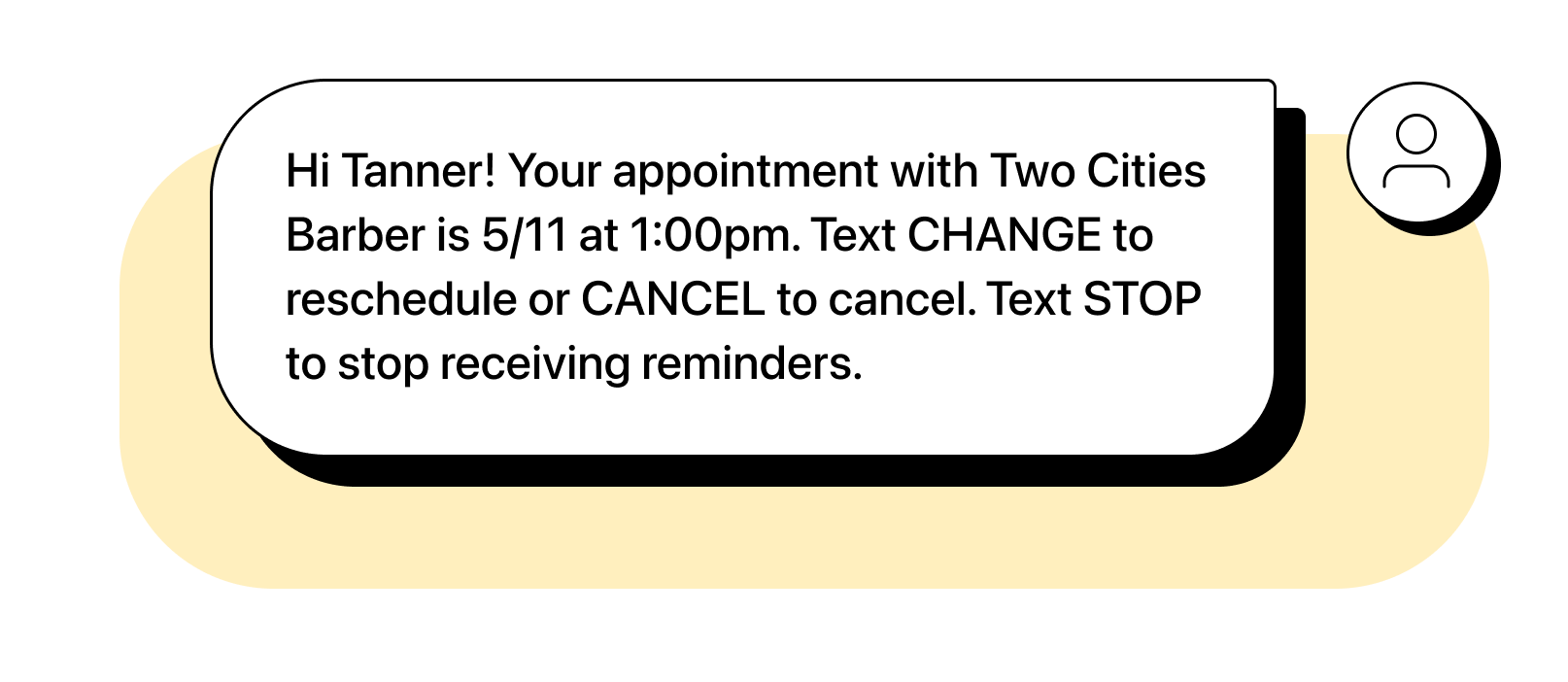 Ok, let's reschedule! Please follow this link to the Two Cities Dental online scheduling website >> wwww.TwoCitiesDental.com/schedule.
You've canceled your appointment with Two Cities Dental on 5/11. Text SCHEDULE to make a new appointment. Text STOP to stop receiving reminders.
Industry Examples
Appointment confirmations will look different across industries. The content and tone of your messages will change based on your customer base. Here's a variety of appointment confirmation types suited for multiple industries, from recruiting to hospitality:
Hi, Samantha! Your interview is confirmed for 3:30pm on 12/2 at our San Francisco office (365 Martin St). Text HELP if you have a question. Text NO to unsubscribe. — ForSocial Team
Hello, Deyvon! Your appointment with The Mustache Barbers is at 9:00am on 2/27. Text CONFIRM to confirm or RESCHEDULE to make a change. Text STOP to stop receiving appointment alerts.
Mateo, your advising appointment with Jeannette is on Zoom at 3:30pm on February 3. Please bring all available tax forms. Reply with any questions or text CANCEL to unsubscribe. — GreenFast Financial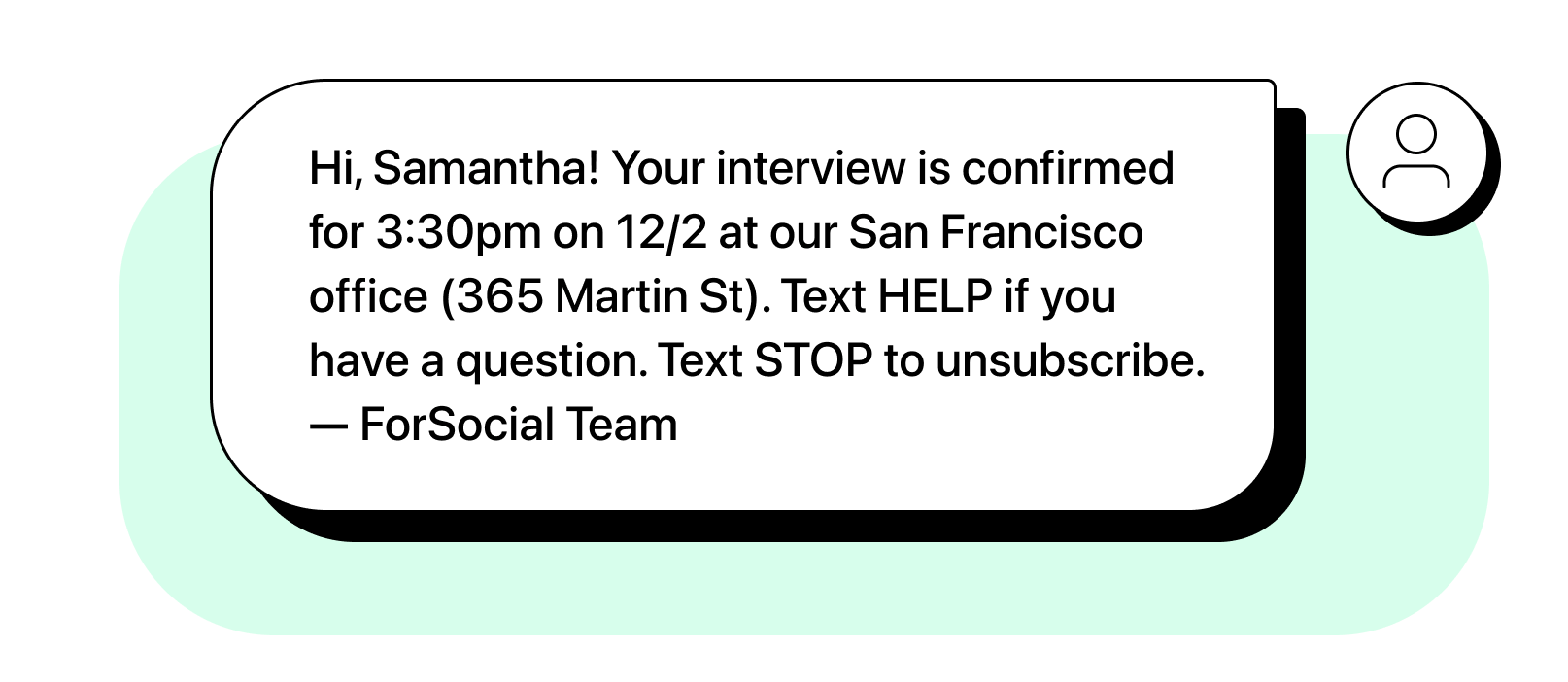 Hello, Katherine. Your consultation is scheduled for 9/2/2022 at 3:00pm. Text RESCHEDULE to change your appointment or text STOP to unsubscribe. — Toulane Direct Insurance
Hey there Muhommad, the Keelton University career team is excited to meet you on April 3 at 2:00pm! Text HELP if you have any questions. Text CANCEL to unsubscribe.
Hi Taryika, I've got us booked for a showing at 296 June Road on January 6, 6:30pm. 🏠 Text STOP to unsubscribe.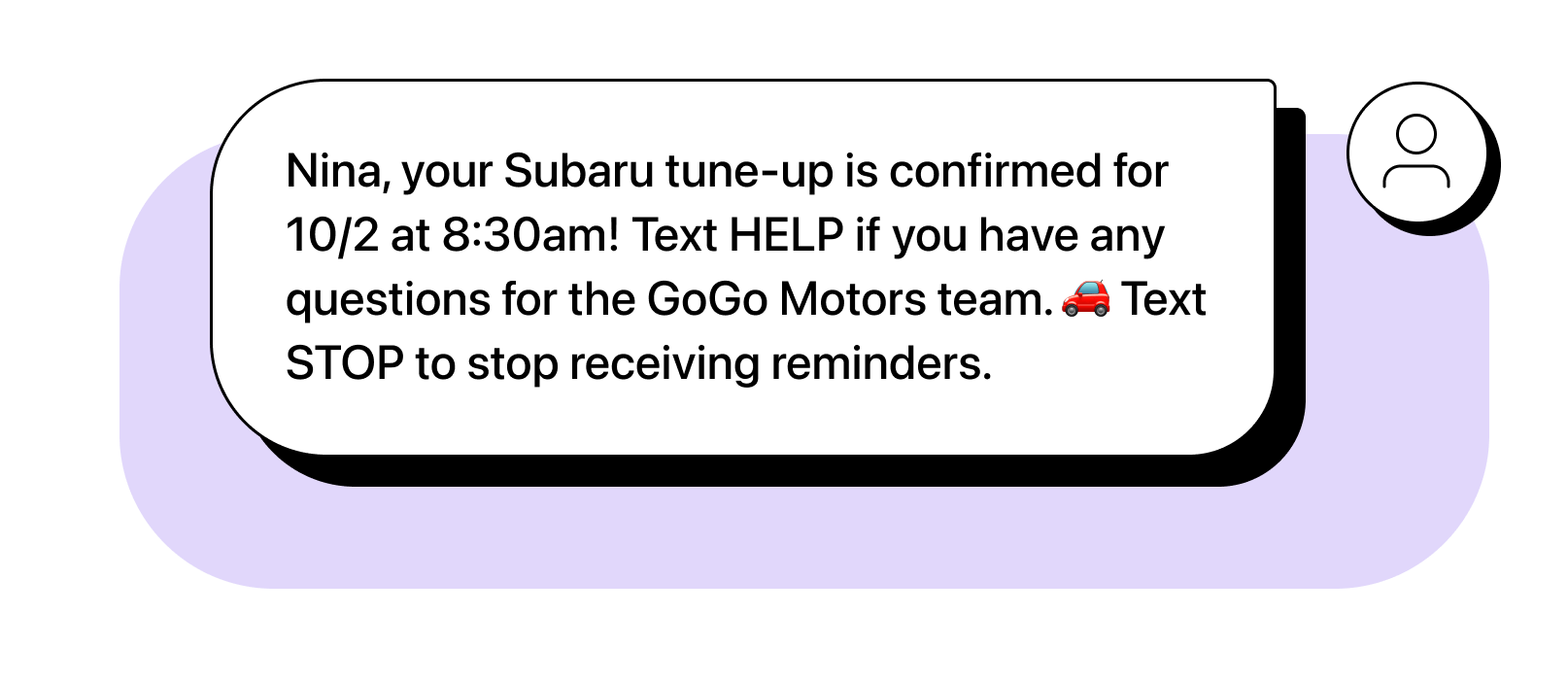 Nina, your Subaru tune-up is confirmed for 10/2 at 8:30am! Text HELP if you have any questions for the GoGo Motors team. 🚗 Text STOP to stop receiving reminders.
Sophia, your table at Dianna's Italian is confirmed for 2/18 at 6:30pm. Reply CANCEL to cancel. Text STOP to unsubscribe.
Hiya Justine! Liana, our stylist, will see you at Moonlight Weddings on 5/29 at 1:00pm for a fitting. Reply with any questions! Text STOP to cancel appointment updates.
Conclusion: Using Appointment Confirmation Texts in Your Messaging Strategy
Appointment confirmation texts work well as part of an all-encompassing messaging strategy. For example, you might send appointment confirmations and also offer SMS customer service, allowing patients or customers to respond with questions or concerns. This is an efficient way to continue to provide them with the support they need.
Here are three guidelines for using appointment confirmation texts in a broader SMS strategy:
Patients or customers must opt in before you send confirmation texts. Any brand that texts customers has to meet SMS compliance regulations. It's most important to secure customers' permission before you text them. You can do this by asking them to check a box on a web form when they schedule their appointment. Customers can also text in a special keyword to opt in to receive texts.
Only text customers information that they specifically requested. Customers must opt in to each specific SMS program you offer. For example, if they agree to receive appointment updates from your team, you can't send them marketing messages.
Remember that customers can reply. When customers respond to your appointment updates, they'll most likely request a new time. If you're using a conversational messaging platform, you can message them right back. In some cases they may want to discuss something other than scheduling, from basic information about your business to an issue with a service. In those cases, be ready to forward messages to the correct team member.
Appointment confirmations are a valuable tool for reducing no-shows. With these tips, you can start sending appointment confirmations that get customers walking through your doors right on time.