Gone are the days when 'Bring Your Own Device' (BYOD) was frowned upon by business executives and IT departments. Today, people are using their personal smartphones for numerous business applications at work, as well as for personal reasons.
Recent data shows that work and personal phone use have truly merged. About three-quarters of all smartphone owners use their personal devices for business purposes, according to a recent IDG/Heymarket survey, which queried 1,000 personal and business smartphone users. Mobile customer contact is growing among business users, who find it fast and convenient.
Mobility is a transformation that goes well beyond the technology itself. People who use a personal device expect a fast, personalized experience at every touchpoint of interaction, whether it's with a business, a colleague, or a customer.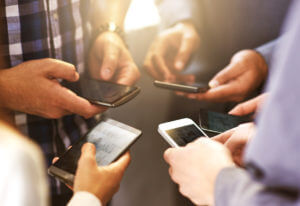 It's easy to understand the smartphone's appeal for customers, who can do comparison shopping in the palm of their hands. Contacting a business to ask questions or get support has never been easier. But smartphones alone, are not the solution when it comes to customer support. On mobile phones, customer support is done through voice, apps, and email, and results in all channels have been uneven at best. In one survey, online shoppers said voice support was the worst channel for customer service. Responding to the dismay, some big brands have switched from phone and email support to Twitter. While Twitter may be a good option for large companies with a dedicated staff to monitor the channel, it isn't practical for smaller companies. It can also backfire when unhappy customers share their anger publicly. Companies providing mobile customer service need to find a better way to catch up with customer expectations or they risk losing business. Forty-four percent of US consumers switch to a competitor following a poor customer service experience, and 89% have switched once or twice in the last year, according to a NewVoice survey.
Text messaging might be the key to turning problems around. In a survey by Ovum, 44% of respondents said they preferred texting with the customer service department because it was less time-consuming. Nearly a third said texting was less frustrating than calling. Text messaging has worked well for Nick Caputo, a store manager for HD Buttercup, a California company that sells home furnishings and design consulting.
After a piece of furniture has been delivered, customers send Caputo photos by texting through Heymarket's business text messaging platform. Caputo provides feedback about design and placement, saves the photos, and lets customers know when another piece that complements their living room lands in his store. He also uses texting to coordinate deliveries and schedule appointments, and reports that customer loyalty and engagement have increased.
Caputo is a pioneer. At this time, few companies have tried texting for customer service. But 47% of people in the IDG/Heymarket survey said they were considering switching to SMS messaging for customer support. In an age when customers expect their mobile phone to function as a personal assistant, it can't happen soon enough.