There's no question that text messaging is an effective way of reaching customers. Research shows that 98% of text messages are read, 90% of them within the first three seconds, and as many as 80% of customers respond.
But to succeed with business text messaging, you need to do more than sit back and encourage your staff to text customers. Unlike email campaigns, texts can be tough to track—they reside on the personal phone of the employee who sends them. If that person is unavailable, other staffers are unaware of the customer's motive.
Another problem is that ordinary text messaging doesn't lend itself to data analysis, an important tool to show not only who's buying, but their intent. Text messages also do not integrate nicely with CRM databases or marketing templates as seen with email.
Fortunately, all of these dilemmas can be solved with the right enterprise text messaging program. But, before shopping for a solution, take some time to consider your business's needs. What text messaging features are most important to you?
In an IDG/Heymarket survey, 52% of businesses said they wanted the ability to text message multiple customers simultaneously. Forty-five percent wanted to schedule text message delivery, 42% wanted auto replies, and 41% wanted full-on automated text messages.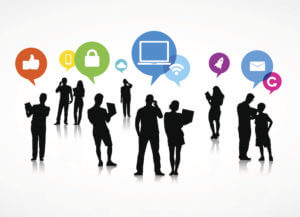 Other businesses want to merge SMS with their customer databases to personalize text messages or send targeted campaigns to different market segments using templates.
With the Heymarket's business text messaging platform, these questions can be answered. The more automated formatting and delivery the templates become, the more time your employees have to focus on the individual customers' needs.
Heymarket's enterprise text messaging platform allows employees to work better as a team. You can designate a single text message "number" for all your customers—even segmenting them into certain groups. This enables any workers you designate to see customer texts, instead of just the worker who initiated contact.
Customers are more responsive to texts, and they also expect a quicker response.. If a client needs immediate help, they're more likely to get a response if their text goes to a team, especially if it's after hours.
Another reason you might want to consider enterprise SMS is sending videos. Like texting, videos are extremely effective in capturing customers' attention.
Unfortunately, emailed videos can be blocked by customer firewalls, and likelytake ample time to get delivered. Heymarket's enterprise SMS platform can ensure fast, effective delivery, which is especially helpful if your video shows customers how to use your product or solve a problem. With text messaging, customers will respond quicker if they need additional information or assistance – and will be impressed by your timeliness.
In today's fast-paced world, customers expect business dialog to be direct and immediate, much like a conversation. Business owners can achieve this level of customer communication with Heymarket's text service for business. Start your free trial today!