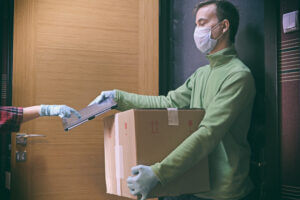 Highly infectious viruses are now a real risk—but delivery services, which have kept the U.S. economy running, have started to respond. Using tools like new sanitation processes and business SMS, dispatch and operations teams have been able to make deliveries safer than ever before. 
Where real-time communications were useful for delivery purposes before, now they're crucial. Today's healthcare recommendations require customers and delivery workers to keep their distance from everyone—including one another. In-person conversations are now rare, but business SMS is a fast and easy-to-use replacement. Through text, dispatch teams can achieve all they did before. 
Read on to learn more about how your team can use business SMS to make deliveries safe. 
Facilitate Contactless Deliveries
Not many people knew about contactless deliveries before, but now, they're commonplace. Contactless deliveries empower delivery workers to leave packages without talking to potentially sick customers. 
Business SMS makes contactless deliveries easy. Delivery workers can simply text opted-in customers when their deliveries are at the front door. They can also text customers:
Reminders as they wait from a distance to ensure sensitive deliveries are picked up

Quick photos of delivery locations (e.g., behind a column)

Refrigeration or storage requirements
Texting customers also empowers customers to reply quickly. If the customer can't find a delivery, they can quickly send a note that is either directed straight to the delivery worker or to your business's operations team. Communicating through text, dispatch teams can help customers solve these types of problems fluidly. 
Remind Workers About Sanitation Processes 
In the face of the COVID-19 pandemic, your business probably changed or implemented sanitation processes for the protection of your teams and customers. However, it's hard for a team to adjust to so many changes at once without a few reminders.
Dispatch text messaging makes it easy for operations managers to provide reminders about sanitation and other new processes. These might include reminders about:
Hand sanitizing

Social distancing with customers and other delivery workers

Package or warehouse cleaning
To make it even easier for operations managers, they can send personalized business text messages to dozens or hundreds of employees in a single click. They can simply select a list of employees, choose or create a template, then send or schedule the message. Team members can schedule multiple messages at once, or just create a SMS drip campaign to automate the whole process. The business SMS platform personalizes each outgoing message by using merge tokens to draw on employees' custom fields. 
Manage Flexible Working Teams 
It's critical that any workers with symptoms—including mild symptoms—stay home to protect your workforce. But to ensure that your delivery team can support time off for sick team members, you need to ensure that they are flexible enough.
Dispatch text messaging empowers you to manage delivery teams quickly and conveniently. Through business SMS, your delivery workers can:
Text in if they're feeling ill

Reply to requests for overtime or extra shifts

Receive scheduled shift reminders
With fast scheduling, managers can create flexible work schedules that allow team members time to rest and sick workers to stay home while healthy team members lead the charge. Business SMS doesn't add extra time for operations managers, either; they can send a single, personalized mass text asking for overtime or relaying a shift reminder, then answer team member replies one by one.
Keep Customers In-the-Know
Customers want—and need—to know what you're doing to keep them safe. Since it's likely that your processes will change as the response to the virus evolves, operational updates might become the norm.
Using dispatch text messaging is the fastest way to share these changes. Your team might send:
New warehouse or package sanitation processes

Warehouse or delivery operational changes

Customer asks (e.g., avoiding in-person contact with your delivery driver)
If your customers can receive these updates in a convenient channel, like business SMS, they're much more likely to read and adhere to them. By communicating through text, dispatch teams can keep customers on top of the latest changes. And an up-to-date customer is key to a safe and satisfactory delivery process.
Want to learn more ways to use business SMS during a virus outbreak? Check out our blog.