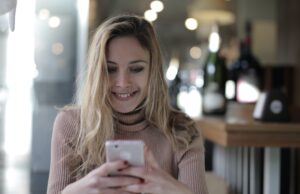 Once customers have made a purchase, it's more important than ever to keep them interested in and satisfied with your brand. After all, repeat customers are 9 times more likely to convert than first time shoppers. 
But reaching out to customers after they've made purchases can be a delicate dance. You don't want to advertise any of your products and services after they've bought one. But you don't want them to forget about your brand, either. You have to find a way to reach out in an authentic way that reminds them of how much they enjoy your products. 
Read on to learn 5 ways to re-engage customers with business SMS. 
Re-Engagement Tip #1: Follow Up After Purchases
Your team should send a follow-up note after every purchase. (If, of course, customers have opted into your business SMS service.) This is a great way to ensure customers are enjoying their products, answer their questions, and remind them that your team is ready to help. It'll also keep your brand top of mind. 
Be sure to include the following in any follow-up texts:
Custom information, including first names and order numbers

A reminder that customers can text back with questions, now or in the future

Emojis or GIFs, if appropriate for your branding
Your team may already send a generic followup or feedback request after customers make purchases. In this case, review the text to ensure it's as customized as possible. If you don't already, be sure to include an employee's signature at the end of the text to show your customers that the message was sent by a person and not a bot. 
Re-Engagement Tip #2: Provide Updates on Models and Upgrades
If your business comes out with a new product or service similar to past offerings, feel free to let your customers know. There's a good chance they'll be interested in that information—and that they'll make a purchase upon hearing about it. 
Texts customers with updates about new:
Inventory for frequently out-of-stock items

Releases from a designer they have shown interest in

Upgrades or add-ons for products
Make these update texts as service-focused as possible. You don't want customers to feel as though they are being pressured to make purchases. For a call to action, ask customers to text back if they have questions. Then your team can engage them in conversational marketing over SMS. 
Re-Engagement Tip #3: Mention Relevant Upcoming Events
Certain products—especially big-ticket items like cars, electronics, and fashion—inspire enthusiastic fan bases. Letting customers know about local events that involve their passions can help them find like-minded friends. It'll also keep them interested in your products. 
Text customers information about relevant:
Trade shows and conferences

Speeches or other events

Online meet-ups (via Zoom or other video conferencing tools)
Let customers know that they can text you for more information. Your team can either answer their questions directly or put them in contact with event managers. 
Re-Engagement Tip #4: Send Surveys and Polls
Customers want to feel as though you value their opinions. Sending surveys and polls is a great way to make them feel heard, gain actionable information and feedback, and interest them in your upcoming collaborations and projects. 
Consider sending texts that ask customers:
Which upcoming products they'd prefer you offer

Whether they'd prefer one product or another as a free gift for upcoming purchases

Their feelings about your current products, shop, or branding
When customers respond, be sure to thank them for their input. After all the results are in, follow up with a text explaining or showing results. Everyone likes to see how their answers measure up against their peers'! 
Re-Engagement Tip #5: Offer Seasonal Greetings and Tips
There are multiple times of year when customers expect seasonal greetings from brands. Thanksgiving, Christmas and Hanukkah (often simply referred to as "Happy Holidays"), and New Year's Eve are common examples. Customers wouldn't balk at greetings during Valentine's Day, St. Patrick's Day, or Halloween, either. These are excellent opportunities to touch base with your customers. 
In seasonal greetings, you should include:
Clear, non-denominational well wishes

A reference to your brand (e.g., "Don't forget we'll be closed all day to celebrate!")

An appropriate emoji or GIF, if it adheres to your branding guidelines
Customers will read your seasonal greetings, appreciate the note, and, hopefully, remember your brand when it's time for their next shopping trips. 
Want to learn other ways to re-engage customers? Check out our blog.