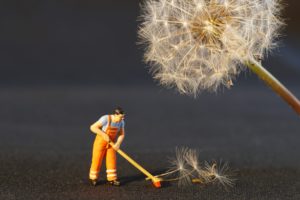 Now that the sun is shining, people are starting to notice dusty spots their vacuum cleaners missed over winter. In other words, cleaning businesses know that the hectic spring cleaning rush is about to begin. With business SMS, they can ensure their schedules stay packed—and organized. 
Many home services companies have already started focusing their communications on business text messaging instead of phone calls. Business SMS platforms empower home services companies to send, receive, and organize masses of client and contractor texts. This makes it easier for small administrative teams to run large cleaning operations. (My Amazing Maid, for example, manages 500 cleanings each month with a 2-person administrative team.) 
How can your cleaning company use business SMS to both increase and manage spring cleaning bookings? Read on to find out. 
List Your Business SMS Number Across Your Website
First and foremost, you'll want to list your business text messaging number across your website, social media pages, and Google My Business page. Potential clients are very comfortable with texting. In fact, 89% of consumers want to use it to connect with businesses. Additionally, you can offer an Apple Business Chat entry point for iOS users; top business SMS platforms will accept incoming messages from that channel, too. By offering consumers multiple quick ways to reach out with questions, you'll make it more likely that they'll connect with your team—and, eventually, reserve a spring cleaning session.
Publicize a Business SMS Q&A Channel
Simply listing your business text messaging number isn't enough. You'll need to include verbiage about your texting services, too. Many companies advertise that their SMS services are manned by industry experts. For spring cleaning, you may want to let potential clients know that your team is available to answer questions about spring cleaning must-dos and tips (for free!) through your business SMS line. This will encourage potential clients to text in for advice and, after their questions are answered, book a spring cleaning session with your team. 
Automate Some Business SMS Answers
A business text messaging platform empowers your team to automate some answers to common client questions. Teams can set up an automation based on keywords in incoming client messages. For example, when the platform receives a text that includes the keywords "operating hours" or "hours of operation," it can send a text back that lists the hours of operation. This automation reduces the workload for your administrative team, allowing them to focus on more in-depth customer questions about spring cleaning services.
Add Your Business SMS to Spring Cleaning Ads
Your business is probably running spring cleaning ads. Be sure to include your business text messaging number in all ad copy, at the bottom of an image or in the accompanying text. In many cases, you can even integrate business text messaging into social media and search ads. For example, with the proper setup, Google Ads lets companies include a business text messaging number that potential clients can tap. Then, your number immediately populates in their native texting apps. 
Keep Your Business SMS Contacts In-The-Know
Once clients opt in to your business text messaging services, you can send them valuable content occasionally. In the spring, consider sending a list of spring cleaning tips or recommendations for the best cleaning supplies. These tips are valuable to clients who want to clean up by themselves. In some cases, these texts can remind your clients of the time of year, so they'll remember to book their annual spring cleaning session. 
Manage Scheduling through Business SMS
Scheduling spring cleaning via email is tedious, with clients taking hours—and sometimes days—to respond. Scheduling via phone calls can be difficult, as each phone call demands the full attention of administrative team members. With business text messaging, scheduling sessions are conducted in near real-time. Plus, 90% of texts are read within three seconds of receipt, so your clients can have their spring cleaning sessions booked within minutes. 
Provide Business SMS Notifications Before Bookings
With so many spring cleaning bookings on the docket, administrative teams struggle to call each client to remind them about their upcoming service. Business text messaging empowers administrative teams to text many clients in a single click. After a team member selects a list of recipients and a template, your business text messaging platform will automatically fill in personalized information for each recipient using merge tokens that draw on custom fields.  
Coordinate with In-Field Staff Via Business SMS
Cleaners rarely have a perfect day with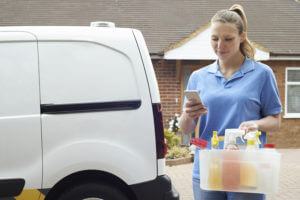 absolutely no problems. Sometimes they'll arrive at the wrong address. In many cases, traffic is abnormally bad and they are late. Occasionally, the location is far messier than previously reported. Regardless of the cause, business text messaging empowers your in-field staff to quickly message your administrative team when something goes wrong during a spring cleaning visit. Then, your internal team can then text the client to either inform them about the delay or ask them about qualifying details. Business SMS is particularly useful for seasonal or contract workers, who are more likely to embrace communicating through a channel they are already familiar with. 
Send Surveys through Business SMS
One of the best ways to improve your spring cleaning experience for clients is to ask them how your team performed. However, many clients ignore surveys sent through email. (Email has a 20% open rate, after all.) Alternatively, business text messaging has a response rate of up to 80%, according to Heymarket research, and about 1 in 5 people will click a link in a text compared to just 4.2% for email. When your cleaning business sends a survey through business text messaging, you're much more likely to get the responses you need. 
Encourage Online Reviews via Business SMS
Seventy-six percent of people trust online reviews as much as they trust recommendations from family and friends. Business text messaging's high response rate and link click rate make it the best channel for asking for reviews. Be sure to mention the review channel of your choice in the review request text. With more positive online reviews, your cleaning company can expect even more spring cleaning bookings next year. 
Want to streamline your spring cleaning season? Try our business SMS platform today.