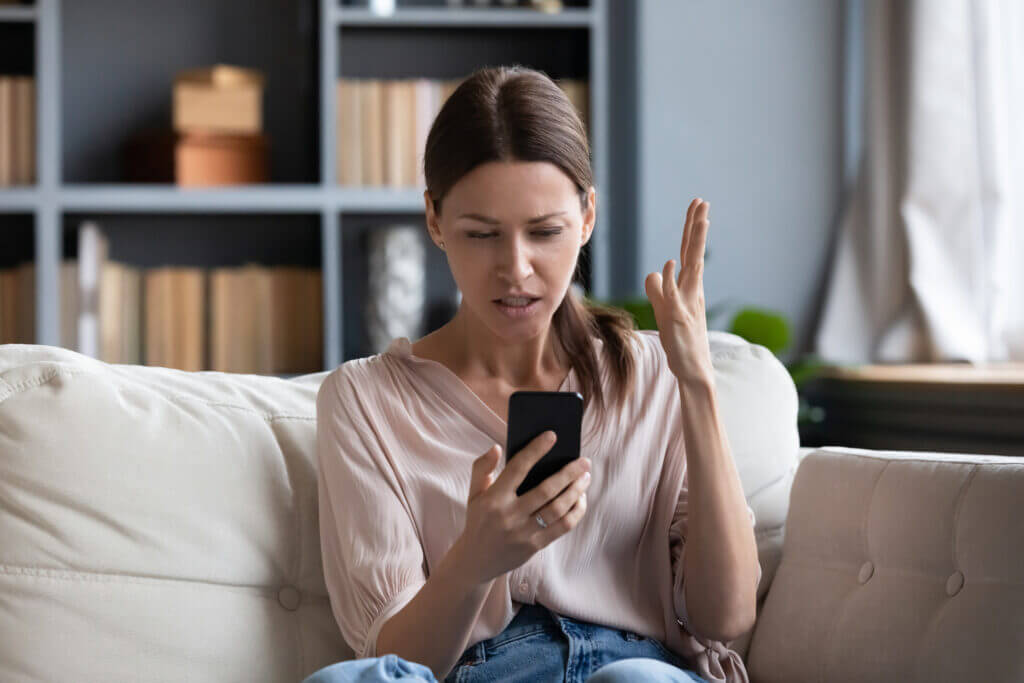 SMS messages have high read and response rates. That's why text message promotions can be so effective. But if you want them to have as much impact as possible, your promotions can't seem spammy. 
What Are Text Message Promotions? 
Text message promotions are messages that include special deals for people who subscribe to your SMS services. These messages might mention SMS-specific coupons, discounts, or even first-access opportunities for events and new products. They're a popular subcategory of conversational marketing, a new messaging strategy. The strategy emphasizes the importance of prioritizing inbound messages and non-promotional engagement content, but does include guidelines for text message promotions. 
Why Should You Be Careful About Spamming Customers?
Your leads and customers don't like to be texted with information that isn't relevant to them. While you may be well-intentioned with your promotions, if they don't provide immediate value to the customers receiving them, customers may see those texts as spam. If they feel like all you send is spam, they will consider unsubscribing from your SMS services. You don't want customers to unsubscribe en masse. Having a large SMS subscriber list comes with a lot of benefits, like direct access to customers. 
5 Tips for Sending Text Message Promotions
In general, you should refrain from sending text message promotions frequently. Prioritize customer service messages, conversational support content, and other types of conversational marketing content. When you do send text message promotions, follow these key tips so that customers don't perceive them as spam:
Tip #1: Only Send Promotions to Opted-In Customers
You should only text opted-in customers in the first place. That's the law, according to the TCPA. Plus, asking leads and customers to opt in shows that you prioritize their privacy. This becomes particularly important when you're sending promotions. Leads and customers who have opted in are far more likely to welcome and use them.
Tip #2: Ease Promotions into Chats When Possible
You don't have to blast all of your subscribers at once with promotions. Instead, consider including them in ongoing customer chats when possible. Including them in current conversations can feel more natural to customers, and not salesy. For example, after customer service team members have successfully managed returns, they can offer customers a one-time discount to encourage them to try other items in your product line. 
Tip #3: Send Relevant Promotions to Targeted Lists
When you send text message promotions outside of active chats, send them to targeted lists. This way, you can ensure that promotions are relevant to the people you're contacting. For example, you might send a loyalty-themed promotion to loyalty members, and a new-product discount to people who text in about product marketing campaigns. 
Tip #4: Personalize Each Text
Personalization is critical. Including personal details in texts lets customers know that you care about providing a promotion genuinely improves their experience. With a business SMS platform, you can include custom fields in your SMS templates. When you send SMS templates to lists, your business SMS platform will insert each individual's information. 
Tip #5: Provide Real Value
Don't send your SMS subscribers repeat deals that they can find on your website or social media. They could access that information on your website if they wanted. Offer your SMS subscribers SMS-specific deals that are tailored to improve their specific experience. This will let them know that you're well aware of how they use your products and connect with your brand. It will also make it more likely that they'll take advantage of the deals you're offering. 
Want to learn more conversational marketing tactics? Check out our blog.