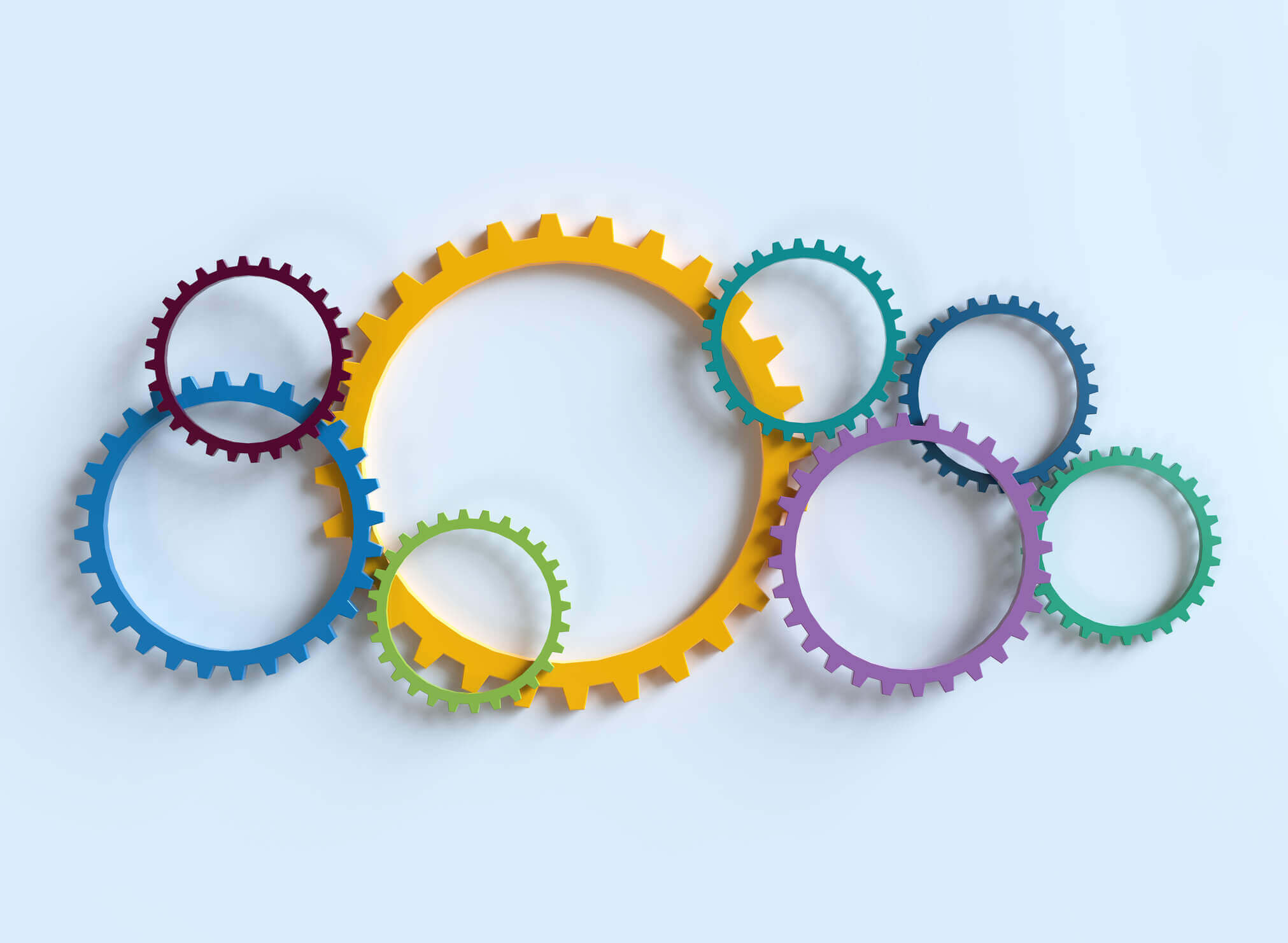 Business SMS is a powerful tool for eCommerce brands. Teams can use it to help customers find the products they need, support the ordering and delivery processes, and make sure they're satisfied with their purchases. But sending the same texts over and over in these situations can be time-consuming.
Automations, which are becoming more vital to every aspect of business operations, can help. Text automations take over simple texting tasks for your team. They help you save time while maintaining personalized connections with your customers.
This guide will walk you through how to set up text automations for eCommerce businesses with a Shopify website.
What Are Text Automations?
Text automations take the place of simple tasks related to messaging. For example, a text automation can send a pre-written message when customers reach a certain point in their journeys, like when they place orders.
But text automations aren't limited to sending messages: you can also use them to add customers to a list, route messages to a specific team member, or send a survey, to name a few other actions.
Ultimately, text automations for eCommerce reduce the manual steps your team has to take to connect with customers via SMS.
Want to learn more about using automations to streamline your workflows? Read our ebook Automated Text Messaging: The Complete Guide
Get the guide
How Do Text Automations Help Your Shopify Store?
Businesses are already sending text messages in Shopify to connect with customers. Text automations help you scale your messaging.
You can update customers throughout the order and delivery process, set expectations about your team's response times, answer simple FAQs automatically, consistently follow up after customer interactions, and streamline internal workflows.
Text automations help you respond to customers immediately, freeing up your team's time to focus on more complex orders and questions.
What Do You Need to Set Up Text Automations?
You need two tools before you can set up your eCommerce text automations. These tools are:
A Shopify website. Shopify empowers you to sell your products and centralize customer management, all in one place. While there are multiple eCommerce platforms on the market, Shopify is a popular option that can integrate with business SMS platforms.
A business SMS platform. This tool allows you to send, receive, and manage texts from both native SMS apps and third-party messaging services, like Facebook Messenger and WhatsApp. Your choice of platform should offer a Shopify SMS integration.
After you have both of these tools, you need to integrate them. To set up a Shopify SMS integration with a business SMS platform like Heymarket, for example, you'll find Heymarket on the Shopify app store, install the app, log into your Heymarket account, and follow the prompts to configure your integration.
How to Set Up Text Automations for Your eCommerce Shop
There are multiple text automations you can set up with a Shopify SMS integration. All help you stay seamlessly in contact with your customers, while keeping your SMS workflows running smoothly. Here are the two main types of automations: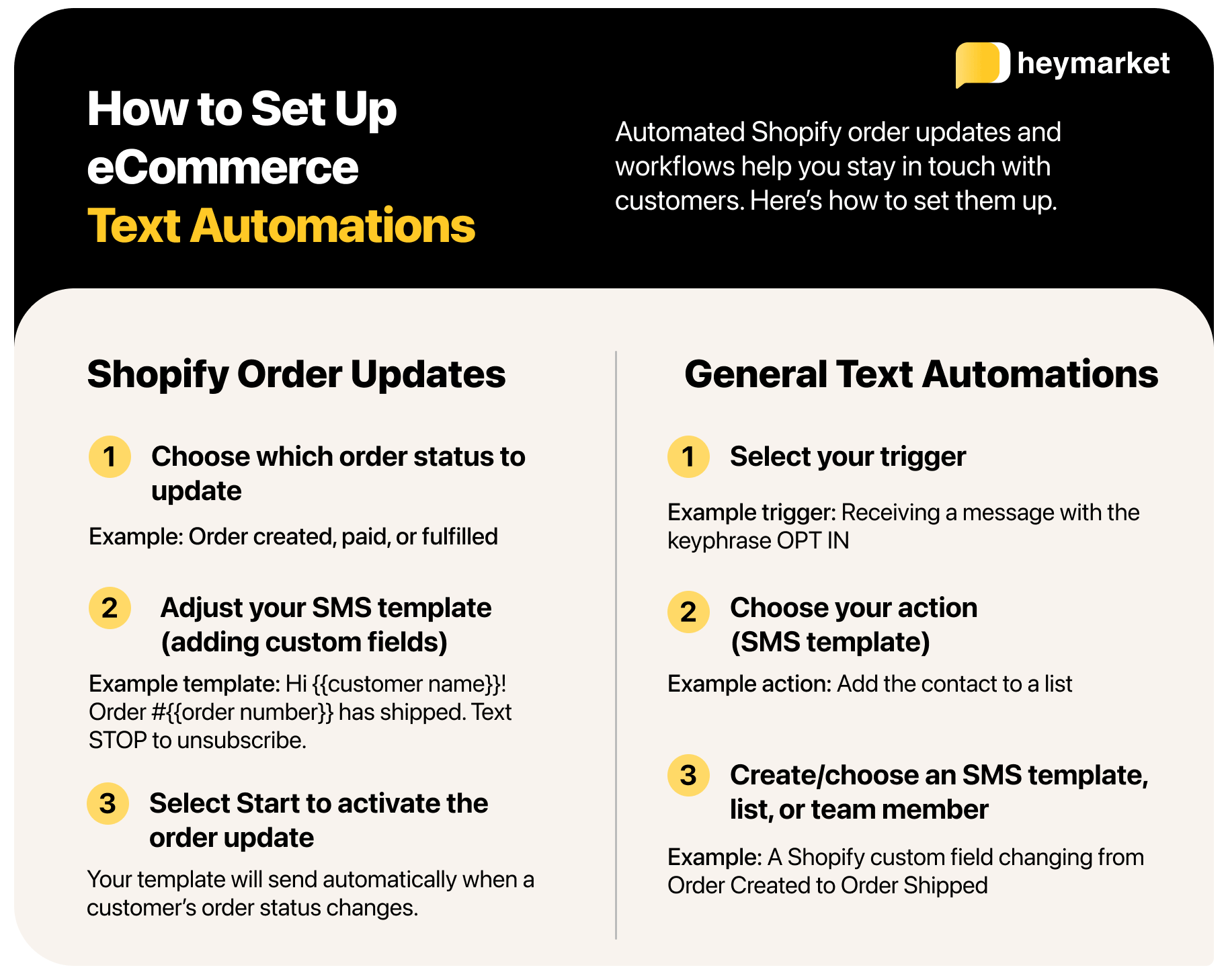 Automated Shopify Order Updates
You can create two-way order updates that automatically send to customers when their Shopify order statuses change. These messages keep customers informed without extra work on your team's part. To start or updateShopify automated order updates in Heymarket:
Open Heymarket, then navigate to Integrations > Shopify. Find Automated Order Updates.
Select the type of order status message to update. Then, select Edit. You can choose to edit the following automated message types:

Order created
Order paid
Order fulfilled
Order canceled
Order partially filled

Adjust the SMS template. Include order-specific custom fields to personalize each text. Your options will include:

First name
Last name
Full name
Order number
Order status URL, Fulfillment status, and Contact email

Activate the automated messages by selecting Start.
Automated General Customer Communications
You can also manage other Shopify customer communications and workflows within your business SMS platform. The process for setting up these automations within your business texting platform should look something like this:
Choose your trigger. A trigger can be:

a keyword or keyphrase in an incoming customer message
receiving a customer message at a specified time
receiving a phone call on your business line
a message coming through a specific channel

Select an action. You can set the action to:

send an SMS template, like an after-hours auto reply or the answer to an FAQ
add the text sender to a list
assign the message to a certain team member
send an in-chat survey

Create or choose the resources your automation requires. Depending on your action, you may need to create or choose your SMS template. Alternatively, you may need to indicate a list of customers or a team member to assign a text to.
Creating Text Automations for eCommerce Stores
Text automations help you stay in touch with your customers without requiring extra legwork from your team. After a fast and easy setup process, you can be sure that your Shopify customers remain in the loop throughout the order and delivery process—and have fast chats with your team that keep them coming back for more.
Want a step-by-step look at building text automations to expedite every area of your business? Read our ebook Automated Text Messaging: The Complete Guide.