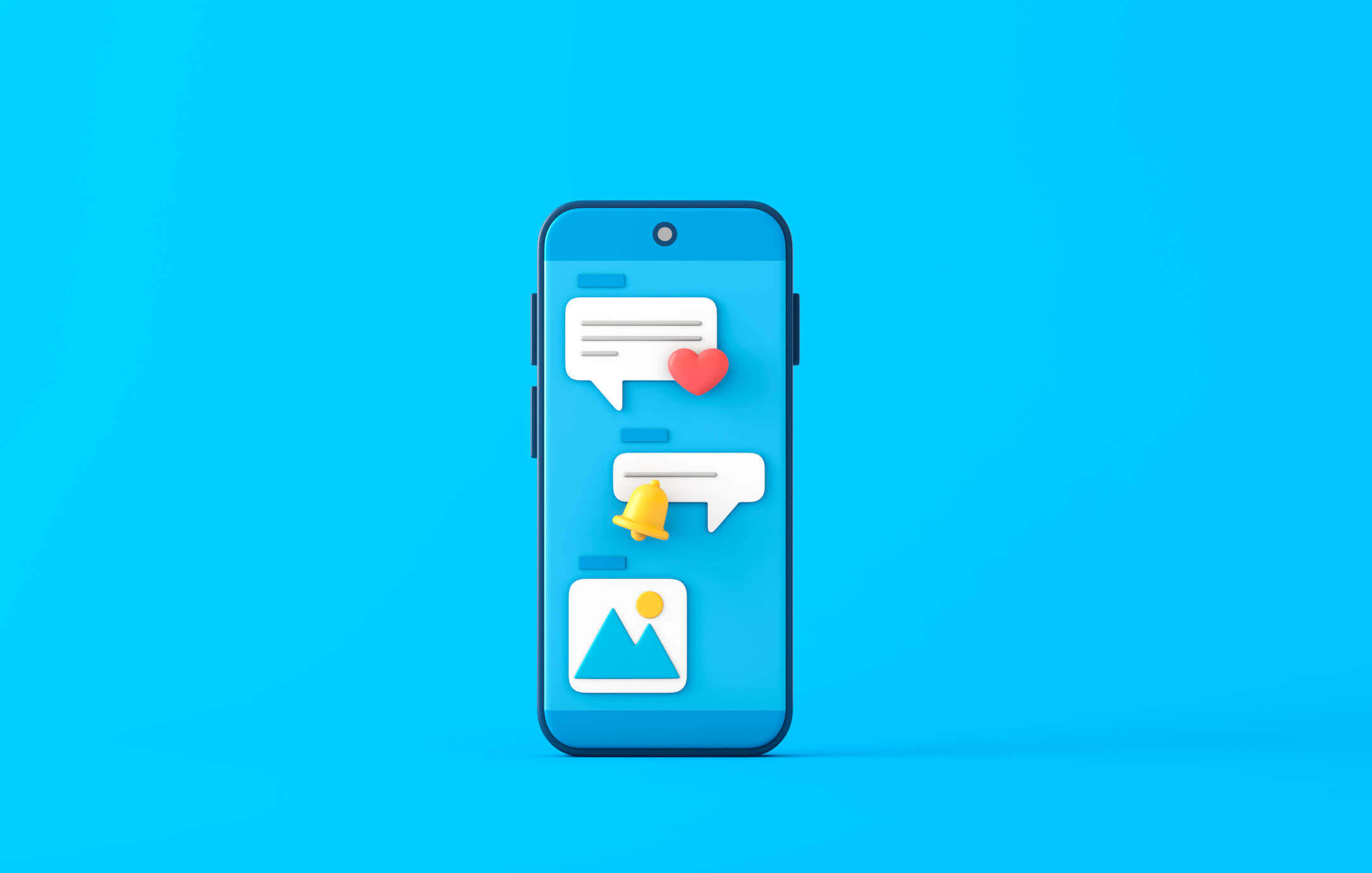 After surging over the last decade, mobile device usage continues to climb to all-time highs. With so many consumers turning to their mobile devices to shop, surf, work, and more, today's businesses need to be able to reliably reach their customers and deliver the seamless mobile experiences they've come to expect.
Push notifications and texting offer two ways to do just that, with each giving businesses the ability—and flexibility—to find customers where they want to be found. Yet, for all of their similarities, there are a few key differences between push notifications and text messages.
Use this guide to compare push notifications vs. text and understand which is right for your business and which will suit your customers' needs.
Push Notifications
With the average smartphone user receiving upwards of 45 of them every day, push notifications are an increasingly common and versatile method of communication for businesses and their customers.
What are push notifications exactly, though? Push notifications are clickable messages that appear on device screens, including smartphones, computer desktops, and web browsers. While they have a variety of uses, these bubbles typically deliver information from websites or downloaded apps that are not currently in use—whether that's breaking news, updates about offers and sales, or other types of branded content.
Text and SMS Notifications
While there's some overlap in their usage, push notifications are distinct from text messages, otherwise known as SMS (short for short messaging services). Just as you can send texts between friends, businesses can use texts to send messages up to 160 characters in length straight to customers' phones.
Business text messaging can deliver an SMS notification whether it's a one-way alert or part of an ongoing two-way conversation. One-way alerts are a useful tool for coordinating logistics, noting scheduling and order updates, as well as notifying customers about offers and deals. Meanwhile, two-way texting over an SMS customer service platform can be a great way to provide personalized, convenient, and conversational support. In either case, customers receive an SMS notification that looks just like a text they would receive from a friend.
Go deeper, and learn why today's businesses need conversational support.
Push Notifications vs. Text Messages
Though we get both these notices on our phones, push notifications and text messages have very different intentions. The primary difference between push notifications and text messages is where they are sent from and arrive. Push notifications come from apps installed on a person's phone. On the other hand, texts are sent to phone numbers from another individual's phone number or from a business application.
Beyond that, there are some other key differences that shape how businesses might put push notifications and texts to use. Knowing what those differences are can help businesses choose the right types of notifications to reach, engage, and retain their customers.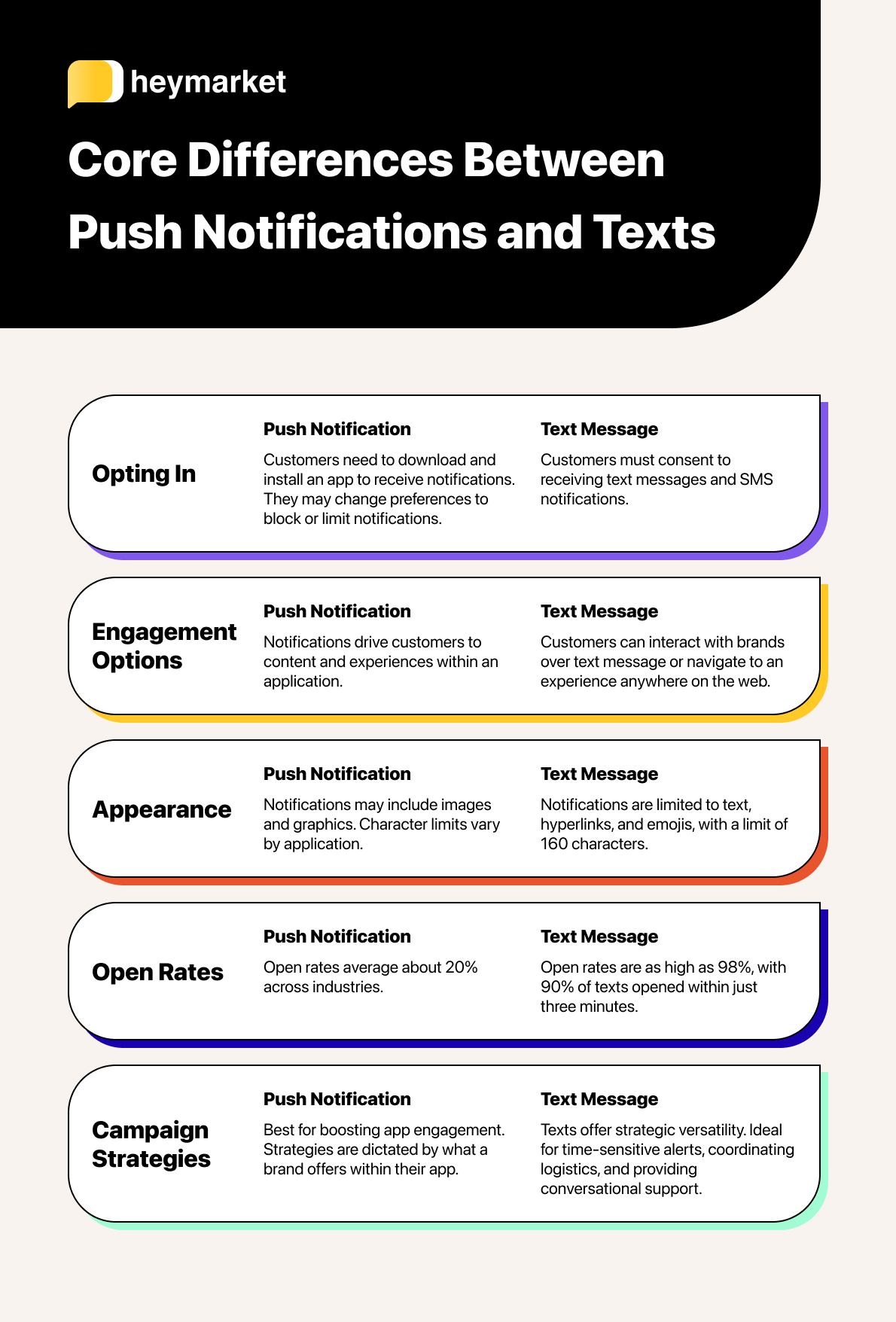 1. Opting In
One prominent difference between push notifications and text messages is the way customers choose, or opt in, to receive each type of alert.
Push Notification Opt In
In order to receive push notifications from any given app, people need to download and install the app. (Unless it's an app that comes with their device by default.) Even after they do so, they will have the opportunity to set their preferences, and choose to receive all, some, or none of the notifications you send. They will also have control over how push notifications appear and for how long. They can choose to receive notifications as banners that automatically fade or as alerts that need to be exited manually.
SMS Opt In
Text messaging opt-in is more involved, since texting is regulated in the US by the FCC and push notifications are not. In order to send text messages to customers, businesses must first obtain their written permission. Typically, customers can give their consent by checking a box on a web form or sending a specified message (e.g., "SUBSCRIBE") to a business's SMS phone number. In addition, it's recommended that businesses then confirm SMS subscriptions with a double opt-in—by sending an initial text giving customers the option to subscribe or unsubscribe.
2. Engagement Options
While opting in to receive text messages requires an extra step, texting offers businesses a certain degree of flexibility. That's because when you compare push notifications versus texts, push notifications can only drive customers to engage with that app. On the other hand, even businesses without an app can send text messages. Plus, these texts can drive customers to experiences anywhere on the web—whether that's in a browser or an app. Texts can even motivate customers to engage with a brand in other channels by initiating a phone call.
3. Appearance
Nevertheless, it's important to keep in mind that, for all its flexibility in engagement, text messages can only look one way on a device's preview screen: like text messages. (Although, don't forget you can use emojis in business text messages.) Alternatively, push notifications can incorporate eye-catching rich imagery to preview content and entice customers to engage.
4. Open Rates
Despite push notifications' ability to incorporate imagery and creative design, on average, they still can't match text messages' high rates of engagements. This is something that sets the text message apart from all other communication channels. Not only do text messages boast an incredible 98% open rate, but up to 90% of them are read within just 3 minutes. Of course, that doesn't mean businesses should overlook push notifications' engagement rates, which are still quite high relative to other digital channels. Research shows push notification open rates average about 20% across industries, compared with just under 2% for email.
5. Campaign Strategies
Ultimately, the core differences between push notifications and text messages that we've covered above affect how businesses approach each method strategically.
Because texts can connect customers with virtually any channel or aspect of a business, text notifications offer businesses an extremely versatile tool for boosting both marketing and customer service efforts: Mass texting campaigns can efficiently deliver offers and promotions at scale. Conversational support over text offers a way to provide personal, one-on-one experiences and tailored service. Plus, thanks to how frequently and quickly texts are opened, they're a great choice for time-sensitive messages, including alerts and reminders for travel, security, or events.
Alternatively, push notifications offer a strong set of use cases for brands offering mobile apps. Businesses with especially robust app experiences can send a wide variety of notifications, with a wide variety of app engagement goals in mind. For instance, if their app offers an eCommerce experience, they can send push notifications with sales offers to boost conversions. And if their app houses a content hub, they can attract customers with news, updates, and informational content to drive engagement.
SMS vs. Push Notifications: Which One to Use
Push notifications can be highly successful at motivating customers to take action, and text messages offer great utility as a tool for interaction. Brands looking to engage customers within their apps can turn to push notifications. Meanwhile, those looking to provide support and experiences through interaction can lean on the power and versatility of text messaging.
Of course, in the end, each remains an excellent option for today's businesses. Both text messages and push notifications have open rates that leave email in the dust, giving brands two improved options to get in touch with their customers and drive engagement.