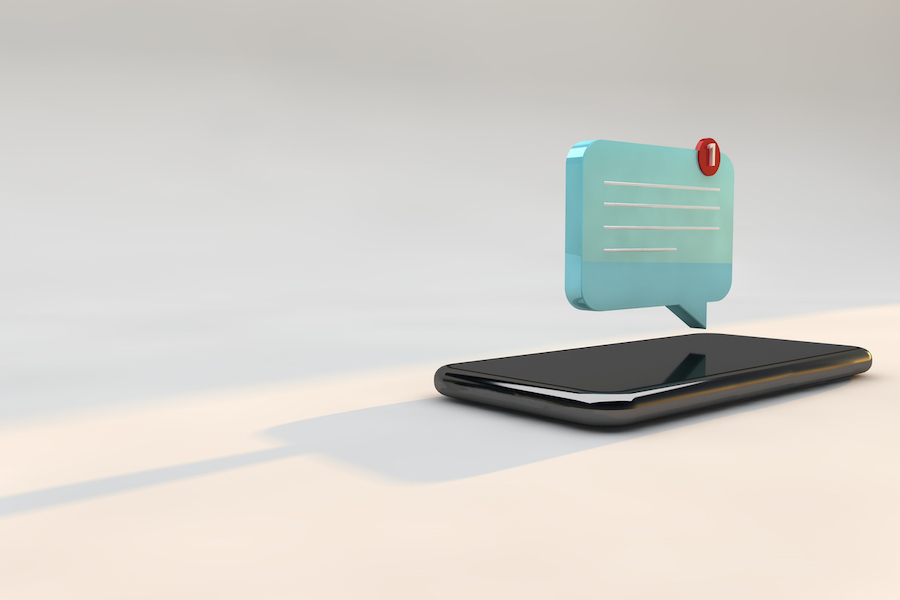 For consumers, push notifications make it easy to see key alerts from their favorite brands, which is why the overall opt in rate for them is 60%. For businesses, push notifications are a great way to get valuable information right in front of customers.
However, without knowing how to use these push notifications correctly, businesses risk spamming their customers with unwanted notifications that can eventually drive customers to unsubscribe.
In this article, we'll explore what push notifications are, how customers can sign up for them, and how businesses can make sure they're valuable to their customers.
What Are Push Notifications?
Push notifications are clickable messages that show up on device screens, such as mobile phones or tablets. They offer information from apps or websites that are not currently open.
The first push notifications were introduced by Apple in 2009 through the Apple Push Notifications service (APNs). Today, iOS, Android, WindowsPhone, and FireOS have their own app push notification services. Chrome, Firefox, Opera, and Safari can also support website push notifications.
Each of these platforms' services, formally known as Operating System Push Notification Services (OSPNs), has its own set of standards and guidelines for businesses to follow while developing their notifications. Later, when a push notification is scheduled for delivery by the business—or triggered by a customer's action or location—the OSPNS is responsible for routing notifications to customers.
Push notifications' number of distinct services does add a degree of complexity for businesses. However, the trade-off is that they can reach customers with notifications on virtually any device and wherever they go. Push notifications may be delivered on:
Computer home screens
Web browsers
Current smartphone screens
Smartphone lock screens
Wherever they're sent, push notifications are designed to capture a device user's attention quickly. Depending on a user's device settings, their push notifications may automatically fade away, or they may need to manually dismiss them with a tap. They're usually small and positioned to the side or top of a device's screens. They can make a bright alert noise depending on a user's settings.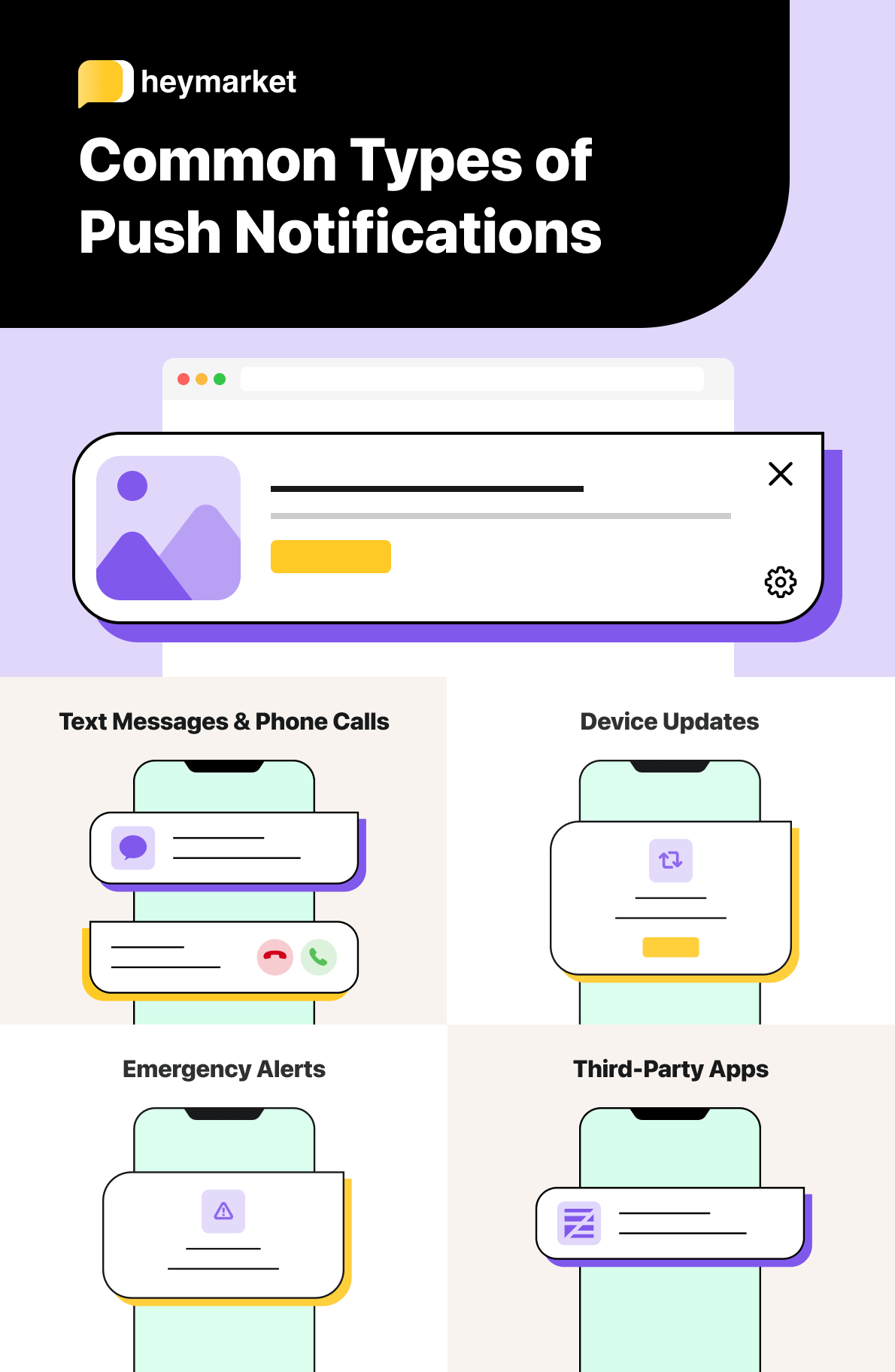 What Is Push SMS? Is It the Same as a Push Notification?
You may have also seen push notifications referred to by other names, like "push message," "push SMS," or even "push text message." However, while push notifications and push messages are the same thing, there's actually a slight difference between these communication methods and SMS or texting.
What these communications all share is the "push" in their names. This simply refers to any message sent without a request from the recipient. Push notifications, or push messages, are sent (or "pushed") to a user through the messaging bubble on their device, via an app they've downloaded.
Meanwhile, push SMS or text messages are only sent to a user's phone number over the cellular network. The user then receives that message in their phone's native text messaging app, just as they would a text from a friend. While their messaging app may notify them of the message with a push notification, there's a subtle difference between push and SMS notifications.
What Are Push Notifications Used For?
Since their introduction over a decade ago, push notifications have evolved to offer businesses a powerful means of engaging their customers. Because push notifications can't get lost in spam folders or drowned out by the flood of other promotional emails, their engagement rates compare quite favorably against email. According to one study, push notification open rates averaged about 20% across industries, compared with just under 2% for email.
Perhaps because of this effectiveness, they've become a very common business messaging tactic. In fact, the average U.S. smartphone user receives 46 app push notifications daily. These regular notifications might include updates from their device operating systems, emergency alerts from government agencies, and a range of messages from businesses and brands. Businesses use these notifications to:
Showcase Time-Sensitive Offers
Retail sites and merchants can alert customers to time-sensitive sales or one-time offers. Push notifications can raise awareness during key sales periods and create a sense of urgency. They can also boost conversions and make it easier for customers to save by offering promo codes within the notification's message.
Remind Customers About Abandoned Carts
Mobile users have notoriously high shopping cart abandonment rates. One study estimates that figure is as high as 86%. If a user adds products to their cart but does not complete a purchase, a push notification can offer customers a gentle reminder. It can also offer discounts or use other tactics to increase the chances of conversion.
Provide News and Updates
Of course, push notifications have applications across the customer journey, both before and after the time of purchase. Businesses can create push messages about order statuses, product updates, news alerts, and more to keep customers fully informed and engaged with their brand. In all, these notifications can play a crucial role in a business's customer retention strategy.
How Do Customers Sign Up for Push Notifications?
Even though users may receive a variety of push notifications, these alerts still do an excellent job of capturing their attention—especially since device users get to choose, in most cases, which notifications they receive.
Whether or not users can choose ultimately depends on the type of push notification involved. For example, users can always block push notifications from third-party apps on their phones. They can partially block emergency push notifications from most of the government—but not the president.
Depending on the device, the process of choosing which push notifications to receive on their devices usually goes something like this:
Device users will navigate to their devices' system preferences.
Then, they will find the Notifications controls.
They will sift through their devices' notification categories, which list specific apps, and choose whether they want to receive notifications from those apps and how they want them to be formatted. They can usually choose whether they want push notifications to appear as banners that automatically fade or alerts that need to be manually exited.
The process isn't hard, but it does take a few steps that might be a hassle. That's why if they choose to stop receiving notifications—for messages, for example—there's a strong likelihood that they won't add them back.
How Businesses Can Create Push Notifications that Provide Value
If you're a business, you're probably done wondering what push notifications are, and more concentrated about how you can ensure that customers are enjoying and receiving yours. If you can entice customers to open your messages or app just from your push notifications, you can engage them in your products or services a lot more easily. To create notifications that provide value, you need to:
Understand Your Audience's Notification Capacity
Sending one push notification every week can lead to 10% of your users disabling notifications, and 6% to disable your app. Research what volume of notifications is right for your business. For example, a finance app and an eCommerce website will have different audiences with different levels of notification tolerance.
Segment Your Audience
Segment your audience based on their interactions with your app or site. You should be programming push notifications to trigger based on how many times customers have visited or opened your app and their level of engagement. If customers have high levels of engagement, they're more likely to welcome more frequent push notifications. This is a commonly used best practice; as of 2017, businesses were segmenting 85% of push notifications.
Tailor Notifications to Customer Behavior
On a similar note, you should craft notification messages that are tailored to customers' behavior. For example, if customers have looked at one of your products multiple times, you may want to let them know when it goes on sale.
Ultimately, push notifications are your chance to boost customer read rates—and start forming strong relationships with your customers.
5 Examples of Catchy Push Notifications for Business SMS and Third-Party Messaging Services
Depending on their devices and their settings, customers may be able to see the beginnings of your messages. That's how they'll decide whether they want to read your text right away or not. You have to write short, attention-grabbing messages to get customers to bite. For Message Preview, iPhones show around four lines or 178 characters of a message on a lock screen. Androids show around five characters for titles and 240 for descriptions. Feel free to adjust and use these five short and sweet examples to boost your open rates:
Pushing Forward Customer Connections with Push Notifications
Push notifications are incredibly valuable tools for your business. They're a great way to keep your app or website top of mind for customers. They can also help you get important messages in front of customers quickly. With help from our best practices, you can ensure customers appreciate your push notifications—and continue to enjoy engaging with your brand.
You've learned the answer to what push notifications are. Now, learn other ways to capture customers' attention through business text messaging.